Update 10/10/2021: The suspect has been caught and arrested. Please click below for the follow-up petition.
Johnson City, Tennessee – An innocent cat suffered a horrific death in Johnson City, Tennessee. On Sunday, April 18, the orange and white cat was discovered in the parking lot of a funeral home – the cat's back legs were bound in duct tape and a bloodied screwdriver was found nearby.
Please sign the petition today! The monster who committed this horrific act of cruelty must be located, arrested and prosecuted to the fullest extent of the law.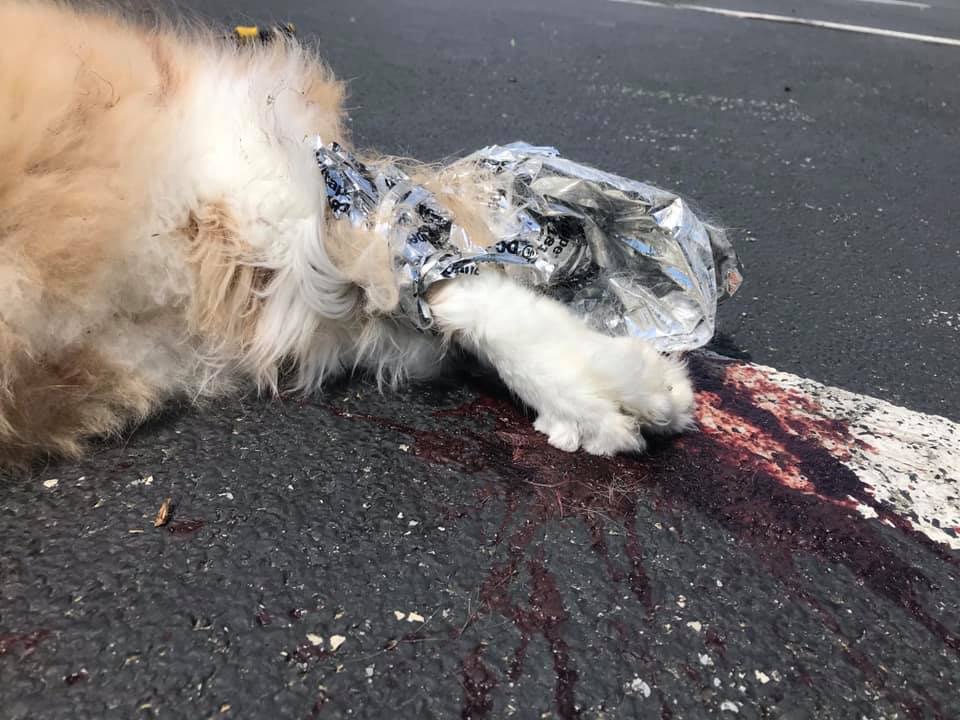 The Washington County Animal Shelter posted grim images of the slain cat on Sunday, April 18. The animal welfare agency provided details of the despicable act:
The Johnson City Police Department and the WCJC Animal Control Department are investigating the torture and death of a cat found today in a local funeral home parking lot. The cat's rear legs were bound by duct tape, it had obvious head trauma and a bloody screw driver was found near the body.
Details: The deceased cat was discovered outside of Appalachian Funeral Home on East Watauga Avenue. The cat has "obvious" trauma to the head.
What kind of monster could commit this crime?! Whoever is responsible MUST be found, arrested and held fully accountable for this despicable act of cruelty. The purpose of this petition is to raise awareness of this incident to help find the responsible individual(s), and to have signatures on hand for the prosecutor when an arrest is made.
Anyone with information is asked to call the Johnson City Police Department at 423-434-6160 or the Washington County Animal Shelter at 423-926-8769.
Animal Victory is offering a $500 reward for information that leads to the identification, arrest, and conviction of the person(s) responsible.
Update 10/10/2021: The suspect has been caught and arrested. Please click below for the follow-up petition.
News:
Update 10/22/2021: Please click here to find our new petition with information about the teen who has been arrested for this crime.
Update 6/15/2021: Animal Victory spoke with Officer Justin Henard today. He informed us that they are still working on the case and awaiting results from the crime scene. If sufficient evidence is found, a warrant can be issued for an arrest. If this happens, there will be a press conference. Animal Victory will continue to follow this case for updates. 15,772 signatures and comments were sent to Officer Justin Henard at the Police Department.
Update 5/7/2021: Animal Victory has been in contact with the local authorities and to date, there has been no arrest. We have learned that PETA is offering a $5,000 reward for information leading to an arrest/conviction in this cruelty case in addition to Animal Victory's $500.00 reward.
Individuals are presumed innocent until proven guilty in a court of law.
PRIOR SIGNATURES : 16021
281
Angela Dennis
May 05, 2022
280
Anonymous
Giving an animal away on Craigslist.....wow, two idiots.
May 02, 2022
279
Kristen Megan Veronica
We need to let the punishments fit the crime!
May 02, 2022
278
Anonymous
May 01, 2022
277
Lisa Walker
May 01, 2022
276
Kym Thompson
This guy is a piece of shit. He needs to be duct tape and stabbed like he did to this poor cat. I really hate people who abuse animals.
Apr 29, 2022
275
Mitra Pejman
Apr 29, 2022
274
Marilyn Christensen
Please make him accountable for his actions!! And make the woman who knowingly took the cat and gave it away , pay for her actions , also!!
Apr 28, 2022
273
Jennifer Fox
This kind of sick cruelty is not limited to cats. Those who perform these monstrous acts will do so on anyone when they feel they have an opportunity to get away with it.
Apr 27, 2022
272
Cathy Merrill
Apr 27, 2022
271
Maria Kagelind
Apr 27, 2022
270
αγγελικη ρηγου
Apr 27, 2022
269
Gail Panici
Apr 27, 2022
268
Therese Kennett
Please make him accountable for what he did. Horrible people deserve the max sentence.
Apr 27, 2022
267
Eve Prussner
Lock the woman up who stole him and gave him away. She is as guilty as the degenerate who killed him.
Apr 27, 2022
266
April Laverty
Apr 26, 2022
265
Allison Elias
Apr 26, 2022
264
Heather Alexander
Apr 26, 2022
263
Heather Hubertz
This sick individual will Undoubtedly escalate his violence in the future. I don't know if there's any true intervention other than jail or prison or God To prevent his future Violence. He's clearly mentally ill and evil to do this to an innocent animal
Apr 26, 2022
262
Susanne Kandt
Apr 26, 2022
261
Ellison Johnson
Apr 26, 2022
260
Cynthia Gomez
Apr 26, 2022
259
CAROL HARTMAN
Apr 26, 2022
258
Alice Pierce
Apr 26, 2022
257
Judy Hooper
Apr 26, 2022
256
Dawn Collins
Disgusting and sickening beyond comprehension. Go beyond the maximum sentence as this monster is capable of anything and should not be allowed to walk amongst the living.
Apr 26, 2022
255
Federica Zorzenon
Apr 26, 2022
254
Lillian Hughes
This person should be imprisoned for life. However, the person who let the cat out, is a very small part to blame as well, as is the women who sold him on Craigs list....
Apr 26, 2022
253
Darlene Falk
So very awful!!! Poor little kitty.
Apr 26, 2022
PRIOR SIGNATURES : 16021
---