An innocent cat suffered a horrific death in Johnson City, Tennessee. On Sunday, April 18, the orange and white cat was discovered in the parking lot of a funeral home – the cat's back legs were bound in duct tape and a bloodied screwdriver was found nearby.
Please sign the petition today! The monster who committed this horrific act of cruelty must be located, arrested and prosecuted to the fullest extent of the law.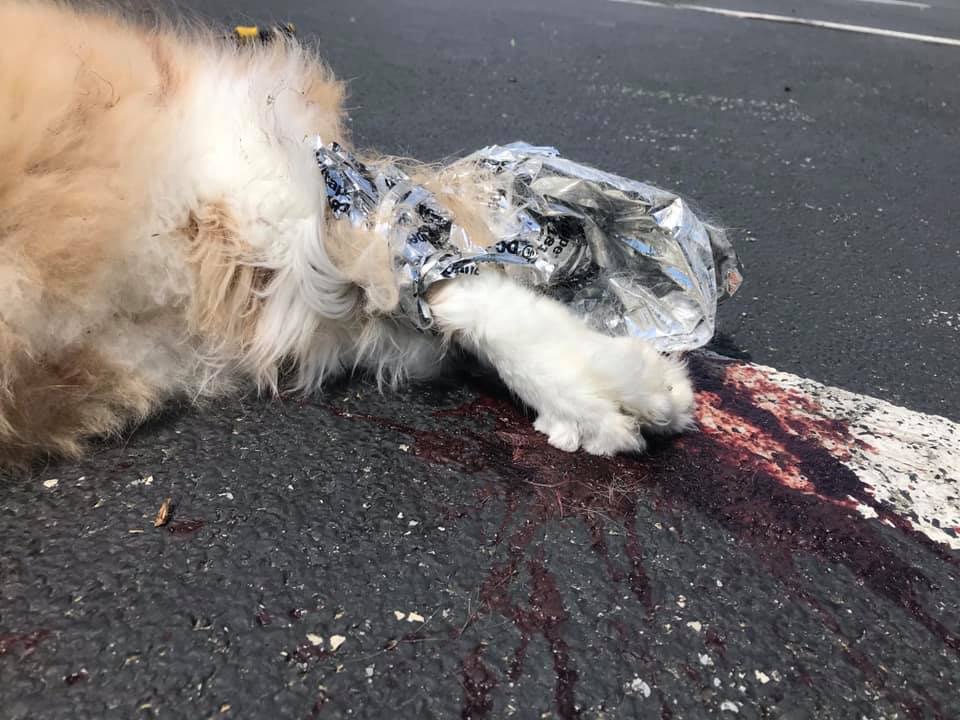 The Washington County Animal Shelter posted grim images of the slain cat on Sunday, April 18. The animal welfare agency provided details of the despicable act:
The Johnson City Police Department and the WCJC Animal Control Department are investigating the torture and death of a cat found today in a local funeral home parking lot. The cat's rear legs were bound by duct tape, it had obvious head trauma and a bloody screw driver was found near the body.
Details: The deceased cat was discovered outside of Appalachian Funeral Home on East Watauga Avenue. The cat has "obvious" trauma to the head.
What kind of monster could commit this crime?! Whoever is responsible MUST be found, arrested and held fully accountable for this despicable act of cruelty. The purpose of this petition is to raise awareness of this incident to help find the responsible individual(s), and to have signatures on hand for the prosecutor when an arrest is made.
Anyone with information is asked to call the Johnson City Police Department at 423-434-6160 or the Washington County Animal Shelter at 423-926-8769.
Animal Victory is offering a $500 reward for information which leads to the identification, arrest, and conviction of the person(s) responsible.
News:
Update 6/15/2021: Animal Victory spoke with Officer Justin Henard today. He informed us that they are still working on the case and awaiting results from the crime scene. If sufficient evidence is found, a warrant can be issued for an arrest. If this happens, there will be a press conference. Animal Victory will continue to follow this case for updates. 15,772 signatures and comments were sent to Officer Justin Henard at the Police Department.
Update 5/7/2021: Animal Victory has been in contact with the local authorities and to date, there has been no arrest. We have learned that PETA is offering a $5,000 reward for information leading to an arrest/conviction in this cruelty case in addition to Animal Victory's $500.00 reward.
Individuals are presumed innocent until proven guilty in a court of law.
PRIOR SIGNATURES : 16021
Someone Fatally Stabbed Duct-Tape Bound Cat With A Screwdriver
61
signatures = 0% of goal
60
Sabine Fontaine
Sep 18, 2021
59
Jaqueline Dillman
Sep 18, 2021
58
Ann Freeman
Sep 15, 2021
57
KONSTANTINOS STAMOS
Sep 14, 2021
56
Debbie Westerkamm
Sep 14, 2021
55
astrid suchanek
Sep 13, 2021
54
mae young
Sep 12, 2021
53
Kennedy Roop
Sep 12, 2021
52
Sophie Emlek
Sep 09, 2021
51
Dodie Harrison
Sep 08, 2021
50
Tammy Bradford
Sep 08, 2021
49
Sylvie MALLEVAL
Sep 08, 2021
48
Ilana Karapetyan
Sep 08, 2021
47
Shelli Tucker
Sep 08, 2021
46
Jan Anderson
Sep 08, 2021
45
Janice Pemberton
Sep 07, 2021
44
Damiano Giustina
Sep 07, 2021
43
Roberta Giovannini
Sep 07, 2021
42
Kelly Lagace
Sep 03, 2021
41
Brenda Hammond
Sep 03, 2021
40
Joan Steelhammer
Sep 03, 2021
39
Renee Whitley
Sep 02, 2021
37
Terri Loftis
Sep 02, 2021
36
James Cozad
Sep 01, 2021
35
Itslia Gray
Ppl are so cruel
Sep 01, 2021
34
Mary Jo Johnson
Sep 01, 2021
33
Barbara Van Camp
Aug 31, 2021
32
Cecilia Lalinde
Aug 29, 2021
PRIOR SIGNATURES : 16021
---