Update 10/10/2021: The suspect has been caught and arrested. Please click below for the follow-up petition.
Johnson City, Tennessee – An innocent cat suffered a horrific death in Johnson City, Tennessee. On Sunday, April 18, the orange and white cat was discovered in the parking lot of a funeral home – the cat's back legs were bound in duct tape and a bloodied screwdriver was found nearby.
Please sign the petition today! The monster who committed this horrific act of cruelty must be located, arrested and prosecuted to the fullest extent of the law.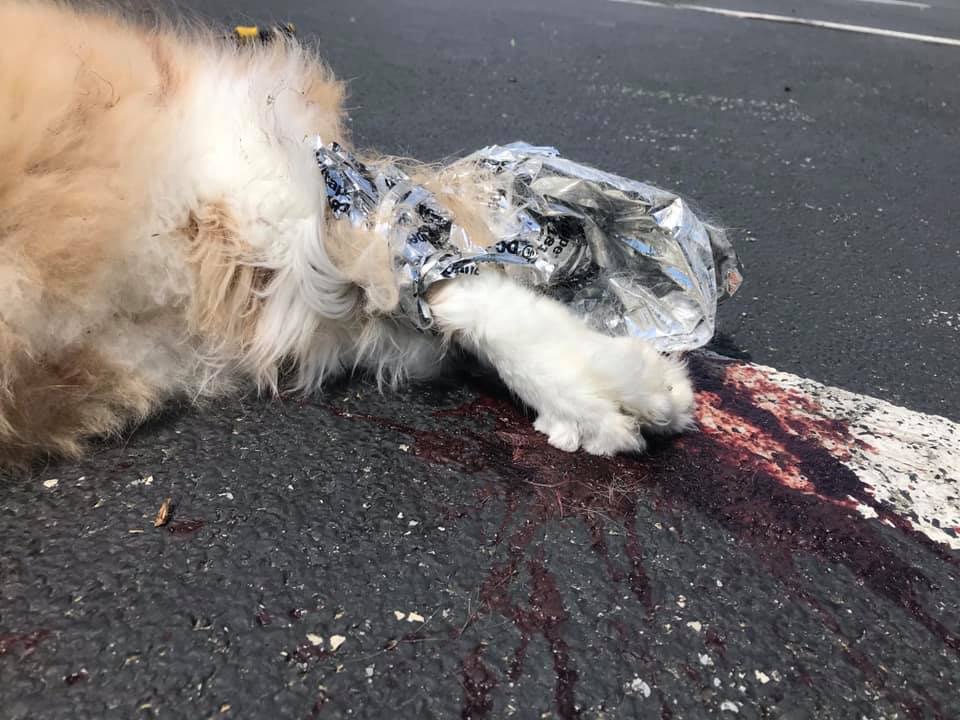 The Washington County Animal Shelter posted grim images of the slain cat on Sunday, April 18. The animal welfare agency provided details of the despicable act:
The Johnson City Police Department and the WCJC Animal Control Department are investigating the torture and death of a cat found today in a local funeral home parking lot. The cat's rear legs were bound by duct tape, it had obvious head trauma and a bloody screw driver was found near the body.
Details: The deceased cat was discovered outside of Appalachian Funeral Home on East Watauga Avenue. The cat has "obvious" trauma to the head.
What kind of monster could commit this crime?! Whoever is responsible MUST be found, arrested and held fully accountable for this despicable act of cruelty. The purpose of this petition is to raise awareness of this incident to help find the responsible individual(s), and to have signatures on hand for the prosecutor when an arrest is made.
Anyone with information is asked to call the Johnson City Police Department at 423-434-6160 or the Washington County Animal Shelter at 423-926-8769.
Animal Victory is offering a $500 reward for information that leads to the identification, arrest, and conviction of the person(s) responsible.
Update 10/10/2021: The suspect has been caught and arrested. Please click below for the follow-up petition.
News:
Update 10/22/2021: Please click here to find our new petition with information about the teen who has been arrested for this crime.
Update 6/15/2021: Animal Victory spoke with Officer Justin Henard today. He informed us that they are still working on the case and awaiting results from the crime scene. If sufficient evidence is found, a warrant can be issued for an arrest. If this happens, there will be a press conference. Animal Victory will continue to follow this case for updates. 15,772 signatures and comments were sent to Officer Justin Henard at the Police Department.
Update 5/7/2021: Animal Victory has been in contact with the local authorities and to date, there has been no arrest. We have learned that PETA is offering a $5,000 reward for information leading to an arrest/conviction in this cruelty case in addition to Animal Victory's $500.00 reward.
Individuals are presumed innocent until proven guilty in a court of law.
PRIOR SIGNATURES : 16021
Someone Fatally Stabbed Duct-Tape Bound Cat With A Screwdriver
171
signatures = 1% of goal
171
Bruce Allan Ross
Please withhold comments advocating any kind of violence against the perpetrator. Harshest legal sentence. Please don't advocate for violence against him in prison. The imprisonment is the punishment. These stories & photos of torture, abuse, neglect, abandonment should always turn us AWAY from bloody violence, not draw it out of us in imagined retribution that we can go thru emotionally for it.
Oct 23, 2021
170
Martha Coyle
Oct 23, 2021
169
Michele Korloz
Oct 23, 2021
168
shay holland
Oct 23, 2021
167
Charlene Lauzon
Oct 23, 2021
166
Cheyla Davis
Protect sweet innocent animals from the his evil monster - must keep him locked up
Oct 23, 2021
165
Theresa Clark
Oct 23, 2021
164
Joanne Mainer
Please give this 'person' the strongest punishment he could be given. He deserves A LOT worse than that.
Oct 23, 2021
163
LeAnn Brightwell
This hurts my heart
Oct 23, 2021
162
Eileen Cook-Yemmo
This is Horrendous!
Oct 23, 2021
161
Yvette Desroches
He's a sicko put this sicko in jail he's a danger for animals and society
Oct 23, 2021
160
Susan Slingland
Oct 23, 2021
159
Norma Ratcliff
Oct 23, 2021
158
Abigail Barry
Harshest punishment/ then education .... what gas happened to this person to do something so desperately evil
Oct 23, 2021
157
Perrie'Lee Prouty
Please do NOT allow this person if found guilty to escape jail time & a record. This one sick
Oct 23, 2021
156
MARLENE HOOD
Throw away the key
Oct 23, 2021
155
Fry Deborah
This is sick and mentally unstable behavior
Oct 23, 2021
154
Heidi Barclay
This POS needs severe punish.ent. this is SO upsetting!!!!
Oct 23, 2021
153
Jennifer Lowell
Scumbags. ALL of them - careless owner and her dumbass 'friend', nosey bitch listing an animal on craigslist, she must have WANTED this to happen, and this psychopath kid who this very clearly is NOT his first time.
Oct 23, 2021
152
Anonymous
Maximum penalty please
Oct 23, 2021
151
patricia chaouch
Oct 23, 2021
150
Cherilyn Stiles
Rot in hell.
Oct 23, 2021
149
Mary Kaiserman
This defenseless cat suffered due to this sick person. I hope while he is serving a lot of time in prison he gets some mental health assistance or he might use a human next time.
Oct 23, 2021
148
Anonymous
Oct 23, 2021
147
Gisela Muniz
Oct 23, 2021
146
robert adams
Prosecute to the full extent of the law. DOX this POS. All of his fellow workers and the community around him should know.
Oct 23, 2021
145
Maddie Emrich
Oct 23, 2021
144
Kim Wilkins
Oct 23, 2021
143
Linda McCombe
Oct 23, 2021
142
SANDY CALLAWAY
THIS KID IS A MONSTER. GET HIM OFF THE STREETS BEFORE HUMANS ARE NEXT.
Oct 23, 2021
PRIOR SIGNATURES : 16021
---