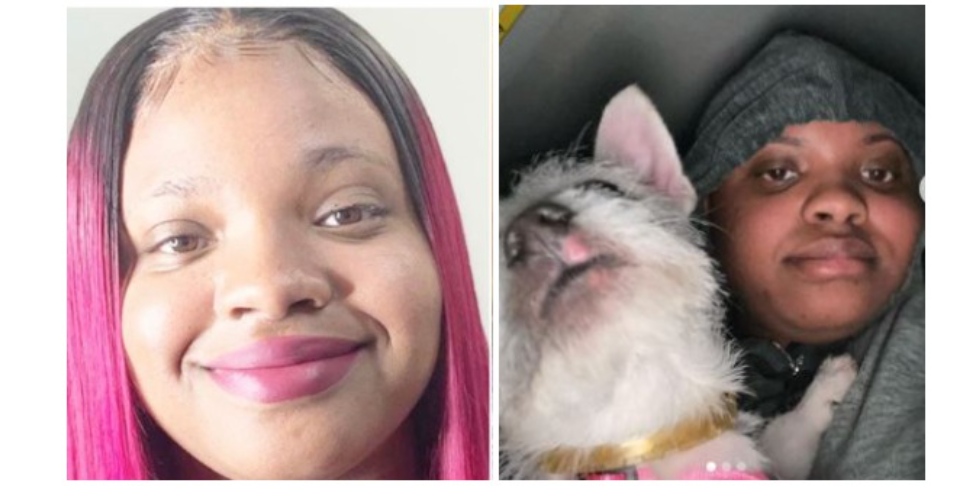 Dekalb County, Georgia – A "social media influencer" in Dekalb County, Georgia, finds herself in hot water for showing images and videos of dog abuse on TikTok and Instagram. The accused abuser is Brittany Johnson, aka Lovely Peaches, and she has been arrested and charged for abusing her puppy, Max.
Johnson is charged with one count of cruelty to animals thanks to a collaborative effort between Georgia's DeKalb County Police, and DeKalb County Animal Services. Max is safely out of harm's way and now Johnson must pay for her abusive behavior! We want your signature to help convince officials that this woman deserves the maximum punishment for her animal cruelty charge AND she must be prohibited from owning an animal in the future.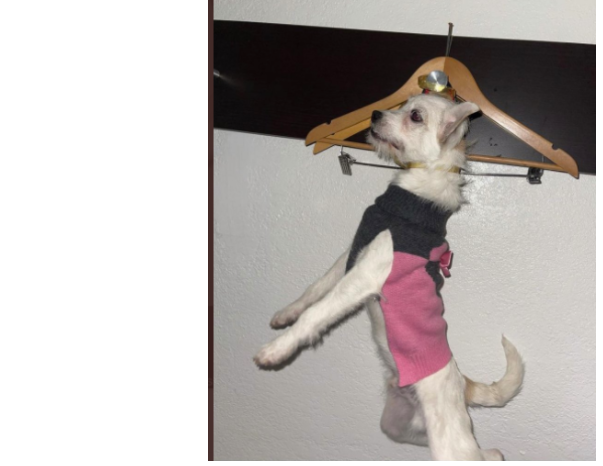 This photo speaks for itself. This is torture! Max was abused and now his abuser must be punished. Brittany Johnson is accused of harming her Jack Russell Terrier in a multitude of ways, including forcefully kicking him, hanging him from the coat hanger, and spraying him in the face with perfume.
This is sadistic behavior that must be punished! According to the authorities, "her Jack Russell Terrier was taken into custody by Animal Services, where it was examined by a veterinarian and Johnson voluntarily signed over custody."
Max may be out of Johnson's custody, but that isn't enough. If she receives a plea deal, she may very well re-offend. We want to send a strong message to this woman – in the form of a strict sentence and a ban on future pet ownership to Sherry Boston, DeKalb County District Attorney.  Please add your name today – animal abuse cannot and will not be tolerated!
Individuals are presumed innocent until proven guilty in a court of law.
News:
Update 2/07/2022: Animal Victory has learned that the Calendar call has been rescheduled to May 25, 2022.
Update 11/08/2021: Animal Victory has learned that the Calendar call is scheduled for 01/25/2022 at 1:30 p.m.
Update 9/15/2021: Animal Victory has learned that the next court date, according to the state court site, is scheduled for 10-26-2021, at 1:30 p.m.
Update 7/5/2021: Animal Victory has learned that there is a calendar call scheduled for 8/25/2021 (Calendar call is a pre-trial meeting that is held by a judge with the attorneys of both the parties in a case to schedule a date for trial or hearing, and to arrange some other pre-trial details).
Update 6/28/2021: Brittany Johnson's arraignment will be on July 1st at 1:30pm
Update 2/6/2021: Animal Victory has learned that Brittany Johnson is only facing a misdemeanor charge for cruelty to animals. We will fight for the maximum punishment allowable for this charge.
Read our letter to District Attorney Boston here
Animal-Protection-Laws-of-Georgia-2020-Animal-Legal-Defense-Fund (1)
PRIOR SIGNATURES : 16716
Social Media Influencer Accused Of Abusing Dog, Including Hanging From Coat Hanger
1,288
signatures = 9% of goal
1,288
Cornelia Herschel
What a disgusting dirty bitch!!!! Hang her up and let her croak!!!!!!!
Jun 26, 2022
1,287
Lucy Miller
Jun 23, 2022
1,286
Olga Espinoza
Jun 23, 2022
1,285
Rochelle Massey
Jun 21, 2022
1,284
Angela Steinberg
Jun 18, 2022
1,283
Debbie Mccollum
Jun 12, 2022
1,282
Grace Vendemio
Jun 02, 2022
1,281
Sara Sampkin
May 29, 2022
1,280
Janice VanMarter
May 29, 2022
1,279
Heather Ramsdell
May 14, 2022
1,278
Patti Molero
May 14, 2022
1,277
Alessia Di Buono
May 14, 2022
1,276
Ava Fox
May 06, 2022
1,275
Ava Fox
May 06, 2022
1,274
Adrienne Kaiser
May 05, 2022
1,273
Angela Dennis
May 05, 2022
1,272
Deborah knox
Oh sweet Jesus. Pure evil. You can see it in her face. Away for ever.
May 01, 2022
1,271
Frank Schultz
Apr 24, 2022
1,270
Sharon Hasek
Apr 21, 2022
1,269
SANDRA LOFARO
HUMANS ARE THE CRUELEST ANIMAL ON EARTH!
Apr 21, 2022
1,268
Roslyn Pollinger
Apr 20, 2022
1,267
Sydney Allrud
Apr 10, 2022
1,266
Deneen Tokich
Apr 07, 2022
1,265
Jocelyn Warburton
Apr 01, 2022
1,264
Mary Crowder
Mar 30, 2022
1,263
Mary Albertson
Mar 27, 2022
1,262
kliontia-kalia konstantinou
Mar 25, 2022
1,261
Chris Sanford
Mar 21, 2022
1,260
Nicole Cervino
PEINE DE MORT...!!!!!
Mar 19, 2022
1,259
sari larue
Mar 08, 2022
PRIOR SIGNATURES : 16716
---