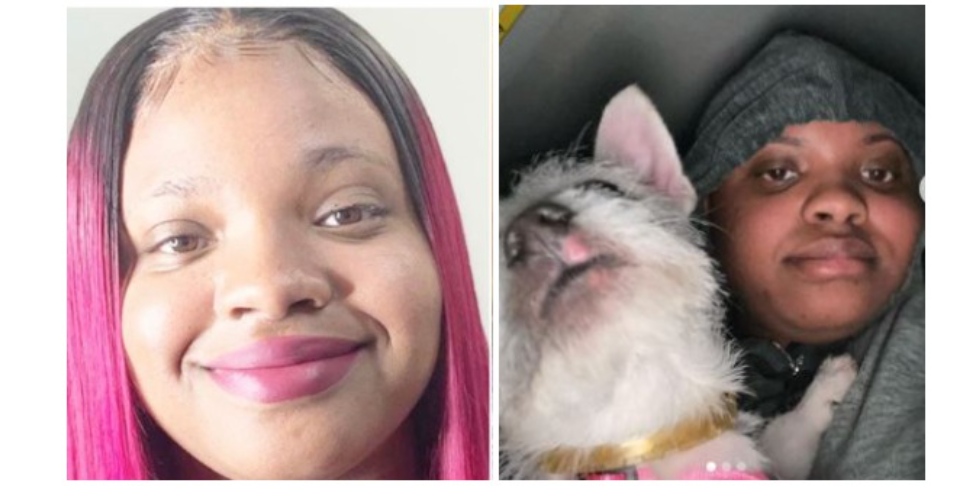 A "social media influencer" in Dekalb County, Georgia, finds herself in hot water for showing images and videos of dog abuse on TikTok and Instagram. The accused abuser is Brittany Johnson, aka Lovely Peaches, and she has been arrested and charged for abusing her puppy, Max.
Johnson is charged with one count of cruelty to animals thanks to a collaborative effort between Georgia's DeKalb County Police, and DeKalb County Animal Services. Max is safely out of harm's way and now Johnson must pay for her abusive behavior! We want your signature to help convince officials that this woman deserves the maximum punishment for her animal cruelty charge AND she must be prohibited from owning an animal in the future.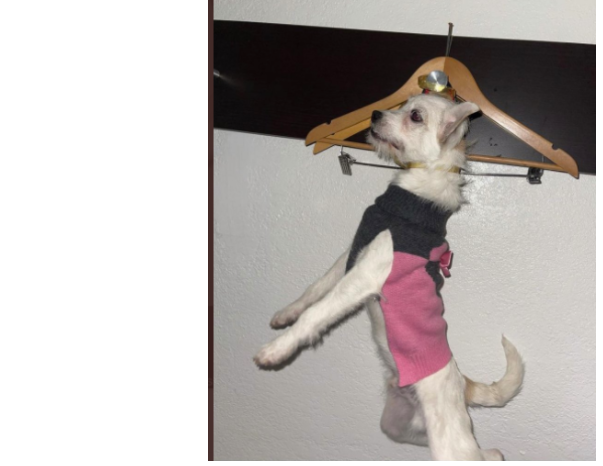 This photo speaks for itself. This is torture! Max was abused and now his abuser must be punished. Brittany Johnson is accused of harming her Jack Russell Terrier in a multitude of ways, including forcefully kicking him, hanging him from the coat hanger, and spraying him in the face with perfume.
This is sadistic behavior that must be punished! According to the authorities, "her Jack Russell Terrier was taken into custody by Animal Services, where it was examined by a veterinarian and Johnson voluntarily signed over custody."
Max may be out of Johnson's custody, but that isn't enough. If she receives a plea deal, she may very well re-offend. We want to send a strong message to this woman – in the form of a strict sentence and a ban on future pet ownership to Sherry Boston, DeKalb County District Attorney.  Please add your name today – animal abuse cannot and will not be tolerated!
Individuals are presumed innocent until proven guilty in a court of law.
News:
Update 9/15/2021: Animal Victory has learned that the next court date, according to the state court site, is scheduled for 10-26-2021, at 1:30 p.m.
Update 2/6/2021: Animal Victory has learned that Brittany Johnson is only facing a misdemeanor charge for cruelty to animals. We will fight for the maximum punishment allowable for this charge.
Read our letter to District Attorney Boston here
PRIOR SIGNATURES : 16716
Social Media Influencer Accused Of Abusing Dog, Including Hanging From Coat Hanger
44
signatures = 0% of goal
44
Damiano Giustina
Sep 18, 2021
43
Sabine Fontaine
Sep 18, 2021
42
Teri Paszotta
We need tougher laws, more judges with balls to hand down stiffer sentences & justice to those affected by sick abusers of animals in our communities. It's going on in your city and those that prey on the most vulnerable are WEAK COWARDS & THE LOWEST, POOREST EXCUSE OF BEINGS WALKING THIS EARTH!
Sep 17, 2021
41
Ann Freeman
Sep 15, 2021
40
KONSTANTINOS STAMOS
Sep 14, 2021
39
Debbie Westerkamm
Sep 14, 2021
38
helgard böhme
Sep 13, 2021
37
astrid suchanek
Sep 13, 2021
36
Kennedy Roop
Sep 12, 2021
35
Sophie Emlek
Sep 09, 2021
34
Stefanie E.
Sep 09, 2021
33
Dodie Harrison
Sickening
Sep 08, 2021
32
TAMI BRODY
Sep 08, 2021
31
Ilana Karapetyan
Sep 08, 2021
30
Jan Anderson
Sep 08, 2021
29
Damiano Giustina
Sep 07, 2021
28
Melissa Curtis
Sep 07, 2021
27
Mikalia Merciers
Sep 06, 2021
26
Kelly Lagace
Sep 03, 2021
25
Brenda Hammond
Sep 03, 2021
23
Cecilia Lalinde
Aug 29, 2021
22
lara balser
Aug 29, 2021
21
Paula McCarthy
Aug 29, 2021
20
rosemary westpheling
Heartless
Aug 29, 2021
19
Daniel Pawlowski
Aug 28, 2021
18
helene weinstein
Aug 28, 2021
17
Corinne Brown
Aug 27, 2021
16
Veronica Miazga
Aug 26, 2021
15
Teresa Corner
Aug 24, 2021
PRIOR SIGNATURES : 16716
---