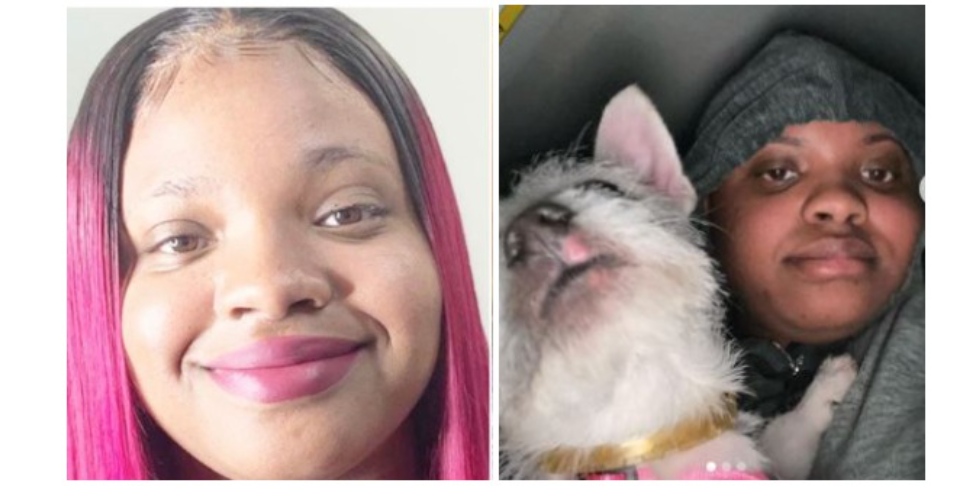 Dekalb County, Georgia – A "social media influencer" in Dekalb County, Georgia, finds herself in hot water for showing images and videos of dog abuse on TikTok and Instagram. The accused abuser is Brittany Johnson, aka Lovely Peaches, and she has been arrested and charged for abusing her puppy, Max.
Johnson is charged with one count of cruelty to animals thanks to a collaborative effort between Georgia's DeKalb County Police, and DeKalb County Animal Services. Max is safely out of harm's way and now Johnson must pay for her abusive behavior! We want your signature to help convince officials that this woman deserves the maximum punishment for her animal cruelty charge AND she must be prohibited from owning an animal in the future.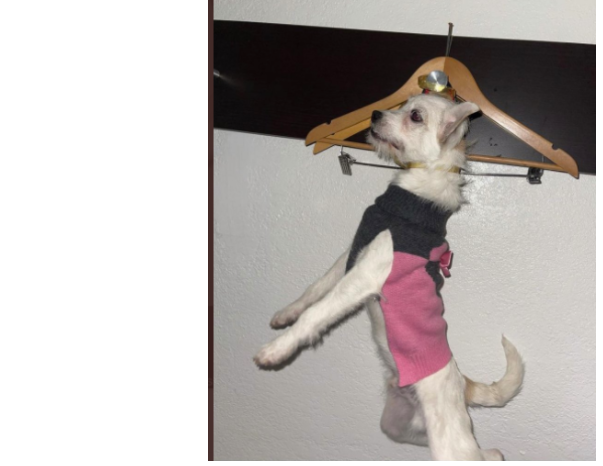 This photo speaks for itself. This is torture! Max was abused and now his abuser must be punished. Brittany Johnson is accused of harming her Jack Russell Terrier in a multitude of ways, including forcefully kicking him, hanging him from the coat hanger, and spraying him in the face with perfume.
This is sadistic behavior that must be punished! According to the authorities, "her Jack Russell Terrier was taken into custody by Animal Services, where it was examined by a veterinarian and Johnson voluntarily signed over custody."
Max may be out of Johnson's custody, but that isn't enough. If she receives a plea deal, she may very well re-offend. We want to send a strong message to this woman – in the form of a strict sentence and a ban on future pet ownership to Sherry Boston, DeKalb County District Attorney.  Please add your name today – animal abuse cannot and will not be tolerated!
Individuals are presumed innocent until proven guilty in a court of law.
News:
Update 9/13/2022: The calendar call is scheduled for October 25, 2022 at 3 p.m. 
Update 2/07/2022: Animal Victory has learned that the Calendar call has been rescheduled to May 25, 2022.
Update 11/08/2021: Animal Victory has learned that the Calendar call is scheduled for 01/25/2022 at 1:30 p.m.
Update 9/15/2021: Animal Victory has learned that the next court date, according to the state court site, is scheduled for 10-26-2021, at 1:30 p.m.
Update 7/5/2021: Animal Victory has learned that there is a calendar call scheduled for 8/25/2021 (Calendar call is a pre-trial meeting that is held by a judge with the attorneys of both the parties in a case to schedule a date for trial or hearing, and to arrange some other pre-trial details).
Update 6/28/2021: Brittany Johnson's arraignment will be on July 1st at 1:30pm
Update 2/6/2021: Animal Victory has learned that Brittany Johnson is only facing a misdemeanor charge for cruelty to animals. We will fight for the maximum punishment allowable for this charge.
Read our letter to District Attorney Boston here
Animal-Protection-Laws-of-Georgia-2020-Animal-Legal-Defense-Fund (1)
PRIOR SIGNATURES : 16716
Social Media Influencer Accused Of Abusing Dog, Including Hanging From Coat Hanger
1,324
signatures = 9% of goal
1,324
John Robertson
Nov 30, 2022
1,323
Lisel Sipes
That does not even look human. Gross!
Nov 19, 2022
1,322
Dana Dykes
Nov 19, 2022
1,321
brigitte deschaintre
Nov 11, 2022
1,320
Amy Ong
Nov 04, 2022
1,319
Sharon Hull
Nov 01, 2022
1,318
Alison Cooper
Oct 29, 2022
1,317
Lisa Cairns
Oct 20, 2022
1,316
Meg Feltes
Oct 17, 2022
1,315
Carolina Pino
Oct 15, 2022
1,314
Shannon Nichols
Oct 07, 2022
1,313
Michele Pierce
Oct 05, 2022
1,312
S.A. Tupper
The u
Sep 30, 2022
1,311
Jace Kai
Disgusting fat fuck should die. I'd like to slice that smile right off her fat fucking face.
Sep 30, 2022
1,310
Marga Gili
Sep 22, 2022
1,309
Guisselle Martinez
Sep 17, 2022
1,308
Carmen Verdugo
Sep 11, 2022
1,307
Michelle Krueger
Sep 09, 2022
1,306
Tammy Welch
Sep 07, 2022
1,305
Tina Woods
Sep 03, 2022
1,304
Nancy Coupe
Sep 03, 2022
1,303
Sandy Beshir
Aug 21, 2022
1,302
Farah Khumbatta
Aug 20, 2022
1,301
COURTNEY WHITNEY
Aug 17, 2022
1,300
Vickie Barnett
Aug 10, 2022
1,299
Renee Crawford
Aug 10, 2022
1,298
Rose Bubello
Aug 07, 2022
1,297
Ana Carolina Casey
Please put this horrible evil animal abuser in prison for ever evil monster.
Aug 05, 2022
1,296
Carolyn Chamberland
Aug 02, 2022
1,295
john clary
Jul 15, 2022
PRIOR SIGNATURES : 16716
---