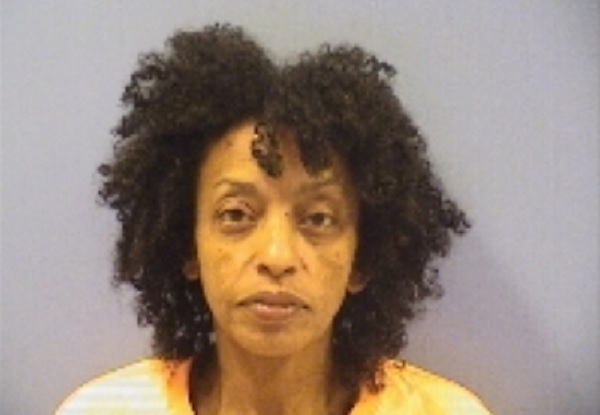 Sandusky, OH-A 58-year-old Sandusky, Ohio, woman is facing a felony animal cruelty charge after locking her dog inside of a car in early August as "punishment." The dog, named Chapo, suffered a miserable death from the heat.
Sandusky Police arrested Mouheb Ashakih on August 7, at her Perry Street home, after finding Chapo dead in the backseat of her Toyota Camry.
Ashakih's neighbor confronted her about putting the dog in the car and her response was, "I don't care, mind your own business I want him to die!"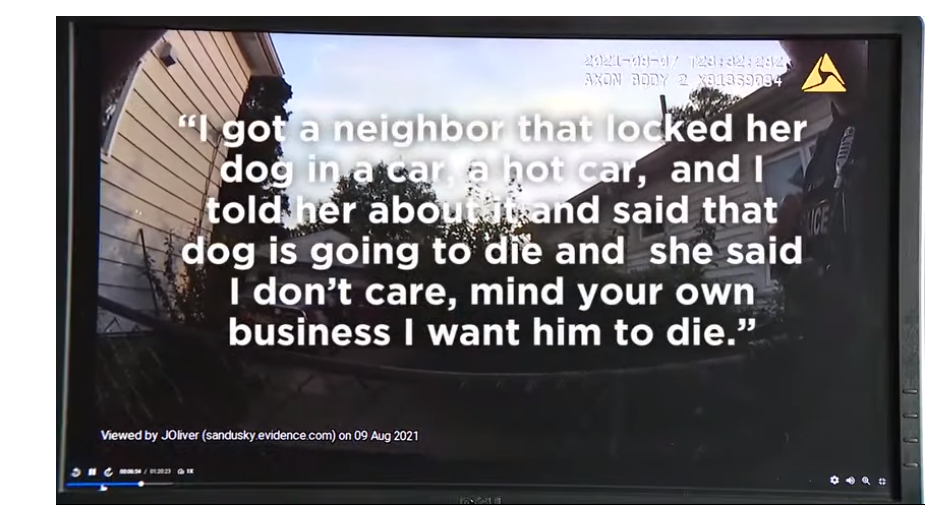 The neighbor told the police that he saw Ashakih place her pit bull inside of the car and roll up the windows – he then saw the dog frantically trying to claw his way out of the car.
Death by heatstroke is not quick, or painless. Dogs can suffer seizures, tremors, increased heart rate, vomiting, diarrhea, dizziness, and delirium. Chapo undoubtedly suffered horribly before collapsing in the backseat of the Toyota.
When the police arrived, they could see the dog collapsed in the rear of the car. The police report describes what was observed after the window of the car was broken out:
After opening the door through the broken window, the dog was observed to not be breathing and showed no signs of life. I carefully shook the dog and noticed him to be stiff and very hot to the touch. There was also a very hot burst of air released from the interior of the vehicle when the window was shattered and the door was opened – considerably more hot than the temperature outside. The vehicle's interior was observed to be destroyed and covered in blood, which indicates the dog was struggling and attempting to exit the vehicle. The dog's paws were also observed to have lacerations and were covered in blood, as if he was attempting to scratch/dig his way out.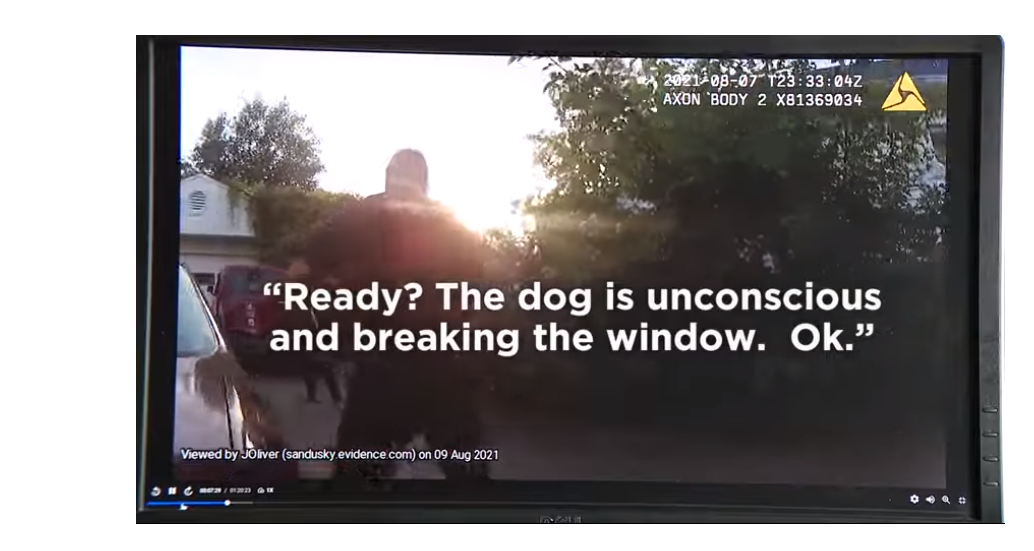 Chapo's body was removed from the car and taken to the dog warden's office, pending the investigation. Officers also removed a two-year-old dog, and two six-month-old puppies from Ashakih's home. The dogs were taken to a shelter and Ashakih was booked into the Erie County Jail.
Please sign the petition as we push to have court officials give Mouheb Ashakih the maximum sentence allowable by law for what she did to Chapo. She caused this dog extraordinary suffering, and by her own words, she intended for him to die. We will also be asking the court to forbid Ashakih from reclaiming the dogs that were seized, as well as requesting that she be denied the ability to own pets in the future.
PETITION LETTER to Prosecutor Tischler
Update 8/1/2022: The warrant remains active. 
Update 7/2/2022: This case is still open with an active warrant since March of 2022. The defendant still cannot be found. Case Details – CourtView Justice Solutions
Update 4/18/2022: Animal Victory has learned that the suspect failed to report to the court and has still not been located.
Update 01/11/2022: Animal Victory has learned that the next court date has still not been scheduled since the pretrial on 11/9/2021. Please continue to sign the petition.
Update 11/30/2021: Animal Victory has learned that the case was bound over to Erie County from Sandusky Municipal. The new case number is 2021 CR 0451.
Update 11/8/2021: Animal Victory has sent 20,231 signatures to the Grand Jury Assistant Prosecutor, Jessica Paule, and the Chief Assistant Criminal Prosecutor, Paulette Lilly.  
Update 11/4/2021: Pretrial is scheduled for 11/09/2021. Support for this case is still needed; please sign and share if you haven't already!
On November 4, Animal Victory received the following correspondence from the city attorney's office:
Thank you for reaching out to me. This case is currently pending in Sandusky Municipal Court but will not remain here. The case will be bound over to Common Pleas Court to be presented to a Grand Jury. I will forward your concerns to the Grand Jury Assistant Prosecutor, Jessica Paule, and the Chief Assistant Criminal Prosecutor, Paulette Lilly. Believe me when I say that we are treating this matter with the utmost seriousness in the City of Sandusky Law Department and I am sure the same will occur once the case reaches the Erie County Prosecutor's Office. Your input is very valuable and I appreciate your concerns. Thank you again for contacting me.
City Prosecutor Lynne Gastking
Update 9/16/2021: Animal Victory has learned that the case is set for preliminary on 10/28/2021 @ 10:15 a.m. and that Ashakih's attorney has entered a plea of not guilty.
News:
Animal-Protection-Laws-of-Ohio-2020-Animal-Legal-Defense-Fund
Woman Locked Her Dog In The Car As Punishment And He Suffered A Horrible Death
22,044
signatures = 110% of goal
22,044
John Robertson
Nov 30, 2022
22,043
Dana Dykes
Nov 19, 2022
22,042
Sylvie Préseau
Peine maximale ! Elle l'a torturé en lui infligeant des douleurs atroces !! Extrêmes souffrances !!! Très longue agonie !!! Elle mériterai qu'on lui fasse subir la même expérience Peine maximale sans rien laisser passer.
Nov 05, 2022
22,041
Lisa Cairns
Oct 20, 2022
22,040
Jacqueline McRobbie
Oct 17, 2022
22,039
Meg Feltes
Oct 17, 2022
22,038
Shannon Nichols
Oct 07, 2022
22,037
Guisselle Martinez
Sep 17, 2022
22,036
Shambhavi Ojha
Sep 16, 2022
22,035
Carmen Verdugo
Sep 11, 2022
22,034
Kelly A Kalish
Sep 10, 2022
22,033
Michelle Krueger
Sep 09, 2022
22,032
Jeffrey Clouatre
Sep 04, 2022
22,031
Tina Woods
Sep 03, 2022
22,030
LEO MENDEZ
Put this sick cruel bitch in a hot car for hours and let her die!!
Sep 03, 2022
22,029
MARIE BOTEILHO
Find this sick deranged cruel heartless bitch and charge her with animal cruelty!!! HARSH PENALTIES ON HER! 30 YEARS IN PRISON AND LOCK HER IN A HOT JAIL CELL!!
Sep 03, 2022
22,028
Nancy Coupe
Sep 03, 2022
22,027
Michele Pierce
Aug 23, 2022
22,026
Karen Sexauer
Aug 17, 2022
22,025
maureen blundell
Aug 17, 2022
22,024
Vickie Barnett
Aug 10, 2022
22,023
Renee Crawford
Aug 10, 2022
22,022
Jeanette Uy
This monster needs to be found and punished to the full extent of the law. Batter yet, have her locked up in a car in the midst of the heatwave and see how she fares! Poor Chapo... I'm so sorry you had such a horrible human.
Aug 10, 2022
22,021
Ana Carolina Casey
Please put this horrible animal abuser in prison for ever evil monster.
Aug 05, 2022
22,020
Ana Castro
Aug 03, 2022
22,019
Dianna Story
Jul 26, 2022
22,018
Susanne Beier
Jul 25, 2022
22,017
Susan Bunn
How repugnant! She truly MUST BE PROSECUTED to the full extent of the law!
Jul 20, 2022
22,016
valentina van dijk
We want justice for poor Chapo!!! Please find that ugly evil demon Ashakih and make her suffer!!!!
Jul 20, 2022
22,015
lina van dijk
Please find that evil devil Mouheb Askahih and kill her!!! Poor precious Chapo deserves JUSTICE!!!!
Jul 20, 2022
---