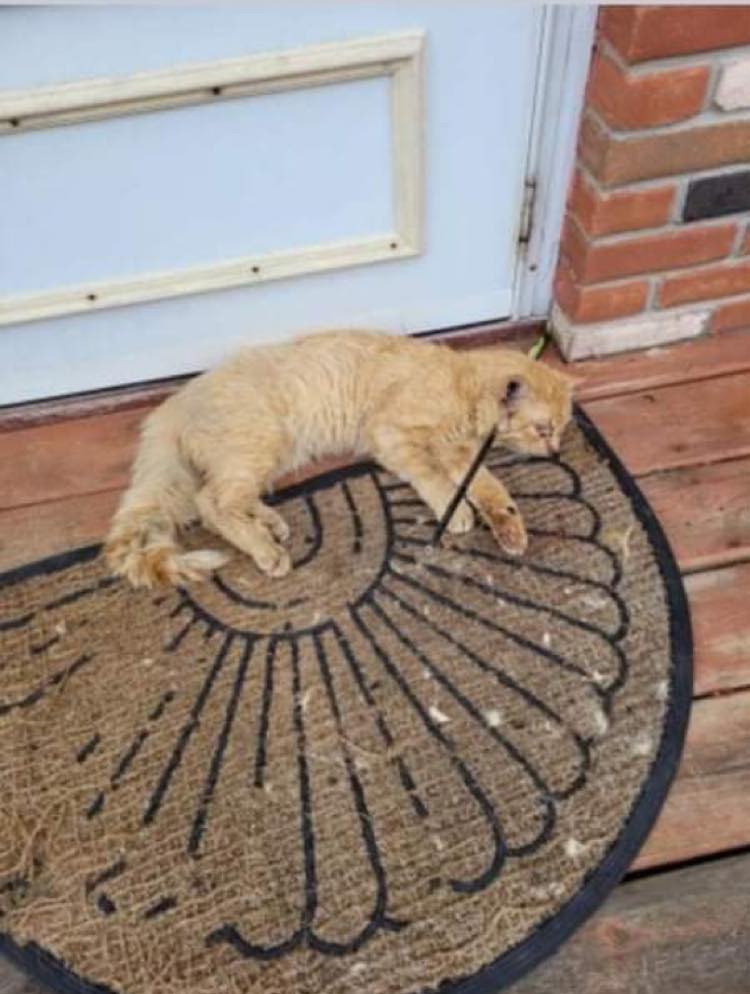 Tawas City, Michigan – A woman in Tawas City, Michigan, is facing a felony animal cruelty charge for shooting her neighbor's cat through the neck with a bolt from a crossbow. The injury resulted in Eric R. Erickson's cat Oliver spending three days at a veterinary hospital for treatment.
The Iosco County Prosecutor is charging 21-year-old Taylor Rose Shipman, of East Tawaw, with third-degree killing or torturing an animal – a charge which could result in a four year prison sentence.
Please sign today to hold this woman accountable for her actions!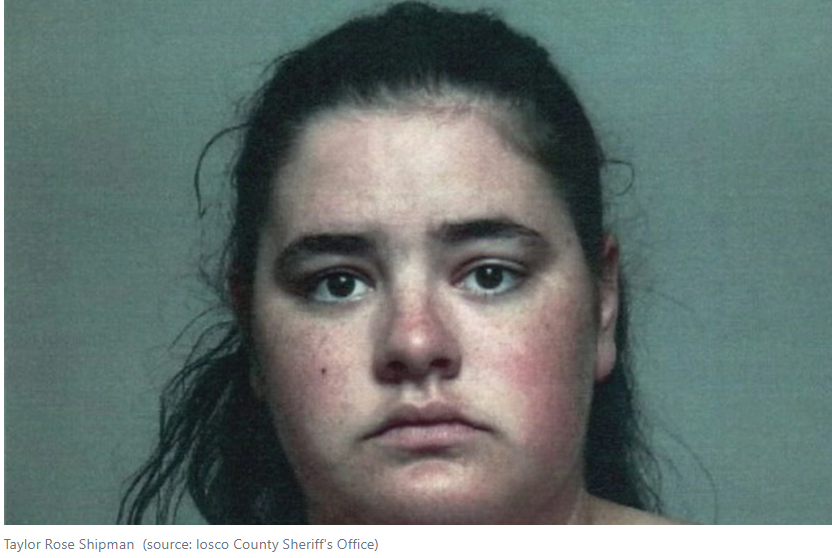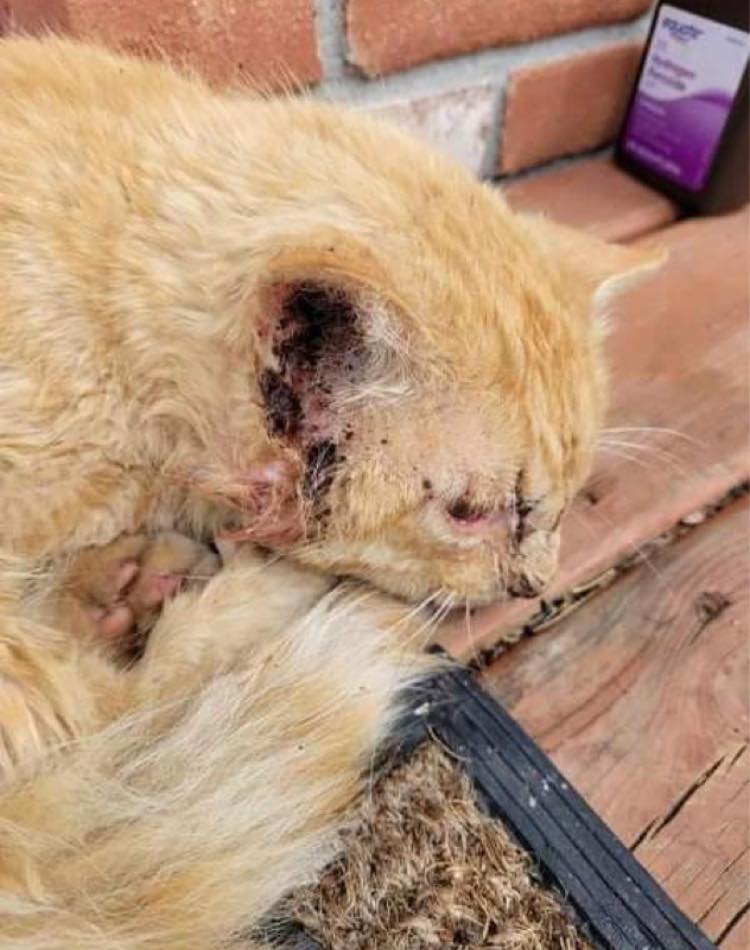 The Iosco Humane Society posted images of Oliver on July 17, and explained what had happened to the gentle cat:
Oliver is a friendly gentle cat that is very loved by his owner. Oliver went missing Sunday July 11th and showed up back home Thursday July 15th. The condition his owner found him in is heart breaking. Oliver was shot in the neck with a crossbow on Sunday July 11th by his owners neighbors and the neighbor even admitted to shooting the cat. This poor innocent cat did not deserve to be shot.
The authorities later issued a press release about the incident, which reads in part:
After the investigation and all interviews were completed the Iosco County Sheriff's Office submitted the report for review on July 22nd to the Iosco County Prosecutors Office. The Iosco County Prosecuting Attorney authorized a felony warrant for the suspect on July 23rd, 2021 for one count Animals-Killing/Torturing third degree.
We want to send your signatures to court officials to let them know that Oliver deserves justice for the suffering he endured. Please add your name to the petition today – Taylor Rose Shipman deserves jail time for her despicable behavior!
Update 11/19/2021: Animal Victory has sent 32,667 signatures to Prosecutor James Bacarella. The signatures more than doubled within three months from the first time we sent signatures to James Bacarella.
Update 11/08/2021: Animal Victory has learned that the next court date is 11/22/2021 at 10:00 a.m.
Update 08/09/2021: Animal Victory has sent 15,635 signatures to Prosecutor James Bacarella.
News:
Individuals are presumed innocent until proven guilty in a court of law.
PRIOR SIGNATURES : 15746
Woman Faces Felony For Shooting Neighbor's Cat In The Neck With A Crossbow Bolt
17,585
signatures = 117% of goal
17,585
Sabita Patwardhan
Absolutely bloody shitty, shitty, shitty persone.
Nov 26, 2021
17,584
Debra Gagliano
Nov 26, 2021
17,583
Kathleen Manchester
Nov 26, 2021
17,582
JW Stein
Nov 26, 2021
17,581
Penelope Corcoran
Despicable *&%$# needs jail time!
Nov 26, 2021
17,580
Kim Geoffroy
Nov 26, 2021
17,579
Julia Baidoo
Nov 26, 2021
17,578
Nadia Li
Nov 26, 2021
17,577
Jane De Moratti
Nov 26, 2021
17,576
MaryAnn Schuoler
this horrible person needs the same done to her!!!
Nov 26, 2021
17,575
Lesley Finnegan
Nov 26, 2021
17,574
Ana Santos
Nov 26, 2021
17,573
Tiffany Lozano
Nov 26, 2021
17,572
Laurel Harris
Nov 26, 2021
17,571
Debra Clinton
PUT THESE VIOLENT PEOPLE IN PRISON WHERE THEY BELONG! PROTECT THE INNOCENT!
Nov 26, 2021
17,570
Angie Koczkur
Nov 26, 2021
17,569
Danielle L'Ecuyer
Nov 26, 2021
17,568
Jean Swanson
Nov 26, 2021
17,567
Pam Kruger
Nov 26, 2021
17,566
Sandy Bairfield
Horrific!
Nov 25, 2021
17,565
Dianna Brown
HARSHEST punishment! This will never end if we keep slapping them on the hand and setting them free.
Nov 25, 2021
17,564
Pamela Johnson
Nov 25, 2021
17,563
Janice Giampaoli
SOB, POS scumbag
Nov 25, 2021
17,562
Mary Mollo
Nov 25, 2021
17,561
Richard Bertoni
You deserve what ever punishment the law can give you and then some
Nov 25, 2021
17,560
Jennifer Hagens
Nov 25, 2021
17,559
PANY KONSTANTINIDOU
Nov 25, 2021
17,558
Anonymous
Nov 25, 2021
17,557
Beverly Hodge
I'm trying to find out if the cat survived. Ethier way the neighbor had no right to do that. They are clearly mentally Disturbed to do something like that to an innocent animal
Nov 25, 2021
17,556
Katherine MacPhee
Nov 25, 2021
PRIOR SIGNATURES : 15746
---