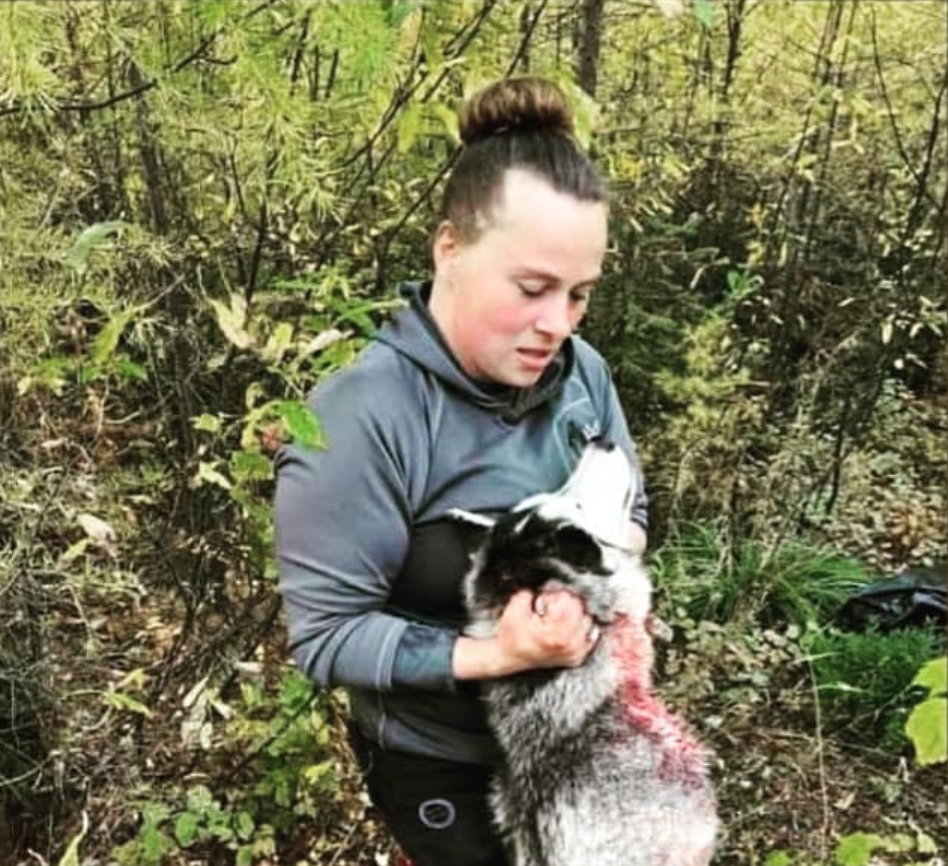 Montana – A Montana woman has been under fire since late September when she proudly took to social media to boast about killing a wolf. Amber Rose posted multiple photos of the skinned animal, writing that it was a great feeling to be able to text "her man," that she had "just smoked a wolf pup."

But Amber Rose did not "smoke a wolf pup," she killed a dog. A Siberian husky to be exact. People who viewed the disturbing images of the skinned dog were horrified and pointed out that the "wolf pup" was clearly a husky. One person stated that "even a child" would recognize that the dead animal was a dog.
After Rose was called out by people outraged by her actions, she got defensive and changed her story from being immensely proud of killing a predator, to claiming self-defense, stating that the young dog was growling and trying to attack her.
The Flathead County Sheriff's Office released a statement advising that dogs had been abandoned in the Doris Creek area of the national forest. All but two were picked up and apparently, Amber Rose's prized trophy was one of the abandoned pups.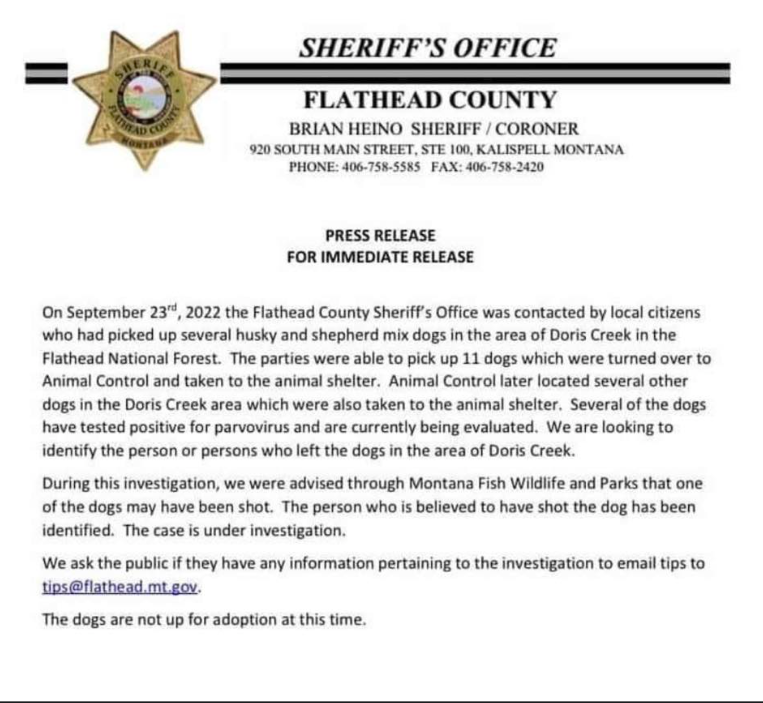 The Sheriff's Office and the Fish Wildlife & Parks Department have confirmed that they are investigating the incident.
Please add your name to the petition if you believe that Amber Rose should face charges for killing this abandoned dog. At no point in her initial social media post did she claim that she felt threatened by the dog.
We the undersigned demand that Amber Rose be held accountable for shooting and skinning an animal that was clearly a dog. We want to see this woman face an animal cruelty charge for killing this abandoned husky. Further, given Amber Rose's appalling behavior, we demand that her hunting license be permanently revoked. 
Note: Individuals are presumed innocent until they have been found guilty in a court of law. Animal Victory relies upon the authorities and the court system to determine guilt or innocence.
News:
Update 11/3/2022: Animal Victory has sent 15,080 signatures to ADA Michael Newman.
Update 10/31/2022: The Flathead County Sheriff's Office has stated that Amber Rose Barnes has been charged with misdemeanor animal cruelty. The Flathead County Sheriff's Office told NBC Montana that Barnes was not charged with a felony because they couldn't prove intent. She pleaded not guilty to the charge on October 28. We will fight for the maximum misdemeanor charge.
Woman Boasted That She 'Smoked A Predator Wolf Pup,' But She Actually Killed And Skinned A Dog
15,531
signatures = 78% of goal
15,531
Betty Edelman
Mar 24, 2023
15,530
Francis Servaege
Mar 24, 2023
15,529
Sharon Ryan
Mar 23, 2023
15,528
Kim Martin-Cotten
Mar 22, 2023
15,527
Cheryl Polzer
Mar 22, 2023
15,526
Lars Rudnick
Mar 21, 2023
15,525
Mary Avakian
This woman is sick.
Mar 20, 2023
15,524
Jan Joyce
Nasty dumb bit** should get same treatment.
Mar 19, 2023
15,523
Kathryn Thacker
Mar 19, 2023
15,522
Cynthia Wennemark
Mar 18, 2023
15,521
Carmen Verdugo
Mar 17, 2023
15,520
Gwen Pelusi
We are better off getting rid of souless subhuman Amber Rose Barnes. Shes more a threat to civilization than these sentient intelligent animals
Mar 16, 2023
15,519
Ellen Munoz
What a sick evil woman. Please charge her with killing an innocent animal.
Mar 15, 2023
15,518
ROSSELLO Brigitte
Mar 14, 2023
15,517
Dottie Fleischmann
She needs to be punished!
Mar 13, 2023
15,516
Danielle Agresta
UGLY ASS BIT**.... SHE NEEDS HELP AND A GOOD LICKEN, AND THATS JUST THE BEGINNING. TOO BAD THE LAW ISNT EYE FOR AN EYE... SCUMBAG
Mar 13, 2023
15,514
Tina Billman Kelty
Mar 11, 2023
15,513
Hanneke Bekhof
Mar 11, 2023
15,512
Natasha Stafford
Mar 11, 2023
15,511
Carol Williams
Sick, punish her to the full extent of the law
Mar 11, 2023
15,510
Kay Roberts
A Dangerous woman to have loose.
Mar 10, 2023
15,509
Zachary Smith
Mar 10, 2023
15,508
Paula Sule
Even I can tell that's a dog! She shouldn't be out there with a gun if she doesn't know what she's hunting!!!!
Mar 10, 2023
15,507
Chrystelle Sauzet
Mar 09, 2023
15,506
Rachel Long
The next trophy will be a HUMAN. The law should never allow this!!! If this idiotic woman cannot distinguish between a wolf or dog, THEN go onto social media praising herself for killing an innocent, helpless animal, what makes anyone think she's not capable of killing anything alive?!?!
Mar 09, 2023
15,505
Marisa Avolio
She shouldn't be hurting either wolf or dog!!! She should be charged with first degree murder.
Mar 09, 2023
15,504
Laetitia PAVESI
Mar 09, 2023
15,503
Karen Griffis
This is start up evil.... She needs to be punish and throwed in prison.... She is truly a sick bitch...
Mar 09, 2023
15,502
Grace VanEss
Mar 09, 2023
---