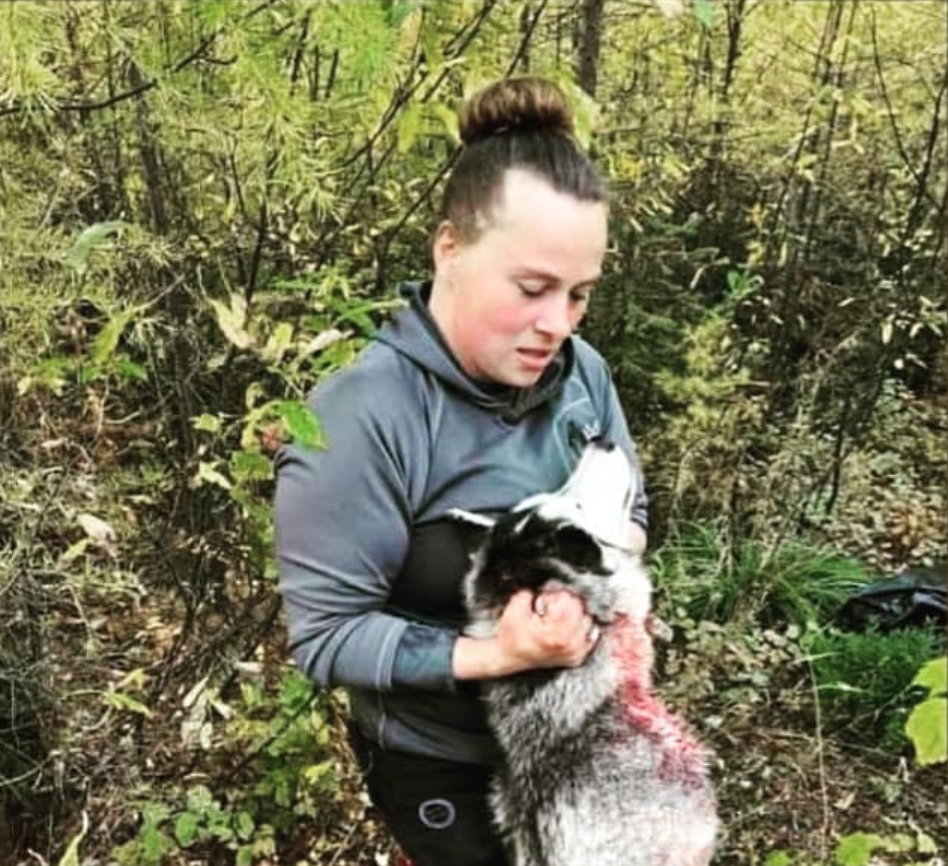 Montana – A Montana woman has been under fire since late September when she proudly took to social media to boast about killing a wolf. Amber Rose posted multiple photos of the skinned animal, writing that it was a great feeling to be able to text "her man," that she had "just smoked a wolf pup."

But Amber Rose did not "smoke a wolf pup," she killed a dog. A Siberian husky to be exact. People who viewed the disturbing images of the skinned dog were horrified and pointed out that the "wolf pup" was clearly a husky. One person stated that "even a child" would recognize that the dead animal was a dog.
After Rose was called out by people outraged by her actions, she got defensive and changed her story from being immensely proud of killing a predator, to claiming self-defense, stating that the young dog was growling and trying to attack her.
The Flathead County Sheriff's Office released a statement advising that dogs had been abandoned in the Doris Creek area of the national forest. All but two were picked up and apparently, Amber Rose's prized trophy was one of the abandoned pups.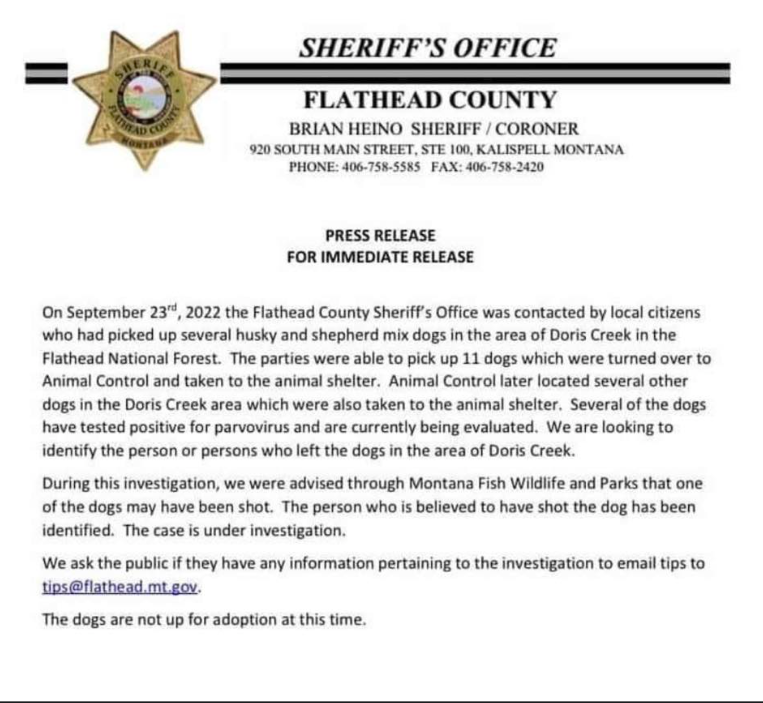 The Sheriff's Office and the Fish Wildlife & Parks Department have confirmed that they are investigating the incident.
Please add your name to the petition if you believe that Amber Rose should face charges for killing this abandoned dog. At no point in her initial social media post did she claim that she felt threatened by the dog.
We the undersigned demand that Amber Rose be held accountable for shooting and skinning an animal that was clearly a dog. We want to see this woman face an animal cruelty charge for killing this abandoned husky. Further, given Amber Rose's appalling behavior, we demand that her hunting license be permanently revoked. 
Note: Individuals are presumed innocent until they have been found guilty in a court of law. Animal Victory relies upon the authorities and the court system to determine guilt or innocence.
News:
Update 11/3/2022: Animal Victory has sent 15,080 signatures to ADA Michael Newman.
Update 10/31/2022: The Flathead County Sheriff's Office has stated that Amber Rose Barnes has been charged with misdemeanor animal cruelty. The Flathead County Sheriff's Office told NBC Montana that Barnes was not charged with a felony because they couldn't prove intent. She pleaded not guilty to the charge on October 28. We will fight for the maximum misdemeanor charge.
Woman Boasted That She 'Smoked A Predator Wolf Pup,' But She Actually Killed And Skinned A Dog
15,237
signatures = 76% of goal
15,237
Iris Martin
Being stupid is no excuse for her actions. If you own a gun and like killing animals, you better know how to I.D the animal. I hope she is fined and do whatever else she deserves. Horrible woman.
Dec 01, 2022
15,236
Karen mercer
Dec 01, 2022
15,235
Emilia Muntean
Dec 01, 2022
15,234
irene antonucci
Nov 30, 2022
15,233
sheri lane
Nov 30, 2022
15,232
Mary Lanis
Nov 29, 2022
15,231
Debra Emery
Nov 29, 2022
15,230
Carolann Gilmartin
Nov 29, 2022
15,229
Phillippa Hilsden
Nov 29, 2022
15,228
Sandra Weyerman
Nov 28, 2022
15,227
Viktorija Venslovaitė
Nov 28, 2022
15,226
Erica Hernandez
Nov 27, 2022
15,225
Shauna Allison
Nov 27, 2022
15,224
Beatriz Centeno
Nov 26, 2022
15,223
Maria Centeno
Nov 26, 2022
15,222
Carol Davey
Nov 26, 2022
15,221
Mia Lawrence
Nov 26, 2022
15,220
Amy Klaus
This is deplorable.
Nov 25, 2022
15,219
Julie Nelson
Nov 25, 2022
15,218
Darcie Prestis
This woman is SICK !! Justice for this dog!
Nov 24, 2022
15,217
Kathryn Walsh
Nov 23, 2022
15,216
Tracey Howitt
Nov 23, 2022
15,215
Larisa Romanova
Nov 23, 2022
15,214
Daisy Mazariegos
Nov 23, 2022
15,213
Elizabeth Tennison
What a psychopath
Nov 22, 2022
15,212
Maria Esperanza Delgado -Caldera
Nov 22, 2022
15,211
Rina Eichhof
smh
Nov 22, 2022
15,210
Moyses Marcos
Nov 22, 2022
15,209
Patrizia Galeotti
Nov 22, 2022
15,208
Tina Black
Nov 21, 2022
---