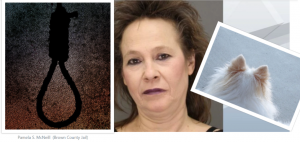 Howard, Wisconsin – A woman in Brown County, Wisconsin, is accused of killing her own dogs, by hanging them in trees, after they growled at each other earlier this month. The woman accused of hanging, and then strangling her dogs with her hands, is identified as 56-year-old Pamela McNeill.
After being arrested, McNeill admitted to the killings – her statement can be found below:
"On Monday February 14, 2022 around dusk. Both of my dogs started snapping at each other and growling while they were in the passenger seat of my car. I tried to pet them and they growled at me, but never snapped at me. I told them I was not going to live with that and I told them I loved them and that I hoped to see them someday.

I killed the white one first by hanging her from a tree. I swung her leash around a branch, pulled her up off the ground by her collar and tied the leash to a branch. She really started struggling so I grabbed her by the scruff of her neck and squeezed her neck with my bare hands as hard as I could until she died. I left her hanging in the tree and went and got the brown dog.

I walked the brown dog to another tree in the area and killed the brown dog in the same exact way. I left both dogs hanging in the trees and went to Kwik Trip I think. I then went back to the park and ride and parked facing the opposite way so I didn't have to see them."
McNeill's dogs were found hanging from trees at a park and ride at 2700 CTH RK in the Village of Howard.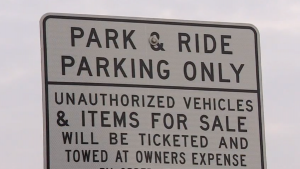 The authorities described the dogs as looking like Pomeranians.
McNeill was arrested and taken to the Brown County Jail where she is being held on two counts of Mistreatment of Animals/Cause Death and two counts of Bail Jumping-Felony. Each count for the mistreatment of animals has up to a $10,000 fine or not more than three and a half years in prison.
The depravity of Pamela McNeill's actions is beyond comprehension. These dogs were killed by the person who should have protected them from harm.
Please stand with us as we fight for justice. In addition to jail time, we want to ensure that this woman has a full mental evaluation and treatment if warranted by professionals. We also want to see her prohibited from owning animals moving forward.
We the undersigned demand that Pamela McNeill be held responsible for killing her two dogs, and that she receives the maximum punishment allowable by law.
Note: Individuals are presumed innocent until being found guilty in a court of law. Animal Victory relies upon the authorities and the court system to determine guilt or innocence.
News
Animal-Protection-Laws-of-Wisconsin-2020-Animal-Legal-Defense-Fund
Update 4/26/2022: Animal Victory has sent 14,144 signatures to DA Davis J. Foss. 
2022CF000282 Case Details in Brown County
Update 4/19/2022: Animal Victory has learned that the defendant was found competent and her court conference hearing is set for 05/09/2022 at 2:30 pm.
Update 2/25/2022: Animal Victory has learned that the assigned case number is 2022CF000282. The defendant has a competency hearing on 2/28/2022 at 2:00 p.m., and she has an open case from 2019 that involves several felony drug charges. Special Prosecutor Lawrence Lasee is representing the state for both cases.
Woman Accused Of Hanging Her Two Dogs In Trees After They Growled At Each Other
14,262
signatures = 71% of goal
14,262
Yeniffer Quijano
May 23, 2022
14,261
John Kolodziej
May 22, 2022
14,260
Edie Shaw
May 22, 2022
14,259
Daniel Avichail
May 22, 2022
14,258
Wayne Hernandez
May 21, 2022
14,257
Michelle Peters
No one wants human filth like this living in society. I wish she could be charged as though she did that to her own children. THAT is how our laws need to be!
May 21, 2022
14,256
Rosemary Pando
May 21, 2022
14,255
Lucy Fontanills
May 18, 2022
14,254
Raluca Florea
THIS SCUM NEEDS TO BE PUT BEHIND BARS!
May 18, 2022
14,253
Barbara Snyder
May 18, 2022
14,252
Agnes Pawlusinski
May 16, 2022
14,251
Viktorija Venslovaite
May 16, 2022
14,250
Anne Vandromme
May 16, 2022
14,249
Colette Winslow
May 14, 2022
14,248
Janet Boshell
May 14, 2022
14,247
Marion Friedl
May 14, 2022
14,246
Cindy Rancourt
May 14, 2022
14,245
Alessia Di Buono
May 14, 2022
14,244
Amanda Cermak
May 14, 2022
14,243
Ulrich Spauschus
May 14, 2022
14,242
Anne Caillat
May 14, 2022
14,241
Tirzah Given
May 13, 2022
14,240
Georgia Dees
May 12, 2022
14,239
Lynn Vance
What the hell is wrong with these crazy people killing so many animals...including their own pets, and women are getting worse for it too! Just sickening! They all need the same demise they dished out!
May 11, 2022
14,238
Keleen McBride
May 11, 2022
14,237
Sandra Cruz
What kind of deranged individual would do such to an innocent and precious animal and animals???!!! This individual needs to be prosecuted to the highest extent of the law and be forbidden from ever having any animal again. If he would do this to dogs...ask yourself, what would he do to a child!!!
May 11, 2022
14,236
Geana Davis
May 10, 2022
14,235
heather decker
May 10, 2022
14,234
Jennifer Schmidt
May 07, 2022
14,233
Debra Wantland
May 06, 2022
---