Woman Accused Of Hanging Her Two Dogs In Trees After They Growled At Each Other
Published: February 22, 2022 at 06:51 PM Author:
PENNY EIMS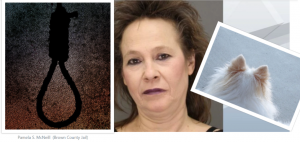 Howard, Wisconsin – A woman in Brown County, Wisconsin, is accused of killing her own dogs, by hanging them in trees, after they growled at each other earlier this month. The woman accused of hanging, and then strangling her dogs with her hands, is identified as 56-year-old Pamela McNeill.
After being arrested, McNeill admitted to the killings – her statement can be found below:
"On Monday February 14, 2022 around dusk. Both of my dogs started snapping at each other and growling while they were in the passenger seat of my car. I tried to pet them and they growled at me, but never snapped at me. I told them I was not going to live with that and I told them I loved them and that I hoped to see them someday.

I killed the white one first by hanging her from a tree. I swung her leash around a branch, pulled her up off the ground by her collar and tied the leash to a branch. She really started struggling so I grabbed her by the scruff of her neck and squeezed her neck with my bare hands as hard as I could until she died. I left her hanging in the tree and went and got the brown dog.

I walked the brown dog to another tree in the area and killed the brown dog in the same exact way. I left both dogs hanging in the trees and went to Kwik Trip I think. I then went back to the park and ride and parked facing the opposite way so I didn't have to see them."
McNeill's dogs were found hanging from trees at a park and ride at 2700 CTH RK in the Village of Howard.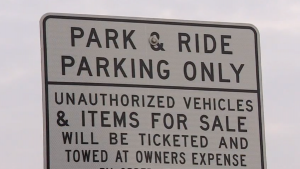 The authorities described the dogs as looking like Pomeranians.
McNeill was arrested and taken to the Brown County Jail where she is being held on two counts of Mistreatment of Animals/Cause Death and two counts of Bail Jumping-Felony. Each count for the mistreatment of animals has up to a $10,000 fine or not more than three and a half years in prison.
The depravity of Pamela McNeill's actions is beyond comprehension. These dogs were killed by the person who should have protected them from harm.
Please stand with us as we fight for justice. In addition to jail time, we want to ensure that this woman has a full mental evaluation and treatment if warranted by professionals. We also want to see her prohibited from owning animals moving forward.
We the undersigned demand that Pamela McNeill be held responsible for killing her two dogs, and that she receives the maximum punishment allowable by law.
Note: Individuals are presumed innocent until being found guilty in a court of law. Animal Victory relies upon the authorities and the court system to determine guilt or innocence.
News
Animal-Protection-Laws-of-Wisconsin-2020-Animal-Legal-Defense-Fund
Update 5/11/2023: Animal Victory has learned that the Plea hearing is set for 7/17/2023 at 8:30 am.
Update 3/20/2023: Animal Victory sent cover letter and petition to the judge.
Update 1/25/2023: A motion hearing is scheduled for April 14, 2023 at 2:00 p.m. Court notes:
"Defendant Pamela S McNeill not in court. Attorney Andrew P. Mongin in court for Pamela S McNeill. Prosecuting attorney Maggie R Crawford in court for the State of Wisconsin. Court reschedules hearing due to Jury Trial on another case. Present bond continued.
Update 9/12/2022: The next scheduled court date is January 23, 2023. 
Update 7/17/2022: The next court date is August 30th at 9:30 am for a plea hearing. 
Update 4/26/2022: Animal Victory has sent 14,144 signatures to DA Davis J. Foss. 
2022CF000282 Case Details in Brown County
Update 4/19/2022: Animal Victory has learned that the defendant was found competent and her court conference hearing is set for 05/09/2022 at 2:30 pm.
Update 2/25/2022: Animal Victory has learned that the assigned case number is 2022CF000282. The defendant has a competency hearing on 2/28/2022 at 2:00 p.m., and she has an open case from 2019 that involves several felony drug charges. Special Prosecutor Lawrence Lasee is representing the state for both cases.
Prior Signatures 15,317