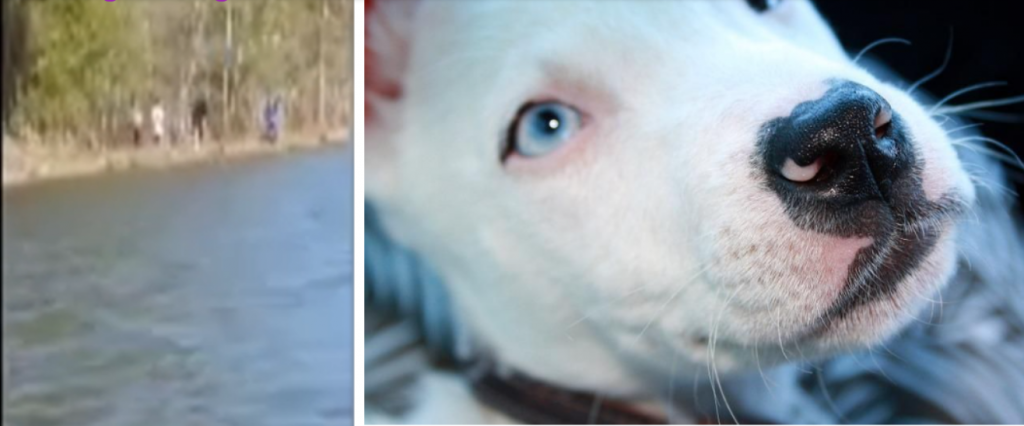 Abbeville, SC – Days ago, a man fishing from a small boat at Jim Rampey recreation park/boat ramp in Lownedsville, South Carolina, bore witness to a cruel situation that has sparked widespread outrage thanks to video evidence that he was able to capture.
The man told journalist Cody Alcorn that he was fishing last Sunday when he noticed a group of laughing men on the bank; he decided to take a closer look. The man said that he watched someone in the group hurl two pitbull puppies into the lake, explaining why he decided to get a video of what was happening:
He said he wanted to get it on video before confronting them as it would be one word against the other. It didn't take long once they noticed him watching/recoding they took off.
Abbeville County Captain Matthew Graham was able to speak with the witness and he learned that the puppies were repeatedly hurled into the water, even though it was only captured once on video. Captain Graham commented on the situation, stating, "We're not going to tolerate any kind of cruelty towards animals."
The video circulated widely on social media and enough tips were made to the authorities that Captain Graham was able to confirm to Animal Victory that one man was arrested and another was identified and a warrant for his arrest has been issued. Captain Graham did not release the names of the suspects or provide information about the current status of the puppies who were thrown into the lake.
We need your signatures on the petition to help ensure that this animal cruelty case does not get swept under the rug and these individuals do not get a slap on the wrist for their vile actions. We know that people are outraged and we all want to see these men appropriately punished for what they did.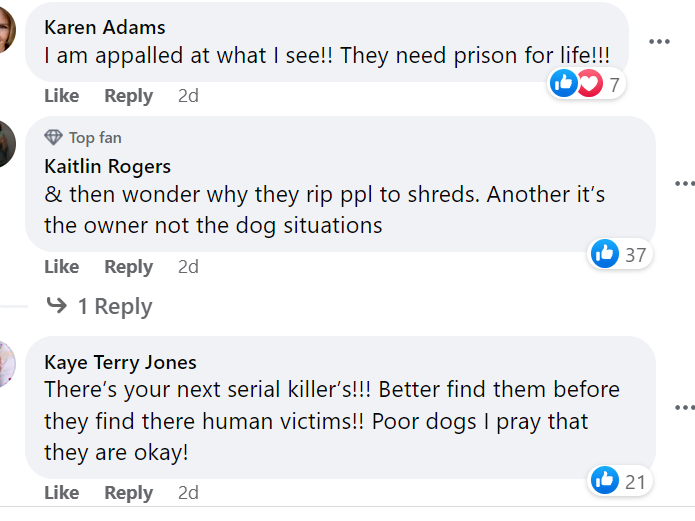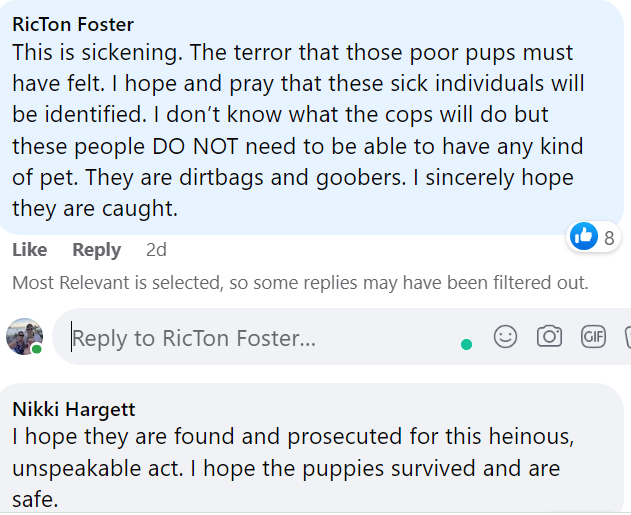 We the undersigned demand that the men responsible for repeatedly hurling these puppies into the lake are held responsible for their appalling behavior. We are petitioning for these individuals to receive the maximum punishment allowable by law and to be prohibited from owning pets in the future.
Update 4/8/2022: After the publication of this petition, new information regarding the case was made available to the public. On Thursday, the Anderson County Sheriff's Office arrested Calvin Bynes Hufflin, of Anderson, for ill-treatment of animals, and seized one of the puppies (who is now in the care of a local animal shelter). An arrest warrant has been issued for Carondus Moreck Allen, of Anderson. Allen is facing the same ill-treatment of animals charge and it is believed that he is in possession of the other puppy. Anyone with information about the whereabouts of Carondus Moreck Allen is asked to contact the sheriff's office at (864) 446-6000.
Note: Individuals are presumed innocent until being found guilty in a court of law. Animal Victory relies upon the authorities and the court system to determine guilt or innocence.
News:
Click link below to view video.
Video Shows Puppies Cruelly Hurled Into South Carolina Lake
15,868
signatures = 79% of goal
15,868
Judy Dean
May 24, 2022
15,867
Susan Fong
May 24, 2022
15,866
Dana Payton
May 23, 2022
15,865
Vera Levitt
May 23, 2022
15,864
carol williams
Throw the POS in jail, & let's hope you get what you deserve. Cruel
May 23, 2022
15,863
Erin Sleeth
May 23, 2022
15,862
Yeniffer Quijano
May 22, 2022
15,861
Mary Fleming
May 22, 2022
15,860
Nelli Horvath
May 22, 2022
15,859
Stephanie Loe
May 22, 2022
15,858
Edie Shaw
May 22, 2022
15,857
Katie McGaughey
May 22, 2022
15,856
Sonya S
May 22, 2022
15,855
Alfred Gregory
May 22, 2022
15,854
Sylvie Darmon
May 22, 2022
15,853
Daniel Avichail
May 22, 2022
15,852
Bernadette Santos
May 21, 2022
15,851
Wayne Hernandez
May 21, 2022
15,850
Julie Johnson
May 21, 2022
15,849
Gerri Reynolds
May 20, 2022
15,848
Chris Van Enkenvoort
May 20, 2022
15,847
Karen Werber
May 20, 2022
15,846
Jasminka Brayton
May 20, 2022
15,845
Latayna Sikes
May 19, 2022
15,844
Lynn Hanusa
May 19, 2022
15,843
Heather Dees
May 19, 2022
15,842
Debra Connell
May 19, 2022
15,841
Yvonne Davis
May 19, 2022
15,840
Ann Mallon
May 19, 2022
15,839
Debra Ryan
May 18, 2022
---