Video Captures Veterinarian Angrily Hitting, Choking, And Slamming His Dog
Published: October 19, 2022 at 12:51 AM Author:
PENNY EIMS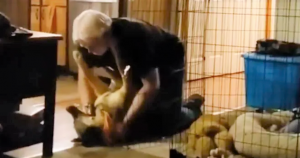 Ray Township, Michigan – On 10/12/22, deputies and animal control officers were dispatched to a residence on 29 Mile Road to investigate a shocking video that had been posted to YouTube (titled "my dad uncut lmfao action-drama-comedy film"). The graphic video shows a Shelby Township veterinarian, identified as Wayne Albert Gilchrist, abusing his German shepherd, Josie.
The video is difficult to watch. Gilchrist is screaming at Josie while stalking her as she cowers in fear. After reaching Josie, he pushes her to the floor and appears to choke her.
>>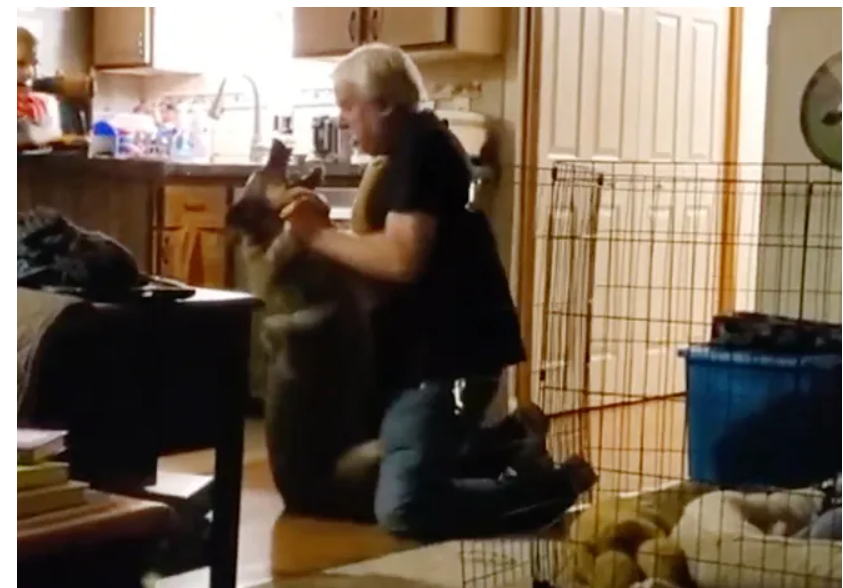 Josie's cries and whimpers can be heard as she is pinned to the ground with the grown man, HER OWNER, on top of her body.
The official media release about this animal cruelty incident details the full extent of what Josie endured:
The man physically removes the dog by its collar from the bedroom. The dog is walking around the kitchen area as the man continues to yell commands at the dog. The man then grabs the dog putting it on its back in a submissive position. The man is holding the dog by its neck and moving it around the floor on its back. The dog is screaming/whimpering. The man grabs the dog's neck with both hands as he lowers his head to the dog's head. The man appears to be squeezing the dog's neck and/or possibly biting the neck of the dog. He then lifts the dog's head slamming it on to the floor as he continues to yell at the dog. The dog is then forcefully pushed backwards and walks around the kitchen and bedroom area until it is let outside.

It is painfully clear that Josie is terrified by what is happening.
After viewing the video, Macomb County Executive Mark Hackel said:
"It's surprising that somebody would even think about handling or treating a dog the way he did. So there's a lot more to this particular case that we're going to be dealing with, obviously, from the children's perspective inside the home, the animals that we're dealing with, and you know, a possible domestic issue that might be involved in this as well."
The public swiftly responded to the disturbing video footage; angered not only by the appalling abuse but by this man's occupation as a veterinarian who has taken an oath to prevent animal suffering.
A small sampling of social media comments about this incident is included below.



The Macomb County Prosecutor's Office reviewed all the information provided and conferred with veterinary experts. A misdemeanor charge of Animals – Abandoning / Cruelty to One Animal was authorized. It is punishable by 93 Days, $1,000.00, up to 200 hours of community service, or any combination of penalties pursuant to MCL 750.50(4)(a). The Macomb County Sheriff's Office did not expressly request a felony on the Request for Warrant Authorization.
Of note: Three dogs (all dogs in the home) were removed from the residence and taken to the local animal control agency for care as the investigation continues.
If you are as horrified by what was recorded in this video as we at Animal Victory are, please add your name to the petition today! This petition will be hand-delivered to the judge's office.
We the undersigned demand that Wayne Albert Gilchrist is held responsible for the appalling abuse of his German shepherd, Josie. The shocking video footage of the October 9 incident speaks for itself; this man must be held fully accountable for his actions. Gilchrist must face the maximum sentence for the animal cruelty charge and we insist that the dogs removed from his home not be returned. We will be sending this petition to the Michigan Veterinary Medical Association along with a request for a full investigation into this veterinarian's actions and if deemed appropriate, revocation of his veterinary license.
Note: Individuals are presumed innocent until they have been found guilty in a court of law. Animal Victory relies upon the authorities and the court system to determine guilt or innocence.
News:
Update 6/28/2023: Animal Victory has been informed that this case has been transferred to Court 42-2, City of New Baltimore, MI, and reassigned to Judge William H. Hackel, the III.
Update 3/13/2022: Animal Victory sent cover letter and petition to the judge. 
Update 1/13/2022: A pretrial conference is scheduled on April 28, and the jury trial is scheduled to take place on May 12. Gilchrist was released after posting a $25,000 bond, but he is forbidden from having contact with animals, including his own dogs, which are being held at the county Animal Shelter. If Gilchrist is found guilty, the family dogs will likely be forfeited. Read more at this link.
Update 11/3/2022: Animal Victory has sent 14,490 signatures and the petition to Prosecuting attorney Lucido as well as ADA Mark Laws, and Michigan Veterinary Medical Association. This petition will also be hand-delivered to the court.
Update 10/26/2022: On Oct. 21, Gilchrist was arraigned and his lawyer, Paul Stockyj, entered a not-guilty plea on his behalf. In court, Judge Jennifer Andary berated the veterinarian, telling him, "You had an obligation, sir, to de-escalate, not seek an animal or human out, but as charged here today, sir, you have an obligation, not only pursuant to your training and expertise but as a human being to de-escalate a situation and not make it worse. You did not do that." A pretrial conference is set for Nov. 16. Gilchrist has been ordered to have no contact with animals until his case has concluded.
Prior Signatures 16,964