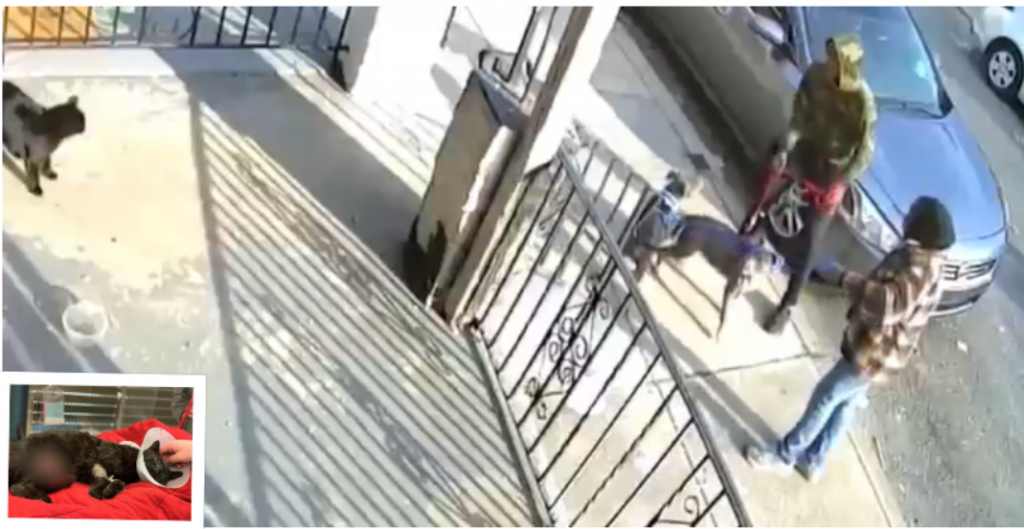 Philadelphia, Pennsylvania – A cat named Buddy is fighting for his life after being attacked by two dogs who were being encouraged to rip him apart. The horrifying incident was captured on video and now the authorities are trying to find the men responsible.
According to a release from the Pennsylvania SPCA, the attack took place on Tuesday morning in the Frankford neighborhood; the animal welfare agency describes what happened:
The video shows two individuals walking two dogs past a family home on Granite Street. On the video, it appears that an individual spots the cat named Buddy on a porch comes back, and releases one dog on the cat followed by a second dog.
As the attack continued, a person or persons can be heard on the video encouraging the dogs to continue attacking the cat until a resident of the property comes out to intervene on behalf of the cat.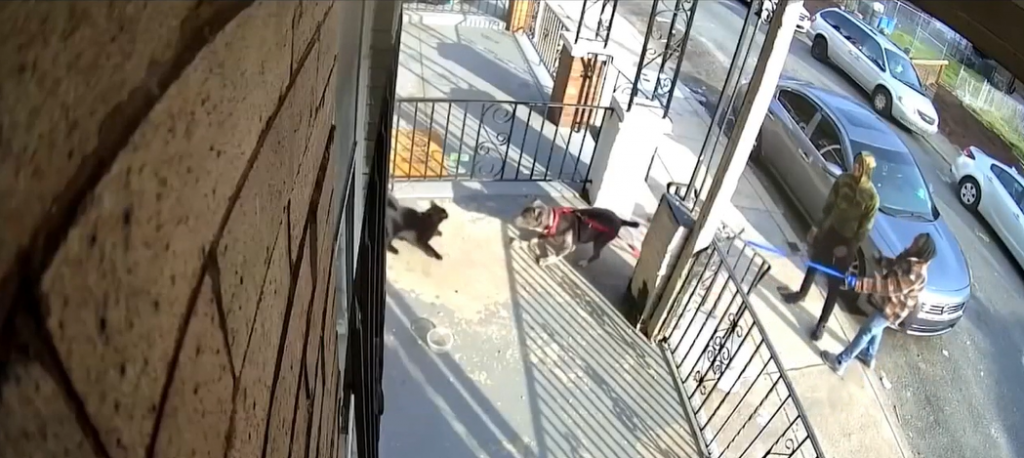 The vicious attack left Buddy with severe injuries and his survival is uncertain. Buddy was transferred to a veterinary specialist and staff is working round-the-clock to provide care to keep him alive.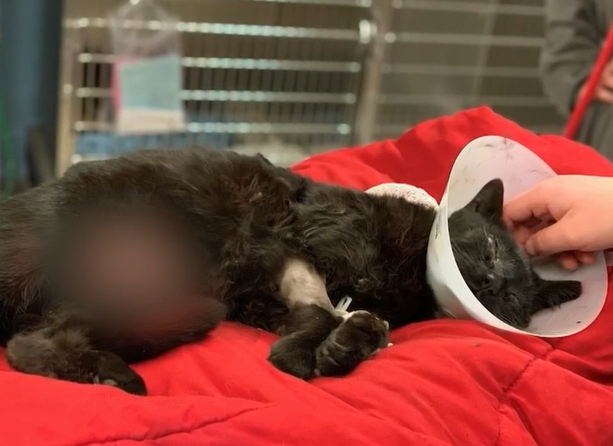 An from the animal welfare agency states that Buddy made it through the night, but he remains in extremely critical condition, and on Thursday morning, the organization said:
"Though he be but little, he is fierce."
Buddy is still hanging in there. He remains in critical condition, but we are cautiously optimistic.
(Watch the video at this link to the animal shelter's Facebook page – warning, it is disturbing!)
Pennsylvania SPCA's Humane Law Enforcement team is reviewing the footage and asking anyone with information about the individuals' identity or whereabouts to please contact the organization's cruelty hotline immediately, 866-601-7722 or cruelty@pspca.org.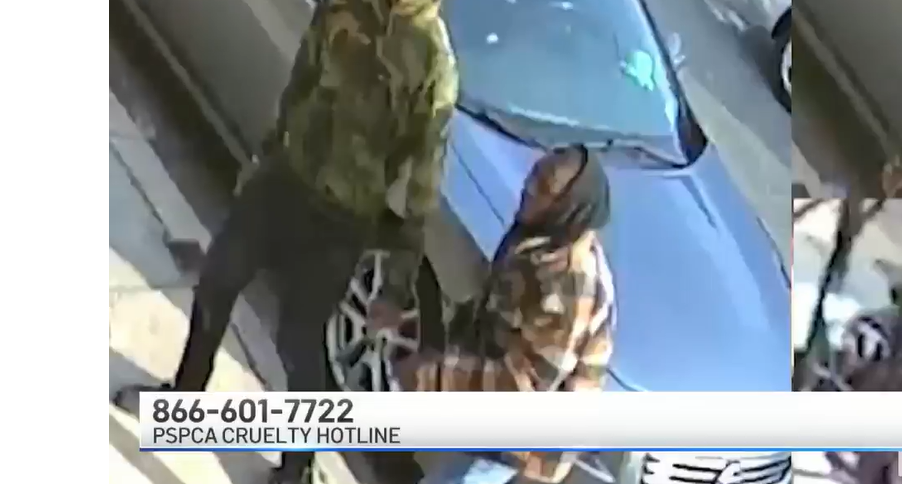 What happened to this cat is reprehensible. Buddy was sitting on his family's porch when these men walked by and decided to try to end his life through unnecessary violence.
Please add your signature to the petition today! We want to send your signatures to the authorities and court officials after these men are arrested. We will be pushing for felony charges and the maximum sentence possible.
We the undersigned demand that these men are held responsible for causing this cat to suffer severe bodily harm and they must face the maximum punishment allowable by law.
Note: Individuals are presumed innocent until being found guilty in a court of law. Animal Victory relies upon the authorities and the court system to determine guilt or innocence.
News:
Animal Protection Laws Pennsylvania
Update 4/23/2022: Animal Victory has learned that the two suspects will be in court in May. Because they are both minors, very little about the case is being released to the public. Police Commissioner Danielle Outlaw has received our petition along with 13,379 signatures.
Update 3/26/2022: The Pennsylvania SPCA has announced the arrest of two individuals, ages 12 and 17. According to the animal welfare agency, after being identified in the investigation, the juveniles (not publicly named) surrendered on Friday. PSPCA details the charges: "The current charges filed include felony animal fighting, felony aggravated animal cruelty and a conspiracy charge. These crimes do not fall under the list of offenses which permit juveniles to be charged as adults which is designated by statute." The dogs involved in the incident are currently in the shelter's care and are on hold as the investigation continues. Buddy remains in critical condition.
13,994
Sherrie Darce
Sep 30, 2023
13,993
Sally Wood
Sadistic perverts. What pathetic excuses for humans, truly a waste of good clean air both
Sep 24, 2023
13,992
Julia Oliver
Sep 18, 2023
13,991
Nina Carey
Sep 16, 2023
13,990
karen Wible
Sep 13, 2023
13,989
Ruth Tonkin
Please stop these mentally ill monsters that hurt animals!!!
Sep 12, 2023
13,988
Anonymous
Aug 28, 2023
13,987
Sheryl Myhan
Aug 14, 2023
13,986
John Markham
Aug 03, 2023
13,985
Linda DeBoer
Jul 25, 2023
13,984
Dr Tracey Reed B.V.M.S.
Jul 24, 2023
13,983
Jason Cuevas
Jul 16, 2023
13,982
Kim Marchant
Straight to jail for life
Jul 13, 2023
13,981
Gina Badami
Jul 08, 2023
13,980
DEBORAH DESANTO
Jun 18, 2023
13,979
Alia Morales
Jun 14, 2023
13,978
Quade Prescott
Jun 04, 2023
13,977
Sally Gross
Jun 02, 2023
13,976
Lisa Haut
Jun 02, 2023
13,975
Patricia Miscavage
May 26, 2023
13,974
Marie W
May 21, 2023
13,973
Stefany Rojas
May 19, 2023
13,972
Steve mineau
May 18, 2023
13,971
Pamela Diggs
May 04, 2023
13,970
Krista Sanders
May 01, 2023
13,969
Kathy Hamilton
May 01, 2023
13,968
Christina Lander
Apr 28, 2023
13,967
sherri Wilson
we have this all over las vegas. specially in the hispanic dog owners. 3 separate cases in 2 months. its really good versus evil and the good needs to eliminate the problem.
Apr 15, 2023
13,966
Gabriela Barberio
Apr 14, 2023
13,965
Mary Grimmer
Apr 10, 2023
---