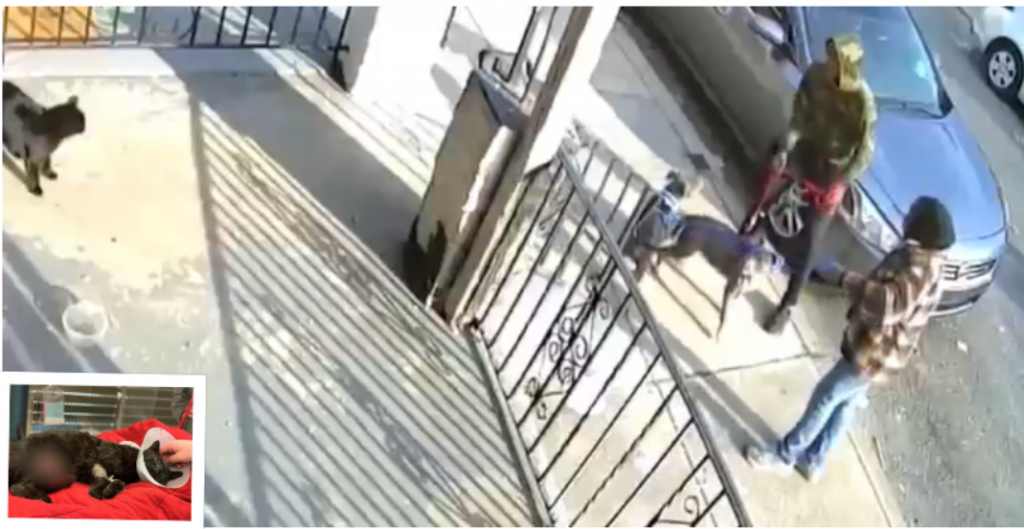 Philadelphia, Pennsylvania – A cat named Buddy is fighting for his life after being attacked by two dogs who were being encouraged to rip him apart. The horrifying incident was captured on video and now the authorities are trying to find the men responsible.
According to a release from the Pennsylvania SPCA, the attack took place on Tuesday morning in the Frankford neighborhood; the animal welfare agency describes what happened:
The video shows two individuals walking two dogs past a family home on Granite Street. On the video, it appears that an individual spots the cat named Buddy on a porch comes back, and releases one dog on the cat followed by a second dog.
As the attack continued, a person or persons can be heard on the video encouraging the dogs to continue attacking the cat until a resident of the property comes out to intervene on behalf of the cat.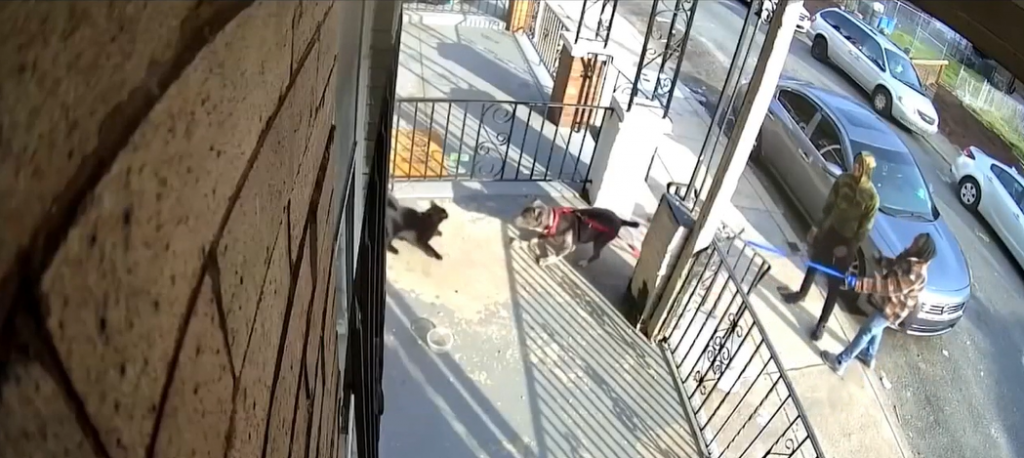 The vicious attack left Buddy with severe injuries and his survival is uncertain. Buddy was transferred to a veterinary specialist and staff is working round-the-clock to provide care to keep him alive.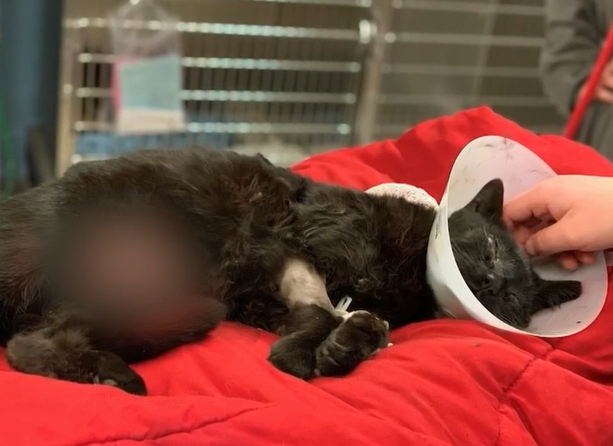 An from the animal welfare agency states that Buddy made it through the night, but he remains in extremely critical condition, and on Thursday morning, the organization said:
"Though he be but little, he is fierce."
Buddy is still hanging in there. He remains in critical condition, but we are cautiously optimistic.
(Watch the video at this link to the animal shelter's Facebook page – warning, it is disturbing!)
Pennsylvania SPCA's Humane Law Enforcement team is reviewing the footage and asking anyone with information about the individuals' identity or whereabouts to please contact the organization's cruelty hotline immediately, 866-601-7722 or cruelty@pspca.org.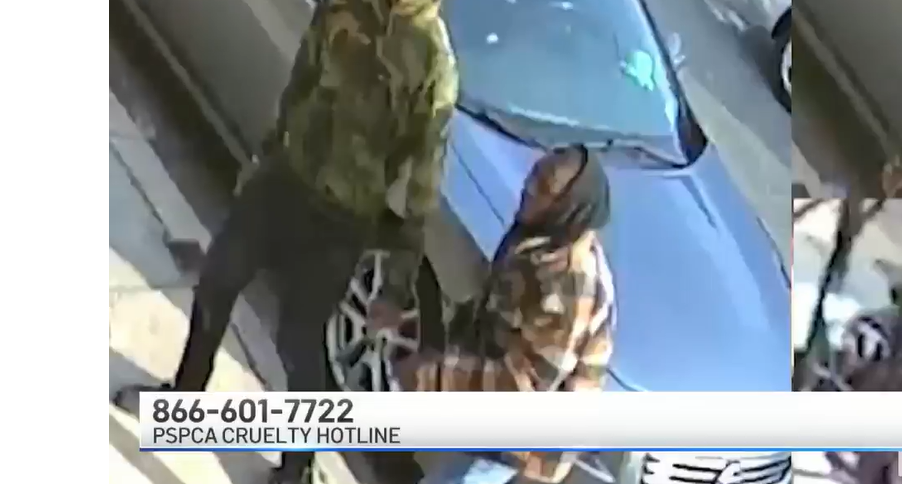 What happened to this cat is reprehensible. Buddy was sitting on his family's porch when these men walked by and decided to try to end his life through unnecessary violence.
Please add your signature to the petition today! We want to send your signatures to the authorities and court officials after these men are arrested. We will be pushing for felony charges and the maximum sentence possible.
We the undersigned demand that these men are held responsible for causing this cat to suffer severe bodily harm and they must face the maximum punishment allowable by law.
Note: Individuals are presumed innocent until being found guilty in a court of law. Animal Victory relies upon the authorities and the court system to determine guilt or innocence.
News:
Animal Protection Laws Pennsylvania
Update 4/23/2022: Animal Victory has learned that the two suspects will be in court in May. Because they are both minors, very little about the case is being released to the public. Police Commissioner Danielle Outlaw has received our petition along with 13,379 signatures.
Update 3/26/2022: The Pennsylvania SPCA has announced the arrest of two individuals, ages 12 and 17. According to the animal welfare agency, after being identified in the investigation, the juveniles (not publicly named) surrendered on Friday. PSPCA details the charges: "The current charges filed include felony animal fighting, felony aggravated animal cruelty and a conspiracy charge. These crimes do not fall under the list of offenses which permit juveniles to be charged as adults which is designated by statute." The dogs involved in the incident are currently in the shelter's care and are on hold as the investigation continues. Buddy remains in critical condition.
Video Captures Men Encouraging Dogs To Rip Cat Apart
13,786
signatures = 69% of goal
13,786
Heather Dees
May 24, 2022
13,785
Dana Payton
May 23, 2022
13,784
Yeniffer Quijano
May 23, 2022
13,783
Edie Shaw
May 22, 2022
13,782
Daniel Avichail
May 22, 2022
13,781
Anonymous
May 21, 2022
13,780
Wayne Hernandez
May 21, 2022
13,779
Michelle Peters
Charge them as adults for animal cruelty. They knew what they were doing and it was sadistic. People like this need "I am a sadist" tattooed across their faces.
May 21, 2022
13,778
Kerstin Herrmann
May 21, 2022
13,777
Cindy Tramaglino
That's just Unbelievable! And just plain Cruel! I pray that Buddy survives. This is Disgusting. Throw the book at those two lil punks!. What if their 2 dogs were attacked? How would they react and feel??
May 20, 2022
13,776
Susan Fong
These abusers deserve maximum jail AND maximum fines. They are reprehensible.
May 20, 2022
13,775
Chrisanne Sabol
May 19, 2022
13,774
David Faulhaber
May 19, 2022
13,773
Gisela Horschel
May 19, 2022
13,772
Donna Mcilrath
May 18, 2022
13,771
Angela Dennis
May 18, 2022
13,770
Mariam Andalibi
May 16, 2022
13,769
Dennine Louk
They knew what they were doing so release the dogs on them
May 16, 2022
13,768
Marion Friedl
May 14, 2022
13,767
Patti Molero
May 14, 2022
13,766
Cindy Rancourt
May 14, 2022
13,765
Ulrich Spauschus
May 14, 2022
13,764
Steven Havercamp
Prosecute these sorry excuses of humans.
May 13, 2022
13,763
Carol Schultz
No. Excuse.
May 13, 2022
13,762
Tirzah Given
May 13, 2022
13,761
martha lemke
May 12, 2022
13,760
Georgia Dees
Prosecute them now, regardless of age. It will only get worse as they get older.
May 12, 2022
13,759
Deborah Robbertze
May 11, 2022
13,758
Keleen McBride
May 11, 2022
13,757
lance barnes
May 11, 2022
---