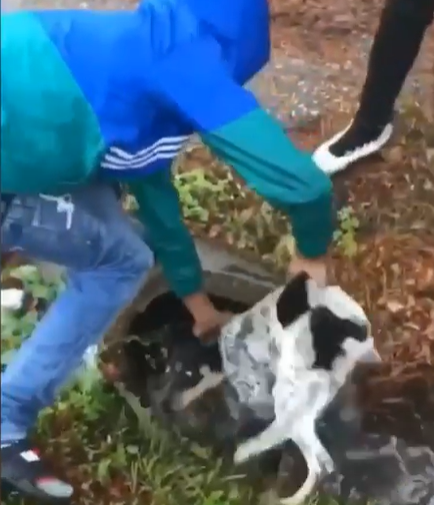 Shreveport, Los Angeles – Late last week, vicious youths terrorized a dog, shoving her head under water in a drainage ditch, and throwing the hapless pooch through the air and into a pond. The horrible incident was captured on video and it is now being investigated by the Caddo Parish Animal Control.
We want these cruel kids to be found and punished! Please share this petition to help raise awareness of this crime, and add your name to let the authorities know that we CARE about cases of animal abuse!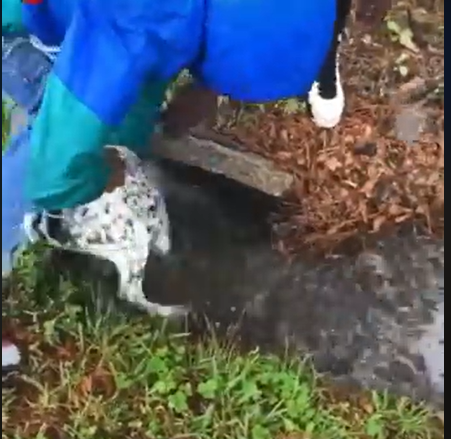 This terrible incident allegedly took place in Shreveport, Louisiana. The vile footage was uploaded to Instagram on an account belonging to @blkbbydbo.
The footage is difficult to watch…the whimpering dog is callously carried to a watery drainage ditch and her head was plunged beneath the water while another laughing youth not only recorded the incident but cruelly told the person grasping the dog's head to "hold it." The footage continues after the dog is pulled from the water and runs away.
Once again, the dog is terrorized when two of the youths pick her up and hurl her into a muddy puddle.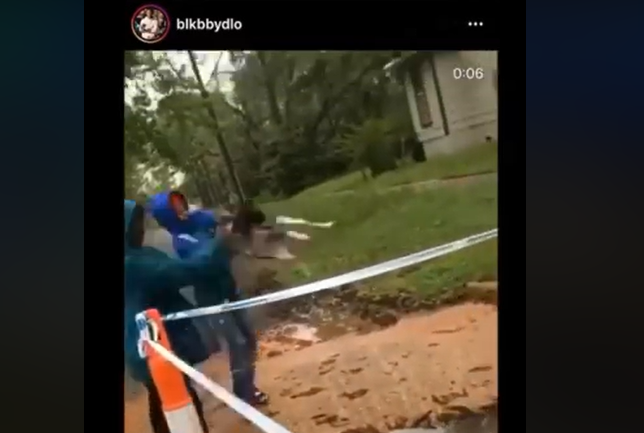 This behavior is absolutely sickening and these people must be found and punished! The Shreveport Police have been notified, and the Caddo Parish Animal Control Agency is investigating. Please add your name to this petition and share it widely. These miscreants must be found and held accountable for their abhorrent behavior.
Video (warning, it is highly disturbing!) can be found on Facebook (Animal Hope and Wellness page) here.
Note: We are unaware of the dog's current whereabouts. From the video it appears that she ran away, but this cannot be confirmed.
News:
Update 10/20/2020: Read Our Letter to Caddo Parish Attorney Donna Frazier here
Update 9/21/2020: Animal Victory has spoken with the Shreveport Animal Control, as well as with the local sheriff's office – both report receiving an "outpouring of calls" regarding this cruel situation. The authorities are unable to release any information about their investigation at this time. We have been assured that all of the evidence collected during this investigation will be turned over to the district attorney's office. Animal Victory will be in contact with the District Attorney and will update all again. Please continue to sign and share.
* Individuals are presumed innocent until proven guilty in a court of law.
PRIOR SIGNATURES : 19643
Animal-Protection-Laws-of-California-2020-Animal-Legal-Defense-Fund
Vicious Youths Terrorize Dog, Shoving Head Underwater While Laughing
263
signatures = 2% of goal
263
Sherrie Darce
Sep 30, 2023
262
COURTNEY WHITNEY
Sep 29, 2023
261
Sally Wood
Oooh can i please hold theirs heads underwater? Please! Just for like a hour, then id haul them out for a breath ....promise!
Sep 27, 2023
260
Anonymous
Aug 28, 2023
259
monique Pinson
Aug 22, 2023
258
Penny Davis
Jul 25, 2023
257
Jason Cuevas
Jul 16, 2023
256
Deborah Smith
Jul 14, 2023
255
Natalina Di Cesare
Jul 09, 2023
254
Gina Badami
Jul 08, 2023
253
Peter Wood
Jun 29, 2023
252
Quade Prescott
Jun 06, 2023
251
Kristjanna Johnson
May 25, 2023
250
Stefany Rojas
May 19, 2023
249
Steve mineau
May 18, 2023
248
Shelley Smith
May 06, 2023
247
Darlene Raper
Apr 30, 2023
246
Alisha Adams
Apr 27, 2023
245
Maria Harmon
Apr 22, 2023
244
sherri Wilson
another young demon spawn who needs to be executed by pigs.
Apr 15, 2023
243
Gabriela Barberio
Apr 14, 2023
242
Sharon Basham
Apr 08, 2023
241
Amy Kish
Apr 04, 2023
240
Terri Blackburn
These youths have to be held accountable for this horrific abuse and cruelty! They have to be severely punished for their actions! They need to be tried as adults and punished accordingly! Let's see how funny they think that is!!!!!!!!!
Apr 01, 2023
239
Adrienne Venditti
HORRIBLE WHY DON'T MORE PEOPLE STOP AND ARREST THESE PENALTIES?
Mar 30, 2023
238
ROSSELLO Brigitte
Mar 14, 2023
236
Tonya Austhof
Mar 12, 2023
235
Alana Ambrose
Mar 08, 2023
234
Xenia Moran
Evil monsters
Mar 05, 2023
PRIOR SIGNATURES : 19643
---