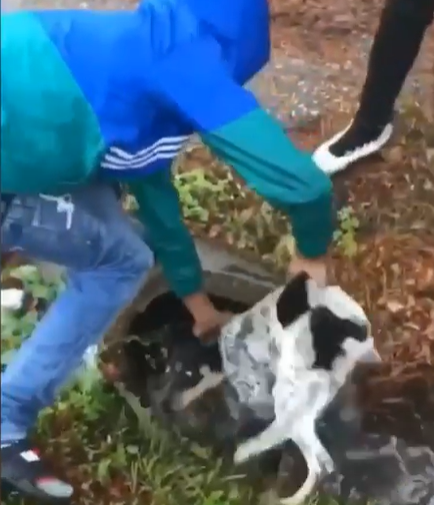 Shreveport, Los Angeles – Late last week, vicious youths terrorized a dog, shoving her head under water in a drainage ditch, and throwing the hapless pooch through the air and into a pond. The horrible incident was captured on video and it is now being investigated by the Caddo Parish Animal Control.
We want these cruel kids to be found and punished! Please share this petition to help raise awareness of this crime, and add your name to let the authorities know that we CARE about cases of animal abuse!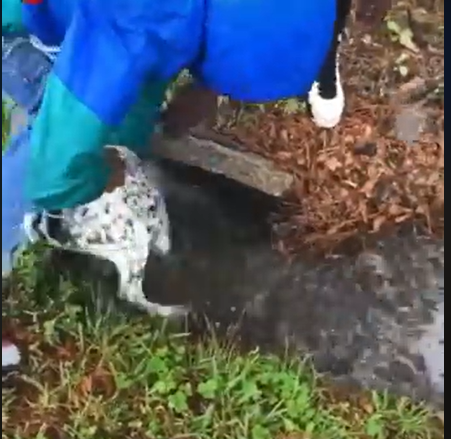 This terrible incident allegedly took place in Shreveport, Louisiana. The vile footage was uploaded to Instagram on an account belonging to @blkbbydbo.
The footage is difficult to watch…the whimpering dog is callously carried to a watery drainage ditch and her head was plunged beneath the water while another laughing youth not only recorded the incident but cruelly told the person grasping the dog's head to "hold it." The footage continues after the dog is pulled from the water and runs away.
Once again, the dog is terrorized when two of the youths pick her up and hurl her into a muddy puddle.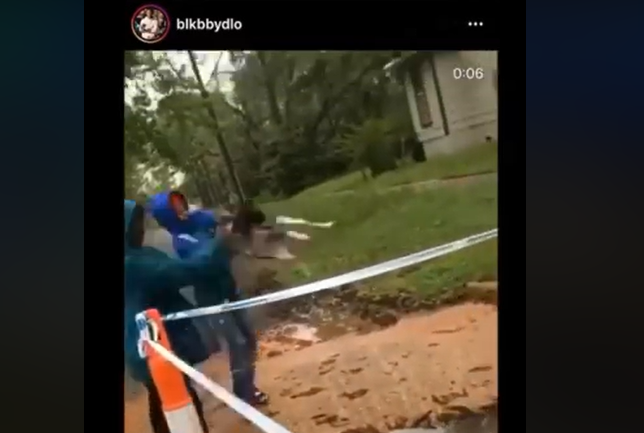 This behavior is absolutely sickening and these people must be found and punished! The Shreveport Police have been notified, and the Caddo Parish Animal Control Agency is investigating. Please add your name to this petition and share it widely. These miscreants must be found and held accountable for their abhorrent behavior.
Video (warning, it is highly disturbing!) can be found on Facebook (Animal Hope and Wellness page) here.
Note: We are unaware of the dog's current whereabouts. From the video it appears that she ran away, but this cannot be confirmed.
News:
Update 10/20/2020: Read Our Letter to Caddo Parish Attorney Donna Frazier here
Update 9/21/2020: Animal Victory has spoken with the Shreveport Animal Control, as well as with the local sheriff's office – both report receiving an "outpouring of calls" regarding this cruel situation. The authorities are unable to release any information about their investigation at this time. We have been assured that all of the evidence collected during this investigation will be turned over to the district attorney's office. Animal Victory will be in contact with the District Attorney and will update all again. Please continue to sign and share.
* Individuals are presumed innocent until proven guilty in a court of law.
PRIOR SIGNATURES : 19643
Animal-Protection-Laws-of-California-2020-Animal-Legal-Defense-Fund
Vicious Youths Terrorize Dog, Shoving Head Underwater While Laughing
211
signatures = 1% of goal
211
John Robertson
Nov 30, 2022
210
Dana Dykes
Nov 19, 2022
209
brigitte deschaintre
Nov 11, 2022
208
R Beaton
Nov 11, 2022
207
Sharon Hull
Nov 01, 2022
206
Lisa Cairns
Oct 20, 2022
205
Meg Feltes
Oct 17, 2022
204
Carolina Pino
Oct 15, 2022
203
Lisa Stoneham
Oct 09, 2022
202
Shannon Nichols
Oct 07, 2022
201
Michele Pierce
Oct 05, 2022
200
Marga Gili
Sep 22, 2022
199
Shambhavi Ojha
Sep 18, 2022
198
Guisselle Martinez
Sep 17, 2022
197
Carmen Verdugo
Sep 11, 2022
196
Michelle Krueger
Sep 09, 2022
195
Tammy Welch
Sep 07, 2022
194
Tina Woods
Sep 03, 2022
193
Jeffrey Clouatre
Sep 03, 2022
192
Nancy Coupe
Sep 03, 2022
191
Kristen Megan Veronica
Find these sick mfs and throw the book at them
Aug 24, 2022
190
Sandy Beshir
Aug 21, 2022
189
Farah Khumbatta
Aug 20, 2022
188
Anu Dutt
Aug 18, 2022
187
Susan Cerniglia
Aug 11, 2022
186
Vickie Barnett
Aug 10, 2022
185
Renee Crawford
Aug 10, 2022
184
Diane BAKER
Find the careless heathens and water board them for 30 hours then slap them in jail. She how bad a$$ they feel then. Disgusting.
Aug 06, 2022
183
Ana Carolina Casey
Please put this horrible animal abusers in prison for ever evil monsters
Aug 05, 2022
182
Carolyn Chamberland
Aug 02, 2022
PRIOR SIGNATURES : 19643
---