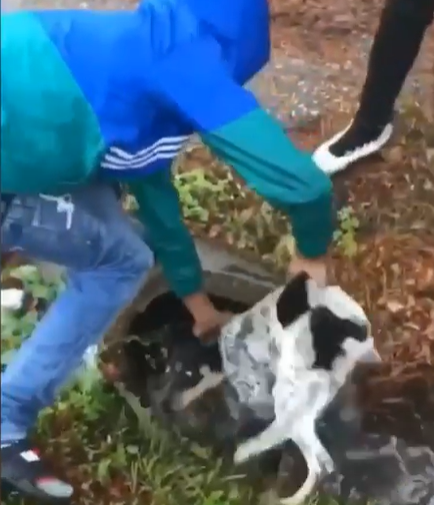 Shreveport, Los Angeles – Late last week, vicious youths terrorized a dog, shoving her head under water in a drainage ditch, and throwing the hapless pooch through the air and into a pond. The horrible incident was captured on video and it is now being investigated by the Caddo Parish Animal Control.
We want these cruel kids to be found and punished! Please share this petition to help raise awareness of this crime, and add your name to let the authorities know that we CARE about cases of animal abuse!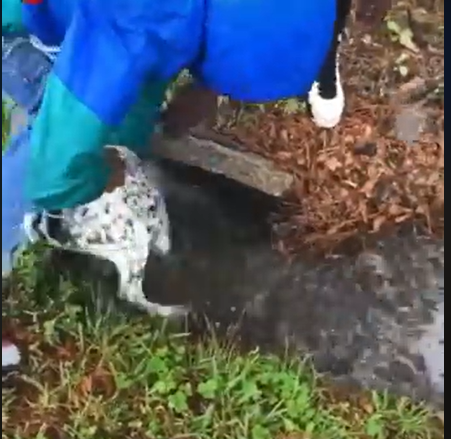 This terrible incident allegedly took place in Shreveport, Louisiana. The vile footage was uploaded to Instagram on an account belonging to @blkbbydbo.
The footage is difficult to watch…the whimpering dog is callously carried to a watery drainage ditch and her head was plunged beneath the water while another laughing youth not only recorded the incident but cruelly told the person grasping the dog's head to "hold it." The footage continues after the dog is pulled from the water and runs away.
Once again, the dog is terrorized when two of the youths pick her up and hurl her into a muddy puddle.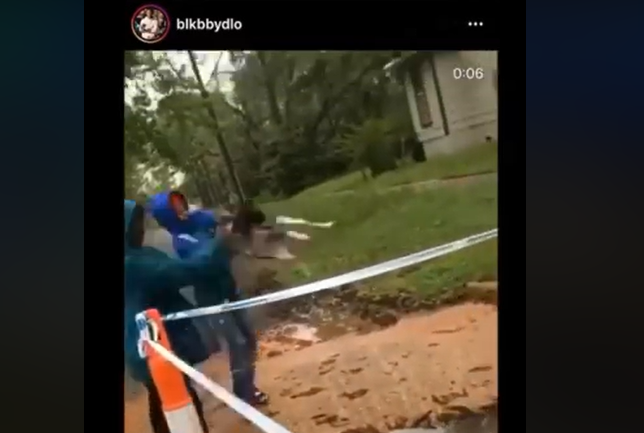 This behavior is absolutely sickening and these people must be found and punished! The Shreveport Police have been notified, and the Caddo Parish Animal Control Agency is investigating. Please add your name to this petition and share it widely. These miscreants must be found and held accountable for their abhorrent behavior.
Video (warning, it is highly disturbing!) can be found on Facebook (Animal Hope and Wellness page) here.
Note: We are unaware of the dog's current whereabouts. From the video it appears that she ran away, but this cannot be confirmed.
News:
Update 10/20/2020: Read Our Letter to Caddo Parish Attorney Donna Frazier here
Update 9/21/2020: Animal Victory has spoken with the Shreveport Animal Control, as well as with the local sheriff's office – both report receiving an "outpouring of calls" regarding this cruel situation. The authorities are unable to release any information about their investigation at this time. We have been assured that all of the evidence collected during this investigation will be turned over to the district attorney's office. Animal Victory will be in contact with the District Attorney and will update all again. Please continue to sign and share.
* Individuals are presumed innocent until proven guilty in a court of law.
PRIOR SIGNATURES : 19643
Animal-Protection-Laws-of-California-2020-Animal-Legal-Defense-Fund
Vicious Youths Terrorize Dog, Shoving Head Underwater While Laughing
174
signatures = 1% of goal
174
DeAnn Hill
Jun 30, 2022
173
Olga Espinoza
Jun 23, 2022
172
Cornelia Herschel
Human beasts like these disgusting animal torturers deserve to be tortured themselves. I hate these vile monsters so much that I would like to put every single one of them in a sack and set it on fire!!!!!!!
Jun 22, 2022
171
Rochelle Massey
Jun 21, 2022
170
Angela Steinberg
Jun 18, 2022
169
Debbie Mccollum
Jun 12, 2022
168
Carie Matriciano
Jun 02, 2022
167
Grace Vendemio
Jun 02, 2022
166
Sara Sampkin
May 29, 2022
165
Janice VanMarter
May 29, 2022
164
Marion Friedl
May 21, 2022
163
eugene henry
May 17, 2022
162
Alessia Di Buono
May 14, 2022
161
Adrienne Kaiser
May 05, 2022
160
Angela Dennis
May 05, 2022
159
Deborah knox
If you don't put this evil person away he will do the same to a child. Evil.
May 01, 2022
158
Cheryl Harlow
Apr 29, 2022
157
Mitra Pejman
Apr 29, 2022
156
Frank Schultz
Apr 24, 2022
155
Paula McCarthy
Apr 23, 2022
154
SANDRA LOFARO
HUMANS ARE THE CRUELEST ANIMAL ON EARTH!
Apr 21, 2022
153
Roslyn Pollinger
Apr 20, 2022
152
Sydney Allrud
Apr 10, 2022
151
Pamela Wimp
Apr 09, 2022
150
Michael Casella
Apr 08, 2022
149
Juliana Jordan-Huber
Apr 05, 2022
148
Jocelyn Warburton
Apr 01, 2022
147
kliontia-kalia konstantinou
Mar 25, 2022
146
S. McConnell
Mar 23, 2022
145
sari larue
Mar 23, 2022
PRIOR SIGNATURES : 19643
---