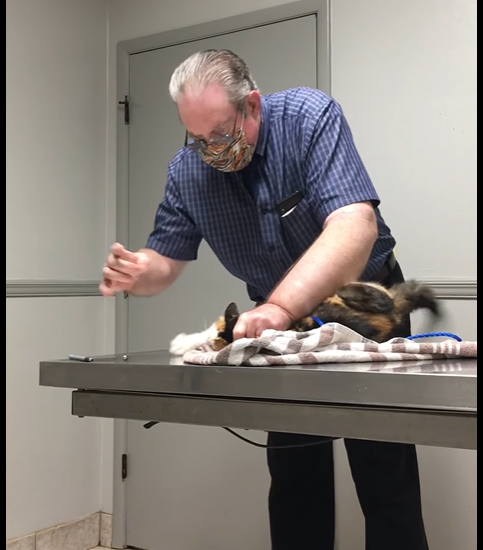 Ozark, Alabama – Disturbing video of an Ozark, Alabama, veterinarian's alleged abuse of an elderly cat has left people shaken. The video, which was reportedly taken by a veterinary staff member who was said to be weary of the veterinarian's actions, has sparked outrage on social media. It has also resulted in animal cruelty charges against Dr. Tim Richard Logan of Andrews Avenue Animal Hospital.
Please sign the petition asking for Dr. Tim Richard Logan to be held fully accountable for his actions if the results of the full investigation determine that he is guilty of committing the crime of animal cruelty.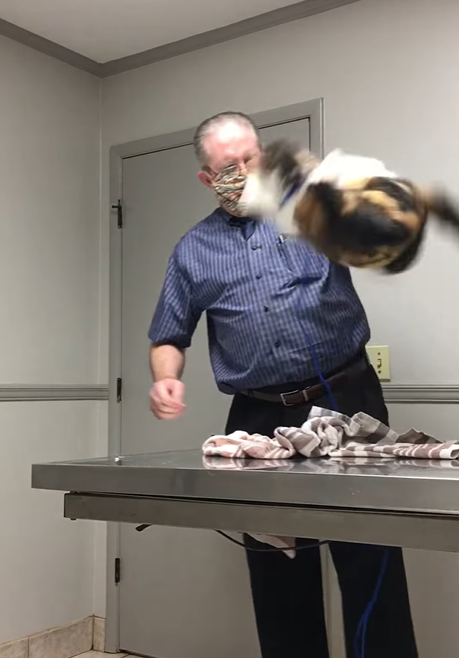 The video uploaded to Facebook is damning. The video reveals extraordinarily rough handling of the cat, including flicking the cat in the mouth, hitting her in the head, forcefully pushing her body down into the metal exam table, and then allowing her tumble to the ground.
(Link to video on Facebook here – a word of warning, it is hard to watch)
The video has sparked outrage on social media, and prompted the Alabama State Board of Veterinary Medicine to open an investigation. It also resulted in the Ozark Police Department arresting and charging Dr. Logan with animal cruelty.
The Facebook user who uploaded the video wrote:
I will not give out the name of the owner of the cat that I have evidence of for her privacy!!! This poor cat is about 19 years old and just wants to be left alone!!!! Clearly she needed medicine, but there are patience when it comes to animals, especially cranky ones!
It is apparent that this elderly cat did not want to be handled, but was Dr. Logan's behavior acceptable, especially for a professional veterinarian? It is not up to Animal Victory to determine what constitutes animal cruelty, but we do support the full investigation by the local authorities and the Alabama State Board of Veterinary Medicine. If these agencies determine that Dr. Logan has indeed committed animal cruelty, we want to see him receive the maximum sentence for his charge, AND lose his veterinary license.
Individuals are presumed innocent until proven guilty in a court of law.
News:
Update 5/4/2022: Animal Victory is disappointed to learn that this case was not prosecuted because nobody followed through with the charges. This is why we continue to fight for the animals. This should NOT happen! Thank you for helping us try to make a difference in this case's outcome.
Update 2/22/2022: Animal Victory has been informed that court is scheduled for 2/25/2022.
Update 1/12/2022: As of January 10, 2022, there is still no scheduled court date.
Update 11/08/2021: Animal Victory has learned that the defense requested a new judge. Court has delayed until this issue has been settled/resolved.
Update 8/17/2021: Animal Victory has learned that court has been changed to Sept. 28, 2021.
Update 5/18/2021: There is little information being released about this case, but Animal Victory has learned that court is scheduled for July 27, 2021.
Update 5/6/2021: Today Animal Victory sent 16,541 signatures and comments along with our petition letter to attorney Ray Kennington.
Animal-Protection-Laws-of-Alabama-2020-Animal-Legal-Defense-Fund
PRIOR SIGNATURES : 16720
Veterinarian Facing Cruelty Charge For Allegedly Abusing Elderly Cat
1,629
signatures = 11% of goal
1,629
Cheryl Harlow
Apr 29, 2022
1,628
Mitra Pejman
Apr 29, 2022
1,627
Jessica Drake
He should have his Veterinary license taken away and never able to practice veterinary medicine again
Apr 29, 2022
1,626
karin schmitz
Apr 25, 2022
1,625
Frank Schultz
Apr 24, 2022
1,624
SANDRA LOFARO
HUMANS ARE THE CRUELEST ANIMAL ON EARTH!
Apr 21, 2022
1,623
Raymond Moore
Apr 20, 2022
1,622
Roslyn Pollinger
Apr 20, 2022
1,621
Sylvia Head-Gallegos
Let the PUNISHMENTS fit the CRIMES!!!
Apr 17, 2022
1,620
Danielle Agresta
Apr 12, 2022
1,619
Sydney Allrud
Apr 10, 2022
1,618
Juliana Jordan-Huber
Apr 05, 2022
1,617
Jocelyn Warburton
Apr 01, 2022
1,616
kliontia-kalia konstantinou
Mar 25, 2022
1,615
nicole cervino
PEINE DE MORT...!!!!! ça ne devrait pas exister...!!!!
Mar 19, 2022
1,614
James McVey
Mar 07, 2022
1,613
S. McConnell
Mar 07, 2022
1,612
Marica Czirfusz
Mar 06, 2022
1,611
miriam taylor-east
Mar 05, 2022
1,610
Pamela M
Mar 05, 2022
1,609
Chloe-Nicole Bignoux
Feb 27, 2022
1,608
Laura Cronick
He should lose his license as well
Feb 26, 2022
1,607
Bernadette Dra
Feb 25, 2022
1,606
MacDonald Dianne
Feb 24, 2022
1,605
Anita Gram
Feb 17, 2022
1,604
Jane Gold
Feb 17, 2022
1,603
Wendy Butler
Feb 16, 2022
1,602
Sandee Williams
Feb 16, 2022
1,601
carlos otero
Feb 13, 2022
1,600
Patricia Henson
Feb 09, 2022
PRIOR SIGNATURES : 16720
---