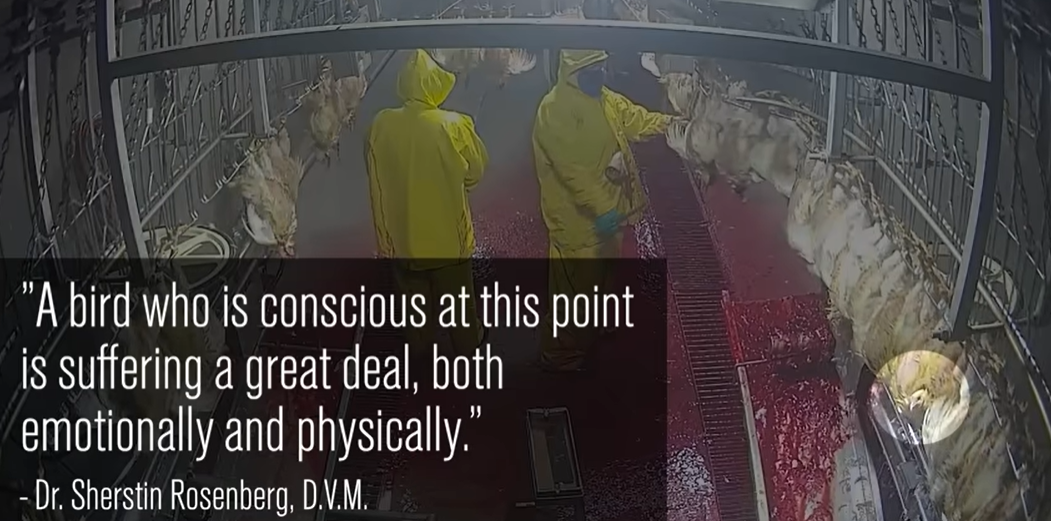 Livingston, California: An undercover video, posted to YouTube by Direct Action Everywhere (DxE)  on Sept. 28, reveals appalling conditions inside of a Foster Farms slaughterhouse in Livingston, California.
Foster Farms boasts about being "American Humane Association Certified," and part of that certification is the company's promise that the chickens they raise are free from hunger or thirst, discomfort, injury, pain, or disease, as well as freedom from cages, and freedom from fear and distress.
These promises are in stark contrast to the horror recorded on the undercover video.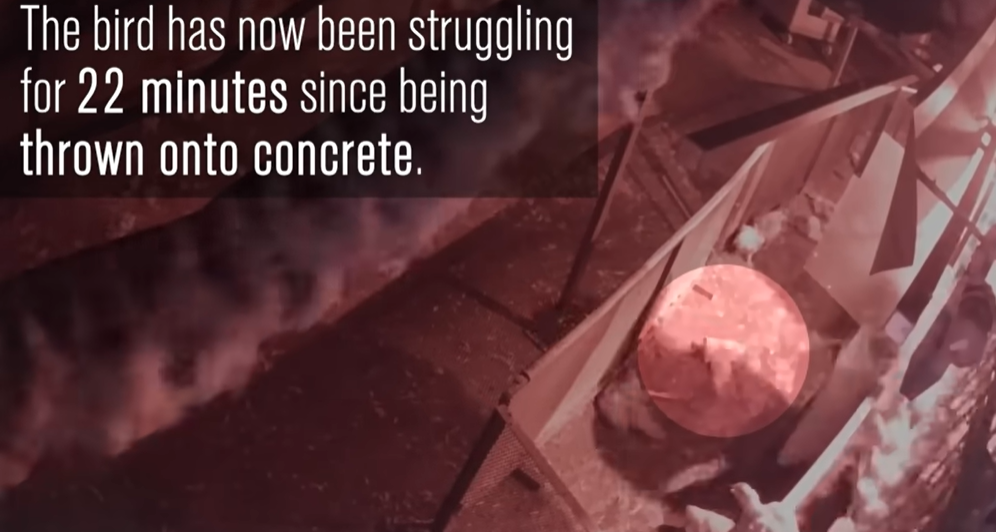 Injured birds are tossed into piles on the ground, still alive, but buried beneath other birds. Chickens are shackled upside down in order to put them in a stun bath before the slaughter, but not all of the birds are stunned.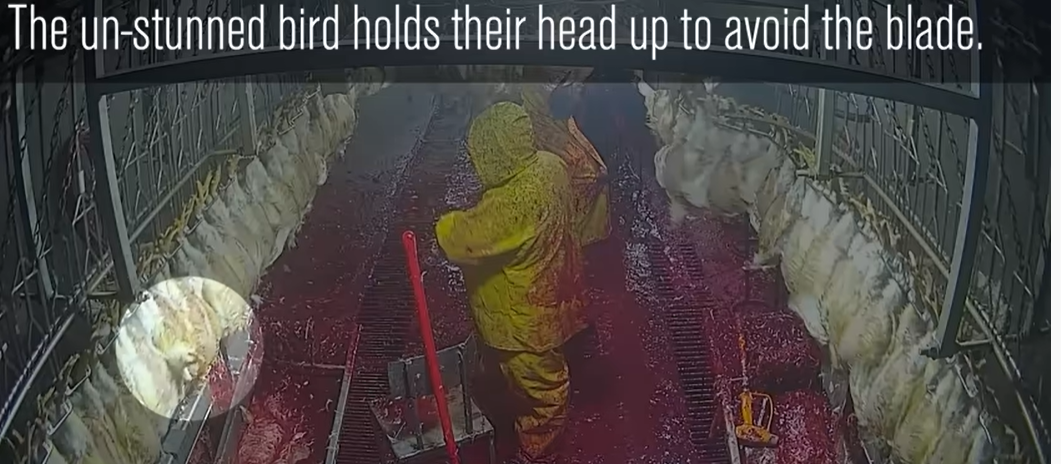 Christina Liu, with DxE, said:
"Animals are being eviscerated alive — right here, right now. These practices are horrifying and illegal … but they're also business-as-usual for the factory farming industry."
And the employees forced to work in these conditions are suffering as well. The videographer states:
"The company has specifically created this situation where you're literally killing hundreds of thousands of animals, you're being treated like a machine."
Activists organized a protest at the facility, which coincided with the release of the undercover video. The protest led to multiple arrests, on charges of trespassing and resisting a public officer, and they were held on $50,000 bonds.
Watch the undercover video yourself, and be the judge – do these conditions align with the Foster Farms commitment to treating chickens they raise "humanely?"
Join us in asking the CEO of Foster Farms, as well as the USDA, which oversees factory farming to investigate this cruelty, and improve conditions. Until that time, Foster Farms foods should be boycotted.
News:
Update 12/22/2021: Animal Victory received this response from the USDA:
Greetings Janelle Babington,
Thanks for providing this information to askFSIS. I have forwarded it to the appropriate FSIS offices for their consideration and follow-up activities.
If you have any additional questions regarding this issue, you can reply to this email with your questions or submit a new case to askFSIS and I will be happy to provide an updated response. Your case reference number is00901778.
Update 12/21/21: Animal Victory has sent 8854 signatures along with our letter of intent to  Dan Dan Huber, Foster Farms CEO, as well as the USDA. Foster Farms USDA letter Foster Farms CEO letter
Undercover Video Captures Appalling Conditions Inside Of 'Certified Humane' Chicken Slaughterhouse
8,919
signatures = 45% of goal
8,919
Michelle Cormack
Jan 20, 2022
8,918
Sharon Hartle
Jan 20, 2022
8,917
Saana Välimäki
Jan 20, 2022
8,916
Caroline Van Haeften
"Foster Farms" you are guilty! People who work in slaughter houses can't get a job elsewhere. Even-so slaughterhouse management must ensure that the workers they hire treat the animals & birds with respect, these creatures give up their lives for you, the least you can do is play it forward & ensure their time in a slaughterhouse is as compassionate, kind as possible.
Jan 19, 2022
8,915
Cassandra Pecaro
Revoke their license!!!!
Jan 19, 2022
8,914
Denise Gustafson
Jan 18, 2022
8,913
irina rus
Jan 18, 2022
8,912
Kelsey McCathie
Jan 17, 2022
8,911
Diane Jenkins
Jan 17, 2022
8,910
Alejandra Sanchez
Jan 16, 2022
8,909
Donna Mamey
Jan 16, 2022
8,908
Amir Niknam
Jan 16, 2022
8,907
Anonymous
CEO of Foster Farms; I ask you to work in these facilities for a WEEK. Consumers deserve to know where their food source comes from. Negligent advertising is punishable as a crime.
Jan 15, 2022
8,906
Florence fassot
Jan 15, 2022
8,905
Steven Vandenabeele
Jan 13, 2022
8,904
Ann Freeman
Jan 13, 2022
8,903
Tanya Barsoumian
Jan 13, 2022
8,902
Weatherby Soraya
Jan 12, 2022
8,901
Dawn Skowronski
Jan 12, 2022
8,900
Susan wood
Jan 12, 2022
8,899
Anonymous
Jan 12, 2022
8,898
Maria Irizarry
Jan 12, 2022
8,897
Deborah Grottola
Jan 12, 2022
8,896
Lisa Scullion
Jan 11, 2022
8,895
alice dunton
Jan 10, 2022
8,894
Pamela Dickerson
Jan 08, 2022
8,893
Ibarra Nathalie
Jan 08, 2022
8,892
Vivien Gémesi
Jan 08, 2022
8,891
Vy Nguyen
Jan 07, 2022
8,890
Michelle Lutz
Jan 07, 2022
---