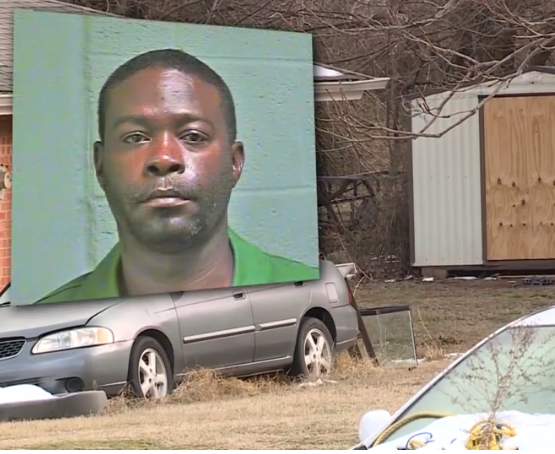 Spencer, Oklahoma – A couple in Spencer, Oklahoma is facing charges for suspected dog-fighting activities. Officials seized 24 injured and neglected dogs who were branded, emaciated, missing teeth and generally "traumatized," from being forced into violent fighting contests.
Casper Ingram and his wife Celeste Ingram are the couple accused of owning the dogs and running the illegal operation – they are facing 21 counts of animal cruelty and facilitating dog fighting.
Please sign this petition to help ensure that this couple gets the maximum sentence for the charges they are facing. Dog-fighting is a brutal, disgusting blood "sport," which must be stopped.
According to a police affidavit, a veterinarian found "tag marks, scars, open wounds, including some that were infected, fresh scabs, pressure sores" on the dogs seized from the property. The dogs were "chained to heavy stakes and logging chains," according to a court affidavit.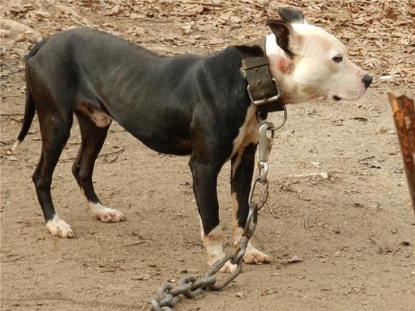 Had these dogs not been discovered, they would have continued to live a miserable existence on the end of a heavy logging chain. They would have been forced into pits to be ripped apart and their lives would be filled with pain and suffering.
Casper and Celeste Ingram must pay for their crimes! Casper has prior felony convictions for drug-related offenses – enough is enough! Help us send a message that these people must be put away!
News:
https://oklahoman.com/article/5654636/couple-accused-of-animal-cruelty-in-dog-fighting-case
https://kfor.com/news/all-tail-wags-for-24-dogs-rescued-from-alleged-metro-fighting-ring/
Update 11/08/2021: Animal Victory has learned that Celeste Ingram entered a negotiated plea of guilty; sentencing is deferred until 4/22/2028 (7 years) She will be supervised by the Oklahoma Dept. of Corrections. Ingram was assessed a $2,100 fine, $945 VCA, $150 MHA and court costs.
Casper Ingram was sentenced to seven years in the custody of the Oklahoma Dept. of Corrections (with credit for time served) Ingram was ordered to pay a $1050 fine, $945 VCA, and court costs. Thank you to everyone who signed the petition to help bring about a successful resolution to this case!
Update 7/12/2021: Animal Victory has learned that the defendant entered a blind plea of guilty – sentencing is scheduled for August 25, 2021 at 1:30 p.m.
Update 3/30/2021: Animal Victory sent 24,639 signatures to Attorney Tiffany Noble today. Read our letter here.
Update 3/5/2021: Animal Victory has been informed that the call docket is set for April 23. Jury trial is scheduled for April 26, with Judge Ray C. Elliot presiding.
Update 12/4/2020: Animal Victory has been informed that this case is expected to be continued to next year.
Update 10/27/2020: Read our letter to Prosecutor Tiffany Noble here
Update 7/16/2020: We have been informed that the prosecutor in this case is Tiffany Nobel. The next scheduled court date is Aug. 18. The accused are currently out on bail.
Update 6/17/2020: Please read our letter here
Animal-Protection-Laws-of-Oklahoma-2020-Animal-Legal-Defense-Fund
* Individuals are presumed innocent until proven guilty in a court of law.
PRIOR SIGNATURES : 21611
Teeth Pulled, Emaciated and Forced to Fight – Punish Accused Dog Fighters!
155
signatures = 1% of goal
155
mark gillono
Apr 26, 2022
154
Susan Little
Dirt bag should be punished! How cruel.
Apr 25, 2022
153
Kathleen Husband
Lawmakers,Prosecutors and judges aren't doing near enough to stop this.
Apr 25, 2022
152
Carrie Pettigrew
Please must be severely punished
Apr 25, 2022
151
Amy Harris
Apr 25, 2022
150
Shirley Adams
Definitely this guy needs to go to prison for for at least maybe more year for each dog that he treated like this on his property. So sick of this insane and horrific and horrible abuse of animals.
Apr 25, 2022
149
Sherri Adams
Apr 25, 2022
148
Deborah Nelson
Need to go to prison
Apr 25, 2022
147
Butch Burgin
I am really tired of people getting minimal time, with probation, or no punishment for animal cruelty cases. Oklahoma (and Texas), you can do so much better.
Apr 25, 2022
146
Ron and Ann Radebaugh
Apr 25, 2022
145
Mia Hagin
Absolutely horrific what they Ingrams have done to these dogs. Research has proven where there is animal abuse there are a list of more felonies. Animal abuse never stops with just animals. They need to do hard time! Let's rid Oklahoma of dog fighters.
Apr 25, 2022
144
Frank Schultz
Apr 24, 2022
143
Caroline Van Haeften
Apr 21, 2022
142
Rhonda Poore
Apr 21, 2022
141
Sydney Allrud
Apr 10, 2022
140
Michael Casella
Apr 08, 2022
139
Juliana Jordan-Huber
Apr 05, 2022
138
ernest glover
Apr 01, 2022
137
Jocelyn Warburton
Apr 01, 2022
136
kliontia-kalia konstantinou
Mar 25, 2022
135
S. McConnell
Mar 23, 2022
134
sari larue
Mar 23, 2022
133
Nicole Cervino
PEINE DE MORT...!!!!!
Mar 19, 2022
132
Xiomy Velez
SICKENING!!! JUSTICE AND PUNISHMENT
Mar 08, 2022
131
James McVey
Mar 07, 2022
130
miriam taylor-east
Mar 05, 2022
129
Pamela M
Mar 05, 2022
128
Julie Houle
Feb 27, 2022
127
Chloe-Nicole Bignoux
Feb 27, 2022
126
Laura Cronick
He should lose his license as well
Feb 26, 2022
PRIOR SIGNATURES : 21611
---