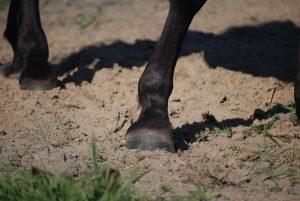 Selma, Alabama – A despicable, and heartwrenching act of cruelty recently took place in Alabama, leaving a former racehorse dead in a tragic and unthinkable manner. The horse's name was Yankey, and his owner, Vicky Stoudenmire, was nursing him back to health after he broke his hip. But before Yankey was healed, a 17-year-old broke through fencing at Stoudenmire's property and whisked the recovering horse away.

Stealing Yankey was terrible, but what the teen did next is horrific. A video that was posted to social media revealed how Yankey was treated after being taken from his home. The horse who was not supposed to have anyone on his back during his recovery was ridden by the teen…and he was forced to run.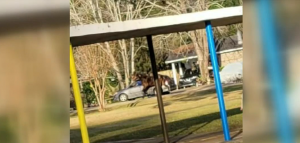 In the footage, a teen can be seen taking Yankey for a "joy ride," and at one point, racing a car to see how fast the horse could run.  After a few days of running, the injured horse was too lame to stand. At this point, the teenager solicited help from 23-year-old Terrius Smith, who helped load Yankey into a trailer.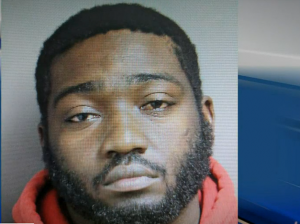 The pair took Yankey to a creek, forced him out of the trailer, and left him in the murky water to drown. Dallas County District Attorney Michael Jackson has stated that Yankey's leg was broken because of the way he was ridden; the horse was found with a compound break above his hock.

The way that Yankey was treated before dying breaks his owner's heart. She said, "I get sick to my stomach thinking about how much pain he was in and how he was just treated so poorly."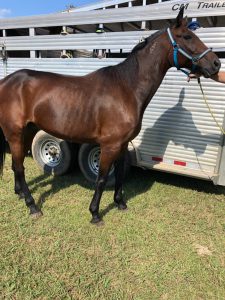 The teenager is facing a second-degree theft of property and aggravated animal cruelty charge and his case will be handled in juvenile court. Smith is also charged with aggravated animal cruelty.
Please add your name to the petition today. Yankey was stolen and tortured before being dumped in a creek to die – this is an appalling crime that must not go unpunished!
We the undersigned demand that the suspects responsible for torturing and killing Yankey receive the maximum punishment allowable by law.
Note: Individuals are presumed innocent until being found guilty in a court of law. Animal Victory relies upon the authorities and the court system to determine guilt or innocence.
News:
Animal-Protection-Laws-of-Alabama-2020-Animal-Legal-Defense-Fund
Update: As of January 26, Animal Victory has been told that the primary person accused in this crime is 17, and because of his age, there is no information that can be released. Terrius Smith, the individual who was contacted to help, is charged with aggravated animal cruelty. Animal Victory has sent 19,073 signatures to District Attorney Michael Jackson
Teen Stole Horse Recovering From Broken Hip, Rode Him Until He Couldn't Stand, Then Dumped Him In Creek To Drown
19,174
signatures = 96% of goal
19,174
Dana Payton
May 23, 2022
19,173
Edie Shaw
May 22, 2022
19,172
Samantha Neri
May 22, 2022
19,171
Daniel Avichail
May 22, 2022
19,170
Wayne Hernandez
May 21, 2022
19,169
Michelle Peters
The piece of garbage "teen" should be charged as an adult!! Both men are complete human filth and have no place in society. That kind of evil can't be rehabilitated.
May 21, 2022
19,168
véronique crabbé
May 21, 2022
19,167
Mary Marts
There is no life in this person's eyes. He's half dead- & society should finish the job. No one - NO ONE - who acts with such cruelty is a MINOR. He is a MAJOR PLAYER in an act of cruelty to a beautiful, innocent creature.
May 20, 2022
19,166
Steve Havercamp
Jail. For a very long time.
May 20, 2022
19,165
Debra Ryan
May 18, 2022
19,164
Bruno Hurel
May 18, 2022
19,163
Marion Friedl
May 14, 2022
19,162
Cindy Rancourt
May 14, 2022
19,161
Alessia Di Buono
May 14, 2022
19,160
Ulrich Spauschus
May 14, 2022
19,159
Valerie Bigelow
May 13, 2022
19,158
CAROL HARTMAN
jail him and throw away the key. He's dangerous to people and pets!
May 13, 2022
19,157
Anonymous
May 11, 2022
19,156
Keleen McBride
May 11, 2022
19,155
Christine Chudzicki
May 10, 2022
19,154
Geana Davis
May 10, 2022
19,153
Patricia Fay
May 07, 2022
19,152
Vivien Gémesi
May 06, 2022
19,151
Anonymous
May 06, 2022
19,150
Ava Fox
May 06, 2022
19,149
Sarah Rescorl
May 05, 2022
19,148
Rosalie Uliano
May 05, 2022
19,147
Suzanne Grafious
May 04, 2022
19,146
Chris Horton
May 04, 2022
19,145
Ira Kusumaningrum
Horse Live Matter! Psycho!
May 04, 2022
---