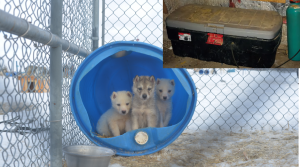 Quebec, Canada – Three people associated with the Expedition Mi-Loup sled dog company in Saint-Jean-de-l'Île-d'Orléans, are facing animal cruelty charges after an investigation revealed appalling cruelty that left dozens of sled dogs dead. The deep dive into what was happening at the sled dog company began after a tip was received in April 2022.
The investigation led to the discovery of abhorrent methods to kill unwanted dogs and puppies. Officials allege that Antoine Simard, 41, Elisabeth Leclerc, 39, and 58-year-old Édouard Parent took part in horrific "euthanization" methods including a homemade gas chamber where dogs were killed with welding gas.

Other dogs were killed via methods including hanging, drowning, and being shot.
Animal rights activist Shay Lee, who visited the property,  told CTV News:
"Witnessing the dog and puppies in the freezer was truly horrifying, but it was necessary for me to see to be able to expose this injustice."
Anne Shaughnessy accompanied Lee to the sled dog business and she commented on the horror she witnessed:
"Seeing the rudimentary contraption the owners made to gas puppies was shocking. Opening a large freezer and finding young and older dogs frozen to death hit me hard. Learning that dogs at Mi-loup were shot, drowned, gassed and hanged shook me to my core."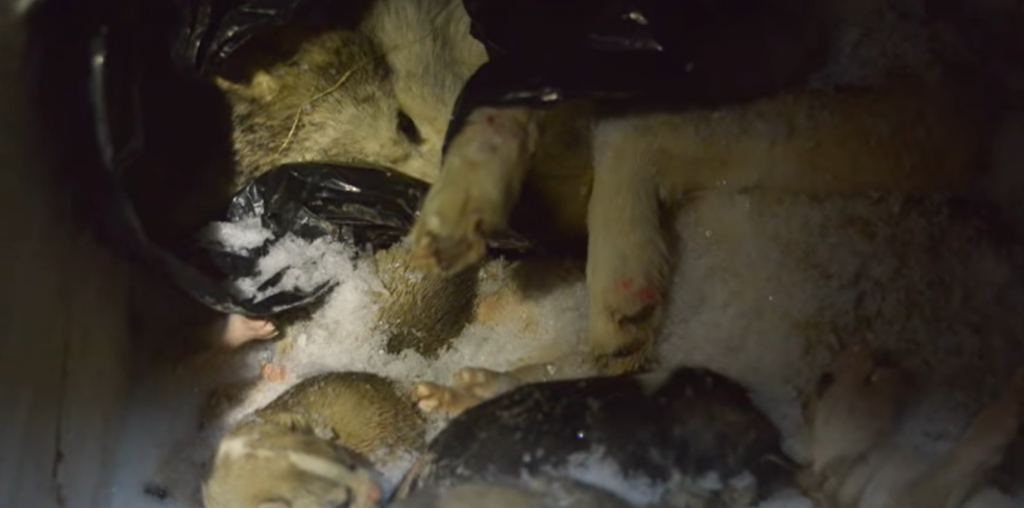 These dogs were bred to be exploited, and those who were unwanted were killed in despicable, cruel ways. Sled dogs are not different from other dogs. They desire love and comfort just like pet dogs. And by definition, euthanasia is "painless killing to end suffering." The way these dogs were killed WAS NOT euthanasia and it is absolutely unacceptable! Please add your name to the petition to help Animal Victory fight for justice.
We the undersigned demand that Antoine Simard, Elisabeth Leclerc, and Édouard Parent are held responsible for using cruel methods to kill unwanted dogs and puppies at the Expedition Mi-Loup sled dog company. We are fighting for the maximum punishment allowable by law for the individuals who took part in these abhorrent methods of "euthanasia."
Additional information: The company is out of business and the surviving dogs were all rehomed. The three people facing animal cruelty charges are due in court on November 16, 2022.
Watch this W5 documentary to better understand the ugly side of the sled dog industry, including what was happening at the Mi-Loup Sled Dog Company
Note: Individuals are presumed innocent until they have been found guilty in a court of law. Animal Victory relies upon the authorities and the court system to determine guilt or innocence.
News:
W5 Documentary: Uncovering the shocking treatment of sled dogs in Canada
Update: 5/12/2023: Animal Victory sent cover letter and petition to the judge.
Update: 10/12/2022: Animal Victory has sent our petition along with 16,260 signatures to the  Director of Criminal and Penal Prosecutions.
Update: 10/4/2022: The accused are expected to appear in court on November 16.
Sled Dogs Gassed, Hanged, And Frozen: Three People Are Facing Animal Cruelty Charges
16,995
signatures = 85% of goal
16,995
Sherrie Darce
Sep 30, 2023
16,994
Sally Wood
Shameful disgracful way to treat remarkable animals. What utter scum
Sep 23, 2023
16,993
Sherry Mainquist
This needs to stop!!! These dogs' lives matter!!!
Sep 16, 2023
16,992
Anonymous
Sep 14, 2023
16,991
karen Wible
Sep 13, 2023
16,990
Ruth Tonkin
Please stop these mentally ill monsters that hurt animals!!!
Sep 12, 2023
16,989
Joanne Raby-Smith
Sep 10, 2023
16,988
Melina Aloian
Aug 28, 2023
16,987
E Froederberg
Aug 28, 2023
16,986
Anonymous
Aug 27, 2023
16,985
Cierra B
Aug 23, 2023
16,983
Dawn Chamberlain
Aug 21, 2023
16,982
E Froederberg
Aug 14, 2023
16,981
Anonymous
Aug 12, 2023
16,980
John wilson
Aug 09, 2023
16,979
andrew stanaway
Aug 09, 2023
16,978
Julie wilson
Aug 09, 2023
16,977
Sheryl Myhan
Aug 09, 2023
16,976
Michael Cobb
Aug 01, 2023
16,975
Anonymous
Jul 31, 2023
16,974
DEBRA CHIODO
Jul 25, 2023
16,973
Linda DeBoer
Jul 25, 2023
16,972
Kenton Fallier
Jul 24, 2023
16,971
Dr Tracey Reed B.V.M.S.
Jul 24, 2023
16,970
Rhonda Morris
Jul 20, 2023
16,969
Tom Piz
This is terrible. Shame on you guys so cruel.
Jul 18, 2023
16,968
Crissy Jacobson
Jul 17, 2023
16,967
Angie Slay
Jul 17, 2023
16,966
Rachel Reagor
Jul 16, 2023
---