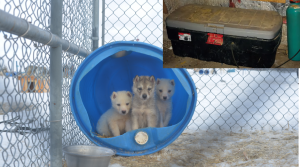 Quebec, Canada – Three people associated with the Expedition Mi-Loup sled dog company in Saint-Jean-de-l'Île-d'Orléans, are facing animal cruelty charges after an investigation revealed appalling cruelty that left dozens of sled dogs dead. The deep dive into what was happening at the sled dog company began after a tip was received in April 2022.
The investigation led to the discovery of abhorrent methods to kill unwanted dogs and puppies. Officials allege that Antoine Simard, 41, Elisabeth Leclerc, 39, and 58-year-old Édouard Parent took part in horrific "euthanization" methods including a homemade gas chamber where dogs were killed with welding gas.

Other dogs were killed via methods including hanging, drowning, and being shot.
Animal rights activist Shay Lee, who visited the property,  told CTV News:
"Witnessing the dog and puppies in the freezer was truly horrifying, but it was necessary for me to see to be able to expose this injustice."
Anne Shaughnessy accompanied Lee to the sled dog business and she commented on the horror she witnessed:
"Seeing the rudimentary contraption the owners made to gas puppies was shocking. Opening a large freezer and finding young and older dogs frozen to death hit me hard. Learning that dogs at Mi-loup were shot, drowned, gassed and hanged shook me to my core."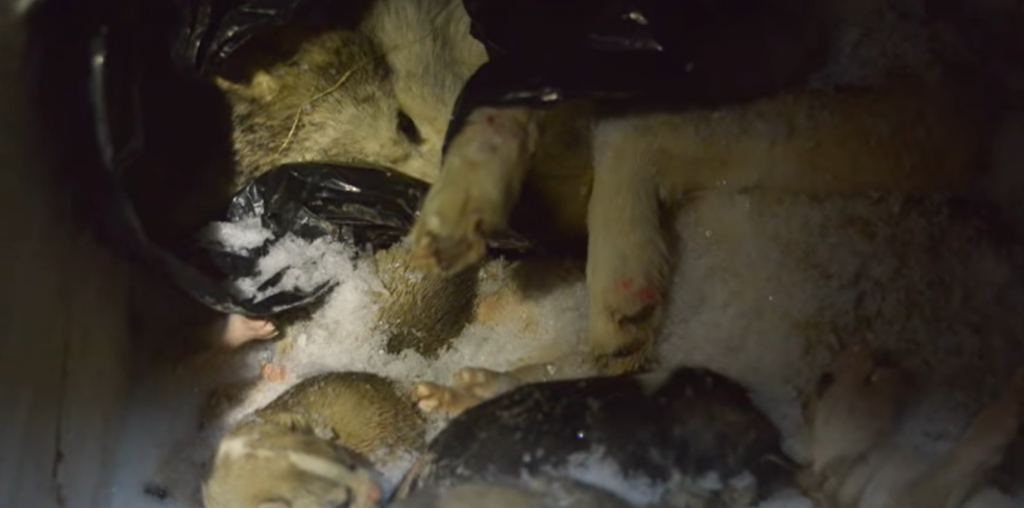 These dogs were bred to be exploited, and those who were unwanted were killed in despicable, cruel ways. Sled dogs are not different from other dogs. They desire love and comfort just like pet dogs. And by definition, euthanasia is "painless killing to end suffering." The way these dogs were killed WAS NOT euthanasia and it is absolutely unacceptable! Please add your name to the petition to help Animal Victory fight for justice.
We the undersigned demand that Antoine Simard, Elisabeth Leclerc, and Édouard Parent are held responsible for using cruel methods to kill unwanted dogs and puppies at the Expedition Mi-Loup sled dog company. We are fighting for the maximum punishment allowable by law for the individuals who took part in these abhorrent methods of "euthanasia."
Additional information: The company is out of business and the surviving dogs were all rehomed. The three people facing animal cruelty charges are due in court on November 16, 2022.
Watch this W5 documentary to better understand the ugly side of the sled dog industry, including what was happening at the Mi-Loup Sled Dog Company
Note: Individuals are presumed innocent until they have been found guilty in a court of law. Animal Victory relies upon the authorities and the court system to determine guilt or innocence.
News:
W5 Documentary: Uncovering the shocking treatment of sled dogs in Canada
Sled Dogs Gassed, Hanged, And Frozen: Three People Are Facing Animal Cruelty Charges
15,227
signatures = 76% of goal
15,227
Andrea Lamorand
Sep 25, 2022
15,226
Danielle Piso
Sep 25, 2022
15,225
Adam Torok
Sep 25, 2022
15,224
Shelly Wilkerson
Sep 25, 2022
15,223
Genoveva M. Martinez
Sep 25, 2022
15,222
Angela Thomas
Sep 25, 2022
15,221
deborah ferguson
barbaric.
Sep 25, 2022
15,220
Marilyn Wilson
Sadistic morons need the same treatment!
Sep 25, 2022
15,219
Julie Lyall
This cruelty must not go unpunished. People responsible must be held accountable.
Sep 25, 2022
15,218
Corina Mckague
Sep 25, 2022
15,217
Eileen Robinson
This is so wrong, how dare these feral HUMANS treat this beautiful animals in this cruel way, I am disgusted!!!!!!!!!
Sep 25, 2022
15,216
Shivanshu Porwal
Sep 25, 2022
15,215
Jan Yarker
Sep 25, 2022
15,214
Andrea Ghirardo
Sep 25, 2022
15,213
lynn greaves
Sep 25, 2022
15,212
Hayward Jennifer
Sep 25, 2022
15,211
Toril Øvregaard Kvæven
Please, punish A. Simard, E. Leclerc and E. Parent for the horrible cruelty to dogs. These persons are dangerous for all animals!
Sep 25, 2022
15,210
Claudia Zol
Sep 25, 2022
15,209
Kathleen Ryan
HELP US SHUT DOWN ABUSE OF SLED DOGS NOW. PLease sign Petition.
Sep 25, 2022
15,208
Cara Eichorn
Sep 25, 2022
15,207
Inez Milot
Sep 25, 2022
15,206
Kim Rutherford
Sep 25, 2022
15,205
Nancy Cremer
I see never ending human cruelty to animals that apparently will never stop. These human predators must be stopped permanently! The laws to stop them have no teeth and are useless. Life in prison is too good for them. They need to receive the same treatment they dealt to these innocent babies.
Sep 25, 2022
15,204
Lesley Bosworth
Sep 25, 2022
15,203
Nicole Dejolier
Sep 25, 2022
15,202
Françoise Salaün
Sep 25, 2022
15,201
Brenda Goldman
What happened to these children of God was animal abuse, torture and murder. It had nothing to do with euthanasia. These murders must be sentenced to prison time not be permitted to own or work with any companion animal. There is no justice if anything less were considered.
Sep 25, 2022
15,200
Sue Wallington
Sep 25, 2022
15,199
Haleh Walton
Sep 25, 2022
15,198
Jane Horton
Wicked
Sep 25, 2022
---