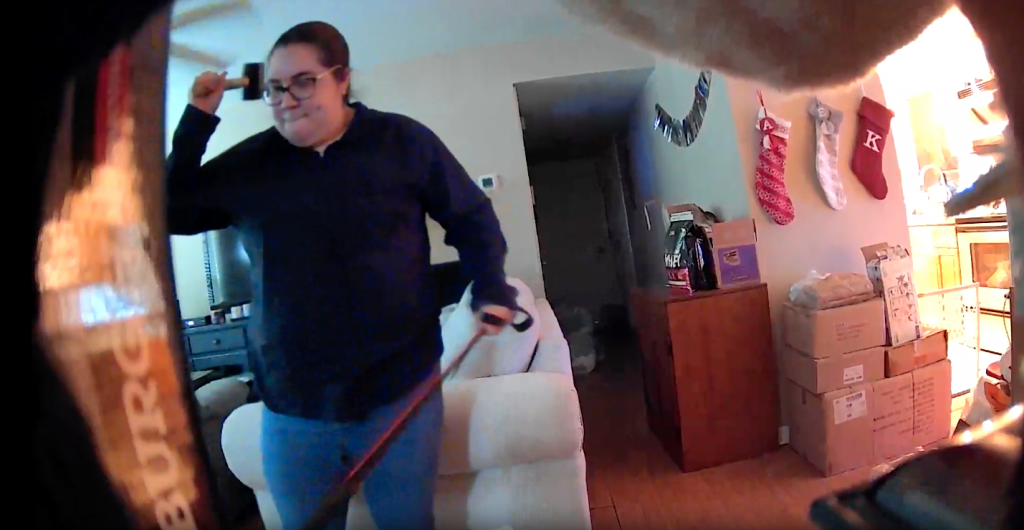 Hillsborough County, FL – On May 1, deputies in Hillsborough County arrested a woman for Aggravated Animal Cruelty after watching a surveillance video of her viciously beating a senior Husky named Maya.
According to a news release from the Hillsborough County Sheriff's Office, 24-year-old Elizabeth Jaimes beat a nine-year-old Husky named Maya with a rubber mallet, breaking the dog's bones and causing her to go blind in one eye.
The video footage of Jaimes beating Maya is difficult to watch, or more specifically, painful to listen to because of the dog's agonized screams of pain from the repeated blows dealt by her abuser.


The wounded dog was taken to the Veterinary Emergency Group, where it was confirmed that she had multiple blunt-force head and back injuries, including spine and rib fractures, and was blind in one eye.
Sheriff Chad Chronister said:
"The actions of Elizabeth Jaimes are reprehensible. No animal deserves to be treated cruelly and inhumanely, and we will not tolerate it. Our team acted swiftly to take Maya into custody and provide her with emergency medical care."
According to the authorities, Jaimes was living in the home with her boyfriend and his mother, who is Maya's owner. The dog's owner installed a hidden camera in her home after noticing that Maya was receiving injuries beginning around the time that Jaimes moved in. The release states:
That is when she discovered the disturbing abuse occurring at the hands of Jaimes. Jaimes admitted to hitting the dog because she had growled at her.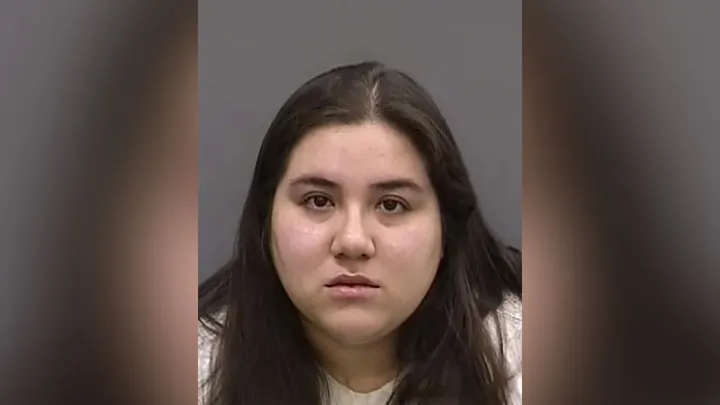 Please add your name to the petition today if you are outraged by Elizabeth Jaimes' reprehensible actions. Maya endured unimaginable suffering due to this woman's vile conduct, and it is crucial to prevent her from causing harm to any other animal.
We the undersigned demand that Elizabeth Jaimes is held responsible for viciously beating a senior husky named Maya. We are petitioning for Jaimes to receive the maximum punishment allowable by law for the aggravated animal cruelty charge stemming from her cruel, abusive behavior. At sentencing, we also hope to see Jaimes prohibited from owning or residing with animals. 
Individuals are presumed innocent until found guilty in a court of law. Animal Victory relies upon the authorities and the court system to determine guilt or innocence.
Note: Following the arrest, Maya was reunited with her owner and is recovering at home. The owner has filed for an injunction on Jaimes.
News:
Sign: Vicious Woman Blinded Husky, Breaking Her Bones With A Rubber Mallet
22,189
signatures = 111% of goal
22,189
Alison Yee
May 28, 2023
22,188
Lavenna White
May 28, 2023
22,187
Sergio Padilla
May 28, 2023
22,186
Mel Green
Monster!!
May 28, 2023
22,185
Jennifer Mcdermott
May 28, 2023
22,184
diana azrikam buruian
May 28, 2023
22,183
Beth Nordmeyer
Epitome of evil. PLEASE DO NOT ALLOW THIS WOMAN IN THE COMMUNITY! MAXIMUM PLUS SENTENCE IS WARRANTED.
May 28, 2023
22,182
Roberta Swanson
May 28, 2023
22,181
Shelly Jones
May 28, 2023
22,180
Annie McCann
May 27, 2023
22,179
Heidi Peterson
I'd love to see someone beat her twice as badly as she beat poor, sweet Maya by order of a judge.
May 27, 2023
22,178
Penny Avalos
She sure deserves the max sentencing , Who knows how many precious animals she has hurt before Maya.. Get better soon Maya, we all got your back in putting this eveil woman behind bars where she belongs
May 27, 2023
22,177
Melissa Gonzalez
May 27, 2023
22,176
Kay Jax
May 27, 2023
22,175
valerie Unknown
May 27, 2023
22,174
Susan Welch
May 27, 2023
22,173
Holly Jones
May 27, 2023
22,172
Cristina Gioffre
May 27, 2023
22,171
Tetyana Wright
May 27, 2023
22,170
Ed Martin
Beat this ugly fat bitch with a hammer over and over and smash her ugly face in. Then set her on fire.
May 27, 2023
22,169
Jen Craig
This MONSTER will burn in Hell. I exposed it (it's not a human) on my YouTube channel: Kind and Fancy Jenna I made a video with its name in the title, exposing this monster for what it is.
May 27, 2023
22,168
Carolina Godoy
May 27, 2023
22,167
Lajos Vas
May 26, 2023
22,166
Patricia Miscavage
May 26, 2023
22,165
Stormy McCormack
May 26, 2023
22,164
Chris Kucera
Prison sentence and mandated counseling for the psychopathic, dumb, dirtbag bitch. NO SLAP ON WRIST!
May 26, 2023
22,163
Iris Glover
May 26, 2023
22,162
Olga Cairns
May 26, 2023
22,161
Jen Fullem
May 26, 2023
22,160
Rene Forbes
Carma ... hope she gets hers
May 26, 2023
---