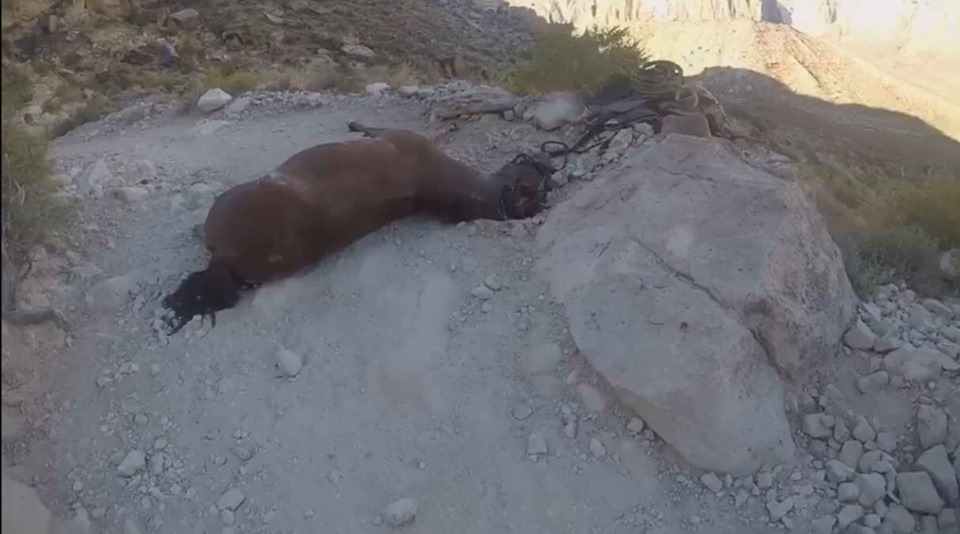 Supai, Arizona – In August, the body of a horse was found along the Havasupai trail to the Grand Canyon – a trail where horses and mules are forced to pack heavy gear for tourists, even in scorching, hot weather.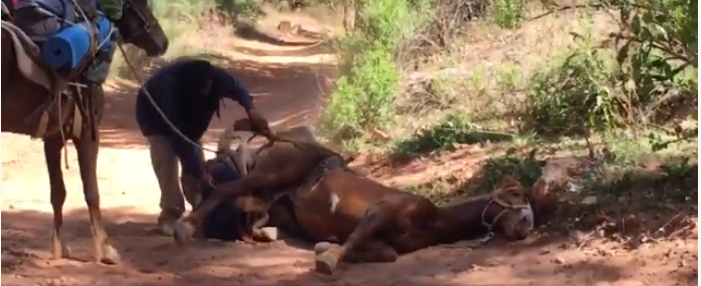 For years there have been numerous reports of abuse and neglect of these pack horses and it is time for this cruel mistreatment to come to an end! Please join us in asking the Havasupai Tribal Council to implement and enforce standards of care for these horses!
Video of a horse on the trail here (warning, this footage may be upsetting).
The mistreatment of these horses has been happening for years and it is time for the abuse to end. Fox 10 News reports of a witness who heard a horse fall to her death from a cliff in May. Shayln Cline told the news agency, "When we turned around, we heard the sound of a horse falling off the cliff. The guy walked down to her, and at that point when she fell off the cliff, she definitely hit her head, and she was gone right in that instant."
This June, video footage captured a pack horse collapsing in the heat (click here to view). It isn't the first time, and surely won't be the last unless enough people say "enough is enough!" A disturbing video from 2018 shows an exhausted pack horse on the ground (click here to view).
How many times have these overburdened, dehydrated, and exhausted horses collapsed when cameras weren't recording? How many horses will die because they are not being properly cared for?
TripAdvisor reviews of the trail also document the mistreatment of these animals – in July 2019, a reviewer recounted the abuse: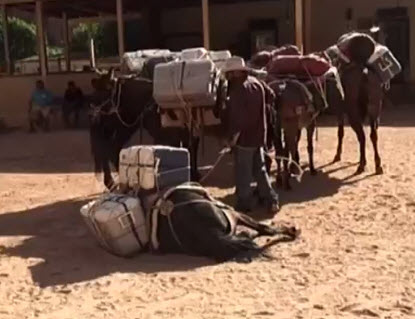 The experience was ruined by witnessing the abuse of the horses and mules. We observed these animals to be underweight and deprived of food and water. We could see all their ribs, they were run up and down the canyon with no water. They are tied so close together (mouth to tail) that the entire train of animals is often pulled by their bridles along the trail. The front or rear horse is kicked and beaten to make the rest run, even along dangerous twists and turns. I cannot even imagine the pressure of a bridle in a horse's mouth, forced up into the hard palate for MILES at a time! The animals have a look of exhaustion and desperation. We witnessed one being kicked so hard she vomited. They are tied up so close to posts that they are unable to turn around, lie down, and with NO shade, even in the sweltering heat. There are signs everywhere saying NO PHOTOS OF THE ANIMALS. This is why. Please do not support the tribe until they treat their enslaved animals with dignity and compassion.
Similar stories of mistreatment and outright abuse have been reported to the SAVE Havasupai Horses Facebook page.
Please sign this petition asking the Havasupai Tribal Council to ensure that the pack horses (and mules) be properly cared for. We further ask for the Bureau of Indian Affairs (BIA) to investigate all reports of animal abuse and take action to suspend abusive horse and mule wranglers from continuing their cruel behavior.
Update October 2019: Visitors are still reporting signs of neglect and abuse. In September, a TripAdvisor review warns tourists to refrain from using pack animals because of abuse witnessed firsthand:
STOP USING PACK ANIMALS
The neglect of the horses and mules that transport tourists to and from has been an ongoing issue for years now. I cannot stress the severity of the abuse enough. PLEASE PLEASE DO YOUR RESEARCH. My fiancé and I visited, and while I still do recommend visiting Supai, CARRY YOUR OWN PACK. If you cannot do that, you simply should not be going on the hike to the village. Visit the SAVE Supai Horses website and look up on google the mistreatment. I have seen it first hand and it brought tears to my eyes. I can't tell enough people. DO NOT TAKE ANY OF THE PACK HORSES. Spread the word. This is unacceptable beyond measure.
More TripAdvisor reviews about this sad situation can be found at this link.
Save Havasupai Horses received another report of abuse from a hiker named Valerie in October. Valerie reported seeing horses with large, open wounds on their bellies. She writes, "What distressed us most was when we were hiking back out we saw at least two horses – from two different packs, with open wounds on their bellies where the girth was strapped. The wounds on both horses were a significant size, like baseball size."
Please continue to sign and share this petition. We are hoping to raise awareness about what is happening to these pack animals and work towards stopping the ongoing mistreatment!
* Individuals are presumed innocent until proven guilty in a court of law.
Animal-Protection-Laws-of-Arizona-2020-Animal-Legal-Defense-Fund
PRIOR SIGNATURES : 6808
200
John Robertson
Nov 30, 2022
199
Dana Dykes
Nov 19, 2022
198
R Beaton
Nov 11, 2022
197
brigitte deschaintre
Nov 11, 2022
196
Lisa Cairns
Oct 21, 2022
195
Carolina Pino
Oct 15, 2022
194
Shannon Nichols
Oct 07, 2022
193
Michele Pierce
Oct 05, 2022
192
Marga Gili
Sep 22, 2022
191
Shambhavi Ojha
Sep 18, 2022
190
Guisselle Martinez
Sep 17, 2022
189
Elizabeth Smith
Sep 16, 2022
188
Carmen Verdugo
Sep 11, 2022
187
Michelle Krueger
Sep 09, 2022
186
Nancy Coupe
Sep 03, 2022
185
Jeffrey Clouatre
Sep 03, 2022
184
Farah Khumbatta
Aug 20, 2022
183
Patricia Henson
Aug 19, 2022
182
Anu Dutt
Aug 18, 2022
181
Mary Wentz
Aug 12, 2022
180
Vickie Barnett
Aug 10, 2022
179
Renee Crawford
Aug 10, 2022
178
Ana Carolina Casey
Please put this horrible animal abuser in prison for ever evil monster.
Aug 05, 2022
177
Erasmia Spyros
Jul 16, 2022
176
john clary
Jul 15, 2022
175
kingsley clary
Jul 15, 2022
174
Debbie Czujko
Jul 14, 2022
173
Lacee Mikkelsen
Jul 13, 2022
172
Debbie Coggins
I don't understand how any human being can be so heartless, the same should be done to the people
Jul 08, 2022
171
tina corthals
Jul 08, 2022
PRIOR SIGNATURES : 6808
---