Sign: 'Rescuer' Of Special Needs Dogs Kept Them In Squalid House Of Horrors
Published: October 03, 2023 at 03:07 AM Author:
PENNY EIMS
Chandler, AZ – A woman affiliated with a special needs dog rescue is facing 110 counts of animal abuse and cruelty following the discovery of dozens of dogs living in squalor, and numerous dead dogs in a freezer. The authorities have identified April Mclaughlin as the woman responsible for the deplorable, heartbreaking situation.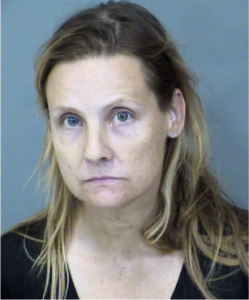 The appalling conditions were discovered when a veterinary professional expressed concerns about three animals at the house on East Kesler Lane, prompting the police to obtain a search warrant.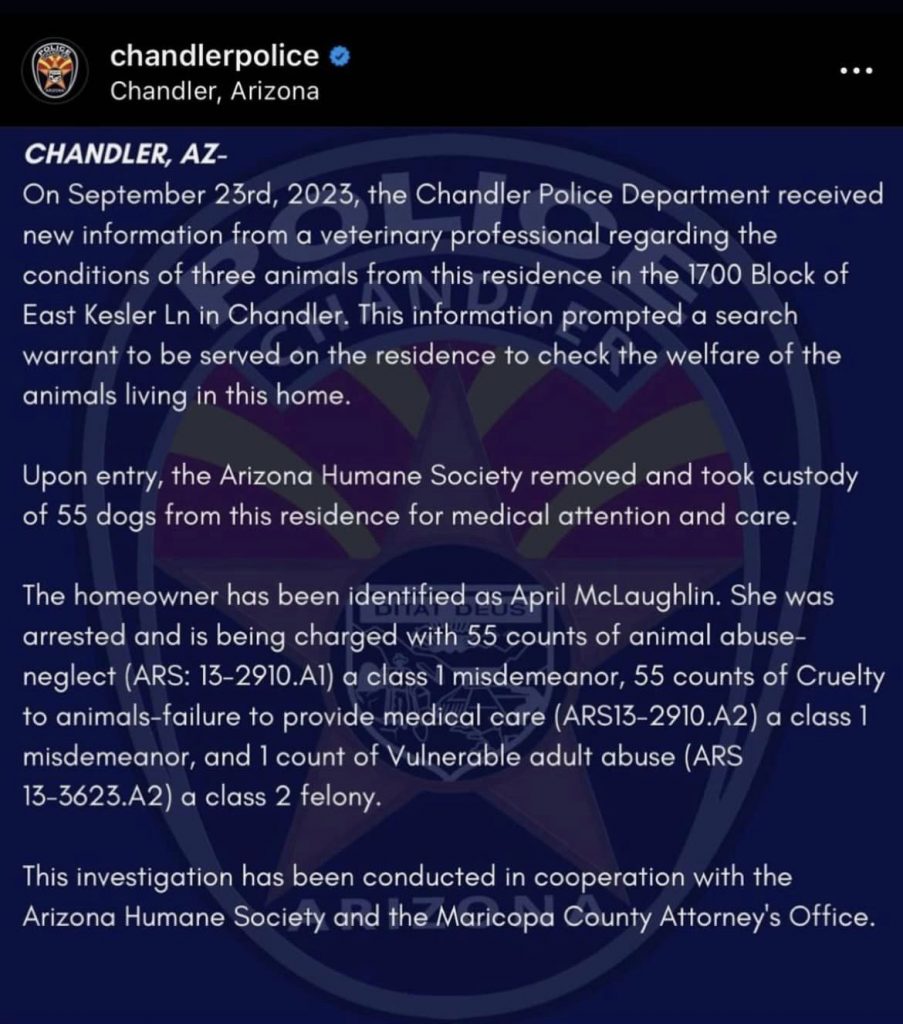 Several rescue agencies that had sent disabled dogs to the Special Needs Animal Welfare League became concerned that the rescue group was a sham, claiming that Mclaughlin lied about the dogs who had been sent to her…saying they were in good foster homes, or they had been adopted.
But instead of living a good life, disabled dogs were found to be living in a house of horrors. Dogs who could not walk were living outside without wheelchairs, surrounded by trash and feces.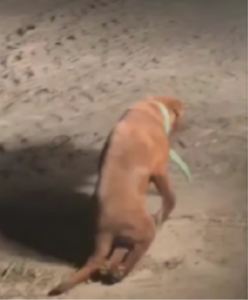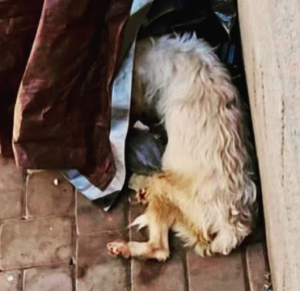 Arresting documents state that some of the dogs outside had, "exposed raw skin due to dragging, and some without water." Inside, dogs were crammed in wire cages that were stacked in some areas up to 7 feet tall.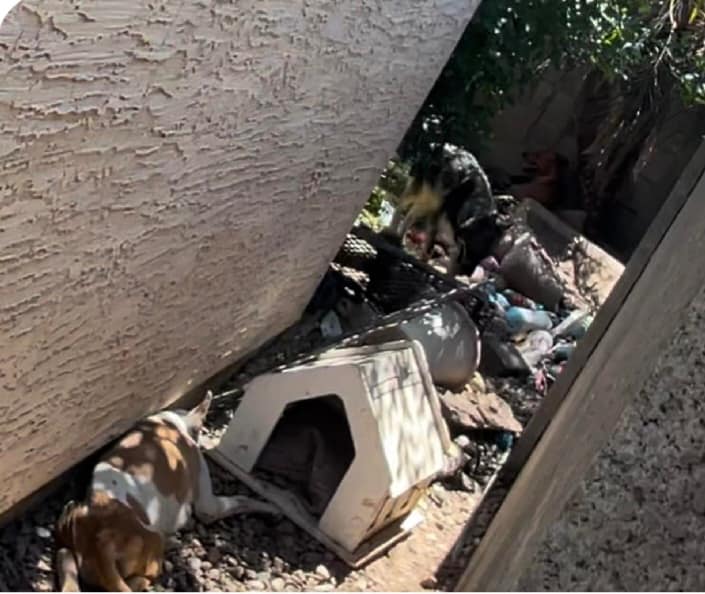 Dogs had not been sent to a safe place…they were languishing in hell on earth.
Officers who went to the Chandler residence to investigate were immediately hit with the stench of death, urine, and feces, and the cries from over 50 distressed dogs suffering a miserable existence. The odor was so overwhelming that the fire department was contacted to assist. Hazmat suits and specialized breathing equipment were necessary to enter the home.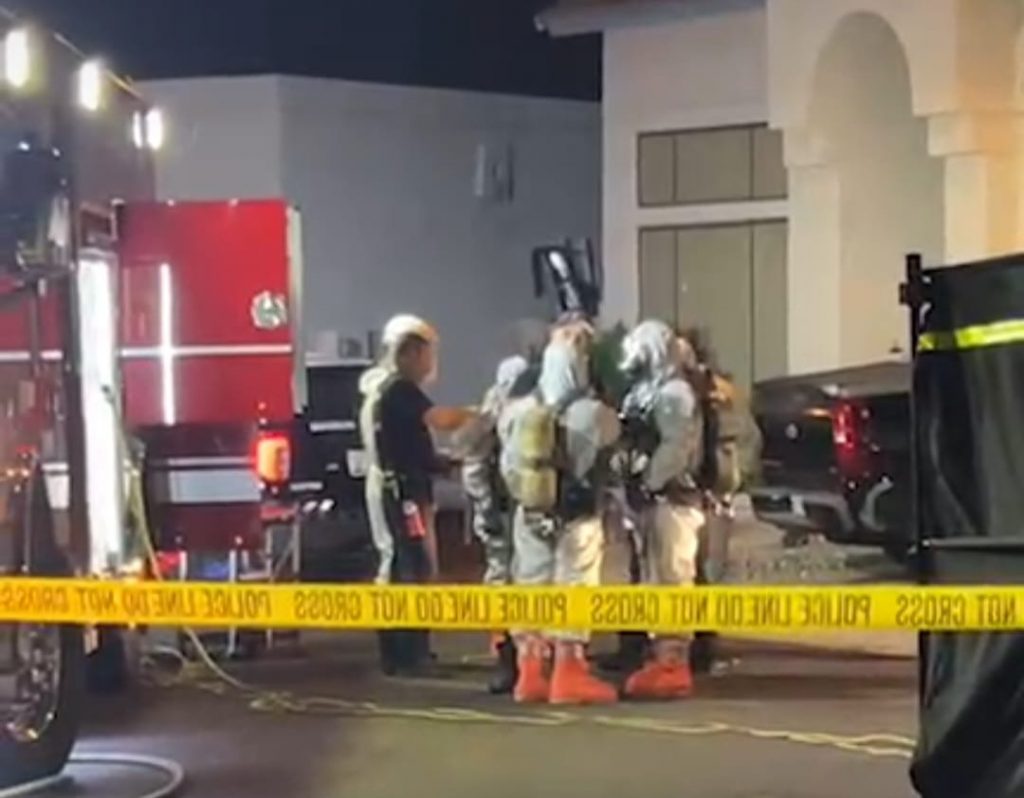 Officials rescued 55 dogs from the property, but five were in such pitiful condition that they were humanely euthanized. The home has since been condemned.
In addition to the dozens of animal cruelty charges, Mclaughlin is facing one count of vulnerable adult abuse because her elderly mother was living in the filthy residence with the dogs.
Mclaughlin collected donations under the guise of providing specialized care to homeless dogs with disabilities. But the dogs entrusted to her care were left to suffer. If you are disgusted by this entire situation, please add your name to the petition – we need your support!
We the undersigned demand that the authorities hold April Mclaughlin accountable for the appalling treatment of dogs entrusted to her care.  We hope to see this woman receive the maximum sentence for each and every charge stemming from this abhorrent situation. Additionally, we want to see Mclaughlin prohibited from owning or caring for animals in the future. This petition acts as our collective endorsement for the maximum penalty allowed by law. 
Note: Surviving dogs were taken to the Arizona Humane Society.
Individuals are presumed innocent until found guilty in a court of law. Animal Victory relies upon the authorities and the court system to determine guilt or innocence.
News
Update 10/25/2023: This case is still under investigation with the Chandler Police Department.  The internal case number is 23-104385. The 14 days the defendant had to appeal the judge's ruling regarding custody of the dogs (from Oct. 11) ends tomorrow.
Update 10/12/2023: April McLaughlin initially tried to regain custody of 47 dogs. She changed her request to 13 dogs, telling court officials they were her "personal family dogs." At a hearing this week, her request was denied. The presiding judge said, "The dogs that you had, all of them were subjected to cruel neglect, so I am going to grant the seizing agencies request that these dogs not to be returned to you. You have forfeited your right to have these dogs." McLaughlin has 14 days to appeal the judge's ruling.
Prior signatures: 13,805