Port St. Lucie, FL -A Florida man was arrested on April 2 on accusations that he tortured a federally protected bird in front of his children. The Port St. Lucie police have identified 67-year-old Eugene Fritz as the man who sliced off the leg of a great blue heron and slit the bird's throat…in front of his kids.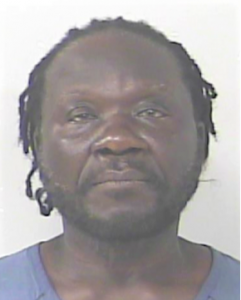 As reported by WPTV News, the authorities interviewed Fritz's children after his wife reported what happened. Fritz's daughter said that her dad had the injured bird with him when he picked her up from school. The police report for the March 31 incident states:
"The bird was still alive at this point but had a broken leg. It appeared the father had injured the bird when he grabbed it."
The children said he then cut off its legs, brutally stabbed it to death, before slitting its throat, all while they watched.
The family has stated that Fritz brutalized the blue heron because he was "angry" that it went after his fishing bait.
Eugene Fritz is facing multiple charges, including aggravated animal cruelty and cruelty toward a child.
If you are shaken by what this man did to an innocent bird, and angered that he committed the violence in front of children, please add your name to the petition today!
We the undersigned demand that Eugene Fritz is held responsible for torturing and killing a protected great blue heron and we are petitioning for him to receive the maximum punishment allowable by law for the charges stemming from this appalling act of violence. 
Blue herons are protected federally under the U.S. Migratory Brid Treaty Act, as well as the Florida Endangered and Threatened Species Rule.
Individuals are presumed innocent until found guilty in a court of law. Animal Victory relies upon the authorities and the court system to determine guilt or innocence.
News:
Update: 5/15/2023: Animal Victory sent cover letter and petition to the judge. 
Sign: Man Cut Off Blue Heron's Leg And Slit Bird's Throat In Front Of His Children
18,180
signatures = 91% of goal
18,180
Sergio Padilla
May 28, 2023
18,179
Mel Green
May 28, 2023
18,178
Jenn Osmunson
May 28, 2023
18,177
Jennifer Rosater
May 28, 2023
18,176
diana azrikam buruian
May 27, 2023
18,175
Antoinette Stanfield
May 27, 2023
18,174
Peter Petrosky
May 27, 2023
18,173
Lajos Vas
May 26, 2023
18,172
minnow low
horrible.
May 26, 2023
18,171
Cynthia McCann
May 26, 2023
18,170
Heidi Etemad
May 26, 2023
18,169
Denise Washburn
May 25, 2023
18,168
Sal Mcghee
May 25, 2023
18,167
Karen Mcghee
May 25, 2023
18,166
Maggie Loya
May 25, 2023
18,165
Kristjanna Johnson
May 25, 2023
18,164
Julie Nelson
May 24, 2023
18,163
Laura Schmid
May 24, 2023
18,162
Sylvie Ray
May 24, 2023
18,161
Alicja Mrozek
May 24, 2023
18,160
Jennifer Swilley
Put an end to these barbaric actions! Animal cruelty should include ALL ANIMALS!!!
May 24, 2023
18,159
Janet Fuls
Please give him the maximum punishment for this horrible behavior.
May 23, 2023
18,158
Katie Yu
May 23, 2023
18,157
Daniela Adao
May 23, 2023
18,156
Bonnie Schaffer
May 23, 2023
18,155
Sarah Rescorl
May 23, 2023
18,154
Athena B
May 22, 2023
18,153
Jessica Gullbrand
May 22, 2023
18,152
Farah Khumbatta
May 22, 2023
18,151
Marilyn Turney
May 22, 2023
---