Port St. Lucie, FL -A Florida man was arrested on April 2 on accusations that he tortured a federally protected bird in front of his children. The Port St. Lucie police have identified 67-year-old Eugene Fritz as the man who sliced off the leg of a great blue heron and slit the bird's throat…in front of his kids.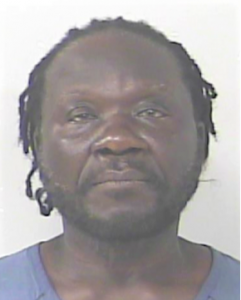 As reported by WPTV News, the authorities interviewed Fritz's children after his wife reported what happened. Fritz's daughter said that her dad had the injured bird with him when he picked her up from school. The police report for the March 31 incident states:
"The bird was still alive at this point but had a broken leg. It appeared the father had injured the bird when he grabbed it."
The children said he then cut off its legs, brutally stabbed it to death, before slitting its throat, all while they watched.
The family has stated that Fritz brutalized the blue heron because he was "angry" that it went after his fishing bait.
Eugene Fritz is facing multiple charges, including aggravated animal cruelty and cruelty toward a child.
If you are shaken by what this man did to an innocent bird, and angered that he committed the violence in front of children, please add your name to the petition today!
We the undersigned demand that Eugene Fritz is held responsible for torturing and killing a protected great blue heron and we are petitioning for him to receive the maximum punishment allowable by law for the charges stemming from this appalling act of violence. 
Blue herons are protected federally under the U.S. Migratory Brid Treaty Act, as well as the Florida Endangered and Threatened Species Rule.
Individuals are presumed innocent until found guilty in a court of law. Animal Victory relies upon the authorities and the court system to determine guilt or innocence.
News:
Update 8/29/2023: Animal Victory has learned that the next docket call is scheduled on 08/30/2023 at 9:00 a.m This is a status meeting in preparation for trial.
Update 7/13/2023: Animal Victory sent a cover letter and petition to the County Attorney.
Update 7/4/2023: Animal Victory has learned that a Motion to Compel Discovery is scheduled on 7/24/2023, and a docket call is scheduled on July 26, 2023.
Update 6/22/2023: Animal Victory has learned that the Docket Call is scheduled for 6/28/2023 at 9 am in courtroom 2B-HC with Honorable Michael Heisey.
Update: 5/15/2023: Animal Victory sent cover letter and petition to the judge. 
Sign: Man Cut Off Blue Heron's Leg And Slit Bird's Throat In Front Of His Children
19,029
signatures = 95% of goal
19,029
Gisela Llamas
Sep 30, 2023
19,028
Karen Ramey
Sep 25, 2023
19,027
Annamarie Jones
Sep 24, 2023
19,026
Valerie Louden
I hope the judge will see that Fritz is in need of some mental health treatment, and perhaps some anger management if he is willing to take out his anger this way in front of his children, terrorize them, think nothing of it, something is very wrong here.
Sep 24, 2023
19,025
Jerry Yarborough
Sep 23, 2023
19,024
Elizabeth Apking
Sep 21, 2023
19,023
Elizabeth Conlan
Sep 17, 2023
19,022
Merrill Plumlee
Sep 17, 2023
19,021
Catherine Mazzoni
Sick pos scum prosecute to the fullest.
Sep 17, 2023
19,020
Loretta Cuesta
Sep 16, 2023
19,019
Anonymous
Sep 14, 2023
19,018
Linda Duncan
Please punish this man for this horrible act of violence.
Sep 12, 2023
19,017
karen Wible
Sep 12, 2023
19,016
Susan Atkinson
This is act of pure violence to a wild beautiful creature who was just wanting to feed itself! Not only a vile act towards the bird but to do this in front of his children!
Sep 12, 2023
19,015
Joanne Raby-Smith
Sep 11, 2023
19,014
Allan Rubin
This is an obscenity!!! We call so many other things obscene, but, man's continued abuse of animals for the most ridiculous reasons far exceeds any other kind of obscenity you can imagine!!
Sep 08, 2023
19,013
Eric Gravenor
Sep 07, 2023
19,012
Sandy Bairfield
Sep 03, 2023
19,011
Kay Kurz
Aug 29, 2023
19,010
Suzy Kendall
Aug 27, 2023
19,009
Betty Bourke brown
Aug 27, 2023
19,008
Kimberly Bellefontaine
Aug 27, 2023
19,007
SUSIE BARANSKI
The man in question looks dark and evil, maximum penalty!!
Aug 26, 2023
19,006
Fatemeh Sadavi
Aug 24, 2023
19,005
Lorraine Andersen
Aug 24, 2023
19,004
Ronnie Lapenson
Aug 23, 2023
19,003
Sandra UNITE
Selfish ,sadistic b....d
Aug 23, 2023
19,002
Jenni Audette
Aug 23, 2023
19,001
dazione matthews
Aug 23, 2023
19,000
Cierra B
Aug 22, 2023
---