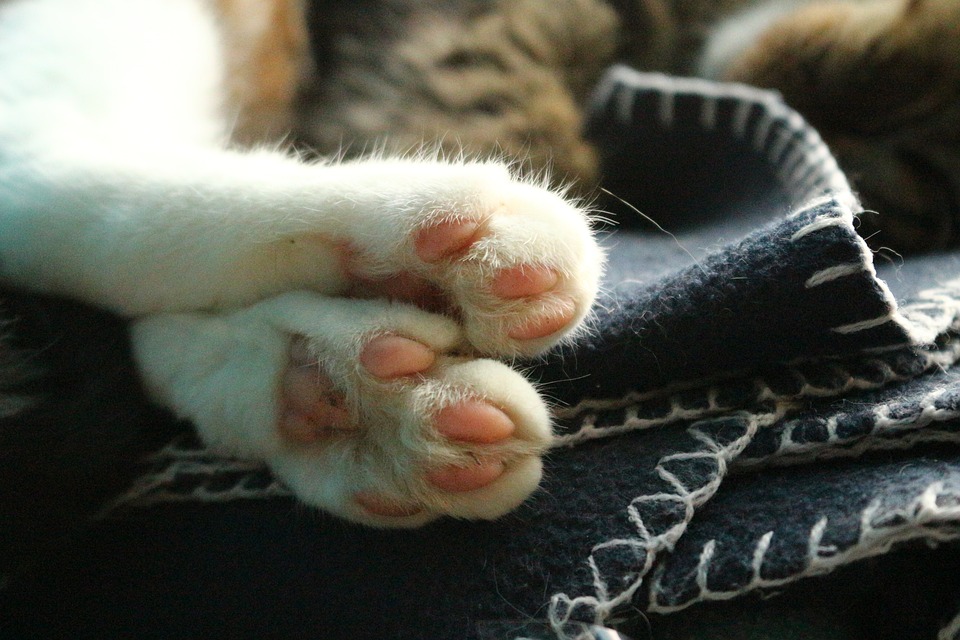 Lawrence, Mass. An adorable kitten named 𝐒𝐞𝐫𝐚𝐩𝐡𝐢𝐧𝐚 is lucky to be alive after being tortured by her owner, 52-year-old Eloy Nunez. According to the authorities, witnesses heard him striking the two-month-old kitten with a pole or stick and heard her crying in pain.
Police began to investigate the abuse allegations after Nunez's neighbors went to the rooming house manager to report their concerns. A review of surveillance footage from February 10 showed Nunez carrying the kitten by the scruff of her neck; she appeared to be "lifeless or unconscious." The video also showed him "violently and deliberately shaking" the kitten.
After reviewing the footage, a Lawrence police officer contacted Nunez by phone and he agreed to meet with the police on February 15. But on February 15, Animal Control Officer Bistany responded to Haffner's Gas Station because someone reported that a kitten had been abandoned in a cardboard box.
The cat matched the description of the cat in the video surveillance footage. A police report outlines the condition of the abandoned kitten:
The cat could not use its hind legs and was struggling to lay upright. It was visibly trembling from the cold — it was 34 degrees at the time.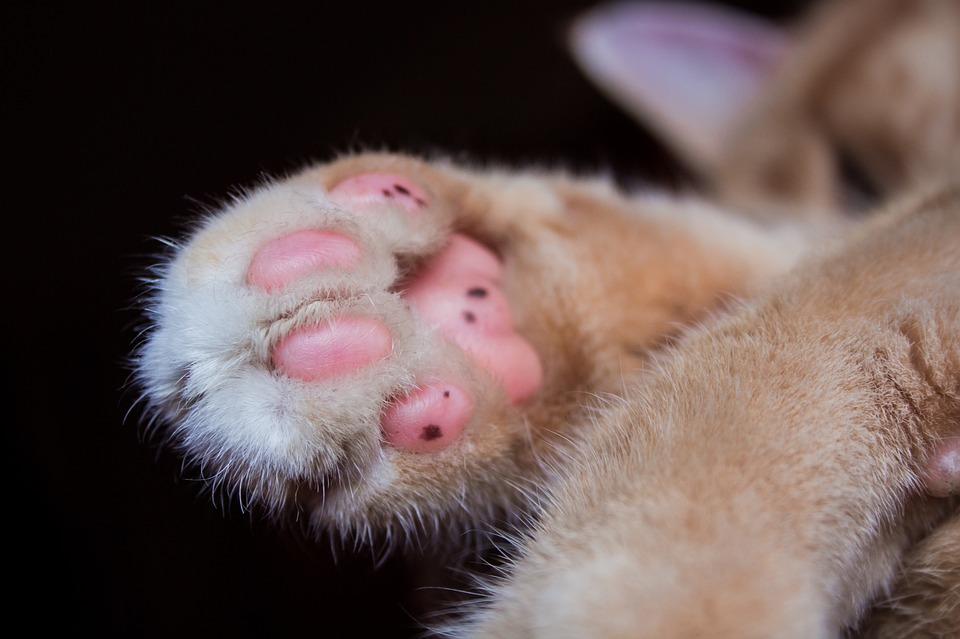 The abandoned kitten was taken to a veterinary hospital where an exam revealed, "neurological damage caused by blunt force trauma or oxygen loss." According to the report, "the cat was also unable to use its hind legs and due to its injuries, could have potentially needed to be euthanized."
The rooming house manager "adamantly confirmed" that the injured and abandoned kitten was the same kitten that Nunez had been observed abusing. Police were able to review additional video footage from February 15 and it showed Nunez "leaving his room with the same brown box" that the abandoned kitten was found in.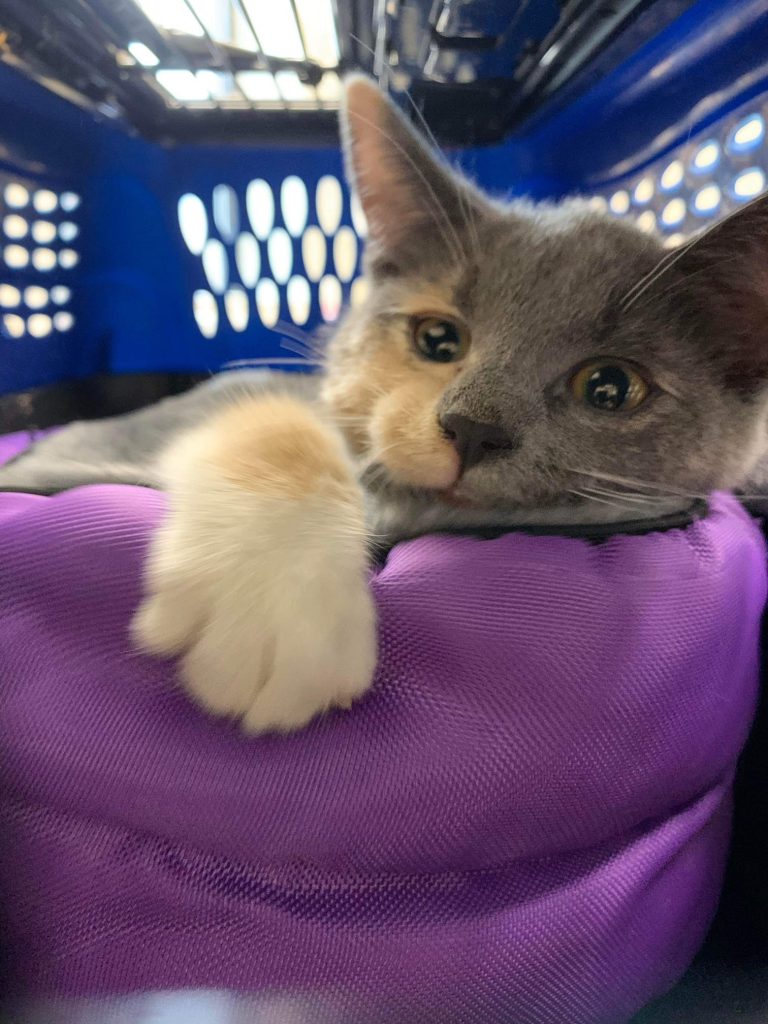 Police were able to question Nunez after finding the kitten and the man admitted that he had hit the kitten in the head and abandoned her outside of the gas station.
Nunez is facing charges of animal cruelty and tampering with evidence. If you are disgusted by this abuse, please add your name to the petition and help us fight for this man to be held fully accountable for his abhorrent treatment of this fragile, gentle kitten! Animal Victory does NOT want him to receive a paltry plea deal.
We the undersigned demand that Eloy Nunez is held responsible for repeatedly abusing a two-month-old kitten. We are petitioning for Nunez to receive the maximum punishment allowable by law for his charges of animal cruelty and tampering with evidence. At sentencing, we also hope to see Nunez prohibited from owning or residing with animals in the future. 
Note: The kitten suffered a broken jaw, but she survived! Sweet Paws Rescue has taken her in and she is recuperating in a foster home. The rescue agency is disgusted by the cruelty she suffered at Nunez's hands, and they want to see her abuser punished for his appalling behavior. We need your help to show the judge that we care about animal welfare. We care about this kitten and we want to see her abuser behind bars!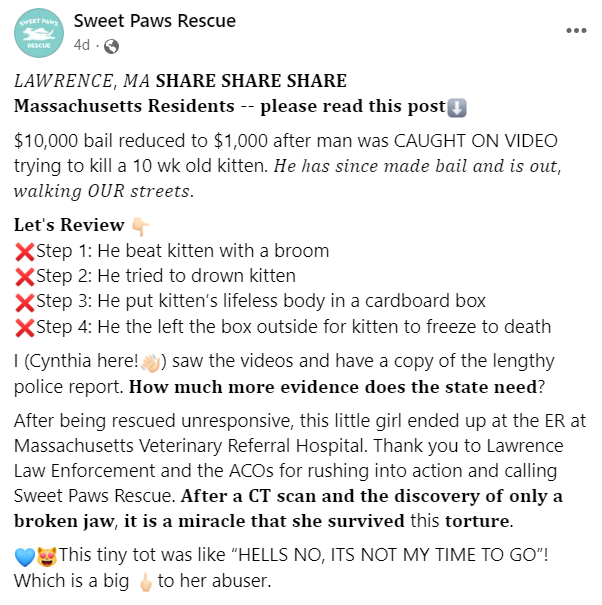 Individuals are presumed innocent until found guilty in a court of law. Animal Victory relies upon the authorities and the court system to determine guilt or innocence.
News
Update August 7, 2023: Animal Victory sent cover letter and petition to the DA.
Update July 28, 2023: Animal Victory has learned that Nunez is scheduled to appear in court on Sept. 14, 2023 (Lawrence District Court).
May 12, 2023: Animal Victory sent cover letter and petition to the judge.
Sign: Man Accused Of Beating Innocent Kitten And Abandoning Her In The Cold
23,536
signatures = 118% of goal
23,536
Adam Debicki
Sep 30, 2023
23,535
Jerry Yarborough
Sep 23, 2023
23,534
Sally Wood
Evil bastard
Sep 22, 2023
23,533
Merrill Plumlee
Sep 17, 2023
23,532
Anonymous
Sep 14, 2023
23,531
Denise Romero
Justice needs to be served. That poor innocent precious kitten. I feel terrible for what he/she endured.
Sep 13, 2023
23,530
Linda Duncan
Sep 12, 2023
23,529
karen Wible
Sep 12, 2023
23,528
Ruth Tonkin
Please stop these mentally ill monsters that hurt animals!!!
Sep 12, 2023
23,527
Kay Kurz
People like this is going straight to HELL! If you don't believe in HELL, there's KARMA!
Aug 29, 2023
23,526
Anonymous
Aug 27, 2023
23,525
Kimberly Bellefontaine
Aug 27, 2023
23,524
Jenni Audette
Aug 23, 2023
23,523
Zoya Altmark
Aug 23, 2023
23,522
Connie Scalfaro
Aug 20, 2023
23,521
Anonymous
Aug 18, 2023
23,520
Catherine Orlowski
Aug 16, 2023
23,519
Jonathan Donahue
Aug 15, 2023
23,518
E Froederberg
Aug 15, 2023
23,517
Marybeth Searcy
Aug 12, 2023
23,516
Kimberly Zimmer
Aug 10, 2023
23,515
Kim Zimmerman
Anybody who can hurt an innocent animal and hurt individuals as well as humans and children? did this crazy person in Office Street put them in prison he has no heart no compassion, and does not care Satan himself.
Aug 10, 2023
23,514
Sheryl Myhan
Aug 08, 2023
23,513
Janet Denti
Aug 06, 2023
23,512
Anonymous
This man is a monster. There is an evil in him and this is just the beginning of his truly monstrous acts.
Aug 06, 2023
23,511
Anonymous
Aug 03, 2023
23,510
Linda Kalaskie
Does he even deserve to breath air? I think the sweet baby he so brutaly hurt would say otherwise! She deserves a hell of a lot better than that! I hope she can recover from this and find the perfect home for her.
Aug 03, 2023
23,509
Megan Sherwood
Aug 02, 2023
23,508
maggie nebout
punish him
Aug 02, 2023
23,507
John Markham
Aug 02, 2023
---