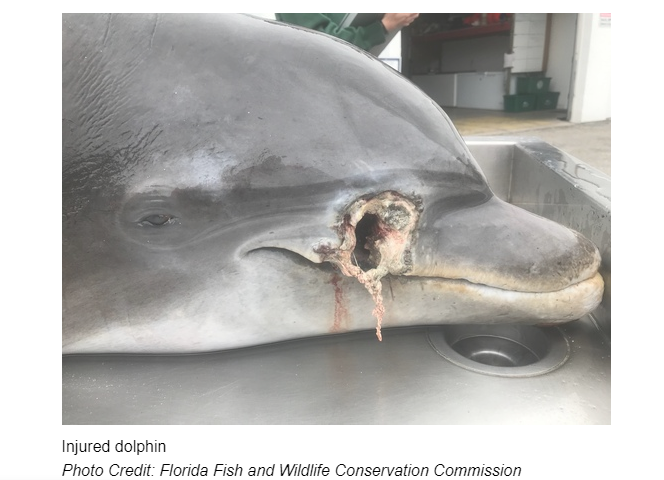 Florida – A huge reward is being offered for information leading to the arrest and conviction of whoever is responsible for killing dolphins found in Florida. According to NOAA, one of the dolphins, found with a huge head wound last week near Naples, was either shot or speared with a sharp object. Another dolphin, found the same week along Pensacola Beach, suffered a fatal shot in its side.
NOAA's Office of Law Enforcement is offering a reward of up to $20,000 for the arrest and conviction of the person(s) responsible. The purpose of this petition is to raise awareness of these criminal acts and to gather signatures to be presented to officials when and if a person(s) is arrested and charged.
February 18, 2020 READ OUR LETTER HERE
Update 3/6/2020:  The National Oceanic and Atmospheric Administration has increased the reward to $54,000! Whoever is responsible for these senseless killings could face up to $100,000 in fines and as much as one year behind bars.
NOAA believes that dolphins are being killed because people are feeding them – the agency wants to inform the public that feeding wild dolphins can result in acts of cruelty towards these magnificent creatures.
In a news release, NOAA explains:
"Dolphins fed by people learn to associate people and boats with food, which can put them in harmful situations. Dolphins may suffer fatal impacts from boat strikes, entanglement in or ingestion of fishing gear, and acts of intentional harm like these."
Whoever is behind these despicable acts of cruelty must be found and punished – this is not acceptable!!
Anyone with information is encouraged to call the NOAA Enforcement Hotline at (800) 853-1964. Tips may be left anonymously.
News release:
https://www.fisheries.noaa.gov/feature-story/dolphins-stabbed-and-shot-florida-noaa-enforcement-seeks-tips
* Individuals are presumed innocent until proven guilty in a court of law.