Rahway, NJ – Over the weekend, a distressing video went viral on social media. The footage shows a man violently shaking a leash attached to a dog who collapses from being nearly choked to unconsciousness; the man is allegedly Joshua Silverstein, a trainer with Bubba Luv Training.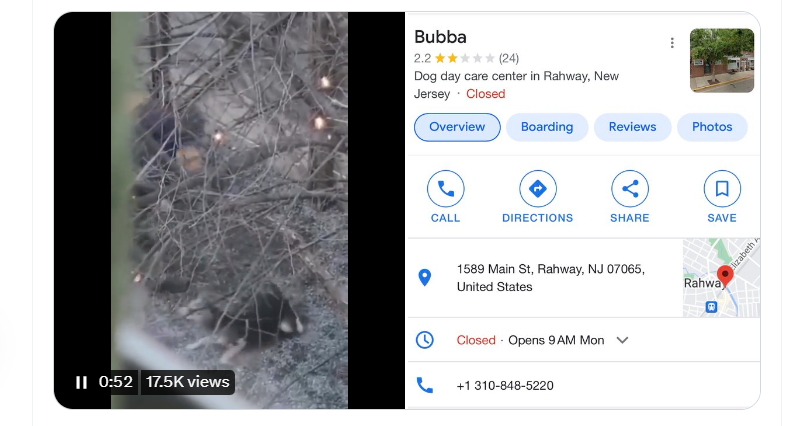 On Facebook, the video posting states that this abusive behavior happens "often" but this is the first time that it was captured on video.  Watch Videos On the Right Of Petition.
And in short order, there were people calling the local authorities in Rahway, demanding an animal cruelty investigation.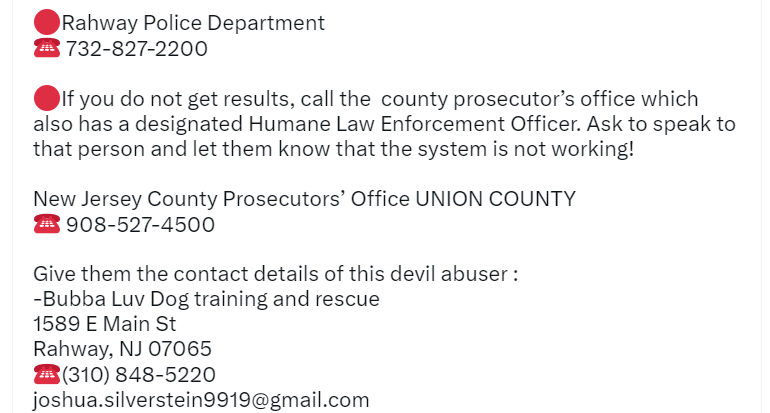 Most of the sites affiliated with Bubba Luv Dog Training were immediately deleted from the internet, including the business's own website and Facebook page. But some of their "about" information still existed after these events and you can read what the company says about itself in the screenshot below:

Watch the video footage and draw your own conclusion:
According to the Rahway Police Department, the local officials have been made aware of this situation and they have launched an animal cruelty investigation.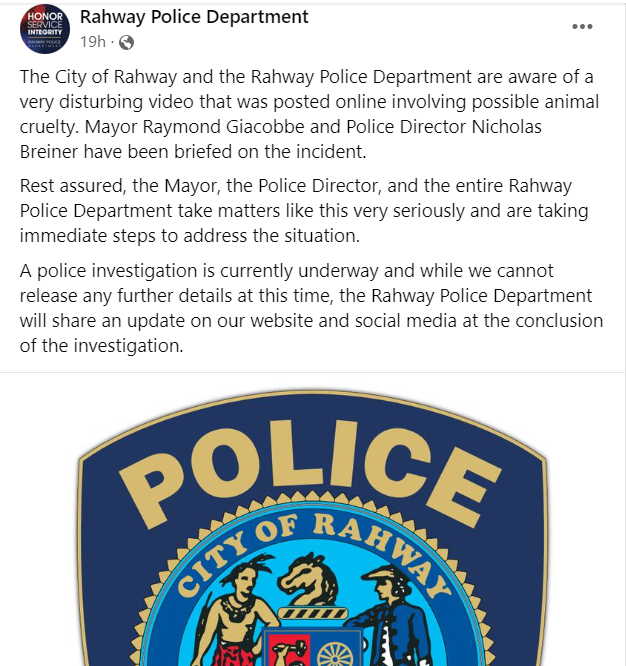 If you want to help ensure that this does NOT get swept under the rug and that officials follow through with their promises, please add your name to the petition today. 
This video footage is heartwrenching and there is no excuse for EVER treating a dog in such a manner, much less under the guise of "training." If the authorities' investigation confirms what the video footage appears to show, this business must be shut down and the person in charge held fully accountable.
Note: Though unconfirmed, the dog in this video is reported to be alive.
Individuals are presumed innocent until found guilty in a court of law. Animal Victory relies upon the authorities and the court system to determine guilt or innocence.
News
Update! The Mayor of Rahway issued a release about this abuse case. According to Mayor Raymond Giacobbe, the training facility has been closed down and vacated. A team of city officials, and the office of the Mayor, responded to the training facility after the disturbing video began circulating on social media. Mayor Giacobbe stated that he was "outraged" by the video and he thanked the public, stating, "We appreciate your concern and your support. The Police Department has received thousands of calls since the video was posted online, and I ask everyone to be patient and let law enforcement officials handle the investigation." 
Distressing Video Shows Dog Nearly Unconscious After Being Choked By Trainer
17,929
signatures = 90% of goal
17,929
Gisela Llamas
Oct 02, 2023
17,928
Rose Mary Spadaccini
Sep 29, 2023
17,927
Sylvia Thomas
This low life garbage of shit Pathetic loser should get his ass kicked to Timbuktu
Sep 25, 2023
17,926
Jerry Yarborough
Sep 23, 2023
17,925
Sally Wood
Id love to give that excuse for a human some 'training' he would never forget!
Sep 22, 2023
17,924
Merrill Plumlee
Sep 17, 2023
17,923
Loretta Cuesta
Sep 16, 2023
17,922
Andry Scott
Sep 14, 2023
17,921
Leisa Austin
Sep 14, 2023
17,920
karen Wible
Sep 12, 2023
17,919
Ruth Tonkin
Please stop these mentally ill monsters that hurt animals!!!
Sep 12, 2023
17,918
Sidney Leibovitch
Sep 10, 2023
17,917
Deborah Smith
Sep 06, 2023
17,916
Adriana Anindya Augusta
Sep 05, 2023
17,915
Sherrie Darce
Sep 04, 2023
17,914
Allan Rubin
Aug 31, 2023
17,913
Kay Kurz
This act is NOT human like, what kind of so called human behaves like this?! Maximum punishment while he lives and then he'll face judgement day when it comes!
Aug 29, 2023
17,912
Kimberly Bellefontaine
Aug 27, 2023
17,911
Lorraine Andersen
Aug 24, 2023
17,910
Jenni Audette
Aug 23, 2023
17,908
Cierra B
Aug 22, 2023
17,907
Susie Jin
Aug 22, 2023
17,906
Nancy Pierce
Aug 21, 2023
17,905
Connie Scalfaro
Aug 20, 2023
17,904
soniajuju Ayala
Justice justice justice
Aug 20, 2023
17,903
Mark Roberts
Aug 20, 2023
17,902
Ruby Bourke Brown
Aug 20, 2023
17,901
Anonymous
Aug 18, 2023
17,900
Carey Hodes
Aug 13, 2023
---