Rahway, NJ – Over the weekend, a distressing video went viral on social media. The footage shows a man violently shaking a leash attached to a dog who collapses from being nearly choked to unconsciousness; the man is allegedly Joshua Silverstein, a trainer with Bubba Luv Training.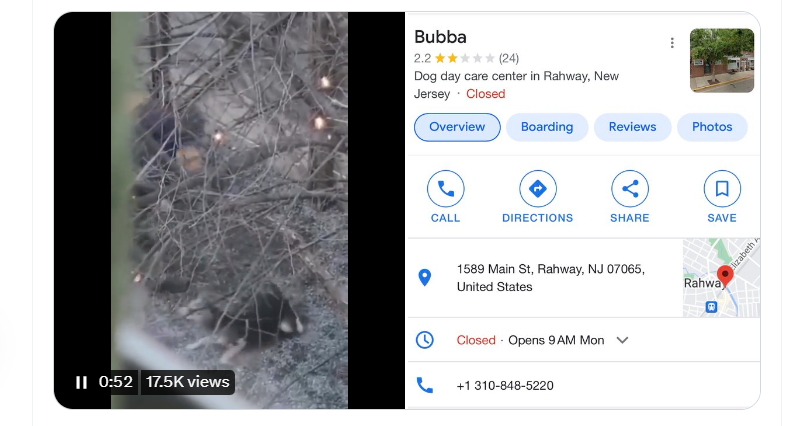 On Facebook, the video posting states that this abusive behavior happens "often" but this is the first time that it was captured on video.  Watch Videos On the Right Of Petition.
And in short order, there were people calling the local authorities in Rahway, demanding an animal cruelty investigation.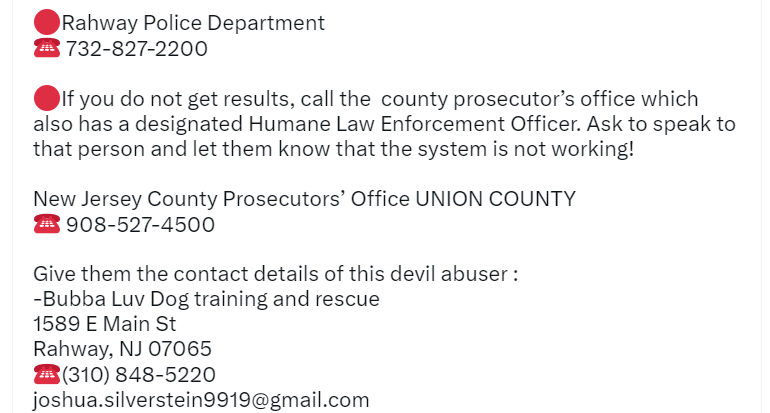 Most of the sites affiliated with Bubba Luv Dog Training were immediately deleted from the internet, including the business's own website and Facebook page. But some of their "about" information still existed after these events and you can read what the company says about itself in the screenshot below:

Watch the video footage and draw your own conclusion:
According to the Rahway Police Department, the local officials have been made aware of this situation and they have launched an animal cruelty investigation.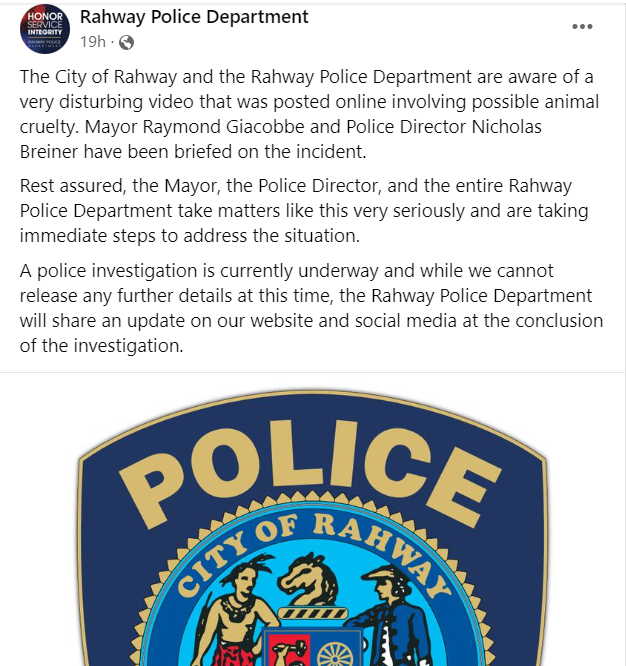 If you want to help ensure that this does NOT get swept under the rug and that officials follow through with their promises, please add your name to the petition today. 
This video footage is heartwrenching and there is no excuse for EVER treating a dog in such a manner, much less under the guise of "training." If the authorities' investigation confirms what the video footage appears to show, this business must be shut down and the person in charge held fully accountable.
Note: Though unconfirmed, the dog in this video is reported to be alive.
Individuals are presumed innocent until found guilty in a court of law. Animal Victory relies upon the authorities and the court system to determine guilt or innocence.
News
Update! The Mayor of Rahway issued a release about this abuse case. According to Mayor Raymond Giacobbe, the training facility has been closed down and vacated. A team of city officials, and the office of the Mayor, responded to the training facility after the disturbing video began circulating on social media. Mayor Giacobbe stated that he was "outraged" by the video and he thanked the public, stating, "We appreciate your concern and your support. The Police Department has received thousands of calls since the video was posted online, and I ask everyone to be patient and let law enforcement officials handle the investigation." 
Sign: Distressing Video Shows Dog Nearly Unconscious After Being Choked By Trainer
17,264
signatures = 86% of goal
17,264
Deborah A Cooper
Mar 26, 2023
17,263
Elizabeth Apking
Mar 26, 2023
17,262
Chelsea Boug
Mar 26, 2023
17,261
Judith Robinson
I would like to be updated when they find this disgusting man.
Mar 26, 2023
17,260
Annette Arnold
what a pig!
Mar 26, 2023
17,259
Bertha Ray
Evil man
Mar 26, 2023
17,258
KAREN BRUBAKER
Glad the so-called "training facility" has been closed down. But do NOT let his disgusting man off the hook for dog cruelty because he may just pop up again somewhere else with another training business. How horrifying for the owners of these dogs in the video to see their beloved pets being choked on their leashes into submission. This "trainer" is a quack.
Mar 26, 2023
17,257
Diana Morneau
I am shocked & saddened seeing this. He will set up sniother "training" facility someone else & I hope he is monitored very closely or never allowed to have any animal in his care personally or professionally ever again.
Mar 26, 2023
17,256
Suzanne Grafious
Mar 26, 2023
17,255
Ann Tryon
Mar 26, 2023
17,254
Cody Lopes
Mar 26, 2023
17,253
Howard W.Arms
Mar 26, 2023
17,252
Elaine Logan
Mar 26, 2023
17,251
Tracy Maltzahn
Mar 26, 2023
17,250
Eleanor Gannon
Mar 26, 2023
17,249
Taylor Reese
Mar 26, 2023
17,248
Susanne Kandt
Mar 26, 2023
17,247
Wendy Goad
Mar 26, 2023
17,246
Yolanda Schneider
Mar 26, 2023
17,245
Tamara Cloninger
Phsyopath
Mar 26, 2023
17,244
Ellen Margraff
Mar 26, 2023
17,243
Amanda Anderson
Mar 26, 2023
17,242
karin schmitz
Mar 26, 2023
17,241
Clara Bemer
Mar 26, 2023
17,240
Norma C Azcuy
Mar 26, 2023
17,239
Melanie Rampeearee
Mar 26, 2023
17,238
Theo Morrison
Mar 26, 2023
17,237
Kristine Kelch
Mar 26, 2023
17,236
Nina Foster
Mar 26, 2023
17,235
Bernadette Cuellar
Mar 26, 2023
---