Edmonton, Alberta (Canada) – An Edmonton family is mourning the loss of their adorable kitten, Cheech, who was killed in an unspeakable act of cruelty. Someone broke into the Piche family home while they were away; the intruder(s) ransacked the residence, writing on walls, defecating on the floor, and brutally torturing seven-month-old Cheech, who was found dead in the microwave.
Cheech's owner, Erica, described the unbearable sight she was met with upon returning home:
"The door was open and my cat was half hanging out. There was blood everywhere. If you saw him, you would think that's exactly what happened."
She added:
"It was a very bad sight. It's one image I'm never going to get out of my head."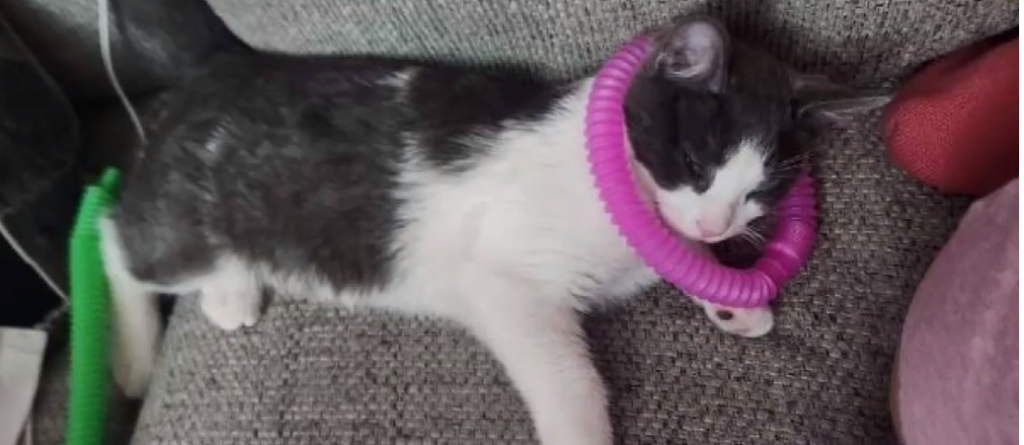 The kitten, described as "cuddly and caring," had been cooked alive. Erica told Global News that the microwave's blinking timer had 16 or 17 minutes remaining when she came home.
Edmonton Humane Society CEO Liza Sunley said:
"This is a horrific act of cruelty, and our hearts go out to the family who lost their beloved cat and witnessed the aftermath of this disturbing assault. We are thankful that Edmonton has a dedicated Animal Cruelty Investigation Unit (ACIU) who is taking this investigation seriously."
Whoever did this to Cheech must be found and punished. This twisted act of cruelty is truly depraved and the person(s) responsible must be charged and put in jail because they are CLEARLY a danger to society. Animal Victory is hoping to raise funds for a reward to help identify Cheech's killer, and when that person(s) is found, we will be seeking justice. Please add your name to the petition today!
The Edmonton Humane Society's Animal Cruelty Investigation Unit is hoping to identify whoever is responsible and they encourage anyone with information to contact the Edmonton Police Department.
News
Edmonton Humane Society Press Release
Sign: Demand Justice for Innocent Kitten Tortured and Killed in Brutal Microwave Attack
17,510
signatures = 88% of goal
17,510
Suzy Lowe
May 28, 2023
17,509
Rosie Watson
Omg this is absolutely vile and pure pure evil! This thing not even entitled to be called human cause they are not needs to be punished. Rest in peace beautiful kitty a life taken unnecessary in such a cruel way
May 28, 2023
17,508
Patricia Starr
This is disgusting and unforgivable. This sad excuse 4 a human needs 2 B prosecuted 2 the fullest extent of the law!!!
May 28, 2023
17,507
Elizabeth Lorman
May 28, 2023
17,506
Barbara Rademacher
May 28, 2023
17,505
Carey Conn
May 28, 2023
17,504
Carole Hiering
May 28, 2023
17,503
Tammy Taylor
May 28, 2023
17,502
Sonya Hentrich
May 28, 2023
17,501
Jacqui Sanders
Dood aan alle dierenbeulen!
May 28, 2023
17,500
Morgan Star
May 28, 2023
17,499
James Walker
May 28, 2023
17,498
Christine Ball
May 28, 2023
17,497
Marsha Hall
This terrible. I have owned many animals as well as adopted them. I hope justice come out of this for the pet owners and those who did it.
May 28, 2023
17,496
Mimi Guzman
May 28, 2023
17,495
Thanuja Gunasekera
May 28, 2023
17,494
Nancy Bowles
this person is the devil and must be found
May 28, 2023
17,493
Joan Richardson
Individual (s) should never be able to live among any living being ever again. Punish to the max Put their names on a black list that will follow them where ever they go.
May 28, 2023
17,492
Maureen Blundell
May 28, 2023
17,491
DONNA JEANETTE MCCOWEN
May 28, 2023
17,490
Andrea Branco
May 28, 2023
17,489
Kara Gunderson
Please find this horrible person or persons! They will never stop if you don't! Statistics show that Human torture could be next. It is imperative that you find them!! Please!!!
May 28, 2023
17,488
Cynthia Simpson
May 28, 2023
17,487
Galina Galeeva
May 28, 2023
17,486
Debbie Wessel
This person is a very sick individual who must be punished for this kind of thing will continue. It's a sad situation that people abuse animals and nothing is done except a slap on the hand. What is wrong with our society 224
May 28, 2023
17,485
Maxine Grears
May 28, 2023
17,484
Kelly Byrne
May 28, 2023
17,483
Terri Baldwin
May 28, 2023
17,482
Kirstie Ganobsik
May 28, 2023
17,481
Elizabeth Story
May 28, 2023
---