Sign: Carlos Perez Assaulted Woman, Burned Kitten On Stove And With Lighter Before Killing In Microwave
Published: October 26, 2023 at 04:25 PM Author:
PENNY EIMS
Fargo, ND – A man in Fargo is accused of a despicable act of cruelty that left an innocent kitten dead and a woman battered. Fargo police have identified Carlos Perez as the man responsible for the torturous death of a kitten and the terrorization and abuse of a woman on September 3, 2023.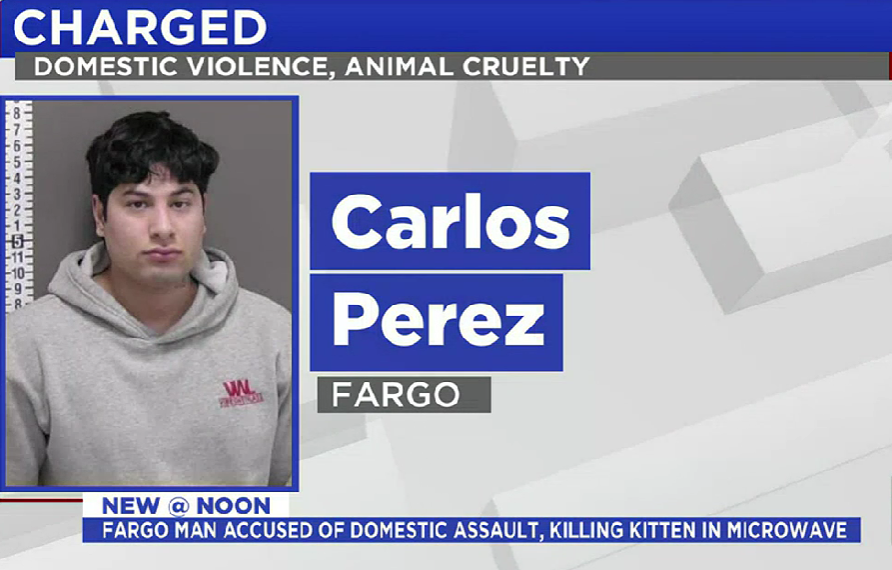 The accusations against Perez are damning and the details are disturbing and difficult to comprehend. Records reveal that the violence began because Perez was angry that the woman was at work later than expected.
His anger resulted in Perez slapping the woman's face and attempting to lock her in a closet. What Perez did to the victim's kitten is unconscionable.
Valley News Live recounts the horrifying details:
The woman said Perez became upset when she didn't come home at a time that he deemed appropriate, and he took a picture holding her cat on the burner of a stove. According to court documents, Perez took the same kitten into the bathroom and hit it over the head with a speaker. The kitten started to have a seizure, so he tried to choke it, according to the victim's statements. She told officers that when Perez wasn't able to kill the kitten, he burned the kitten's paw with a lighter and placed it in the microwave, eventually killing it.
The victim told the authorities that Perez threw the kitten in a dumpster and warned her that it would "happen to her next." According to the victim, Perez has assaulted her before. She told the authorities that one incident involved her being punched in the face and the other included an injury requiring stitches after she was slashed with a knife.
Perez was arrested and charged with felony counts of aggravated assault, terrorizing, and animal cruelty, as well as two misdemeanor counts of domestic violence and one misdemeanor count of interference with an emergency call.
If you are appalled by Carlos Perez's actions on September 3, please add your name to the petition today. This man is dangerous and must be punished for his crimes. Perez needs to be behind bars for as long as legally possible!
We the undersigned demand that Carlos Perez be held accountable for his violent behavior, resulting in injuries to a woman, and the death of an innocent kitten. We want this man to receive the maximum punishment allowable by law for each and every charge. If people who commit animal cruelty crimes are not punished, they are likely to re-offend.  This petition acts as our collective endorsement for the maximum penalty allowed by law. 
Individuals are presumed innocent until found guilty in a court of law. Animal Victory relies upon the authorities and the court system to determine guilt or innocence.
News
Update 11/28/2023:
 The Court Schedule is as follows:
12/28/2023 Prelim at 1:30 pm
2/07/2024 Felony disposition conference at 10:30 am
Update 11/20/23: Animal Victory sent the petition to the attorney and judge.