This is a sickening act of cruelty that must not go unpunished! Courtney Williams is charged with first-degree animal cruelty and first-degree attempted theft, and he must receive the maximum punishment for each charge. Please add your name to the petition as we push court officials to throw the book at this man.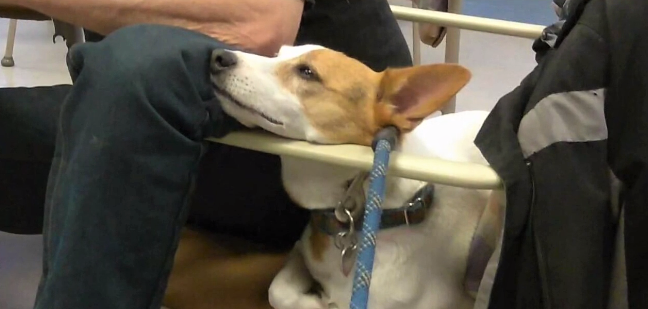 14-year-old Alice belonged to John Hickey, who is devastated over the loss of his beloved companion. Hickey had been on his daily walk with Alice when Courtney Williams approached them and aggressively demanded Hickey's coat. Fearing for his safety, Hickey pulled out pepper spray and tried to fend off Williams.
For a brief time, it seemed that the pepper spray had worked, but those moments of peace were shattered when Williams ran towards the pair and forcefully kicked Alice into the air. Moments later, Alice died in her owner's arms. Hickey described the excruciating last moments of his dog's life:
"She thought everybody liked her and she was just proud of that. And the most horrible thing, when she died she gave me a look, just was like she was confused that anyone would do something like that to her."
The elderly Jack Russell terrier lost her life in this senseless attack, and her owner was injured as well; he is now in a wheelchair. His physical pain pales in comparison to his heartache from losing Alice.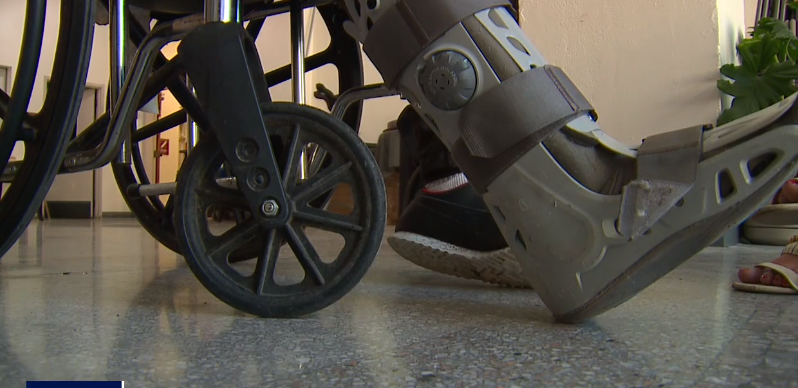 He said:
"She got me through days when I literally don't think I would've gotten up in the morning. Except I knew she needed me and she knew that I needed her."
What Courtney Williams did to Alice is unconscionable! We need as many signatures as possible to show the judge that this appalling case of animal cruelty deserves the maximum sentence. This man is a danger to society and must be put away!
Court is scheduled for June 17.
Letter to King County Prosecuting Attorney
News:
Individuals are presumed innocent until proven guilty in a court of law.
Final update 10/22/2021: Animal Victory has learned that Courtney Williams was sentenced on October 15 to eight months in the county jail by Judge Brian McDonald. K. Carolyn Ramamurti, the attorney for this case, tells Animal Victory that the prosecutor had recommended three months in jail with credit for time served, but Judge McDonald sentenced Williams to more time because of the petition, and letters/emails from individuals who were following this case and fighting for justice. Attorney Ramamurti tells Animal Victory that there was also an order prohibiting Mr. Williams from possessing or living with an animal for the rest of his life, some miscellaneous "mandatory minimum" financial penalties and restitution. Though Animal Victory is not elated with the sentencing, we are pleased to know that the petition played a part in getting Williams more time behind bars and we thank each and every person who took the time to sign, and comment, to help make this outcome possible. 
Update 9/16/2021: Animal Victory has been in regular contact with the victim's sister and attorney. We have learned that the defendant was offered a plea deal which diminishes the seriousness of his crime. The King County prosecutor believed that Courtney Williams should only spend three months in jail, instead of 12 months, which would be the maximum sentence. We are petitioning the court to dismiss any plea deals and give Courtney Williams the sentence that he deserves! John Hickey's attorney has informed Animal Victory that a new judge is being assigned to this case, and a sentencing hearing will soon be scheduled. 
Update 8/26/2021: Animal Victory has learned that the outcome of the August court date was a motion for a competency evaluation to be done on 8/30/2021. It is our understanding that how the case proceeds will be determined by the results of the evaluation. We will update the petition when we are able to obtain the results.
Update 7/19/2021: The victim's sister has reached out to Animal Victory to express gratitude for helping to raise awareness of this crime, and for our efforts to get justice for Alice. We have learned that the next court date is scheduled for August 19, 2021 at 9 a.m., and the victim's family is hopeful that people in the area will show up at the courthouse (King County Courthouse, 516 Third Avenue, Seattle, WA) to show support for John Hickey.
Update 6/23/2021: Animal Victory has received a response from the King County Prosecuting Attorney's Office:
Subject: RE: Petition asking for Courtney Williams to receive the maximum sentence
Dear Janelle and Penny,
As we shared with reporters when this case was filed, we take very seriously acts of animal cruelty and believe we can prove first-degree animal cruelty beyond a reasonable doubt in this case.
In this case, the King County Prosecuting Attorney's Office filed the highest animal cruelty charge in Washington State (other than sexual motivation or animal fighting, which are not present here).
Ultimately, Mr. Williams' sentence will be up to a judge.
The details of the incident you shared in your note come from the charging documents filed by our office.
We will continue to work with Seattle Police and Seattle Animal Shelter staff, who are investigating this case.
Sincerely,
The staff of the King County Prosecuting Attorney's Office
Update 6/17/2021: Today Animal Victory sent 16,631 signatures and comments to the King County Prosecuting Attorney.
PRIOR SIGNATURES: 16729
Seattle Man Robbed And His Dog Killed During Their Daily Walk-Man Says Dog Is All He Had.
15,922
signatures = 80% of goal
15,922
MCarmen Diaz
Oct 22, 2021
15,921
Lily Feliciano
Oct 22, 2021
15,920
Reinhard Jerabek
Oct 21, 2021
15,919
Laura Kanyer
Oct 21, 2021
15,918
Mike Christie
Oct 21, 2021
15,917
Uknown Anonymiss
Oct 21, 2021
15,916
tara chase
Oct 21, 2021
15,915
Leah Lopez
I couldnt even imaginethis happening to me and my dogs. These are breathing living souls that need the same justice as you would give a human!
Oct 20, 2021
15,914
Anonymous
Oct 20, 2021
15,913
Duangphorn Van strien
Oct 19, 2021
15,912
Rita Pachitu
This is horrific and this POS needs to be changed to fullest extent of the law after he escaped death!
Oct 19, 2021
15,911
Laura Eve Rodrick
Oct 18, 2021
15,910
Jill Harris
Oct 18, 2021
15,909
Benja Buck
Oct 17, 2021
15,908
ELYZABETH MUNOZ
Oct 17, 2021
15,907
Anonymous
Oct 17, 2021
15,906
pilar blas
Oct 17, 2021
15,905
Raymond Whitham
Oct 17, 2021
15,904
Debra Johns
Yes, it is critical this guy not get away with this kind of behavior. He should not have any plea deals and be punished to the maximum degree.
Oct 15, 2021
15,903
Anna Dahlberg
Maximum sentence! This abhorrent act of cruelty must not go unpunished!
Oct 15, 2021
15,902
Karen Capon
Oct 15, 2021
15,901
Angela Werner
Oct 15, 2021
15,900
patricia bayle
Oct 15, 2021
15,899
Myrna Walsh
Our society, especially our judges are far too soft on these kinds of crimes. Apparently most of them do not know the kind of love these two shared. The pain will never stop for this man. The dog most likely offered more benefit to the living than the cruel and useless Courtney Williams ever will.
Oct 15, 2021
15,898
Paul Harford
Oct 14, 2021
15,897
Claudine Fairchild
Oct 14, 2021
15,896
AGNES MOREAU
Oct 14, 2021
15,895
Karen McCartney
Oct 14, 2021
15,894
Marie dias
Oct 14, 2021
15,893
Daiana Soledad
Oct 14, 2021