A senior dog named Alice was fatally kicked on May 31 by a 29-year-old man named Courtney Williams. The cruel and deadly incident happened in Seattle, Washington's, Pioneer Square neighborhood after Williams demanded that Alice's owner give him his coat. When the man refused, Williams kicked Alice so hard that she flew into the air and died moments later in her owner's arms.
This is a sickening act of cruelty that must not go unpunished! Courtney Williams is charged with first-degree animal cruelty and first-degree attempted theft, and he must receive the maximum punishment for each charge. Please add your name to the petition as we push court officials to throw the book at this man.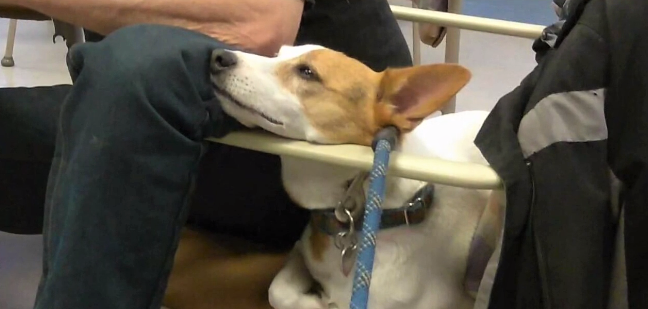 14-year-old Alice belonged to John Hickey, who is devastated over the loss of his beloved companion. Hickey had been on his daily walk with Alice when Courtney Williams approached them and aggressively demanded Hickey's coat. Fearing for his safety, Hickey pulled out pepper spray and tried to fend off Williams.
For a brief time, it seemed that the pepper spray had worked, but those moments of peace were shattered when Williams ran towards the pair and forcefully kicked Alice into the air. Moments later, Alice died in her owner's arms. Hickey described the excruciating last moments of his dog's life:
"She thought everybody liked her and she was just proud of that. And the most horrible thing, when she died she gave me a look, just was like she was confused that anyone would do something like that to her."
The elderly Jack Russell terrier lost her life in this senseless attack, and her owner was injured as well; he is now in a wheelchair. His physical pain pales in comparison to his heartache from losing Alice.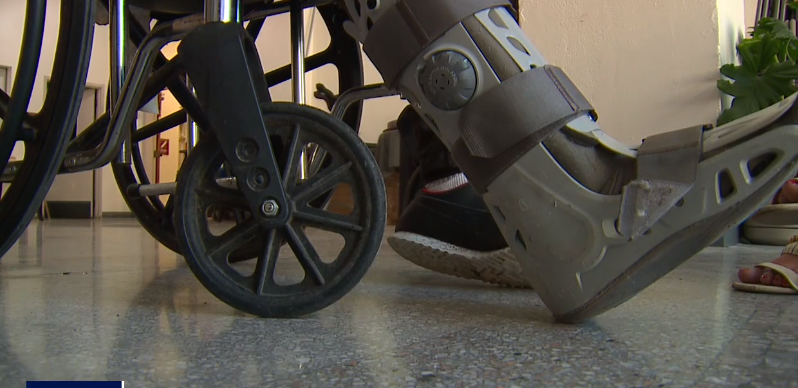 He said:
"She got me through days when I literally don't think I would've gotten up in the morning. Except I knew she needed me and she knew that I needed her."
What Courtney Williams did to Alice is unconscionable! We need as many signatures as possible to show the judge that this appalling case of animal cruelty deserves the maximum sentence. This man is a danger to society and must be put away!
Court is scheduled for June 17.
Letter to King County Prosecuting Attorney
News:
Individuals are presumed innocent until proven guilty in a court of law.
Update 9/16/2021: Animal Victory has been in regular contact with the victim's sister and attorney. We have learned that the defendant was offered a plea deal which diminishes the seriousness of his crime. The King County prosecutor believed that Courtney Williams should only spend three months in jail, instead of 12 months, which would be the maximum sentence. We are petitioning the court to dismiss any plea deals and give Courtney Williams the sentence that he deserves! John Hickey's attorney has informed Animal Victory that a new judge is being assigned to this case, and a sentencing hearing will soon be scheduled. 
Update 8/26/2021: Animal Victory has learned that the outcome of the August court date was a motion for a competency evaluation to be done on 8/30/2021. It is our understanding that how the case proceeds will be determined by the results of the evaluation. We will update the petition when we are able to obtain the results.
Update 7/19/2021: The victim's sister has reached out to Animal Victory to express gratitude for helping to raise awareness of this crime, and for our efforts to get justice for Alice. We have learned that the next court date is scheduled for August 19, 2021 at 9 a.m., and the victim's family is hopeful that people in the area will show up at the courthouse (King County Courthouse, 516 Third Avenue, Seattle, WA) to show support for John Hickey.
Update 6/23/2021: Animal Victory has received a response from the King County Prosecuting Attorney's Office:
Subject: RE: Petition asking for Courtney Williams to receive the maximum sentence
Dear Janelle and Penny,
As we shared with reporters when this case was filed, we take very seriously acts of animal cruelty and believe we can prove first-degree animal cruelty beyond a reasonable doubt in this case.
In this case, the King County Prosecuting Attorney's Office filed the highest animal cruelty charge in Washington State (other than sexual motivation or animal fighting, which are not present here).
Ultimately, Mr. Williams' sentence will be up to a judge.
The details of the incident you shared in your note come from the charging documents filed by our office.
We will continue to work with Seattle Police and Seattle Animal Shelter staff, who are investigating this case.
Sincerely,
The staff of the King County Prosecuting Attorney's Office
Update 6/17/2021: Today Animal Victory sent 16,631 signatures and comments to the King County Prosecuting Attorney.
PRIOR SIGNATURES: 16729
Seattle Man Robbed And His Dog Killed During Their Daily Walk-Man Says Dog Is All He Had.
15,414
signatures = 77% of goal
15,414
Sheri Pagano
Sep 22, 2021
15,413
Robin Swanson
Sep 22, 2021
15,412
Karen Wilkins
Justice for this man and his poor dog incarcerated this cruel thug for life ..
Sep 22, 2021
15,411
Shaun McGee
Sep 22, 2021
15,410
Anonymous
Sep 22, 2021
15,409
LYNDA HOOPER
Sep 22, 2021
15,408
Marion Scott
No excuses for this kind of cruelty. Heart breaking.
Sep 22, 2021
15,407
mey sae
Sep 22, 2021
15,406
Dale Mellis
Please make this cruel killer serve the maximum time in prison. He deserves no less for the horrific death of little Alice.
Sep 22, 2021
15,405
Loriann Hutt
Sep 22, 2021
15,404
Robin Beers
No Plea Deal- a life is a life!
Sep 22, 2021
15,403
Kerr Renshaw
Sep 22, 2021
15,402
Luis Negrete
Sep 22, 2021
15,401
Tamatha Hunter
Sep 22, 2021
15,400
Celeste Manwaring
What a disgrace! for a person in power to have no concept of true punishment for such an evil act
Sep 21, 2021
15,399
Anonymous
No animal deserves to die from any abuse! This was unnecessary and the person who did this had to be held accountable.
Sep 21, 2021
15,398
Connie Chastain
Sep 21, 2021
15,397
Lourdes Fernandes
Sep 21, 2021
15,396
ekaterini tina caroussos
Sep 21, 2021
15,395
Connie Guyon
Sep 21, 2021
15,394
Wendy Storm
Sep 21, 2021
15,393
Crystal Elston
12 months no less. Animals are people's family. You don't sentence 3 months to a POS that killed a defenseless animal and a family companion.
Sep 21, 2021
15,392
Cherilyn Stiles
Justice4Alice!
Sep 21, 2021
15,391
David JEWITT
Sep 21, 2021
15,390
Susan Stanton
Sep 21, 2021
15,389
kelly sperber
Sep 21, 2021
15,388
Theresa Koch
Sep 21, 2021
15,387
Dorthea Przybilla
Keep giving them lenient sentencings and they will keep killing people's family members. Make them pay for their actions appropriately.
Sep 21, 2021
15,386
Grace Garcia
Sep 21, 2021
15,385
Bruna Wright
Sep 21, 2021