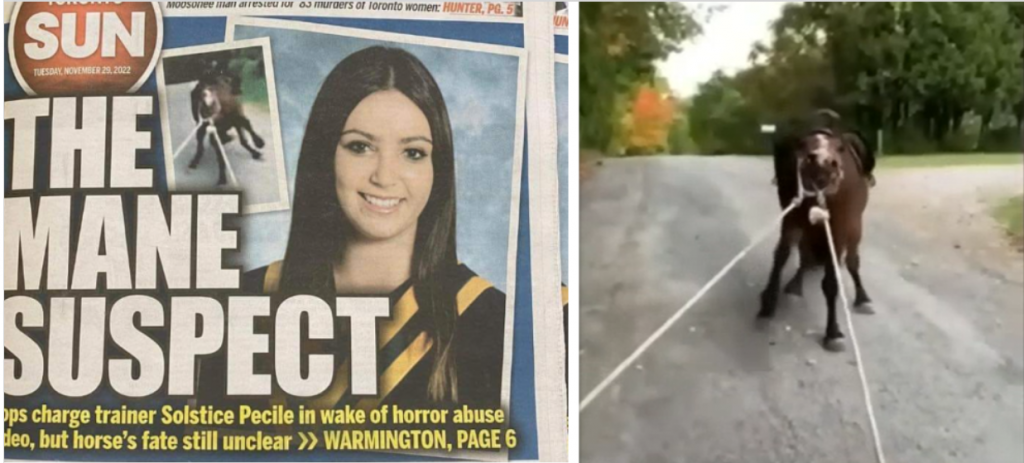 Millbrook, Ontario, Canada – An Ontario horse trainer is facing animal cruelty charges after the authorities viewed video footage showing a distressed horse being dragged behind a moving vehicle. The woman facing charges is identified as 23-year-old Solstice Pecile of Wishing Stone Farm.
Unbelievably, Pecile uploaded the disturbing footage to Facebook herself, apparently assuming that people would find the appalling situation amusing. Facebook user Jamie Magdalene, appalled by the twisted footage, shared the videos to her own timeline, stating:
Solstice Pecile of her family's facility Wishing Stone Farm in MILLBROOK, ONTARIO shared the following videos of her "training" a client horse by dragging it behind a moving truck. This is NOT her first offense being caught by a client dragging an animal from a motorized vehicle.
She continues:
"The videos show her laughing at the amount of blood, calling the horse a re**ard for bleeding so much, etc. She sent these videos to friends and also posted it on her public page thinking people would find it funny."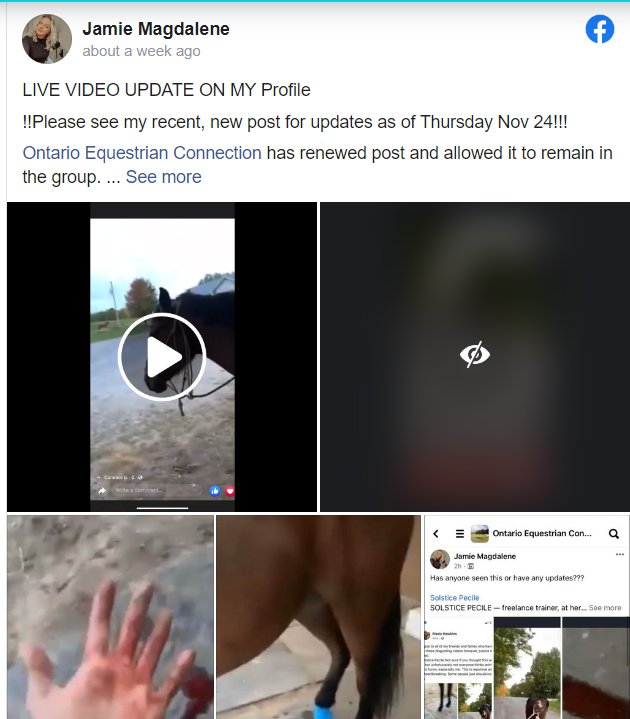 The horse in the video suffered injuries – pools of blood from her back hooves can be seen on the ground in the video footage.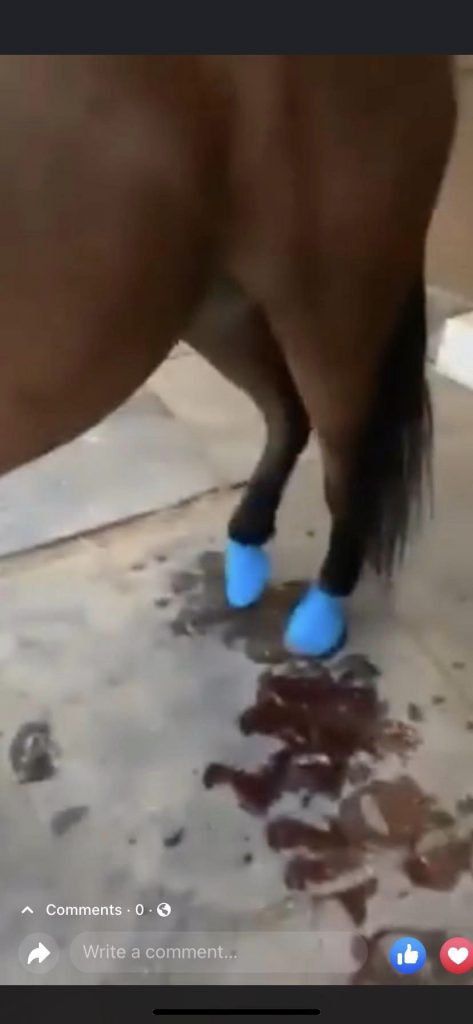 Fortunately, officials have taken swift action against the disgraced trainer. Brent Ross, the spokesperson for the ministry of the solicitor general, told the Daily Hive:
"The ministry can confirm that Solstice Pecile, 23, of the Township of Cavan Monaghan has been charged with Causing Distress to an Animal under Section 15 (1) of the Provincial Animal Welfare Services Act."
Ross stated that "the accused will appear in court on Jan. 11, 2023, at the Cobourg Provincial Offences Court."
If you are as outraged and disgusted by this blatant act of cruelty as we are, please add your name to the petition today. If convicted, Pecile faces a sentence ranging from a fine up to $130,000, imprisonment for a term up to two years, or both.
We the undersigned demand that Solstice Pecile is held responsible for cruelly dragging a tethered horse behind a moving vehicle, causing the animal distress and injuries. We are petitioning for Pecile to receive the maximum punishment allowable by law for Causing Distress to an Animal under Section 15 (1) of the Provincial Animal Welfare Services Act. At sentencing, we hope to see Pecile prohibited from working with horses in the future.
Of note: Quinn, aka Ezra, is back with her original owner.
News
Sadistic Trainer Charged After Video Shows Horse Being Dragged Behind Vehicle
16,544
signatures = 83% of goal
16,544
Carol Brandt
This witch should be dragged.
May 27, 2023
16,543
Paula McCarthy
May 25, 2023
16,542
Anne Havard
May 24, 2023
16,541
Jessica Gullbrand
May 22, 2023
16,540
LOURDES BOMBALIER
May 21, 2023
16,539
Stanley Gonzales
Put this sadistic lowlife behind bars and never allow her to be around animals.
May 21, 2023
16,538
Meyleen Roeseman
Another monster that deserves to be in jail for life. These vile things don't deserve to be free amongst the rest of the world. End animal cruelty by having harsher laws for these so called humans. They deserve a minimum of 10 years behind bars.
May 21, 2023
16,537
Morgan Giacalone
May 20, 2023
16,536
Lynne Williams
May 20, 2023
16,535
Tammy Snyder
May 19, 2023
16,534
Kathleen Perdomo
May 19, 2023
16,533
Marian Upton
May 19, 2023
16,532
Manny Miyar
May 19, 2023
16,531
corine renquet
May 19, 2023
16,530
Kimberly Mitchell
May 19, 2023
16,529
Elsie Rivera
May 18, 2023
16,528
Zoey Duarte
May 18, 2023
16,527
Elissa Refold
May 18, 2023
16,526
Aide Morales
What a disgusting re*arded human being she needs to go to jail !!
May 18, 2023
16,525
Maya Howard
May 17, 2023
16,524
Courtney Charles
May 17, 2023
16,523
Dawn Grimes
May 14, 2023
16,522
donna dingli sacco
May 12, 2023
16,521
Meg Feltes
May 12, 2023
16,520
Diane Schell-Engdah
Horses are extremely sensitive, as a horse owner of 30+ years, former CHA riding instructor, This nothing but extreme abuse and should result in jail time. This horse will never recover from this really, they remember everything.
May 12, 2023
16,519
Stacey Bailey
May 10, 2023
16,518
James E MATHERS
May 08, 2023
16,517
Diana Wozny
May 08, 2023
16,516
N. Stange
May 07, 2023
16,515
Mia Gloria Giacomelli
May 07, 2023
---