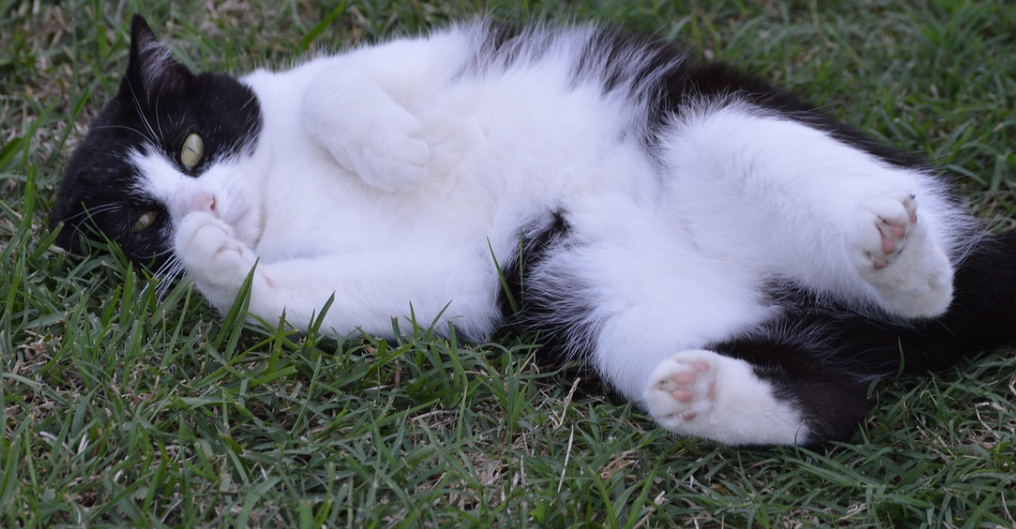 Brooklyn, New York – A beloved cat in a Brooklyn, New York neighborhood suffered a horrific death after a sadistic couple encouraged their two dogs to attack him. The cat, dubbed Tuxedo, was part of a feral cat colony that lived at NYCHA's Breukelen Houses – the cat was a favorite of Latonya "Sassee" Walker's. Walker has been feeding cats at the complex for a decade, and she was devastated when Tuxedo was brutally killed. She told the New York Post, "When it first happened, I wanted to die, I couldn't even get out of the bed for three days."
According to a witness, a couple encouraged their two pit bulls to attack Tuxedo. The dogs ripped the friendly cat apart, causing fatal injuries. The New York Police Department is dragging their feet to make arrests and we want to show them that Tuxedo's life mattered! Please sign the petition today to let the authorities know that this animal cruelty case MUST be fully investigated and the couple must be charged!
A man who bore witness to Tuxedo's killing said that the beloved cat briefly got away from the dogs, but the cruel people ensured that he would die a brutal death. Latonya Walker described what Raymond Morales, a witness, told her about the devastating mauling, "(Tuxedo) got away and they put a chair there and a stick and they banged him down the tree. They made him come down the tree so their pit bull could maul him to death. Now what kind of insanity, what kind of evil, sadistic person would come and do that?"

Though the police have been informed about the incident, they seem to be dragging their feet to make an arrest. Area residents are concerned that it could happen again. Alexis Cagino tells NBC News, "This man weaponized a dog with all intent to kill an animal, which is a crime, and I don't know why nothing is being done about it. Nobody like that should own a dog (or) should have the right to own an animal."
The police are aware of what happened, but nobody has been arrested. Animal Victory is offering a $1,000 reward for information leading to the arrest and conviction of the people involved in Tuxedo's death. These people must be identified and charged for their abhorrent behavior.
Please sign today!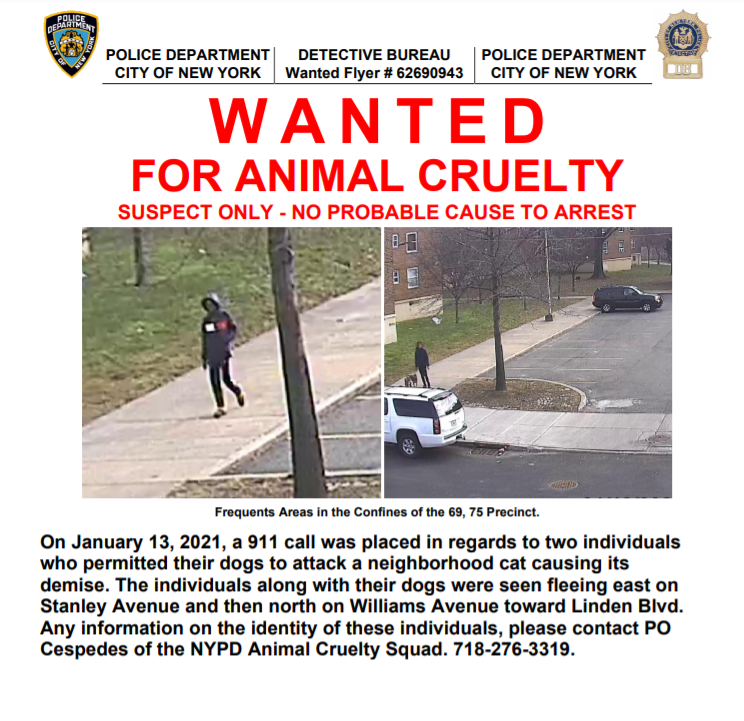 News:
 Update March 2022: This case remains at a standstill. There is an arrest warrant out for Fulton Gordon – he maintains his innocence but refuses to show up to court. Without your signatures and support, this man would likely have not faced any charges at all – that in and of itself is a victory.  
Update January 2022: Animal Victory has been informed that court has still not been scheduled for the suspect; there is an outstanding warrant for his arrest.
Update 02/09/2021: Breaking news! A man has been arrested for this sick act of cruelty. The man who allegedly encouraged his dogs to maul and kill Tuxedo is identified as 28-year-old Fulton Gordon. According to the NYPD, Gordan is charged with torturing, injuring or not feeding an animal, a misdemeanor crime. His arraignment is set for a future date (as yet, unknown). Animal Victory will be pushing for a felony charge.
Update 02/08/2021: Animal Victory has sent over 22,200  signatures and comments along with our letter of intent to the following authorities.  Flyers with the reward funds will be posted throughout the neighborhood by the end of this week.
NYC Police Captain Besemah Rogers
Update 02/04/2021: Animal Victory has sent close to 17,000 signatures and comments along with our letter of intent to the following authorities or representatives. Please click on the name to read each letter.
New York Police Department Animal Cruelty Investigation Squad (ACIS)–Rodney Harrisson, Chief of Detectives
New York Police Department, Crime Prevention officers Jamie Jones and Natanael Ramos 
New York State Animal Protection FederationLibby Post, Executive director    
Animal Victory in the news
Update 02/05/2021: Brooklyn News 12 has publicized Animal Victory's petition to help gain signatures for an investigation. Brooklyn News 12 Please feel free to email Katie Lusso KLUSSO@news12.com and Alexa Farrell  <Alexa.Farrell@news12.com>  to thank them for their wonderful journalism, video, and news coverage of the story and petition.
Update 02/04/2021: Gabrielle Fonrouge, with the New York Post, has publicized this petition today to help get signatures to push the police for an investigation. Cat killed in NYC sparks global movement for police probe (nypost.com)   Please feel free to email Gabrielle to thank her for her wonderful journalism! gfonrouge@nypost.com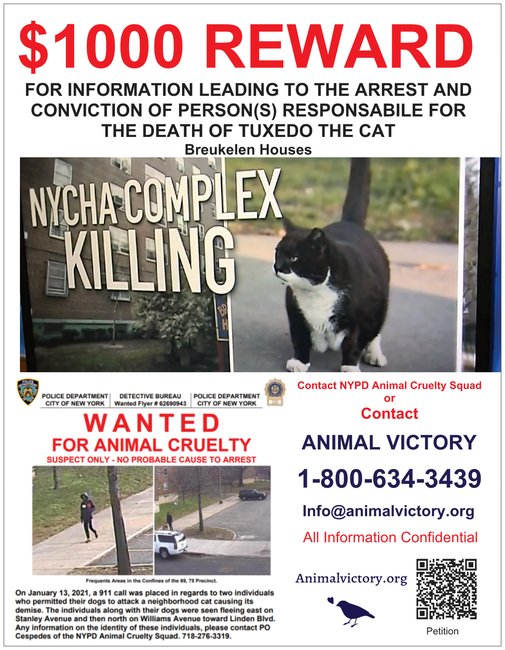 Individuals are presumed innocent until proven guilty in a court of law.
Animal-Protection-Laws-of-New-York-2020-Animal-Legal-Defense-Fund
PRIOR SIGNATURES : 20950
Sadistic Couple Encouraged Dogs To Kill Beloved Neighborhood Cat
252
signatures = 2% of goal
252
Sherrie Darce
Sep 30, 2023
251
Sally Wood
Demons dont have scales or tails, they wear human skin and walk among us unnoticed, till they do this and show their true vile evil soul to the world
Sep 27, 2023
250
Anonymous
Aug 28, 2023
249
monique Pinson
Aug 22, 2023
248
DEBRA CHIODO
Jul 25, 2023
247
Penny Davis
Jul 25, 2023
246
Linda Deboer
Jul 25, 2023
245
Jason Cuevas
Jul 16, 2023
244
Natalina Di Cesare
Jul 09, 2023
243
Gina Badami
Jul 08, 2023
242
Nancy Stephan
Jun 23, 2023
241
Quade Prescott
Jun 04, 2023
240
Stefany Rojas
May 19, 2023
239
Annalisa MacDonald
May 13, 2023
238
Kathy Hamilton
May 01, 2023
237
Christina Lander
Apr 28, 2023
236
Gabriela Barberio
Apr 14, 2023
235
Mary Grimmer
I wonder how the people would feel being left with two lions that are hungry. Lions can climb trees since dogs can't.
Apr 10, 2023
234
marley corthals
Apr 02, 2023
233
Adrienne Venditti
Mar 30, 2023
232
Alana Ambrose
Mar 08, 2023
231
Marlena Wojciechowska
Mar 03, 2023
230
Chris Leverich
Mar 01, 2023
229
Lisa Moya
Feb 12, 2023
228
Wendy Forster
Feb 09, 2023
227
Kathleen Daly
Feb 08, 2023
226
Rebeca Rodriguez
Feb 03, 2023
225
HSIU Chui
Jan 30, 2023
224
Sherri Evans
Jan 29, 2023
223
Sophie Guerin
Jan 28, 2023
PRIOR SIGNATURES : 20950
---