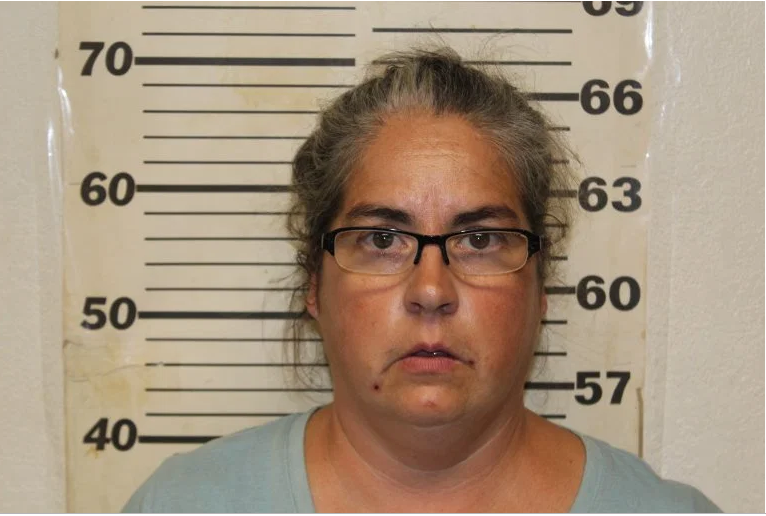 Texas and Missouri – Tiffany Woodington called herself a rescuer, but the authorities say that conditions found at the property where she and her husband kept dogs were "unimaginable." In fact, an estimated 120 dogs suffered slow and agonizing deaths while in the custody of the so-called fake animal rescue, All Accounted 4, which was formerly known as "Tiffany's Texas Sanctuary."
Woodington's husband, Steven, was arrested earlier this month after hundreds of horribly neglected dogs were found stacked in filthy cages in a hot warehouse in Los Fresnos, Texas.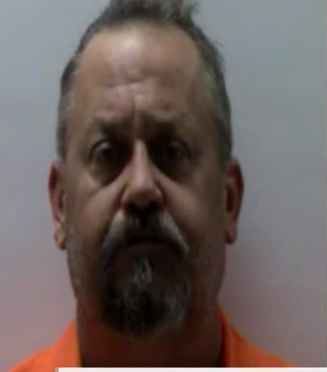 Please sign this petition and let the judge know that these self-proclaimed "rescuers" deserve significant jail time, and they can never own another animal again!
In a news release, Missouri's Benton County Sheriff's Office stated, "authorities (were led) to an old school bus, a barn and a house where 38 dogs and one cat were discovered alive but in unimaginable condition. It was discovered that approximately 120 dogs and one cat had perished. The animals were in various stages of decay, some were just bones."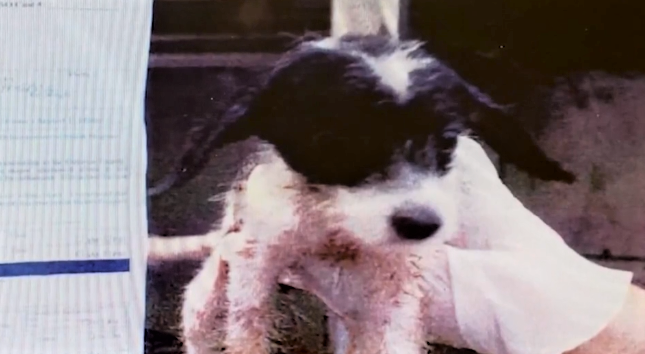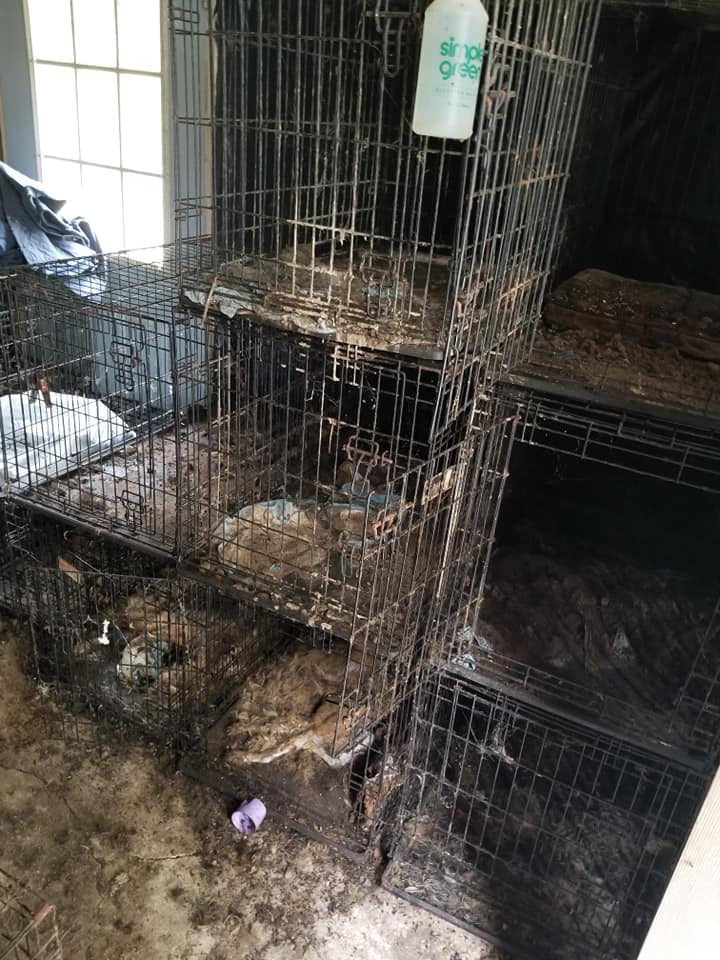 The news release states that Woodington and her husband, Steven, were housing 278 dogs in unfit and severely inhumane conditions in Texas and transporting animals to the Cole Camp, MO, location. The authorities have stated that over half of the animals were in such pitiful condition that they would not survive, and would need to be euthanized.
This couple was making money from their rescue operation while allowing countless homeless dogs to suffer and die. These dogs were supposed to be enjoying their second chance at this "rescue," but instead they were stowed away in filthy cages and left to endure slow and agonizing deaths. The Benton County Sheriff's Office said it found about 120 dead dogs and a dead cat in "various stages of decay, some were just bones" on Sept. 12. Benton County Sheriff Eric Knox said some of the animals died in the same cages, making it difficult to get an exact count.
Now it is time to be their voice.
The Prosecuting attorney charged Tiffany Woodington with 10 Class "E" Felonies and 2 Class "A" misdemeanors resulting in a $100,000 cash or surety bond. Steven Woodington is facing multiple charges for cruelty to non-livestock animals.
Please sign this petition letting officials know that a plea deal is not acceptable – The Woodingtons need to be jailed and banned from ever owning an animal again!
Suspects are presumed innocent until being found guilty in a court of law.
News coverage:
WTOP coverage of the Texas raid here.
Valley Central Fake Rescue coverage here
Update 9/6/2022: On August 23, 2022, the jury reached a guilty verdict on all counts. The sentencing date is scheduled for September 29, 2022, at 1:30 p.m. 
Update 6/15/2022: Animal Victory has learned that Steven Woodington's case is scheduled for a pre-trial hearing on 8/17/2022, and Tiffany Woodington's case has been transferred to Henry County, with the trial set to begin in January of 2023; there is a December pre-trial date of 12/08/2022. Tiffany's new case number in Henry County is 22HE-CR00310.
Update 4/13/2022: Animal Victory has learned that the hearing is scheduled for 6/08/2022 at  10:00 a.m.; M BRANDON BAKER; Benton County Circuit Court
Update 2/22/2022: Animal Victory has learned that the next court date for Tiffany Woodington is scheduled for 3/09/2022.
Update 12/03/2021: Animal Victory has received new information about the upcoming court dates, which are scheduled as follows:
Tiffany Woodington's case in MO is set for Dec. 2, 2021
Steven Clark's case in TX remains set for 2/22/2022
Update 11/08/2021: Animal Victory has received the following information about the status of this case: 
For Tiffany Woodington in Benton MO
09/22/2021 Subpoena Issued
09/20/2021 Subpoena Requested
09/13/2021 Preliminary Hearing Scheduled for 10/22/2021 at 9:00 a.m.
For Steven Clark Woodington in Cameron, TX
9/29/2021 Pre-Trial Hearing is reset to 02/22/2022 at 9:00 a.m., jury trial set for 02/07/2022 at 9:00 a.m.
Update 8/12/2021: Animal Victory has learned that Tiffany Woodington was served a warrant on June 29, 2021; her court date isn't set yet. Steven Clark Woodington, Case # 20CCR00538, has his pre-trial set for Sept. 29th at 9:00 a.m., and jury trial scheduled for Oct. 4, 2021 at 9 a.m.
Update October 27/2020: Read our letter to prosecutor Vanessa Gonzalez
Update October 2020: Tiffany and Steven Woodington have an Oct. 23 discovery hearing and an Oct. 28 announcement hearing.  Please continue to sign and share this petition!
* Individuals are presumed innocent until proven guilty in a court of law.
Animal-Protection-Laws-of-Texas-2020-Animal-Legal-Defense-Fund
Animal-Protection-Laws-of-Missouri-2020-Animal-Legal-Defense-Fund
PRIOR SIGNATURES : 17204
'Rescuers' Let Dogs Suffer And Die - Sign For Maximum Punishment!
205
signatures = 1% of goal
205
John Robertson
Nov 30, 2022
204
Dana Dykes
Nov 19, 2022
203
brigitte deschaintre
Nov 11, 2022
202
R Beaton
Nov 11, 2022
201
Lisa Cairns
Oct 21, 2022
200
Carolina Pino
Oct 15, 2022
199
Shannon Nichols
Oct 07, 2022
198
Marga Gili
Sep 22, 2022
197
Shambhavi Ojha
Sep 18, 2022
196
Guisselle Martinez
Sep 17, 2022
195
Lisa Burgard
Sep 13, 2022
194
Kathi Mann
Unacceptable! Prosecute to the fullest.
Sep 11, 2022
193
Carmen Verdugo
Sep 11, 2022
192
Linda Lamarque
Sep 10, 2022
191
Roxann Clements
Sep 10, 2022
190
Michelle Floyd
Is Animal Victory going to be at Tiffany Woodington's 3 day trial in 2023???
Sep 10, 2022
189
Patrick Belsha
Sep 10, 2022
188
Michelle Krueger
Sep 09, 2022
187
Connie Burrow
Sep 09, 2022
186
Grace Eichler
Sep 09, 2022
185
Emily Fawcett
Tiffany's a despicable person whomposed as doing good by animals for years.. Shes dangerous.
Sep 09, 2022
184
Bridget Cordray
These kind of things should still not be happening in the USA. Not only do we need accountability stiffer fines and penalties! But we need judges that will do their job
Sep 08, 2022
183
terry anderson
Sep 08, 2022
182
Julie Shoemaker
Sep 08, 2022
181
Bernice McClellan
Not her first time she will never quit
Sep 08, 2022
180
Brenda Closser
They need to pay for the suffering they caused innocent animals . They both need to be in prison .
Sep 08, 2022
179
Suzanne Belsha
Sep 08, 2022
178
Nancy Coupe
Sep 03, 2022
177
Jeffrey Clouatre
Sep 03, 2022
176
Ammar Syed
Aug 28, 2022
"News coverage: KVEO coverage of the Texas raid here. KMIZ coverage of Benton County, MO, raid here."
PRIOR SIGNATURES : 17204
---