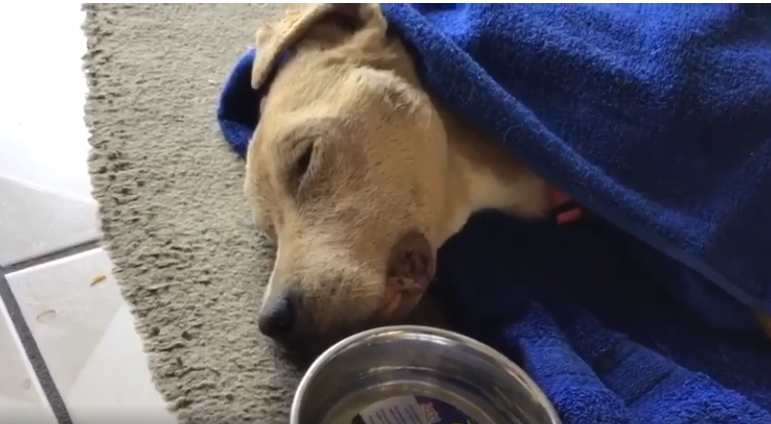 Mercer County, New Jersey – In four short months, a dog named Tori went from healthy to dead – at the time of her death, she weighed just 18 pounds. The man allegedly responsible for her death is identified Matthew Wydrinski of Mercer County, New Jersey.
Tori's dying moments were recorded on video. The malnourished dog, too weak to raise her head, can be seen on the floor, next to a brand new food bowl which is empty. The video is too disturbing to post.
We want justice for Tori. Your signatures will be sent to the Mercer County Prosecutor's Office – this monster must be punished!
A woman who was contacted to help Tori, after a friend of the dog's owners reached out for help, is hoping that Wydrinski will have to pay for what he did. In a public Facebook post, Jennifer Wilhelm-Kees stated, "He only had her for 4 months. She was given away on the internet. She died at the hands of a monster. A sick, twisted control freak."
According to Wilhelm-Kees, before Wydrinski got a hold of her, Tori had lived with a family for her entire life. She was given to Wydrinski after her owners divorced. In the Facebook post, Jennifer explains how the family dog lost her home when the husband decided to give her away, "He made the decision to give her up, posted her online, met this family, kids played in the grass with her, promised the best home ever and the owner felt comfortable with them and then the sick bastard adopter that he is starved her to death. There were no intentions on adding her to the family, he's just a sick bastard. It's the 3rd dog that this happened to under his "care."
These are the details that we currently have available. It is our understanding that Matthew Wydrinski surrendered to the police and that he is facing an animal cruelty charge for Tori's death. It is also our understanding that he is already out of jail.
We want this person behind bars, forbidden from ever owning another animal, and we want him to be denied pre-trial intervention (PTI). PTI is a diversionary program that is generally offered to first-time offenders as an alternative to other prescribed penalties (including but not limited to jail time). We will be presenting your signatures (and comments!) to the prosecutor. Please join us in letting the prosecutor know that we ALL care about animal cruelty cases and we want justice for Tori.
Links with information on Facebook:
https://www.facebook.com/274808822968719/photos/a.896510514131877/896514570798138/?type=3&theater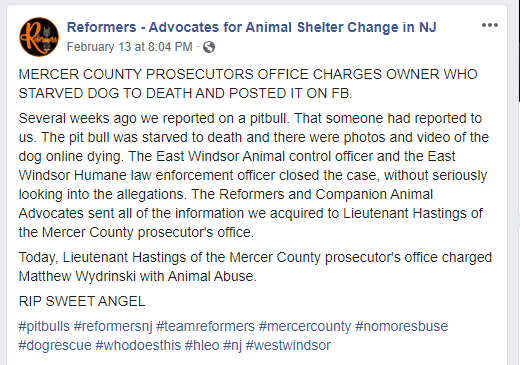 POLICE DEPARTMENT PRESS RELEASE FEBRUARY 20, 2020
UPDATE: 02/25/2020 READ OUR LETTER TO THE MERCER COUNTY PROSECUTERS OFFICE HERE
Update 5/13/2021: Matthew Wydrinski pleaded not guilty to his charges and has been sentenced. Mercer County Superior Court Judge J. Adam Hughes ordered Wydrinski to complete 40 hours of community service, pay fines and costs associated with the case, obtain/maintain employment, and report to a supervising probation officer for three years. He also is forbidden from owning or possessing any animals during that timeframe. Though Animal Victory is pleased to see that the courts took this case seriously and that they are holding Matthew Wydrinski accountable for his actions, we are disappointed that he will not be put behind bars, or prohibited from ever owning a pet again. We hope to see the animal cruelty laws in the state of New Jersey be strengthened to include these crimes as crimes of violence. You can be sure Animal Victory will continue to work towards enforcing the maximum punishment and strengthening the laws. 
Update 5/13/2021: Animal Victory has learned that Matthew is attending some type of court process today, but the details have not been released. Animal Victory has been assured that the case continues to go through "the process."
Update 4/19/2021: Animal Victory spoke to the Mercer County prosecutor's office today and was informed that the ADA for this is Tim McCann. We were informed that the courts are awaiting the defendant's PTI entrance date. The definition of PTI, for NJ specifically is: NJ Pretrial Intervention (PTI) is "generally" for first-time offenders. In rare cases, someone with a prior felony conviction may find a way to get into the program. If you're facing an indictable charge, PTI is one way to avoid prison & keep your record clean. Please sign the petition if you haven't already. Animal Victory will continue to push for real punishment!  Today we sent 36,961 signatures and comments along with our letter of intent to Tim McCann. 
Update 4/5/2021: Dexter S. Wright Sr., MBA, Judiciary Clerk 2, has informed Animal Victory that this is currently an open complaint and there are no scheduled events. Prosecutor's file no: 20-0678. 
Update 1/14/2021: Animal Victory has been informed that the court was transferred to Trenton Superior Court due to the charge being higher than what the municipal court hears. The court is scheduled for Feb 2021.
Update 10/28/2020: It is possible the court was held today. We have sent 28,042 signatures to Read our letter to Public Information Officer Casey DeBalsio here
Update 10/14/20: The following was the response that we received from our letter: "Good morning. I am familiar with the case. I just verified that the prosecution is still pending- meaning it has not yet reached any resolution such as a plea, trial, etc. It has an upcoming court date at the end of the month. I'm sorry I don't have more information for you."
UPDATE: 02.26.2020 We have a court date. The complaint lists his first appearance in Mercer County Superior Court as March 19 at 11 a.m. There is a possibility that the date could change.
On February 13, 2020, Matthew C. Wydrinksi was charged with one count of Animal Cruelty, 4:22-17c(2) a crime of the third degree. This investigation originated out of East Windsor Township, Mercer County, New Jersey.A crime of the third degree is the highest criminal charge in New Jersey for animal cruelty. The only exception is 2C:33-31 and 32 which are crimes related to dog fighting.
Since August 1, 2018, the State of New Jersey placed the responsibility of animal cruelty investigations with the prosecutor's office of each county.
The Mercer County Prosecutor's Office, Humane Law Enforcement Unit investigates and prosecutes animal cruelty crimes in accordance with the laws set forth by the State of New Jersey.
As this is an active investigation, no further information will or can be released at this time. As in every investigation, the suspect is innocent until proven guilty.
Police Department Press Release 
Update: 02/25/2020 Read our letter to the Mercer County Prosecutors Office Here
* Individuals are presumed innocent until proven guilty in a court of law.