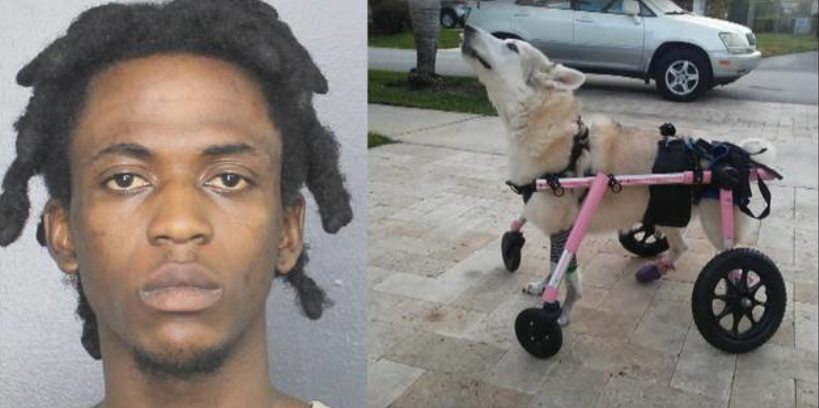 A senior, disabled dog named Zorra is dead and 19-year-old Jephthe Jean-Francois is reported to be the man who is responsible. The 13-year-old husky mix was inside of a Volvo which Jean-Francois allegedly stole on October 3.
Days later, the stolen vehicle was found at a towing company and Zorra's lifeless body was inside – the authorities believed that the partially paralyzed dog died from heatstroke while alone inside of the car.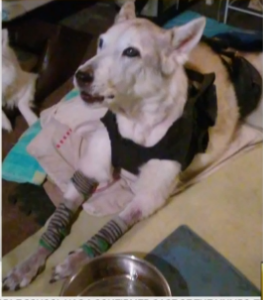 Jean-Francois is facing multiple grand theft and burglary charges, as well as a charge of animal cruelty for Zorra's death. Please sign this petition – at sentencing, we want this man to be put behind bars for a significant period of time!
Zorra was inside of an air-conditioned Volvo on October 3 when the vehicle was stolen while the dog's owner, Wanda Ferrari, ran inside of an Oakland Park, Florida, store. A desperate search for the disabled senior dog ensued, but there would be no happily-ever-after for the dog who vanished when the car was stolen from the parking lot.
The authorities were notified on the night of October 7 that the stolen car was at a towing yard in Lauderdale Lakes – Zorra's body was found in the backseat.
19-year-old Jephthe Jean-Francois was wearing an ankle monitor that placed him at the Dollar Tree parking lot on the day and time that the Volvo was stolen – a key to the stolen vehicle was also discovered in his possession. The prosecutor stated, "He allegedly broke into a car that had the victim's handicapped dog in the back seat. He stole the vehicle, he discarded the vehicle, leaving this dog stranded to its own devices, locked in the car. When the car was later found the dog was found unfortunately deceased, and what I can only imagine greatly suffered."
Jean-Francois is only 19 and he is already a career criminal; he was wearing the ankle monitor for another crime! It is also reported that he is in the United States illegally.
This man needs to be put away. There is no excuse for leaving Zorra to suffer and die inside of the car – it is truly a heartless crime.
Please sign this petition which will be presented to officials when Jean-Francois goes to trial. We want to see jail time, not a plea deal!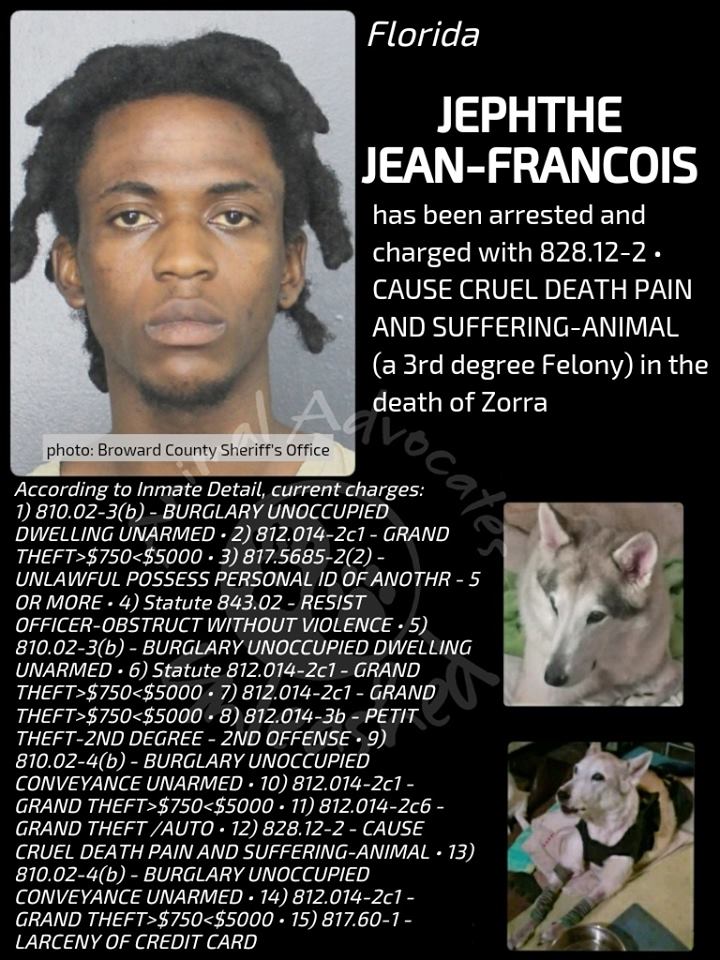 News coverage:
https://www.foxnews.com/us/florida-disabled-dog-zorra-dead
https://www.nbcmiami.com/news/local/Zorra-Dog-in-Stolen-Car-Oakland-Park-Arrest-562725521.html
https://www.foxnews.com/us/disabled-florida-dog-zorras-death-arrest-illegal-immigrant
Update 7/20/2021: Animal Victory has learned that Jean-Francois is scheduled for court on October 8, 2021. If you haven't signed the petition yet, there is still time!
Update 1/26/2021: Active prosecutor on case is Doreen Monk. Animal Victory has been informed that the case goes back to court on Feb 12, 2021. Animal Victory was informed that Jean Francois is still being held without bond on multiple charges, the animal cruelty case is one of them.
Update 11/11/2019:  2610 signatures and our letter was sent to the Broward County Assistant District Attorney Eric Linder
* Individuals are presumed innocent until proven guilty in a court of law.
PRIOR SIGNATURES : 16325
Punish Man Responsible For Disabled Dog's Death
37
signatures = 0% of goal
37
Damiano Giustina
Sep 18, 2021
36
Kit Dugan
Sep 18, 2021
35
Teri Paszotta
We need tougher laws, more judges with balls to hand down stiffer sentences & justice to those affected by sick abusers of animals in our communities. It's going on in your city and those that prey on the most vulnerable are WEAK COWARDS & THE LOWEST, POOREST EXCUSE OF BEINGS WALKING THIS EARTH!
Sep 17, 2021
34
sherry mainquist
God bless you Zorra...Francois,jail is waiting for you and I hope its a long time!!!
Sep 15, 2021
33
astrid suchanek
Sep 13, 2021
32
Rebecca Chappell
Sep 13, 2021
31
Kennedy Roop
Sep 12, 2021
30
Sophie Emlek
Sep 09, 2021
29
Dodie Harrison
Lock him up please
Sep 08, 2021
28
Sherry Eisenhuth
Sep 08, 2021
27
TAMI BRODY
Sep 08, 2021
26
Ilana Karapetyan
Sep 08, 2021
25
Jan Anderson
Sep 08, 2021
24
Melissa Curtis
Sep 07, 2021
23
Damiano Giustina
Sep 07, 2021
21
Kelly Lagace
Sep 03, 2021
20
H Lepage
Put this fagget nigea behind bars!
Sep 03, 2021
19
Sheri Prillwitz
Sep 02, 2021
17
Allen Winslow
Aug 29, 2021
16
Cecilia Lalinde
Aug 29, 2021
15
lara balser
Aug 29, 2021
14
Daniel Pawlowski
Aug 28, 2021
13
John Santos
Aug 27, 2021
12
Corinne Brown
Aug 27, 2021
11
Marina Ris
Aug 27, 2021
10
Teresa Corner
Aug 24, 2021
9
Chinanan K.
Aug 24, 2021
8
laura raforth
Aug 23, 2021
PRIOR SIGNATURES : 16325
---