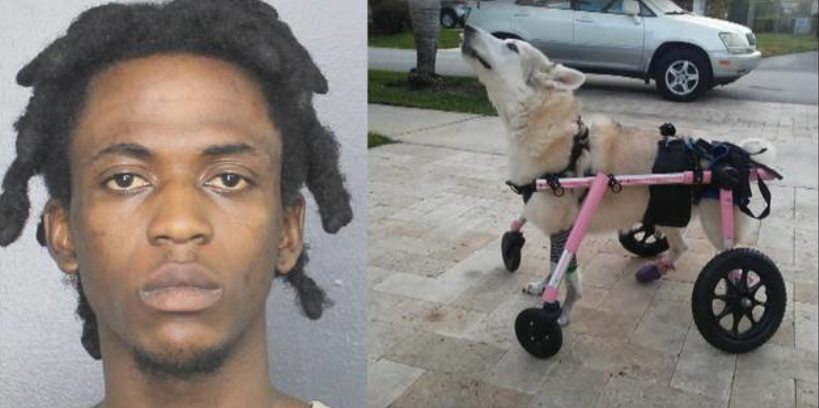 Oakland Park, Florida – A senior, disabled dog named Zorra is dead and 19-year-old Jephthe Jean-Francois is reported to be the man who is responsible. The 13-year-old husky mix was inside of a Volvo which Jean-Francois allegedly stole on October 3.
Days later, the stolen vehicle was found at a towing company and Zorra's lifeless body was inside – the authorities believed that the partially paralyzed dog died from heatstroke while alone inside of the car.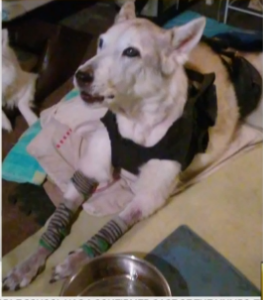 Jean-Francois is facing multiple grand theft and burglary charges, as well as a charge of animal cruelty for Zorra's death. Please sign this petition – at sentencing, we want this man to be put behind bars for a significant period of time!
Zorra was inside of an air-conditioned Volvo on October 3 when the vehicle was stolen while the dog's owner, Wanda Ferrari, ran inside of an Oakland Park, Florida, store. A desperate search for the disabled senior dog ensued, but there would be no happily-ever-after for the dog who vanished when the car was stolen from the parking lot.
The authorities were notified on the night of October 7 that the stolen car was at a towing yard in Lauderdale Lakes – Zorra's body was found in the backseat.
19-year-old Jephthe Jean-Francois was wearing an ankle monitor that placed him at the Dollar Tree parking lot on the day and time that the Volvo was stolen – a key to the stolen vehicle was also discovered in his possession. The prosecutor stated, "He allegedly broke into a car that had the victim's handicapped dog in the back seat. He stole the vehicle, he discarded the vehicle, leaving this dog stranded to its own devices, locked in the car. When the car was later found the dog was found unfortunately deceased, and what I can only imagine greatly suffered."
Jean-Francois is only 19 and he is already a career criminal; he was wearing the ankle monitor for another crime! It is also reported that he is in the United States illegally.
This man needs to be put away. There is no excuse for leaving Zorra to suffer and die inside of the car – it is truly a heartless crime.
Please sign this petition which will be presented to officials when Jean-Francois goes to trial. We want to see jail time, not a plea deal!
We the undersigned demand that Jean Francois receive the maximum punishment allowable by law.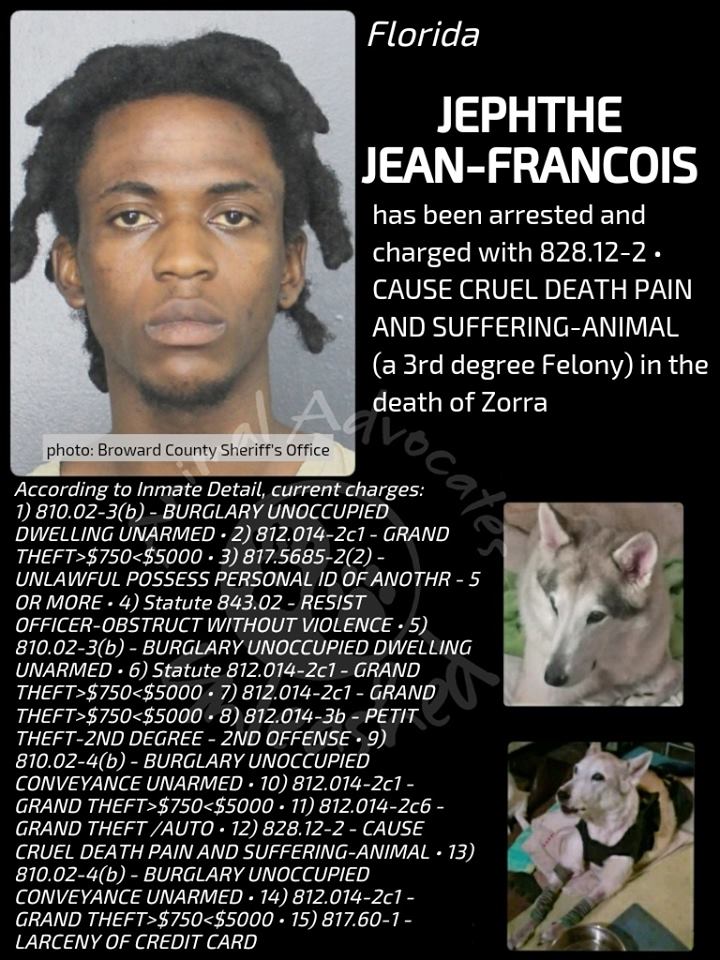 News coverage:
https://www.foxnews.com/us/florida-disabled-dog-zorra-dead
https://www.nbcmiami.com/news/local/Zorra-Dog-in-Stolen-Car-Oakland-Park-Arrest-562725521.html
https://www.foxnews.com/us/disabled-florida-dog-zorras-death-arrest-illegal-immigrant
Final Update: Case closed on 10/17/2022 (2) Probation / Community Control (Judicial Officer(s): Kollra, Ernest A) Provisions: Provisions (Court Costs Not a Condition of Probation, Waive COS) Special Provisions (Not Applicable)
State Probation (Year(s), Start Date: 10/17/2022, End Date: 10/17/2023, Comment: Prob. auto term upon successful completion of restitution)
Restitution ($3,000.00) Sentence Status (Concurrent, any active sentence being served, Case#: 19013370cf10a, Counts: 002, 003) Thank you to everyone who took the time to sign our petition and help us fight for justice. 
Update 8/17/2022: The status hearing is scheduled for August 23, 2022 in room 5750 at 8:30 am. The jury trial will begin October 17, 2022 in room 5750 at 8:30 am. 
Update 6/15/2022: Animal Victory has learned that a forensic psychologist evaluation has been requested and granted for the defendant; the next hearing is set for 7/15/2022.
Update 4/19/2022: Animal Victory has learned that the Calendar Call is set for 6/03/2022 at 8:30 am in courtroom 5750.
Update 1/25/2022: Animal Victory has sent 30,372 signatures to Attorney's Nahum Joseph and Mitchell Custer 
Update 11/5/2021: Animal Victory has learned that the next court date is scheduled for 1/28/2022.
Update 10/4/2021: Animal Victory has sent 16,265 signatures to Jennifer Blackmon, Jennifer is the new attorney on the case.
Update 7/20/2021: Animal Victory has learned that Jean-Francois is scheduled for court on October 8, 2021. If you haven't signed the petition yet, there is still time!
Update 1/26/2021: Active prosecutor on the case is Doreen Monk. Animal Victory has been informed that the case goes back to court on Feb 12, 2021. Animal Victory was informed that Jean Francois is still being held without bond on multiple charges, the animal cruelty case is one of them.
Update 11/11/2019:  2610 signatures and our letter was sent to the Broward County Assistant District Attorney Eric Linder
* Individuals are presumed innocent until proven guilty in a court of law.
Animal-Protection-Laws-of-Florida-2020-Animal-Legal-Defense-Fund
PRIOR SIGNATURES : 16,220
14,306
Louise Erickson
Mar 20, 2023
14,304
Alana Ambrose
Mar 08, 2023
14,303
Xenia Moran
Punish him with the highest possible punishment
Mar 05, 2023
14,302
Nancy Donnelly
Mar 03, 2023
14,301
Robin Estey
Mar 03, 2023
14,300
Marlena Wojciechowska
Mar 03, 2023
14,299
Mary Gibson
Mar 03, 2023
14,298
Chris Leverich
Mar 01, 2023
14,297
Lisa Moya
Feb 12, 2023
14,296
Rebeca Rodriguez
Feb 03, 2023
14,295
Sherri Evans
Jan 29, 2023
14,294
Sophie Guerin
Jan 28, 2023
14,293
Emily Avenell
Jan 28, 2023
14,292
Samantha Morgan
Jan 28, 2023
14,290
Fatemeh Sadavi
Jan 07, 2023
14,289
Chantal KOLLAR
Jan 07, 2023
14,288
Neva Rayne
Jan 06, 2023
14,287
Peter Herrmann
Dec 21, 2022
14,286
Kerstin Herrmann
Dec 21, 2022
14,285
Tracy Light
Dec 17, 2022
14,284
Dana Burger
Dec 01, 2022
14,283
John Robertson
Nov 30, 2022
14,282
Liliana Espejo
Nov 27, 2022
14,281
Claire Sefiane
Nov 19, 2022
14,280
Dana Dykes
Nov 19, 2022
14,279
Amy Ong
Nov 04, 2022
14,278
bradley hornsby
Nov 04, 2022
14,277
Lisa Cairns
Oct 20, 2022
PRIOR SIGNATURES : 16220
---