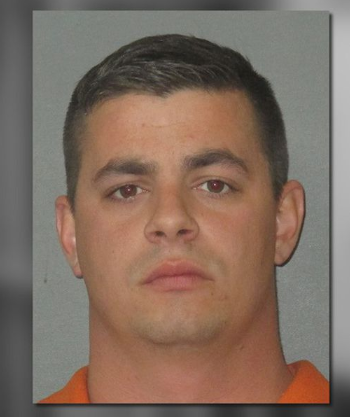 Louisiana – A former Louisiana State Fire Marshal Deputy is facing multiple charges after he allegedly starved his own K-9 partner to death. The agency has identified Robert Fain, a corporal in the Shreveport area, as the man responsible for the death of Maily, a Belgian Malinois mix who died of neglectful malnourishment.
Maily died in October – her handler claimed that she had passed away because of a lengthy illness. But a necropsy on Maily's body revealed that she died of starvation.
In a news release, State Fire Marshal Butch Browning commented on the heartbreaking case:
"As a dog owner and former K-9 handler myself, these findings make me sick. We consider all of our K-9 officers part of our law enforcement family and treatment of these animals as anything less is unacceptable. Outright neglect and abuse like this will not be tolerated or excused. These actions alleged against Robert Fain are the actions of one individual and are not reflective of the dedication our handlers have to their K-9 partners nor of our agency's commitment to public safety and abating arson."
Maily relied on Fain, her partner, to care for her but he betrayed her in the worst possible fashion. Now the former deputy is facing multiple charges including one count each of Aggravated Cruelty to Animals and Malfeasance in Office as well as six counts of 1st Degree Injuring Public Records and four counts each of Theft and Payroll Fraud.
Please join us in asking for Fain to receive the maximum punishment for ALL of his charges – a plea deal is not acceptable! Maily deserves justice!
Update June 28/2022: The case is still open with no new court dates yet
June 2021: Animal Victory has learned that court (pretrial) is scheduled to take place in July.
Update 4/26/2021: Animal Victory has sent 20,461 signatures and comments to Ashley Rodrigue today for the upcoming court date. Please read our letter here.
Update 3/26/2021: Animal Victory has learned that court is scheduled for May 25, 2021.
Update 2/17/2021: Ashley Rodrigue, the State Fire Marshal's public affairs director, has thanked Animal Victory for staying on top of this important case and she has assured us that they want to see the same just that we do. The next court date is scheduled for March 9, 2021.
Update 1/20/2020: Today we sent 10,472 signatures and comments to Ashley Rodrique along with our letter of intent. Read our letter here.
* Individuals are presumed innocent until proven guilty in a court of law.
Animal-Protection-Laws-of-Louisiana-2020-Animal-Legal-Defense-Fund
PRIOR SIGNATURES : 21279
Punish Former Deputy Fire Marshal Who Starved K9 Partner To Death
194
signatures = 1% of goal
194
John Robertson
Nov 30, 2022
193
Dana Dykes
Nov 19, 2022
192
Gwendolyn Hayward
Nov 11, 2022
191
brigitte deschaintre
Nov 11, 2022
190
R Beaton
Nov 11, 2022
188
Lisa Cairns
Oct 20, 2022
187
Carolina Pino
Oct 15, 2022
186
Shannon Nichols
Oct 07, 2022
185
Marga Gili
Sep 22, 2022
184
Shambhavi Ojha
Sep 18, 2022
183
Guisselle Martinez
Sep 17, 2022
182
Elizabeth Smith
Sep 16, 2022
181
Carmen Verdugo
Sep 11, 2022
180
Michelle Krueger
Sep 09, 2022
179
Nancy Coupe
Sep 03, 2022
178
Jeffrey Clouatre
Sep 03, 2022
177
Lindsay Taylor
Aug 23, 2022
176
Farah Khumbatta
Aug 20, 2022
175
Patricia Henson
Aug 19, 2022
174
Anu Dutt
Aug 18, 2022
173
Susan Cerniglia
Aug 11, 2022
172
deb meeks
I am sickened by what he done and can't find the words to describe my feelings and sadness for this animal ,only God really knows how Maily suffered. I hope justice finds him and I hope it's his worst nightmare just like he was hers ! My God horrible what he done and how can he sleep at night ?
Aug 11, 2022
171
Vickie Barnett
Aug 10, 2022
170
Renee Crawford
Aug 10, 2022
168
Ana Carolina Casey
Please put this horrible animal abuser in prison for ever evil monster!!! Kick him out of the police department ant put him In prison for ever !!!
Aug 05, 2022
167
maggie nebout
punish him
Jul 26, 2022
166
kingsley clary
Jul 15, 2022
165
Anonymous
Jul 14, 2022
PRIOR SIGNATURES : 21279
---