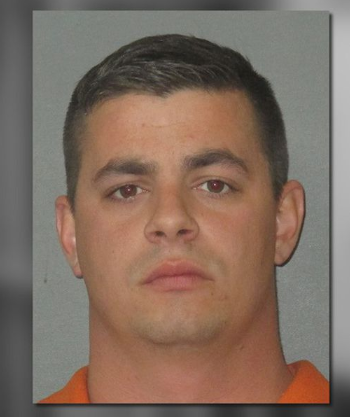 Louisiana – A former Louisiana State Fire Marshal Deputy is facing multiple charges after he allegedly starved his own K-9 partner to death. The agency has identified Robert Fain, a corporal in the Shreveport area, as the man responsible for the death of Maily, a Belgian Malinois mix who died of neglectful malnourishment.
Maily died in October – her handler claimed that she had passed away because of a lengthy illness. But a necropsy on Maily's body revealed that she died of starvation.
In a news release, State Fire Marshal Butch Browning commented on the heartbreaking case:
"As a dog owner and former K-9 handler myself, these findings make me sick. We consider all of our K-9 officers part of our law enforcement family and treatment of these animals as anything less is unacceptable. Outright neglect and abuse like this will not be tolerated or excused. These actions alleged against Robert Fain are the actions of one individual and are not reflective of the dedication our handlers have to their K-9 partners nor of our agency's commitment to public safety and abating arson."
Maily relied on Fain, her partner, to care for her but he betrayed her in the worst possible fashion. Now the former deputy is facing multiple charges including one count each of Aggravated Cruelty to Animals and Malfeasance in Office as well as six counts of 1st Degree Injuring Public Records and four counts each of Theft and Payroll Fraud.
Please join us in asking for Fain to receive the maximum punishment for ALL of his charges – a plea deal is not acceptable! Maily deserves justice!
Update June 28/2022: The case is still open with no new court dates yet
June 2021: Animal Victory has learned that court (pretrial) is scheduled to take place in July.
Update 4/26/2021: Animal Victory has sent 20,461 signatures and comments to Ashley Rodrigue today for the upcoming court date. Please read our letter here.
Update 3/26/2021: Animal Victory has learned that court is scheduled for May 25, 2021.
Update 2/17/2021: Ashley Rodrigue, the State Fire Marshal's public affairs director, has thanked Animal Victory for staying on top of this important case and she has assured us that they want to see the same just that we do. The next court date is scheduled for March 9, 2021.
Update 1/20/2020: Today we sent 10,472 signatures and comments to Ashley Rodrique along with our letter of intent. Read our letter here.
* Individuals are presumed innocent until proven guilty in a court of law.
Animal-Protection-Laws-of-Louisiana-2020-Animal-Legal-Defense-Fund
PRIOR SIGNATURES : 21279
Punish Former Deputy Fire Marshal Who Starved K9 Partner To Death
161
signatures = 1% of goal
161
DeAnn Hill
Jun 30, 2022
160
Olga Espinoza
Jun 23, 2022
159
Cornelia Herschel
This disgusting monster must suffer like his victim!!! Let him starve!!!!!
Jun 22, 2022
158
Anonymous
Jun 21, 2022
157
Rochelle Massey
Jun 21, 2022
156
Angela Steinberg
Jun 18, 2022
155
Carie Matriciano
Jun 02, 2022
154
Grace Vendemio
Jun 02, 2022
153
Sara Sampkin
May 29, 2022
152
Janice VanMarter
May 29, 2022
151
Marion Friedl
May 23, 2022
150
eugene henry
May 17, 2022
149
Alessia Di Buono
May 14, 2022
146
Adrienne Kaiser
May 05, 2022
145
Angela Dennis
May 05, 2022
144
Deborah knox
Looked at this man saw you're evil. Out away.
May 01, 2022
143
Cheryl Harlow
Apr 29, 2022
142
Mitra Pejman
Apr 29, 2022
141
Frank Schultz
Apr 24, 2022
140
Jeff Dickson
Just kill him, even God would look the other way
Apr 24, 2022
139
Sarah Prais
Apr 23, 2022
138
Joanne Kellenbenz
Apr 22, 2022
137
Ashley Swinney
Apr 22, 2022
136
Linda Topper
Apr 21, 2022
135
Caroline Van Haeften
There is no excuse here, he knew what he did, that K9 would have given its life for this callous, cruel former-deputy-fire-marshal. Why didn't any of his team members speak up? Surely they must have noticed the dog was thin, hungry & not well. Someone needs to be held accountable, the K9 was an officer of Louisiana, & MUST get justice!
Apr 21, 2022
134
Roslyn Pollinger
Apr 20, 2022
133
Sydney Allrud
Apr 10, 2022
132
Michael Casella
Apr 08, 2022
PRIOR SIGNATURES : 21279
---