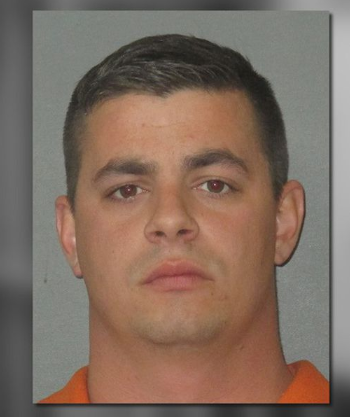 A former Louisiana State Fire Marshal Deputy is facing multiple charges after he allegedly starved his own K-9 partner to death. The agency has identified Robert Fain, a corporal in the Shreveport area, as the man responsible for the death of Maily, a Belgian malinois mix who died of neglectful malnourishment.
Maily died in October – her handler claimed that she had passed away because of a lengthy illness. But a necropsy on Maily's body revealed that she died of starvation.
In a news release, State Fire Marshal Butch Browning commented on the heartbreaking case:
"As a dog owner and former K-9 handler myself, these findings make me sick. We consider all of our K-9 officers part of our law enforcement family and treatment of these animals as anything less is unacceptable. Outright neglect and abuse like this will not be tolerated or excused. These actions alleged against Robert Fain are the actions of one individual and are not reflective of the dedication our handlers have to their K-9 partners nor of our agency's commitment to public safety and abating arson."
Maily relied on Fain, her partner, to care for her but he betrayed her in the worst possible fashion. Now the former deputy is facing multiple charges including: one count each of Aggravated Cruelty to Animals and Malfeasance in Office as well as six counts of 1st Degree Injuring Public Records and four counts each of Theft and Payroll Fraud.
Please join us in asking for Fain to receive the maximum punishment for his ALL of his charges – a plea deal is not acceptable! Maily deserves justice!
Update 4/26/2021: Animal Victory has sent 20,461 signatures and comments to Ashley Rodrigue today for the upcoming court date. Please read our letter here.
Update 3/26/2021: Animal Victory has learned that court is scheduled for May 25, 2021.
Update 2/17/2021: Ashley Rodrigue, the State Fire Marshal's public affairs director, has thanked Animal Victory for staying on top of this important case and she has assured us that they want to see the same just that we do. The next court date is scheduled for March 9, 2021.
Update 1/20/2020: Today we sent 10,472 signatures and comments to Ashley Rodrique along with our letter of intent.Read our letter here.
* Individuals are presumed innocent until proven guilty in a court of law.
PRIOR SIGNATURES : 21279
Punish Former Deputy Fire Marshal Who Starved K9 Partner To Death
40
signatures = 0% of goal
40
Damiano Giustina
Sep 18, 2021
39
Kit Dugan
Sep 18, 2021
38
Jaqueline Dillman
Sep 18, 2021
37
Teri Paszotta
We need tougher laws, more judges with balls to hand down stiffer sentences & justice to those affected by sick abusers of animals in our communities. It's going on in your city and those that prey on the most vulnerable are WEAK COWARDS & THE LOWEST, POOREST EXCUSE OF BEINGS WALKING THIS EARTH!
Sep 17, 2021
36
sherry mainquist
Fain should never be allowed to to hold a public position or handle any animal he rest of his life!!!
Sep 15, 2021
35
helgard böhme
Sep 13, 2021
34
astrid suchanek
Sep 13, 2021
33
Kennedy Roop
Sep 12, 2021
32
Sophie Emlek
Sep 09, 2021
31
Stefanie E.
Sep 09, 2021
30
Dodie Harrison
Sep 08, 2021
29
TAMI BRODY
Sep 08, 2021
28
Ilana Karapetyan
Sep 08, 2021
27
Jan Anderson
Sep 08, 2021
26
Melissa Curtis
Sep 07, 2021
25
Damiano Giustina
Sep 07, 2021
24
Beth Wahba
Sep 04, 2021
23
Kelly Lagace
Sep 03, 2021
22
Cecilia Lalinde
Aug 29, 2021
21
lara balser
Aug 29, 2021
20
Daniel Pawlowski
Aug 28, 2021
19
Devin Grimm
Aug 28, 2021
18
Veronica Grimm
Aug 28, 2021
17
John Santos
Aug 27, 2021
16
Corinne Brown
Aug 27, 2021
15
Marina Ris
Aug 27, 2021
14
Chinanan K.
Aug 24, 2021
12
laura raforth
Aug 23, 2021
PRIOR SIGNATURES : 21279
---