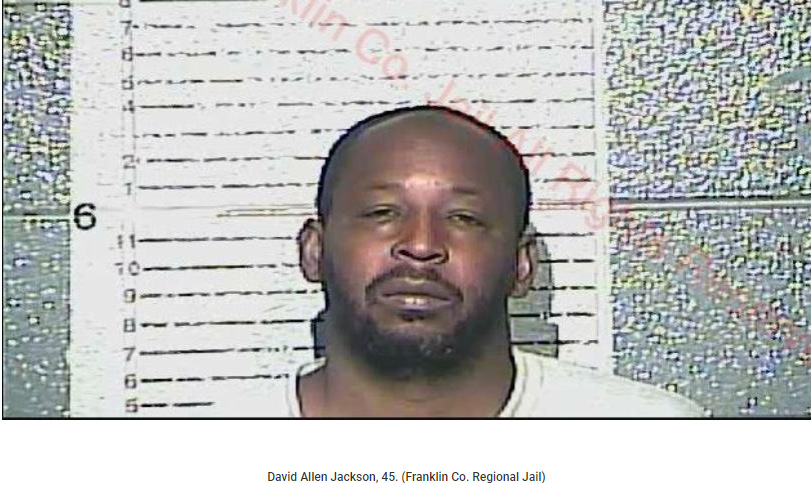 Frankfort, Kentucky – David Jackson, 45, is accused of neglecting and abusing 38 pit bulls who were found on his property in Frankfort, Kentucky. According to the Franklin County Sheriff's Office, Jackson was keeping the dogs in cruel conditions. In a press release, the authorities stated:
The dogs were tied to stakes in the ground, trees, and other immovable objects with very large metal chains, one of which weighed approximately 42 pounds. The animals had been there for quite some time. Many of them did not have any clean water or food in their bowls and very little shelter from the elements.
Many of the dogs had maladies, ranging from mange to heartworms and dental problems.
Jackson is facing multiple misdemeanor animal cruelty charges, and more charges are possible. Please sign this petition, which will be presented to the prosecutor along with a request for the maximum punishment – this is not okay!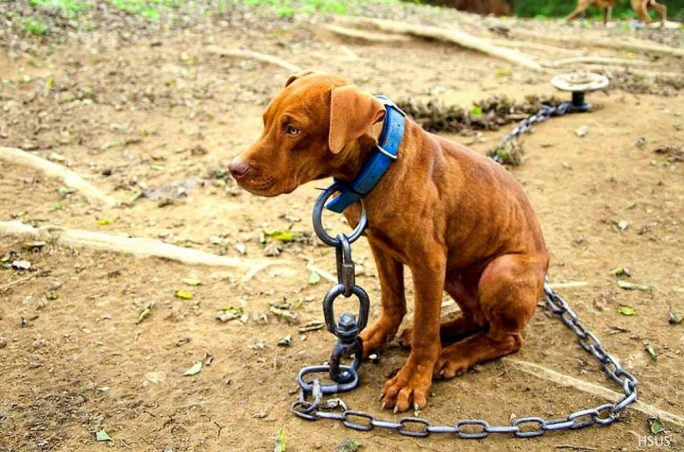 The full extent of suffering these dogs endured is unknown – what is known is that their bodies showed signs of ongoing neglect. Imagine the anguish of living life with a heavy chain secured to the neck. Imagine the pain of living with mange, heartworms and damaged/infected teeth. Imagine the misery of being left outside without protection from the elements…without access to clean water or food.
David Jackson should be punished for abusing and neglecting these dogs and he must be forbidden from ever owning an animal again! Please leave your thoughts and sign the petition – we will be sending everything to the prosecutor! These dogs deserve justice for the suffering they endured.
Update October 2022: Animal Victory spoke with the prosecutor, Larry Cleveland, who informed us that Jackson was offered a deal, but he turned it down, stating that it was "just a dog." We have been informed that the backlog of cases means that this case will take quite a while to make it to trial. 
Update 6/3/2022:  Amy Fieldman from the Clerk of Courts confirmed that a new court date has still not been scheduled.
Update 4/19/2022: Animal Victory learned that the jury trial is ongoing since March 21, 2022, the start date.
Update 2/25/2021: Animal Victory has learned that Case# 20-CR-00158 is scheduled for a jury trial on 3/21/2022, at 10 a.m., Room E.
Update 9/17/2021: Animal Victory has learned that the next court date is scheduled for 2/23/2022 at 9:30 a.m. in courtroom E.
Update 5/10/2021: David Jackson's warrant is still active and he has not been served. He remains MIA.
Update 7/16/2020: Jackson's June 10 court date has been rescheduled to June 23. Jackson has been indicted and he is currently waiting on arraignment. Due to Covid-19, cases are being moved and rescheduled in the court.
Update May 5, 2020:  David Jackson's court date is scheduled for June 10, 2020 in the Fayette County Courthouse.
* Individuals are presumed innocent until proven guilty in a court of law.
Animal-Protection-Laws-of-Kentucky-2020-Animal-Legal-Defense-Fund
PRIOR SIGNATURES : 12285
186
John Robertson
Nov 30, 2022
185
Dana Dykes
Nov 19, 2022
184
brigitte deschaintre
Nov 11, 2022
183
R Beaton
Nov 11, 2022
181
Lisa Cairns
Oct 20, 2022
180
Carolina Pino
Oct 15, 2022
179
Shannon Nichols
Oct 07, 2022
178
Marga Gili
Sep 22, 2022
177
Shambhavi Ojha
Sep 18, 2022
176
Guisselle Martinez
Sep 17, 2022
175
Nancy Coupe
Sep 15, 2022
174
Carmen Verdugo
Sep 11, 2022
173
Michelle Krueger
Sep 09, 2022
172
Jeffrey Clouatre
Sep 03, 2022
171
Debbie Coggins
Aug 23, 2022
170
Farah Khumbatta
Aug 20, 2022
169
Patricia Henson
Aug 19, 2022
168
Anu Dutt
Aug 18, 2022
167
Barbara Greenwood
Aug 17, 2022
166
Vickie Barnett
Absolutely disgusting and unacceptable. He needs to be put away. Wish he had to endure everything these dogs have had to go through!! Despicable. A shame if he is prosecuted his sentence won't match the crime!!
Aug 10, 2022
165
Renee Crawford
Aug 10, 2022
164
Ana Carolina Casey
Please put this horrible animal abuser in prison for ever evil monster
Aug 05, 2022
163
john clary
Jul 15, 2022
162
kingsley clary
Jul 15, 2022
161
Anonymous
Jul 14, 2022
160
Debbie Czujko
Jul 14, 2022
159
Lacee Mikkelsen
Jul 13, 2022
158
Lisa Stoneham
Jul 05, 2022
157
DeAnn Hill
Jun 30, 2022
PRIOR SIGNATURES : 12285
---