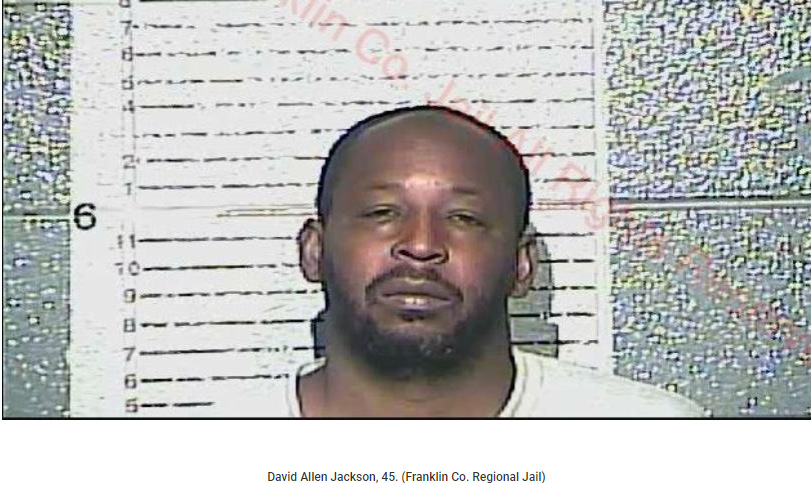 David Jackson, 45, is accused of neglecting and abusing 38 pit bulls who were found on his property in Frankfort, Kentucky. According to the Franklin County Sheriff's Office, Jackson was keeping the dogs in cruel conditions. In a press release, the authorities stated:
The dogs were tied to stakes in the ground, trees, and other immovable objects with very large metal chains, one of which weighed approximately 42 pounds. The animals had been there for quite some time. Many of them did not have any clean water or food in their bowls and very little shelter from the elements.
Many of the dogs had maladies, ranging from mange to heartworms and dental problems.
Jackson is facing multiple misdemeanor animal cruelty charges, and more charges are possible. Please sign this petition, which will be presented to the prosecutor along with a request for the maximum punishment – this is not okay!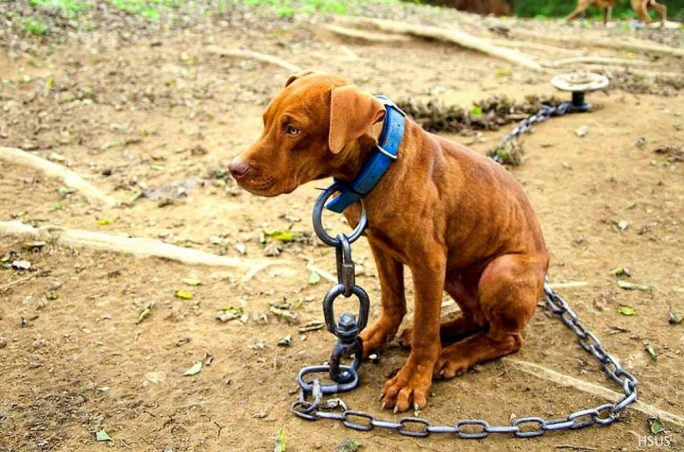 The full extent of suffering these dogs endured is unknown – what is known is that their bodies showed signs of ongoing neglect. Imagine the anguish of living life with a heavy chain secured to the neck. Imagine the pain of living with mange, heartworms and damaged/infected teeth. Imagine the misery of being left outside without protection from the elements…without access to clean water or food.
David Jackson should be punished for abusing and neglecting these dogs and he must be forbidden from ever owning an animal again! Please leave your thoughts and sign the petition – we will be sending everything to the prosecutor! These dogs deserve justice for the suffering they endured.
Update 9/17/2021: Animal Victory has learned that the next court date is scheduled for 2/23/2022 at 9:30 a.m. in courtroom E.
Update 5/10/2021: David Jackson's warrant is still active and he has not been served. He remains MIA.
Update 7/16/2020: Jackson's June 10 court date has been rescheduled to June 23. Jackson has been indicted and he is currently waiting on arraignment. Due to Covid-19, cases are being moved and rescheduled in the court.
Update May 5, 2020:  David Jackson's court date is scheduled for June 10, 2020 in the Fayette County Courthouse.
* Individuals are presumed innocent until proven guilty in a court of law.
PRIOR SIGNATURES : 12285
Punish David Jackson For Cruel Neglect Of 38 Pit Bulls
35
signatures = 0% of goal
35
Damiano Giustina
Sep 18, 2021
34
Sabine Fontaine
Sep 18, 2021
33
Kit Dugan
Sep 18, 2021
32
Teri Paszotta
We need tougher laws, more judges with balls to hand down stiffer sentences & justice to those affected by sick abusers of animals in our communities. It's going on in your city and those that prey on the most vulnerable are WEAK COWARDS & THE LOWEST, POOREST EXCUSE OF BEINGS WALKING THIS EARTH!
Sep 17, 2021
31
Ann Freeman
Sep 15, 2021
30
Donna Stewart
Sep 14, 2021
29
astrid suchanek
Sep 13, 2021
28
Kennedy Roop
Sep 12, 2021
27
Christine Rigney
Sep 10, 2021
26
geno j Berchem
Sep 10, 2021
25
Shelly Berchem
Sep 10, 2021
24
Sophie Emlek
Sep 09, 2021
23
Dodie Harrison
Sep 08, 2021
22
Ilana Karapetyan
Sep 08, 2021
21
Jan Anderson
Sep 08, 2021
20
Melissa Curtis
Sep 07, 2021
19
Damiano Giustina
Sep 07, 2021
18
Kelly Lagace
Sep 03, 2021
17
Alicia Baker
I don't see why someone loves seeing animals suffer. What's the point? It breaks my heart hearing so many animals suffer because of horrible human beings. Animals can be the sweetest. They are loveable, sweet, caring, and more loyal then most human beings.
Sep 02, 2021
16
Cecilia Lalinde
Aug 29, 2021
15
lara balser
Aug 29, 2021
14
Daniel Pawlowski
Aug 28, 2021
13
Corinne Brown
Aug 27, 2021
12
Marina Ris
Aug 27, 2021
11
Teresa Corner
Aug 24, 2021
10
Chinanan K.
Aug 24, 2021
9
laura raforth
Aug 23, 2021
7
Steven Gicquel
Aug 22, 2021
PRIOR SIGNATURES : 12285
---