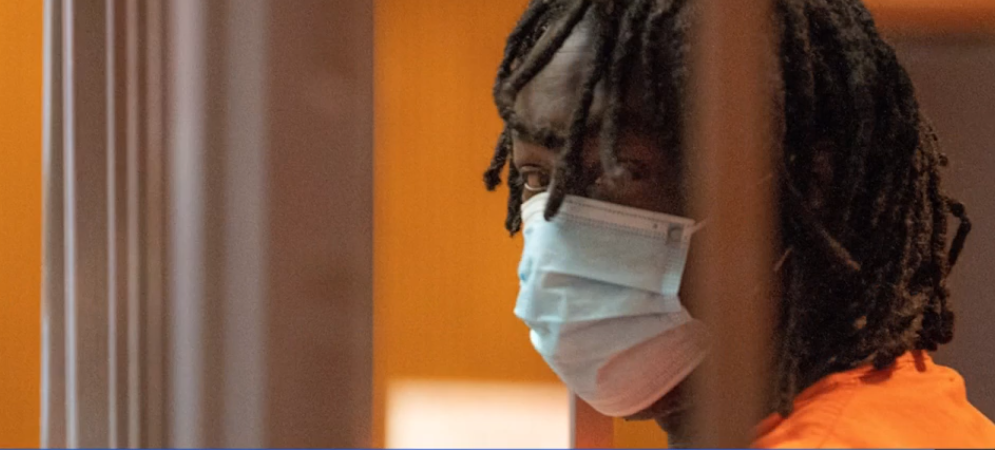 Sacramento, CA – During the first week of September, an unthinkable crime claimed the life of a beloved shelter volunteer and her two senior dogs, Molly and Jenny. The man accused of violently stealing their lives is identified as 51-year-old Troy Davis.
The accusations against Davis are truly appalling; he is accused of breaking into 61-year-old Mary "Kate" Tibbitts home on September 3, sexually assaulting her, and then murdering her and her two senior dogs. Davis allegedly proceeded to burn down Tibbitts' home.
And there is more… ABC 10 News reported that "a screenshot of home security footage shared on social media shows Davis apparently masturbating on a neighbor's front porch."
If the crime was not despicable enough, there is more…Troy Davis was "released from prison following felony convictions in 2017 and 2018 for assault with a deadly weapon and robbery," reported KRCR News. And in June, he was released from jail in an auto theft case on "zero bail."
Vern Pierson, president of the California District Attorneys Association (CDAA) said, "None of these appalling crimes would likely have occurred had this person been behind bars where he belonged."
The Sacramento SPCA is mourning Tibbitts' death. The animal welfare agency alerted Facebook followers of her untimely demise, writing:
It is with a heavy heart that we share news of the recent death of Kate Tibbitts, a long-time Sacramento SPCA volunteer and lover of old dogs and good books.
Adding:
Last month, Kate marked 25 years as a Sacramento SPCA volunteer. She joined us in August 1996, primarily to work with the book sales. But she became so much more.
Kate was a foster parent and a dog walker/socializer. Long-time staff and volunteers will remember her for making sure each dog she encountered received the best care possible.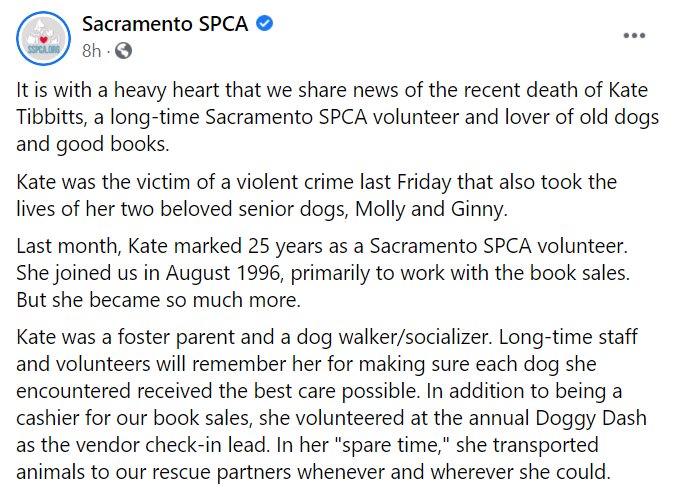 Mary Kate Tibbetts' death should have never happened because this man should have been BEHIND BARS for his prior crimes. This brutal crime happened because Troy Davis' prior crimes were not treated with the seriousness that they deserved – he should have still been BEHIND BARS.
Enough is enough. The time for second (and third and fourth) chances has ended. Please add your name to the petition. Mary "Kate" Tibbetts, and her beloved dogs, Molly and Jenny, deserve justice.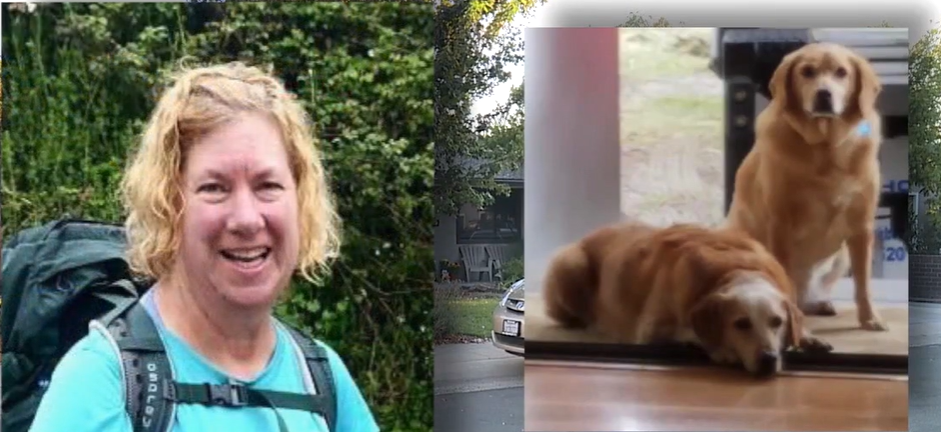 Troy Davis is facing multiple charges, including homicide, assault with intent to commit rape, malicious maiming of animals, and arson. The time has come for this man to pay for his horrible behavior – please sign today! Your signatures (and comments) will be sent to court officials along with our letter demanding that this man be held fully accountable for each and every charge that he is facing.
Suspects are presumed innocent until being found guilty in a court of law.
News
Punish California Man Accused Of Murdering Shelter Volunteer And Her Two Senior Dogs
18,872
signatures = 94% of goal
18,870
Mary Marko
Sep 20, 2021
18,869
Cathy Burgers
Sep 20, 2021
18,868
Christine Horn
Sep 20, 2021
18,867
Connor Hansell
Sep 20, 2021
18,866
michelle Millenacker
Sep 20, 2021
18,865
Rebecca Delpozo
Sep 20, 2021
18,864
myrna shivley
Sep 20, 2021
18,863
Belinda Sitter
Sep 20, 2021
18,862
Jennifer Osmundson
Sep 20, 2021
18,861
Jennifer Rosater
Sep 20, 2021
18,860
H Lepage
Apply the law of retaliation!
Sep 20, 2021
18,859
Michala Lotus Rasmussen
Sep 20, 2021
18,858
Helen Lambouras
Sep 20, 2021
18,857
Mike Kappel
Sep 20, 2021
18,856
Elena Paris
Sep 20, 2021
18,855
HAYLEY BROCK
This man should be jailed for a long time for sexually assaulting this lady and for killing her poor, innocent dogs.
Sep 20, 2021
18,854
Analise Razo
Sep 20, 2021
18,853
Allen Pooler
Sep 20, 2021
18,852
Carol Alderman
Sep 20, 2021
18,851
Crystal Jones
Sep 20, 2021
18,850
Kevan Mee
Sep 20, 2021
18,849
Heidi Siebens
Sep 20, 2021
18,848
Bente Andrew
That is beyond sick lock him up forever
Sep 20, 2021
18,847
Pj Want
Sep 20, 2021
18,846
JW Stein
Sep 20, 2021
18,845
manada walker
Sep 20, 2021
18,844
Dianne Dellarco
This man is sick and should not have the privilege of freedom after committing such a cruel act against innocent victims. Please ensure this does not happen to other innocents.
Sep 20, 2021
18,843
Cheryle Lefort
Sep 20, 2021
---