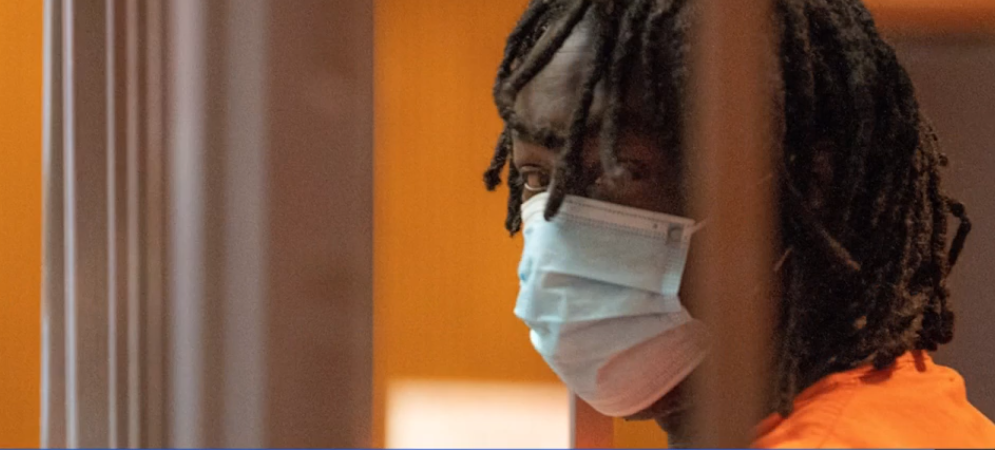 Sacramento, CA – During the first week of September, an unthinkable crime claimed the life of a beloved shelter volunteer and her two senior dogs, Molly and Jenny. The man accused of violently stealing their lives is identified as 51-year-old Troy Davis.
The accusations against Davis are truly appalling; he is accused of breaking into 61-year-old Mary "Kate" Tibbitts home on September 3, sexually assaulting her, and then murdering her and her two senior dogs. Davis allegedly proceeded to burn down Tibbitts' home.
And there is more… ABC 10 News reported that "a screenshot of home security footage shared on social media shows Davis apparently masturbating on a neighbor's front porch."
If the crime was not despicable enough, there is more…Troy Davis was "released from prison following felony convictions in 2017 and 2018 for assault with a deadly weapon and robbery," reported KRCR News. And in June, he was released from jail in an auto theft case on "zero bail."
Vern Pierson, president of the California District Attorneys Association (CDAA) said, "None of these appalling crimes would likely have occurred had this person been behind bars where he belonged."
The Sacramento SPCA is mourning Tibbitts' death. The animal welfare agency alerted Facebook followers of her untimely demise, writing:
It is with a heavy heart that we share news of the recent death of Kate Tibbitts, a long-time Sacramento SPCA volunteer and lover of old dogs and good books.
Adding:
Last month, Kate marked 25 years as a Sacramento SPCA volunteer. She joined us in August 1996, primarily to work with the book sales. But she became so much more.
Kate was a foster parent and a dog walker/socializer. Long-time staff and volunteers will remember her for making sure each dog she encountered received the best care possible.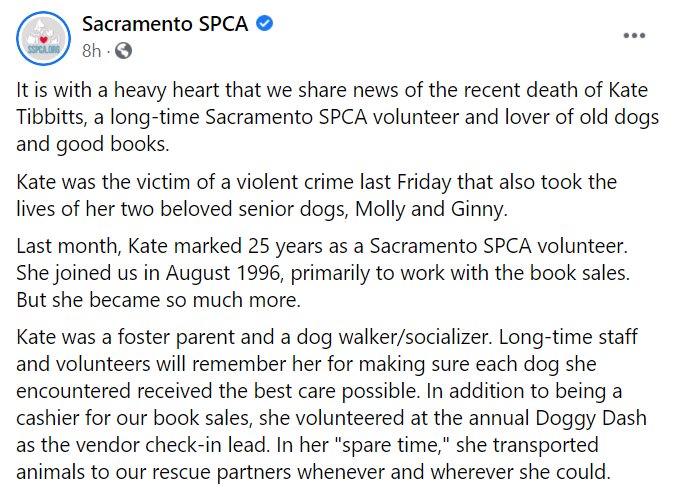 Mary Kate Tibbetts' death should have never happened because this man should have been BEHIND BARS for his prior crimes. This brutal crime happened because Troy Davis' prior crimes were not treated with the seriousness that they deserved – he should have still been BEHIND BARS.
Enough is enough. The time for second (and third and fourth) chances has ended. Please add your name to the petition. Mary "Kate" Tibbetts, and her beloved dogs, Molly and Jenny, deserve justice.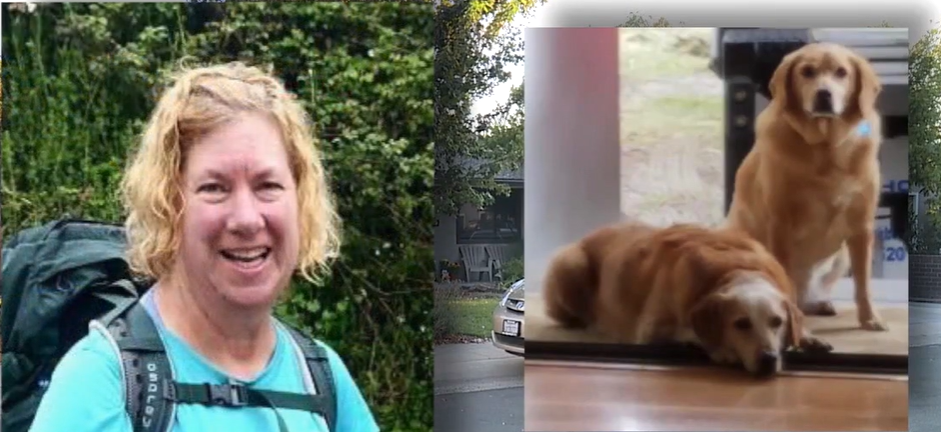 Troy Davis is facing multiple charges, including homicide, assault with intent to commit rape, malicious maiming of animals, and arson. The time has come for this man to pay for his horrible behavior – please sign today! Your signatures (and comments) will be sent to court officials along with our letter demanding that this man be held fully accountable for each and every charge that he is facing.
Suspects are presumed innocent until being found guilty in a court of law.
News
Update 6/20/2022: The Sacramento District Attorney's Office announced on Friday that they will be seeking the death penalty for 52-year-old Troy Davis. Animal Victory has sent 20,004 signatures to Attorney Matt Chisholm. He has assured us he will submit the letter and signatures to the court for consideration.
Update 6/15/2022: Animal Victory has learned that the settlement conference is now scheduled to take place on 8/12/2022 at 8:30 am.
Update 4/07/2022: Animal Victory has learned that the settlement conference was continued to 6/20/2022.
Update 2/01/2022: Animal Victory has learned that the settlement conference was continued to March 7, 2022, at 9 a.m. (It's our understanding in a settlement conference, a judge or volunteer attorney assists the parties by evaluating the strengths and weaknesses of the case and attempting to negotiate a settlement of the dispute, but without making any decisions or orders in the case. Settlement conferences may be either mandatory (court-ordered) or voluntary. Mandatory settlement conferences are often held close to the date a case is set for trial.)
Update 11/08/2021: Animal Victory has learned that the Settlement conference was continued to 12/08/2021.
Update 10/28/2021: District Attorney Matt Chisholm has informed Animal Victory that our petition has been received and he assured us that it will be used for this sentencing in this case. According to DA Chisholm, it will be quite a while before the sentencing stage. We will continue to stay in touch with the district attorney as the case works its way through the court system.
Update 10/26/2021: Please see the reply that Animal Victory received from the Office of the Mayor.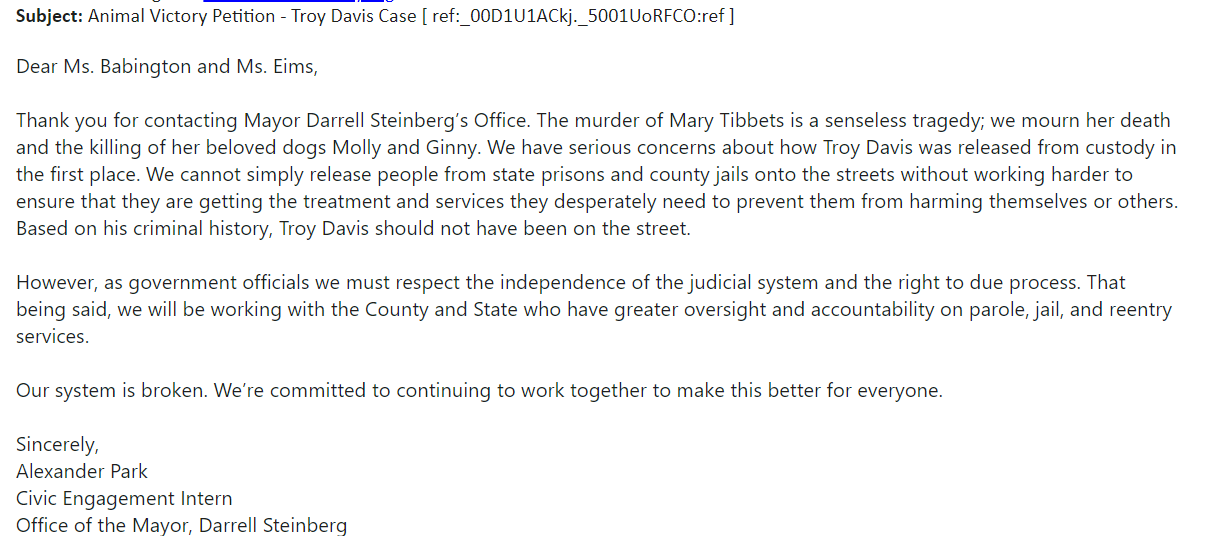 Update: 10/19/2021: Court is currently scheduled to occur on October 22.
Animal Victory has sent the petition letter along with your signatures to the following:
Prosecuting attorney Matthew Chisholm

DA Annmarie Shubert

Councilmember Katie Valenzuela

Vern Pierson- President of CA District Attorneys

Governor Gavin Newsom
Animal-Protection-Laws-of-California-2020-Animal-Legal-Defense-Fund
Punish California Man Accused Of Murdering Shelter Volunteer And Her Two Senior Dogs
22,998
signatures = 115% of goal
22,998
Kirstie Ganobsik
Jul 01, 2022
22,997
Alex Blackburn
Jul 01, 2022
22,996
Luann Peterson
This monster should have his penis cut off and spend the rest of his miserable life in prison or put to death.
Jun 30, 2022
22,995
Anonymous
Jun 30, 2022
22,994
angela hill
Horrific cruelty. He needs to stay in prison with mental health help.
Jun 30, 2022
22,993
Linda Gregori
lock him up and throw the key away
Jun 30, 2022
22,992
Danielle Lutz
Jun 30, 2022
22,991
Deborah Monte
Jun 30, 2022
22,990
Dawn Hubbard
Jun 29, 2022
22,989
gaidheal mcintyre
lock this murdering scum up for life for taking life....also fired the scum who released him
Jun 29, 2022
22,988
Cath Thomas
These individuals need locking up for good! There is definitely something wrong with their minds.
Jun 29, 2022
22,987
Valerie Charbonneau
Jun 29, 2022
22,986
Mary Pat Vaughn
Jun 29, 2022
22,985
Sherry Armistead
Jun 29, 2022
22,984
Jay Day
Jun 29, 2022
22,983
Johanna P
Jun 29, 2022
22,982
Ana Castro
Jun 29, 2022
22,981
Anonymous
So sad that this wonderful person was murdered by a felon who should never have been out of prison! Don't make this mistake AGAIN!
Jun 29, 2022
22,980
Erika Cseh
Jun 29, 2022
22,979
Joan Gall
Needs jail time lots of it
Jun 28, 2022
22,978
Koschka Bahr
Jun 28, 2022
22,977
J P
The lady and her dogs should still be alive, but this vile perverted POS had to take their lives!
Jun 28, 2022
22,976
Lourdes Cabrales
Jun 28, 2022
22,975
John Mack
Jun 28, 2022
22,974
elizabeth davidson
Jun 28, 2022
22,973
Nancy Pryor++
Jun 28, 2022
22,972
Vanesa Marrow
Jun 28, 2022
22,971
franka galić
Jun 28, 2022
22,970
Crystal Tran
Jun 28, 2022
22,969
Anonymous
Jun 28, 2022
---