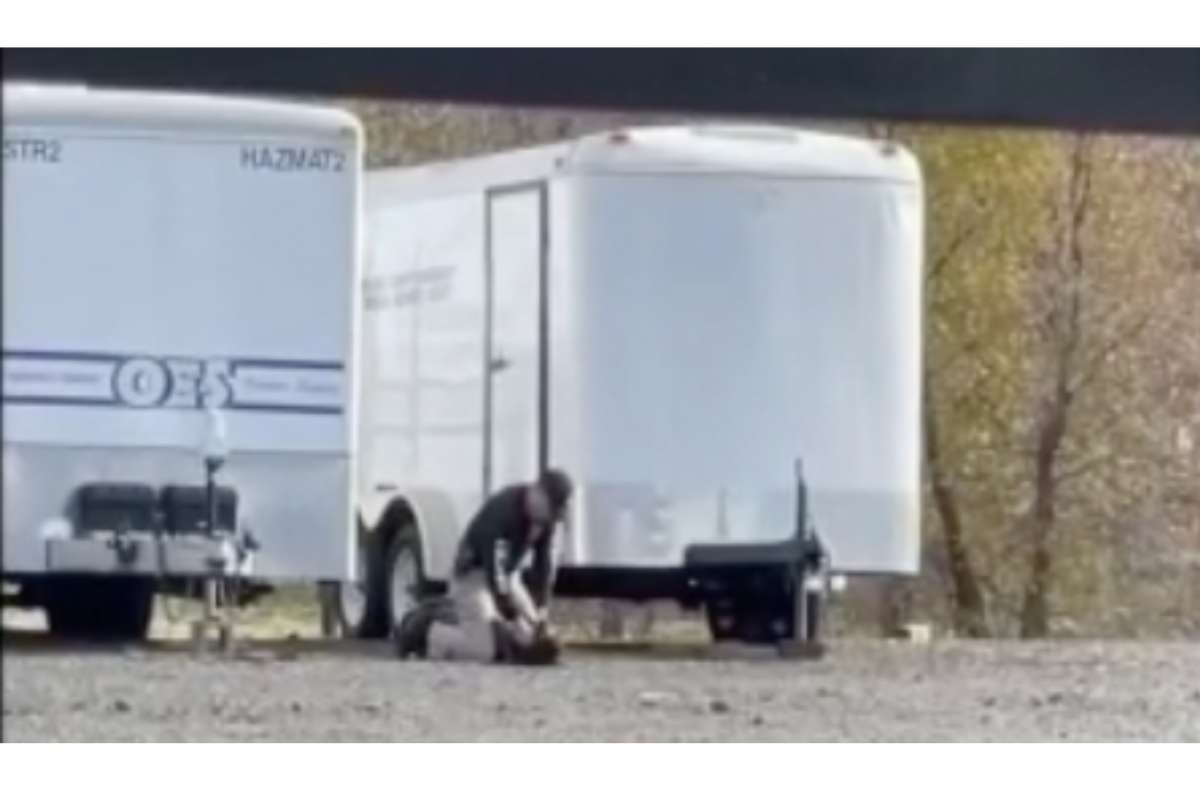 Vacaville, California – A Vacaville, California, police officer was caught on video repeatedly punching a K9. The disturbing situation was captured by Roberto Palomino, who posted the footage to Facebook on December 28, explaining what he saw:
"So it was more than clear this is not training, thanks for everyone concerned about it, so this is what happened:
Came to my warehouse to grab some tools, when I heard a dog crying, when I looked, the officer was punching the dog over and over and got shocked about it, only thing I could think was recording, I as soon as I did at the end of the video you can see he looks towards me, and I hide behind the door of my warehouse, as I kept picking, he was looking towards my doors, so I'm sure he saw me, he stopped beating the dog when he saw me and went behind those trailers in the video were I could see their legs only, I finish loading my truck and as I left I saw him getting to his K-9 unit and put some stuff on the trunk and I left."
Vacaville police Capt. Matt Lydon has seen the video and admits that it might be "alarming" to some people – but he explains that the dog was simply being corrected for trying to bite the handler.
Do you think this behavior is okay? We do not. We believe that this dog should be removed from the handler's care while the situation is investigated. Repeatedly punching a dog should never be okay – people who are not police officers face charges and jail time if they are caught doing the same thing. Please sign the petition today – we need to send the Vacaville Police Department a message that this behavior is not acceptable.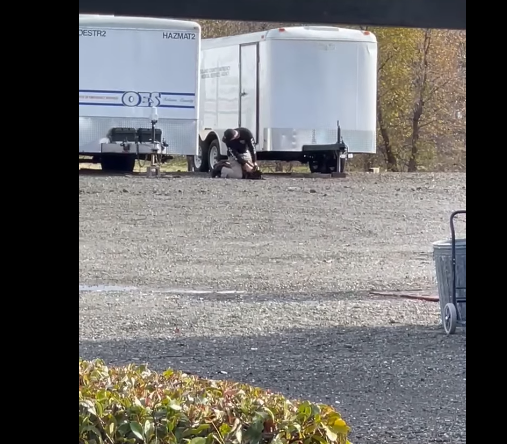 When Captain Matt Lydon was told that there were multiple punches that happened before the video started, he said that the department would conduct an investigation to see if the handler's actions were appropriate. Is punching a working K9 something that is taught to handlers? Correcting behavior is one thing, abuse is another.
We want to see a full investigation of this incident and during that time, this dog must be in someone else's care. And if this is the way that Vacaville police officers are being trained to handle their K9 partners, they need to learn a new, humane method for correcting unwanted behavior.
Please sign the petition today – your signatures (and comments) will be sent to the department along with our demand for a full investigation and removal of the dog from this handler's care.
News:
Update February 11, 2021: Animal Victory has sent three letters with your signatures and comments. The authorities are releasing little information about this situation, but there is an investigation underway.
Update February 9, 2021: Animal Victory sent a third request for a reply from Captain Matt Lydon.
Update January 4 2021: Today Animal Victory sent an additional 4130 signatures to Captain Matt Lydon for a total of 20584 signatures.
Update January 2021: The Vacaville Police Department has confirmed that that K9 was removed from this handler's care. The department is conducting a complete investigation into the situation. The K9 in the video has been examined by a veterinarian and no physical injuries were found. Animal Victory will keep you updated as the investigation continues.
Update 12/31/2020: Read our letter to Captain Matt Lydon here
Animal-Protection-Laws-of-California-2020-Animal-Legal-Defense-Fund
Individuals are presumed innocent until proven guilty in a court of law.
PRIOR SIGNATURES : 21645
194
Audrey Wilson
Dec 02, 2022
193
John Robertson
Nov 30, 2022
192
Lisel Sipes
Is that how these cops are? Allowing that to happen to an innocent dog? They should all be fired!
Nov 19, 2022
191
Dana Dykes
Nov 19, 2022
190
brigitte deschaintre
Nov 11, 2022
189
Lisa Cairns
Oct 20, 2022
188
Carolina Pino
Oct 15, 2022
187
Shannon Nichols
Oct 07, 2022
186
Marga Gili
Sep 22, 2022
185
Shambhavi Ojha
Sep 18, 2022
184
Guisselle Martinez
Sep 17, 2022
183
Carmen Verdugo
Sep 11, 2022
182
Michelle Krueger
Sep 09, 2022
181
Tammy Welch
Sep 07, 2022
180
Tina Woods
Sep 03, 2022
179
Jeffrey Clouatre
Sep 03, 2022
178
Nancy Coupe
Sep 03, 2022
177
Kristen Megan Veronica
Aug 24, 2022
176
Farah Khumbatta
Aug 20, 2022
175
L R
Death penalty no less stupid pos cop
Aug 19, 2022
174
Anu Dutt
Aug 18, 2022
173
COURTNEY WHITNEY
Aug 17, 2022
172
Vickie Barnett
Aug 10, 2022
171
Renee Crawford
Aug 10, 2022
170
Ana Carolina Casey
Please put this horrible dog abuser in prison for ever this officer needs to go to prison for ever .evil monster criminal!
Aug 05, 2022
169
Carolyn Chamberland
Aug 02, 2022
168
Jeanne Paynter
You need to be beaten!
Jul 15, 2022
167
kingsley clary
Jul 15, 2022
166
Anonymous
Jul 14, 2022
165
Lacee Mikkelsen
Jul 13, 2022
PRIOR SIGNATURES : 21645
---