Over 170 Dogs Rescued From Deplorable Puppy Mill – Owner Must Be Charged!
Published: February 12, 2020 at 12:40 PM Author:
PENNY EIMS
Coldwater, Mississippi – On February 3, over 170 dogs were rescued from deplorable, inhumane conditions at a suspected puppy mill operation in Coldwater, Mississippi. Conditions were so dismal at the Tate County property that it was described as "Hell on Earth" for the dogs who were kept there.
The owner of this property had a business license, but a license does not give someone the right to neglect and abuse. Please join us in asking the district attorney to press charges against the woman who was breeding these dogs for profit – if nothing is done, she will continue operating her "business," and the suffering will continue for a new generation of dogs.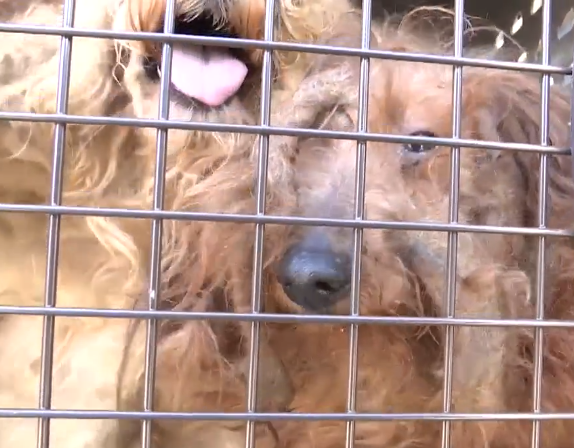 Dogs discovered at the puppy mill operation were matted and filthy, and living in dilapidated wooden structures. The stench of urine was overwhelming to the people involved in removing the dogs and it is surmised that the dogs had never known a moment of freedom while in the care of their owner.
Sandy Williams, with the Tunica Humane Society (which assisted in the rescue effort) commented on the heart-wrenching situation, "Crushes me to think that these dogs this is all that they have ever known, they've probably ever known. They've probably never been in the grass just a breath of fresh air is everything to them."
Despite the dismal, filthy conditions, the woman running this dog breeding operation is not facing charges – yet. Investigators will be sending the case to the district attorney in Tate County to see if the business owner will be charged. Tate County Sheriff Brad Lance tells WMC Action News, "It's just a matter of being able to get what you need in accordance with the law to take care of it and shut it down."
Because there are no charges, the woman running the operation has not been named. However, WMC Action News reports that signs for Ashcraft Kennels are around the property where the dogs were seized. This breeding kennel must be shut down. Having a license isn't good enough – keeping any living animal in conditions like this is appalling and it must be stopped.
Please sign this petition and let the district attorney know that this breeding operation is unacceptable and must be shut down for good!
News:
https://www.fox13memphis.com/news/local/hundreds-dogs-found-puppy-raid/KSTU5PYHERFDRG5JPRYPINJM5Q/
https://www.wmcactionnews5.com/2020/02/04/investigators-uncover-puppy-mill-operation-tate-co-nearly-dogs-seized/
Final Update 5/24/2021: Animal Victory has learned that Darrell Wesley Ashcraft, and Teresa Warren Ashcraft each pled guilty to a 10-count indictment resulting from this raid. As reported by The Panolian, Darrell Wesley Ashcraft, 72, was ordered to serve 10 days in the Tate County Jail, and Teresa Warren Ashcraft, 67, was sentenced to serve 30 days. Additionally, the court ordered that the couple may not own or possess and canines following their guilty pleas. Read the full details of the Ashcrofts' sentencing here.
Update 03/11/2021: Animal Victory has sent 10,138 signatures and comments to the Tate County Sheriff and DA John Champion.
Update 11/01/2020: Darrell Wesley Ashcraft, 71, and Teresa Warren Ashcraft, 67, of Coldwater, have been indicted by the Tate County Grand Jury and they are facing multiple counts of animal cruelty. The next court date is scheduled for April 5.
05/11/2020 Read our Letter to the Sheriff Here
02/18/2020: Read our letter to the D.A. Here
* Individuals are presumed innocent until proven guilty in a court of law.
Prior Signatures 10,737