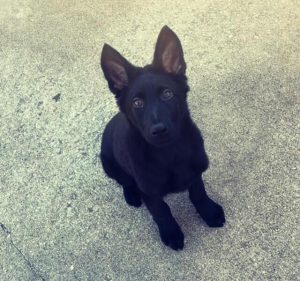 Parsons, KS – This month, a three-month-old German shepherd puppy was targeted in a horrific act of cruelty that the authorities are calling a "hate crime." The puppy, named Ranger, belonged to a police officer in Parsons, and on December 3, sometime after 7 a.m. and before 2 p.m., someone removed the puppy from his owner's fenced backyard, killed him, and then put him back into the yard that he had been stolen from.
Whoever committed this atrocious crime sliced young Ranger's head off with a "sharp object" before bringing his mutilated body back to the yard. In a press release, Parsons Police Chief Robert Spinks expressed disdain for the despicable crime:
"I cannot even describe my feelings of disdain for the person(s) responsible. I am an avid dog lover as I have made it clear to the community over the years that I have been here, I have 2 rescue dogs, one that I adopted from our local shelter. The level of cowardice that would lead someone to kill a little puppy named 'Ranger' is astonishing. I pray that we get a chance for the judicial system to prosecute this coward and bring them to justice. We have reached out to the neighborhood to gain video from home surveillance systems in the area in order track this despicable criminal down. This is disgusting enough that it was done to an animal in our community, but when you add in that this appears to be a targeted attack on the home and personal property of a police officer, this makes it nothing more than a hate crime. I will be talking to the Labette County Attorney's Office as well to charge it as such if we bring a suspect to light."
Parsons Police Deputy Chief Dennis Dodd added:
"our officers are attacked, hit, kicked, bit, scratched, called every name in the book and even spit on, as a part of our job, but this kind of senseless attack on a puppy at the home of an officer can't be tolerated. We just can't allow this to happen as a community. The suspects clearly knew this was a law enforcement officer's home."
The Parsons Police Department is offering a $1,000 reward for information leading to the arrest and conviction of whoever is responsible for this unspeakable crime. The authorities believe that this was a targeted attack and are motivated to find the suspect(s), especially in light of the "alarming nature" of the crime.
Animal Victory wants to bring attention to this hateful act of cruelty with the hope that someone out there will reach out to the authorities with information that will lead to an arrest. When that person is arrested, we want to send your signatures to the prosecutor with our letter demanding the maximum sentence for any and all associated charges.
Whoever is responsible for killing Ranger will be facing a felony charge for knowingly and maliciously killing an animal, in addition to a charge for criminal trespass.
If anyone has any further information on this incident or any other criminal activity, please contact the Parsons Police Department at 421-7060 or call the Tip Line at 421-7057 or email at tips@parsonspd.com.
Please sign (and share) this petition today!
Update 3/5/2022: Animal Victory has been in contact with the authorities and we are told that the reward has climbed to nearly $40,000. On March 1, a forensic profiler was expected to assist with the investigation. There are no solid leads; few persons of interest. More investigation is needed to see if the other animal deaths are related to Ranger's death.
Update 3/4/2022: Animal Victory has sent 18,836 signatures and comments to the Parsons Police Department.
Update 01/11/2022: Animal Victory has learned that the Parsons Police Department issued a release about the discovery of another dead dog in the city. The release details what is known about the deceased dog that was found on Dec. 29: Officers went to the area and located a dog that was wrapped up in a blanket that was tied around the body. Officers took the deceased animal to the Parson Pet Hospital to have a trained professional examine the dog in an autopsy to determine the method of death. Under normal circumstances, there would not be an autopsy done on a dog that was found deceased but due to the nature of the disposal and the area of town in which it went missing it was important to find out if the dog was murdered before being disposed of. The animal was found to have gone missing from the 1300 block of S 13th Street.
A necropsy revealed that the dog had been beaten and strangled. While we do not know if this case is related to the beheaded German shepherd puppy, it may indicate that there is a serial animal killer loose in the city as this is the third dog found dead in the area in less than a year. The authorities are advising individuals to keep their pets under close observation and to report any suspicious activity. Information can be made to the Parsons Police Department at 421-7060 or call the Tip Line at 421-7057 or email at tips@parsonspd.com.
According to the authorities, the reward for finding Ranger's killer has climbed to $34,000.
Update 12/14/2021: Animal Victory has been informed that the reward has climbed to $5,000 and the police have several "persons of interest" in the case. We will keep following the investigation and update the petition as we learn more. 
Animal-Protection-Laws-of-Kansas-2020-Animal-Legal-Defense-Fund
Officer's German Shepherd Puppy Killed And Beheaded In Apparent Hate Crime
19,094
signatures = 95% of goal
19,094
Davina Gochenouer
The evil waste of flesh that did this deserves the strongest penalty available. They should be put away for a long time.
Oct 01, 2023
19,093
Sherrie Darce
Sep 30, 2023
19,092
Sally Wood
Just pure evil
Sep 25, 2023
19,091
karen Wible
Sep 20, 2023
19,090
Jo-Anne Blowers
Sep 20, 2023
19,089
Anonymous
Aug 28, 2023
19,088
Jonathan Donahue
Aug 17, 2023
19,087
Sheryl Myhan
Aug 14, 2023
19,086
Linda DeBoer
Jul 25, 2023
19,085
Dr Tracey Reed B.V.M.S.
Jul 24, 2023
19,084
Tom Piz
I hope they find whoever did this, Very cruel.
Jul 18, 2023
19,083
Crissy Jacobson
Jul 17, 2023
19,082
Jason Cuevas
Jul 16, 2023
19,081
Kim Marchant
Straight to jail for life
Jul 13, 2023
19,080
silvana zelmanovich
Jul 12, 2023
19,079
Gina Badami
Jul 08, 2023
19,078
Eric Ward
Jun 17, 2023
19,077
Vera Krasnovskaya
Jun 17, 2023
19,076
Quade Prescott
Jun 04, 2023
19,075
Cindy Clark
May 25, 2023
19,074
Shelley Smith
May 06, 2023
19,073
Krista Sanders
May 01, 2023
19,072
Kathy Hamilton
May 01, 2023
19,071
Christina Lander
Apr 28, 2023
19,070
sherri Wilson
abusers need to be controled, poke eyes out, geld and cut thang off, feed to pigs
Apr 15, 2023
19,069
Gabriela Barberio
Apr 14, 2023
19,068
Amy Kish
Apr 04, 2023
19,067
Duangphorn Van strien
Apr 02, 2023
19,066
Adrienne Venditti
Mar 30, 2023
---