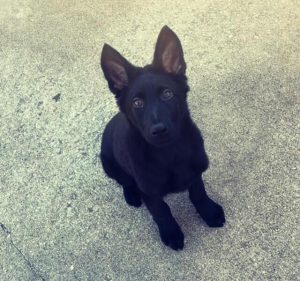 Parsons, KS – This month, a three-month-old German shepherd puppy was targeted in a horrific act of cruelty that the authorities are calling a "hate crime." The puppy, named Ranger, belonged to a police officer in Parsons, and on December 3, sometime after 7 a.m. and before 2 p.m., someone removed the puppy from his owner's fenced backyard, killed him, and then put him back into the yard that he had been stolen from.
Whoever committed this atrocious crime sliced young Ranger's head off with a "sharp object" before bringing his mutilated body back to the yard. In a press release, Parsons Police Chief Robert Spinks expressed disdain for the despicable crime:
"I cannot even describe my feelings of disdain for the person(s) responsible. I am an avid dog lover as I have made it clear to the community over the years that I have been here, I have 2 rescue dogs, one that I adopted from our local shelter. The level of cowardice that would lead someone to kill a little puppy named 'Ranger' is astonishing. I pray that we get a chance for the judicial system to prosecute this coward and bring them to justice. We have reached out to the neighborhood to gain video from home surveillance systems in the area in order track this despicable criminal down. This is disgusting enough that it was done to an animal in our community, but when you add in that this appears to be a targeted attack on the home and personal property of a police officer, this makes it nothing more than a hate crime. I will be talking to the Labette County Attorney's Office as well to charge it as such if we bring a suspect to light."
Parsons Police Deputy Chief Dennis Dodd added:
"our officers are attacked, hit, kicked, bit, scratched, called every name in the book and even spit on, as a part of our job, but this kind of senseless attack on a puppy at the home of an officer can't be tolerated. We just can't allow this to happen as a community. The suspects clearly knew this was a law enforcement officer's home."
The Parsons Police Department is offering a $1,000 reward for information leading to the arrest and conviction of whoever is responsible for this unspeakable crime. The authorities believe that this was a targeted attack and are motivated to find the suspect(s), especially in light of the "alarming nature" of the crime.
Animal Victory wants to bring attention to this hateful act of cruelty with the hope that someone out there will reach out to the authorities with information that will lead to an arrest. When that person is arrested, we want to send your signatures to the prosecutor with our letter demanding the maximum sentence for any and all associated charges.
Whoever is responsible for killing Ranger will be facing a felony charge for knowingly and maliciously killing an animal, in addition to a charge for criminal trespass.
If anyone has any further information on this incident or any other criminal activity, please contact the Parsons Police Department at 421-7060 or call the Tip Line at 421-7057 or email at tips@parsonspd.com.
Please sign (and share) this petition today!
Update 01/11/2022: Animal Victory has learned that the Parsons Police Department issued a release about the discovery of another dead dog in the city. The release details what is known about the deceased dog that was found on Dec. 29: Officers went to the area and located a dog that was wrapped up in a blanket that was tied around the body. Officers took the deceased animal to the Parson Pet Hospital to have a trained professional examine the dog in an autopsy to determine the method of death. Under normal circumstances, there would not be an autopsy done on a dog that was found deceased but due to the nature of the disposal and the area of town in which it went missing it was important to find out if the dog was murdered before being disposed of. The animal was found to have gone missing from the 1300 block of S 13th Street.
A necropsy revealed that the dog had been beaten and strangled. While we do not know if this case is related to the beheaded German shepherd puppy, it may indicate that there is a serial animal killer loose in the city as this is the third dog found dead in the area in less than a year. The authorities are advising individuals to keep their pets under close observation and to report any suspicious activity. Information can be made to the Parsons Police Department at 421-7060 or call the Tip Line at 421-7057 or email at tips@parsonspd.com.
According to the authorities, the reward for finding Ranger's killer has climbed to $34,000.
Update 12/14/2021: Animal Victory has been informed that the reward has climbed to $5,000 and the police have several "persons of interest" in the case. We will keep following the investigation and update the petition as we learn more. 
Officer's German Shepherd Puppy Killed And Beheaded In Apparent Hate Crime
18,624
signatures = 93% of goal
18,624
Alice Bittner
Jan 21, 2022
18,623
Sovattey Marston
This world is so sad... why an innocent animal... The coward monster/s must be found and prosecuted to the max!!!
Jan 21, 2022
18,622
Susan Innes
Jan 21, 2022
18,621
Kirstin Rosenzweig
Jan 21, 2022
18,620
Joerg Lohmann
Jan 21, 2022
18,619
Antje Kessel
Jan 21, 2022
18,618
Joyce Koopmann
Jan 21, 2022
18,617
Jane Cherry
Horrific! Lock this sick monster up!
Jan 21, 2022
18,616
Paula Thompson
Jan 21, 2022
18,615
Barbara Bordner
This person(s) needs to be found and put away for a very long time! If they can not learn to respect and live all life then they do not deserve to have a life!
Jan 21, 2022
18,614
Danielle giboin
Jan 21, 2022
18,613
Regina Stanley
Jan 21, 2022
18,612
Chante' Kline
Jan 21, 2022
18,611
Elizabeth Huebner
Jail never get out let hm die there
Jan 21, 2022
18,610
Lotta Jansson
Jan 21, 2022
18,609
Constance Ward
Just evil and crurl and reprehensible
Jan 21, 2022
18,608
Margaret Nelson
Jan 21, 2022
18,607
Anonymous
Jan 21, 2022
18,606
Nancy Frieden
Jan 20, 2022
18,605
Darlene Driver
Find & Arrest worthless S.O.B
Jan 20, 2022
18,604
Renee Grooms
Jan 20, 2022
18,603
LuGene Hughes
Serial killer in the making.
Jan 20, 2022
18,602
Benjamin Accorso
Any human who kills a innocent animal deserves the death sentence, then and only then would justice be served
Jan 20, 2022
18,601
Amanda Hill
Jan 20, 2022
18,600
Jacinda Robinson
Jan 20, 2022
18,599
Pamela Bannister-Davis
Jan 20, 2022
18,598
Candis Wilson
This sick monster(s) need to be given a life sentence. An family pet is family and when family is murdered, then they deserve to be put away and never let out. Something is wrong with people mentally if they do sick shit like this. There is a special place in hell for murderers like this. I hope you find them
Jan 20, 2022
18,597
Deb Dickson
Jan 20, 2022
18,596
barbara diaz
the coward should be punished and locked up with horny joe.
Jan 20, 2022
18,595
Pam Bollinger
Jan 20, 2022
---