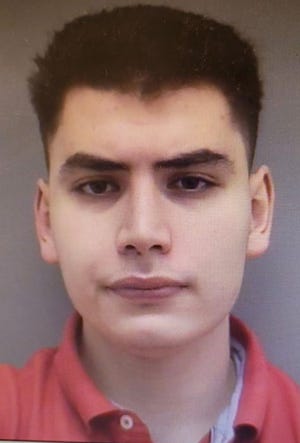 A 22-year-old Michigan man is facing a felony charge of animal cruelty for smashing and stomping on a parakeet inside of a pet store. Allen Park Police have charged Ali Chehade for the cruel incident which left his bird dead. Chehade, a college student, became irate when the pet store owner would not accept his injured bird for a refund.
This man took his anger out on an innocent bird – in front of other horrified shoppers. This is an appalling case of animal cruelty which must not go unpunished. We need your signature to help convince court officials that Ali Chehade deserves the maximum punishment for the felony charge of third-degree animal killing!
On May 18, Ali Chehade was attempting to get a $30 refund from the Critter Pet Shop because his bird had a bloodied, injured wing. The man went ballistic after the store owner told him that a refund could not be issued because the injury happened while the bird was in Chehade's care. The gruesome incident was captured on surveillance, and it shows the man smashing the box that the bird was in before hurling the box to the ground and stomping on it. Store owner Michael Simms had attempted to offer a credit to the man, but that wasn't enough to prevent the bird from being killed. The gruesome scene played out in front of horrified shoppers who were traumatized by the violent incident.
What this man did is unconscionable! He could face up to four years in prison and a $5,000 fine if he is convicted. We must fight for the maximum punishment for this man – this was a sickening act of cruelty. We also want to see Ali Chehade prohibited from owning animals in the future, as well as mandatory mental health treatment. If he did this to a fragile bird in a fit of anger, what will he do next? Please sign today.
News:
Individuals are presumed innocent until proven guilty in a court of law.
Update 8/17/2021: Animal Victory has learned that a disposition conference is scheduled for 08/24/2021.
Update 7/8/2021: Animal Victory has sent 15,431 signatures and comments to Prosecuting Attorney Joshua Cooper Holman.
Update 6/28/2021: Animal Victory has learned that the case has been bound over to the county. A plea of not guilty was entered by the court on 5/27/2021. Arraignment is scheduled for Aug. 3, 2021.
PRIOR SIGNATURES : 15534
Monster Smashed And Stomped Parakeet To Death In Pet Store
865
signatures = 6% of goal
865
annah jetha
Sep 21, 2021
864
marcia sliwinski
Sep 21, 2021
863
Klara Szabo
Sep 21, 2021
862
Dyan Osborne
Sep 21, 2021
861
barbara elias
Sep 20, 2021
860
Gloria Rojas
Sep 20, 2021
859
Vianney Rojas
Sep 20, 2021
858
Elena Paris
La peine de mort pour tous ces assassins
Sep 20, 2021
857
Gloria Donn
Sep 19, 2021
856
Anonymous
Sep 19, 2021
855
SANDRA GOMEZ
Sep 19, 2021
854
Damiano Giustina
Sep 18, 2021
853
Karleaha Symonds
Sep 18, 2021
852
Sabine Fontaine
Sep 18, 2021
851
Fareed Noorani
Sep 18, 2021
850
Jaqueline Dillman
Sep 18, 2021
849
Maria Parker
Sep 17, 2021
848
Teri Paszotta
We need tougher laws, more judges with balls to hand down stiffer sentences & justice to those affected by sick abusers of animals in our communities. It's going on in your city and those that prey on the most vulnerable are WEAK COWARDS & THE LOWEST, POOREST EXCUSE OF BEINGS WALKING THIS EARTH!
Sep 17, 2021
847
laura mclean
Sep 17, 2021
846
Molly Dwyer
Poor birdie
Sep 15, 2021
845
Marcia Smith
Sep 15, 2021
844
Anabela Azevedo
Sep 15, 2021
843
Virginia Lovett
Prison !!!!!!!!! Evil Sociopath !!
Sep 15, 2021
842
Ann Freeman
Sep 15, 2021
841
Anne Kinkelaar
Sep 15, 2021
840
Adeline Merva
Muslim piece of shit.
Sep 15, 2021
839
Lorelei Andrews
This is why I could never work in a pet shop, because POSs like this would be buying animals, & I couldn't stop them! I hope he gets the maximum time, but it won't help; he was raised to be trash & wilI continue to be.
Sep 14, 2021
838
KONSTANTINOS STAMOS
Sep 14, 2021
837
Ruth Reid
Sep 13, 2021
836
Janine Hodge
Sep 13, 2021
PRIOR SIGNATURES : 15534
---