Monster Smashed And Stomped Parakeet To Death In Pet Store
Published: June 02, 2021 at 06:24 AM Author:
PENNY EIMS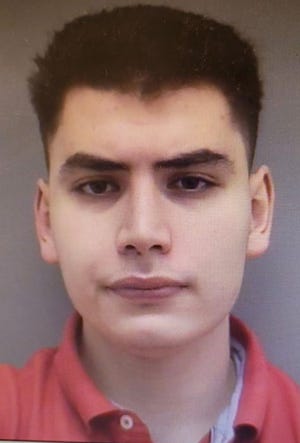 Allen Park, Michigan – A 22-year-old Michigan man is facing a felony charge of animal cruelty for smashing and stomping on a parakeet inside of a pet store. Allen Park Police have charged Ali Chehade for the cruel incident which left his bird dead. Chehade, a college student, became irate when the pet store owner would not accept his injured bird for a refund.
This man took his anger out on an innocent bird – in front of other horrified shoppers. This is an appalling case of animal cruelty which must not go unpunished. We need your signature to help convince court officials that Ali Chehade deserves the maximum punishment for the felony charge of third-degree animal killing!

On May 18, Ali Chehade was attempting to get a $30 refund from the Critter Pet Shop because his bird had a bloodied, injured wing. The man went ballistic after the store owner told him that a refund could not be issued because the injury happened while the bird was in Chehade's care. The gruesome incident was captured on surveillance, and it shows the man smashing the box that the bird was in before hurling the box to the ground and stomping on it. Store owner Michael Simms had attempted to offer a credit to the man, but that wasn't enough to prevent the bird from being killed. The gruesome scene played out in front of horrified shoppers who were traumatized by the violent incident.
What this man did is unconscionable! He could face up to four years in prison and a $5,000 fine if he is convicted. We must fight for the maximum punishment for this man – this was a sickening act of cruelty. We also want to see Ali Chehade prohibited from owning animals in the future, as well as mandatory mental health treatment. If he did this to a fragile bird in a fit of anger, what will he do next? Please sign today.
News:
Animal-Protection-Laws-of-Michigan-2020-Animal-Legal-Defense-Fund
Individuals are presumed innocent until proven guilty in a court of law.
Update: Animal Victory is disappointed to report that Ali Chehade did not receive jail time at sentencing. We are pleased that the case was not dismissed; he was ordered to pay fines and court costs, in addition to a sentence requiring 200 hours of community service and two years of probation. We thank everyone who signed the petition and we hope that the fines and required community service will make this man think twice about his actions in the future.
Update 12/01/2021: Animal Victory has learned that the court sentencing date has been scheduled for 12/09/2021. We would like to acknowledge, Catherine P., a standout AV supporter who went to the courthouse to hand-deliver this petition. Catherine spoke to an attorney at the courthouse who is a self-described animal lover who has been following this case closely. He thanked Catherine for her passion for animal justice.
Update 11/1/2021: Animal Victory sent 15,813 signatures along with our petition letter to attorney Joshua Cooper Holman as well as the judge: Honorable Prentis Edwards Jr.,
The next court date is December 1.
Update 9/25/2021: Animal Victory has learned that a disposition conference is set to be held on 10/05/2021 at 9:00 a.m.
Update 8/17/2021: Animal Victory has learned that a disposition conference is scheduled for 08/24/2021.
Update 7/8/2021: Animal Victory has sent 15,431 signatures and comments to Prosecuting Attorney Joshua Cooper Holman.
Update 6/28/2021: Animal Victory has learned that the case has been bound over to the county. A plea of not guilty was entered by the court on 5/27/2021. Arraignment is scheduled for Aug. 3, 2021.
Prior Signatures 16,607.