Maverick County, Texas – Multiple graded, stakes-winning trainer Rodolfo Sanchez is facing a felony animal cruelty charge and has been temporarily suspended by the Texas Racing Commission after a disturbing video was captured of him repeatedly beating a downed horse at the Val Verde County Fairgrounds in early April.

The minutes-long footage is difficult to watch. A horse is tethered to a tree and Sanchez can be seen repeatedly whipping the helpless animal even when he/she is down on the ground. Because of the length of the tether, the horse's neck is stretched upward and he/she can be seen breathing heavily throughout the agonizing ordeal.
(Video below – discretion is advised)
As an animal advocacy organization, we are unfortunately accustomed to egregious acts of cruelty. The video footage of this beating is especially heinous because the cruelty is being carried out by a professional; someone entrusted to treat these majestic animals with the kindness and dignity they deserve.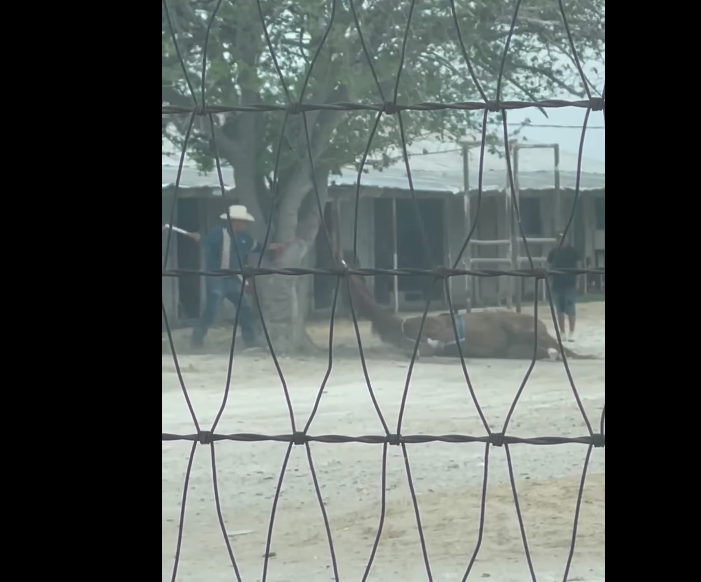 According to the authorities in Val Verde County, Sanchez is believed to have an estimated 15-17 horses that remain in his care. Please add your name to the petition as we fight to have these animals removed from Sanchez's care, in addition to the maximum sentence allowable by law for his animal cruelty charge(s). We will also be petitioning the Texas Racing Commission to permanently restrict Sanchez from training horses.
We the undersigned demand that Rodolfo Sanchez is held responsible for the unnecessary and cruel beating of this horse. We are petitioning for Sanchez to receive the maximum punishment allowable by law for the charge(s) stemming from this incident, in addition to a ban on his ability to train and/or work with animals in the future. We also want the horses currently in his care to be removed.
(There are conflicting reports about the identity of the horse beaten in the video. Some sources state that the horse is named Guapa, while others state that it is a filly named Fool for It. All sources state that the horse was removed by county officials and that he (or she) is alive and receiving care)
Note: Individuals are presumed innocent until being found guilty in a court of law. Animal Victory relies upon the authorities and the court system to determine guilt or innocence.
News: 
Update 5/20/2022: Animal Victory has sent 14,391 signatures to Chief Investigator Mike Fleming from the Texas Racing Commission.
Maximum Sentence And A Ban From Training For Man Who Repeatedly Beat Downed Horse
14,892
signatures = 74% of goal
14,892
Ana Gomes
May 24, 2022
14,891
Indira Manojlovic
May 24, 2022
14,890
Lori Montoya
Prosecute that abuser!!
May 24, 2022
14,889
kim Curtis
May 24, 2022
14,888
Colete Fays
May 24, 2022
14,887
Colete FAYS
May 24, 2022
14,886
KATHY SHIROKY
May 24, 2022
14,885
Marie Christine Gennaro
May 24, 2022
14,884
Mary Jo DiStephano
May 24, 2022
14,883
Diane Habener
I worked around racehorses and racetracks for 9 years and love the sport and the breed. I currently own a retired TB that I am repurposing for riding. This man not only needs to be barred from training racehorses, but from ever owning or being around any horse again. His current horses should be removed while he is awaiting trial.
May 24, 2022
14,882
Elena Rudyak
May 24, 2022
14,881
Anonymous
May 24, 2022
14,880
Catherine Switala
May 24, 2022
14,879
Sarah McAvoy
May 24, 2022
14,878
Becky Coggan
It's no longer going to be possible to get away with animal abuse like this, the world is watching. Maximum penalty should be imposed for such cruelty.
May 23, 2022
14,877
Monica Wood
May 23, 2022
14,876
Kathy Green
May 23, 2022
14,875
Azhand Shokohi
May 23, 2022
14,874
Dalia Castillo
May 23, 2022
14,873
wendy parker
May 23, 2022
14,872
Cheryl Fontanilla
May 23, 2022
14,871
Ann M Smithhisler
May 23, 2022
14,869
Dana Payton
May 23, 2022
14,868
Anonymous
May 23, 2022
14,867
Edit Mizsei
May 23, 2022
14,866
Colette Anna Pepin
Give the same treatment to that cruel person who did this he will learn only if he receives same treatment otherwise he will continue doing it. I have no respect for these people and furthermore I really dislike them.
May 23, 2022
14,865
Su Homes
Evil b*****d
May 23, 2022
14,864
Stephanie Reid
May 23, 2022
14,863
Trever Mart
May 23, 2022
---