Maverick County, Texas – Multiple graded, stakes-winning trainer Rodolfo Sanchez is facing a felony animal cruelty charge and has been temporarily suspended by the Texas Racing Commission after a disturbing video was captured of him repeatedly beating a downed horse at the Val Verde County Fairgrounds in early April.

The minutes-long footage is difficult to watch. A horse is tethered to a tree and Sanchez can be seen repeatedly whipping the helpless animal even when he/she is down on the ground. Because of the length of the tether, the horse's neck is stretched upward and he/she can be seen breathing heavily throughout the agonizing ordeal.
(Video below – discretion is advised)
As an animal advocacy organization, we are unfortunately accustomed to egregious acts of cruelty. The video footage of this beating is especially heinous because the cruelty is being carried out by a professional; someone entrusted to treat these majestic animals with the kindness and dignity they deserve.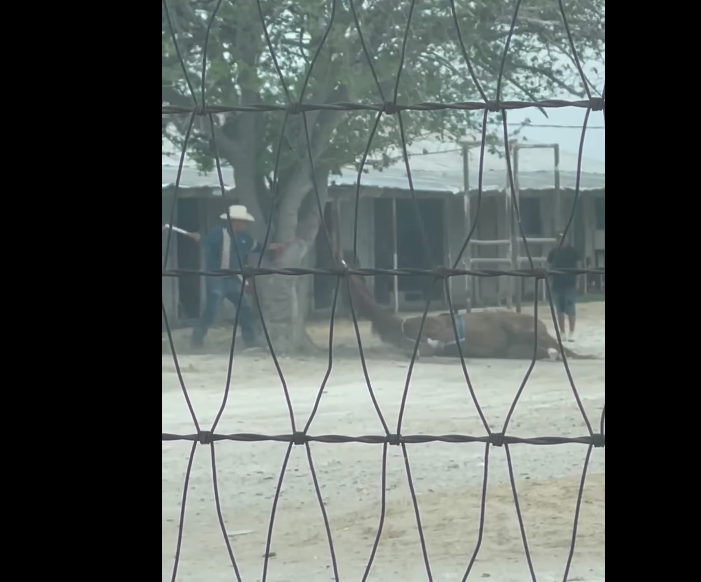 According to the authorities in Val Verde County, Sanchez is believed to have an estimated 15-17 horses that remain in his care. Please add your name to the petition as we fight to have these animals removed from Sanchez's care, in addition to the maximum sentence allowable by law for his animal cruelty charge(s). We will also be petitioning the Texas Racing Commission to permanently restrict Sanchez from training horses.
We the undersigned demand that Rodolfo Sanchez is held responsible for the unnecessary and cruel beating of this horse. We are petitioning for Sanchez to receive the maximum punishment allowable by law for the charge(s) stemming from this incident, in addition to a ban on his ability to train and/or work with animals in the future. We also want the horses currently in his care to be removed.
(There are conflicting reports about the identity of the horse beaten in the video. Some sources state that the horse is named Guapa, while others state that it is a filly named Fool for It. All sources state that the horse was removed by county officials and that he (or she) is alive and receiving care)
Note: Individuals are presumed innocent until found guilty in a court of law. Animal Victory relies upon the authorities and the court system to determine guilt or innocence.
News: 
Update 1/27/2023: Animal Victory sent cover letter and petition to the judge. 
Update 1/26/2023: The arraignment was scheduled for January 24th. Animal Victory talked with the District Attorney's office. A waiver was filed by the defendant, meaning the defendant's attorney will show up in court and not the defendant. The next court date is March 30, 2023. Animal Victory has sent the petition to Honorable Robert Cadena. Once again the horse is VERY happy in her new location. When we get pictures we will add them to the petition.
Update 9/8/2022: A generous donor has worked to find a permanent sanctuary for the horse. She has paid for the horse's care while he was housed in a safe undisclosed location and now the horse is in a wonderful sanctuary. More details to come. The horse is very happy! Sanchez never filed a motion to get the horse back.
Update 6/22/2022: Animal Victory sent 15,326 signatures to District Attorney Susan West on 6/22/2022.
Update 6/09/2022: Animal Victory has learned that the sheriff's office was awarded custody of the horse on June 1; the horse is currently in the Waco area. Sanchez has until the 20th of this month to file a motion for the horse. The case will be handled in the Del Rio courts.
Update 5/20/2022: Animal Victory has sent 14,391 signatures to Chief Investigator Mike Fleming from the Texas Racing Commission, Sheriff Joe Frank Martinez, and Chief Wayne Bullard of Val Verde County Sheriff's department.
Maximum Sentence And A Ban From Training For Man Who Repeatedly Beat Downed Horse
17,252
signatures = 86% of goal
17,252
Sherrie Darce
Sep 30, 2023
17,251
Sally Wood
Love to horsewhip him, he would never feel the same i promise!
Sep 24, 2023
17,250
Ruth Tonkin
Please stop these mentally ill monsters that hurt animals!!!
Sep 12, 2023
17,249
Anonymous
Aug 28, 2023
17,248
Keri Knuthson
Aug 16, 2023
17,247
Sheryl Myhan
Aug 14, 2023
17,246
Gaby Strasser
Aug 08, 2023
17,245
Linda Deboer
Jul 25, 2023
17,244
Dr Tracey Reed B.V.M.S.
Jul 24, 2023
17,243
Crissy Jacobson
Jul 17, 2023
17,242
Jason Cuevas
Jul 16, 2023
17,241
Deborah Smith
Jul 13, 2023
17,240
Donald Garlit
Jul 10, 2023
17,239
Gina Badami
Jul 08, 2023
17,238
bec marant
Jun 26, 2023
17,237
Danielle Agre
FORBID THIS FILTH NEAR ANIMALS EVER AGAIN AND PUNISH THE MAXIMUM!!!! SCUM
Jun 17, 2023
17,236
Kenneth Garcia
Jun 16, 2023
17,235
Oscar Garcia
Jun 15, 2023
17,234
Karina Solis
Rodolfo Sanchez should never be allowed near houses anymore
Jun 15, 2023
17,233
Ron Morales
Jun 14, 2023
17,232
Quade Prescott
Jun 04, 2023
17,231
Karla Rangel
May 28, 2023
17,230
Kathryn Davis
Stop him, now!!
May 18, 2023
17,229
Rebecca Holzer
May 09, 2023
17,228
NANCY WODS
May 09, 2023
17,227
Shelley Smith
May 06, 2023
17,226
Larisa Briones
May 05, 2023
17,225
carol king
May 05, 2023
17,224
Krista Sanders
May 01, 2023
17,223
Kathy Hamilton
May 01, 2023
---