Maverick County, Texas – Multiple graded, stakes-winning trainer Rodolfo Sanchez is facing a felony animal cruelty charge and has been temporarily suspended by the Texas Racing Commission after a disturbing video was captured of him repeatedly beating a downed horse at the Val Verde County Fairgrounds in early April.

The minutes-long footage is difficult to watch. A horse is tethered to a tree and Sanchez can be seen repeatedly whipping the helpless animal even when he/she is down on the ground. Because of the length of the tether, the horse's neck is stretched upward and he/she can be seen breathing heavily throughout the agonizing ordeal.
(Video below – discretion is advised)
As an animal advocacy organization, we are unfortunately accustomed to egregious acts of cruelty. The video footage of this beating is especially heinous because the cruelty is being carried out by a professional; someone entrusted to treat these majestic animals with the kindness and dignity they deserve.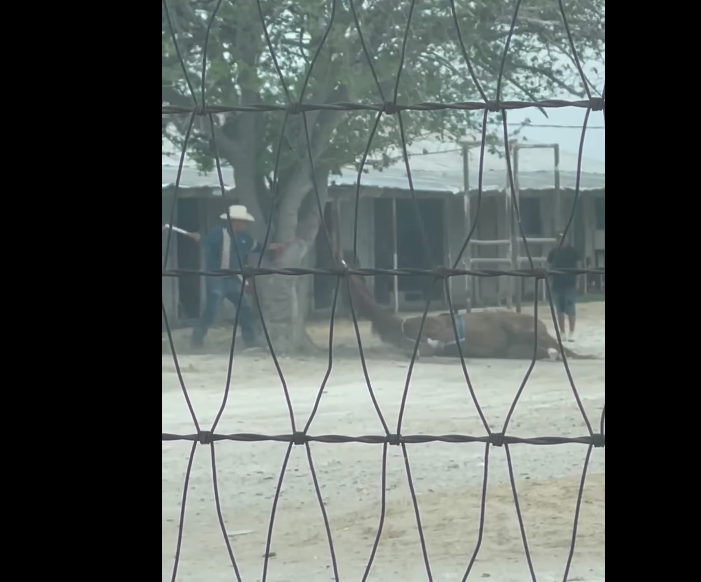 According to the authorities in Val Verde County, Sanchez is believed to have an estimated 15-17 horses that remain in his care. Please add your name to the petition as we fight to have these animals removed from Sanchez's care, in addition to the maximum sentence allowable by law for his animal cruelty charge(s). We will also be petitioning the Texas Racing Commission to permanently restrict Sanchez from training horses.
We the undersigned demand that Rodolfo Sanchez is held responsible for the unnecessary and cruel beating of this horse. We are petitioning for Sanchez to receive the maximum punishment allowable by law for the charge(s) stemming from this incident, in addition to a ban on his ability to train and/or work with animals in the future. We also want the horses currently in his care to be removed.
(There are conflicting reports about the identity of the horse beaten in the video. Some sources state that the horse is named Guapa, while others state that it is a filly named Fool for It. All sources state that the horse was removed by county officials and that he (or she) is alive and receiving care)
Note: Individuals are presumed innocent until found guilty in a court of law. Animal Victory relies upon the authorities and the court system to determine guilt or innocence.
News: 
Update 9/8/2022: One of Animal Victory's supporters is working to find a permanent sanctuary for the horse. She is also paying for the horse's care while he is housed in a safe undisclosed location until the horse can be transported to the sanctuary. Sanchez never filed a motion to get the horse back.
Update 6/22/2022: Animal Victory sent 15,326 signatures to District Attorney Susan West on 6/22/2022.
Update 6/09/2022: Animal Victory has learned that the sheriff's office was awarded custody of the horse on June 1; the horse is currently in the Waco area. Sanchez has until the 20th of this month to file a motion for the horse. The case will be handled in the Del Rio courts.
Update 5/20/2022: Animal Victory has sent 14,391 signatures to Chief Investigator Mike Fleming from the Texas Racing Commission, Sheriff Joe Frank Martinez, and Chief Wayne Bullard of Val Verde County Sheriff's department.
Maximum Sentence And A Ban From Training For Man Who Repeatedly Beat Downed Horse
15,597
signatures = 78% of goal
15,597
Perrie'Lee Prouty
No if and or buts REMOVE Sanchez from Texas Racing Commission ever being around animals esp. horses.
Sep 23, 2022
15,596
Sterling Long-Colbo
Sep 21, 2022
15,595
Jessica Swaysland
Sep 21, 2022
15,594
Nereida Alamo
Sep 17, 2022
15,593
Guisselle Martinez
Sep 17, 2022
15,592
Jay Rich
Sep 16, 2022
15,591
Suzanne Wiegand
Sep 16, 2022
15,590
Debbie Knight
Sep 15, 2022
15,589
Simone Maes
Sep 13, 2022
15,588
Carolyn Stasik
Temporarily suspended? Come on. I would bet my life that this is the not the only horse this 'trainer' is beating. He needs to be banned from being around horses everywhere. He is a disgusting coward.
Sep 12, 2022
15,587
Amy Penoyar
Sep 12, 2022
15,586
Bobbi Gray
Rot in hell
Sep 11, 2022
15,585
Jim Ham
Sep 11, 2022
15,584
Andrew Pagel
Sep 11, 2022
15,583
Carmen Verdugo
Sep 11, 2022
15,582
Judy Zoerman
Sep 10, 2022
15,581
Lisa Russell
Sep 10, 2022
15,580
Julie Crawford
Sep 10, 2022
15,579
Jennifer Warrow
Sep 10, 2022
15,578
Patricia McCracken
This man is an animal abuser/torturer and probably MURDERER. He does not deserve the privelege of ever having contact with any animal ever again. He must serve prison time for his actions.
Sep 10, 2022
15,577
Gail LeDuc
Tie him up and whip the daylights out of his Arse!
Sep 10, 2022
15,576
Maurizio Favaro
Sep 10, 2022
15,575
Kelly A Kalish
Sep 10, 2022
15,574
Helen Bialyj
Sep 10, 2022
15,573
Silvia Caligaris
Sep 10, 2022
15,572
Sarah Walker
The horse is probably dead from this wanker. Get a member of his family and beat them to death in front of him. Them kill him.
Sep 10, 2022
15,571
Bobby Fultz
Sep 09, 2022
15,570
Shelli Geary
Sep 09, 2022
15,569
Michelle Krueger
Sep 09, 2022
15,568
Jan Karpel
Sep 09, 2022
---