Maximum Punishment For Man Who Neglected Dog So Severely That She Chewed Her Leg Off!
Published: November 20, 2019 at 07:02 AM Author:
PENNY EIMS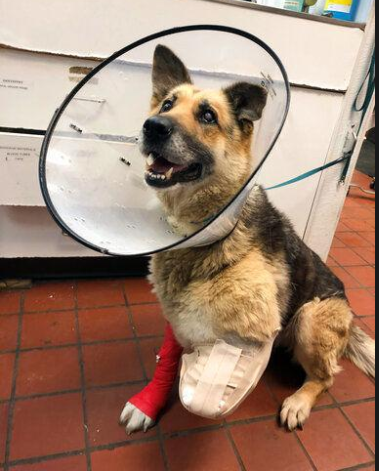 Exeter, New York – A dog in Exeter, New York, was so badly neglected that she resorted to chewing off her own leg. The German shepherd, named Zoe, was saved after a UPS driver noticed her suffering with a horrible injury outside in the snow.
According to the New York State Police, 59-year-old Carl K. Pritchard has been arrested and charged for Zoe's dismal condition.
Please join us in asking the Otsego County Prosecutor to hold Pritchard fully accountable for his actions. We want to see this man serve time in jail – probation or community service just won't do!
Imagine Zoe's feeling of hopelessness as she sat outside in the snow, with a leg so infected that she resorted to chewing it off. When the police arrived to Zoe's home, they found her staked in a yard, with only plastic crate for shelter. Zoe's food was covered in snow and her water was frozen.
German shepherds quite literally live for their people, yet Zoe's person cast her aside and left her to suffer. We want Carl K. Pritchard to pay for the pain that he inflicted on this innocent dog. If the UPS driver had not made a report, Zoe would have continued to suffer on the end of that chain until the day that her body could not go on any longer.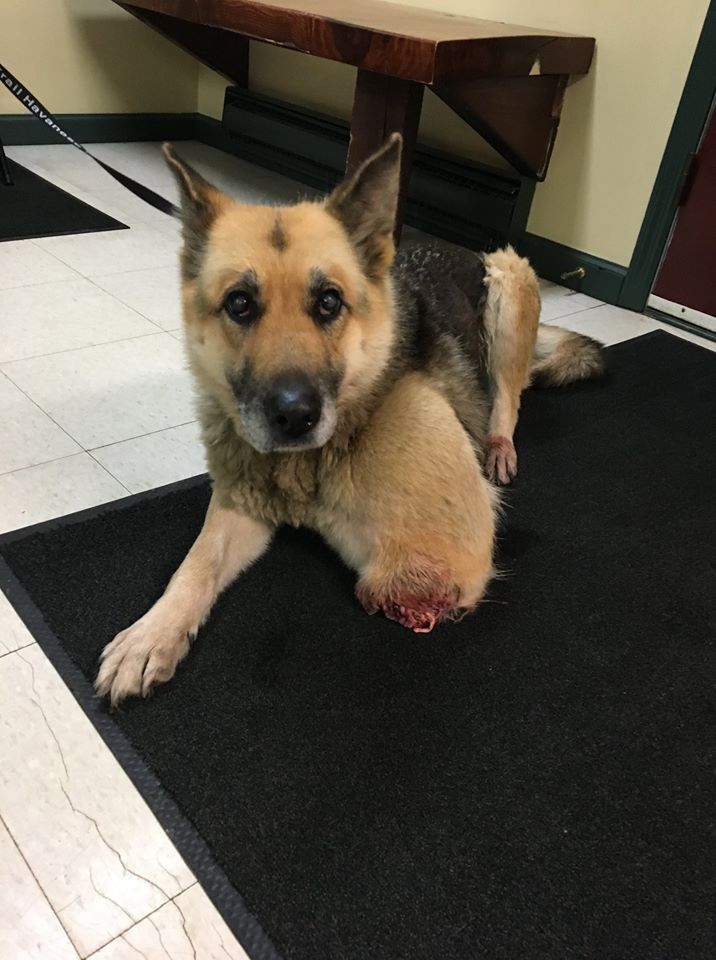 Dr. Joan Puritz at Oneonta Veterinary Clinic told the Post Star that the nine-year-old dog is emaciated, stating:
"She may not have been getting enough nutrition. The leg was probably injured and she was trying to take care of it herself."
She added:
"It breaks your heart. She's such a sweet dog."
Pritchard is charged with: Agriculture and Markets Law Agriculture and Markets Law overdriving, torturing and injuring animals; failure to provide proper sustenance (misdemeanor) and failure to provide appropriate shelter for dogs left outdoors (violation).
Please sign this petition! We want justice for Zoe.
(images via Susquehanna SPCA)
Suspects are presumed innocent until being found guilty in a court of law.
Final Update: In October, ADA Will Green advised Animal Victory that Prichard plead out to a class A misdemeanor of torturing an animal. We were disappointed to learn that he only received probation. ADA Green was unable to provide the details of the probation terms. Thank you to everyone who signed the petition and helped us fight for justice.
Update 9/29/20: Carl Pritchard's case was being handled by John Muehl, but it has been handed over to ADA Green. Muehl suggested a misdemeanor plea deal, with three years of probation. ADA Green is upholding Muehl's suggestion and will be pursuing this deal when court resumes. There is no court date assigned due to Covid.
Update 03/11/20: On March 2nd court was held. The prosecuting attorney has told us that a 59-year-old defendant with no prior criminal history is extremely unlikely to receive a sentence of imprisonment on his first misdemeanor conviction, even given the terrible consequence of this crime.  The prosecuting attorney is discussing a possible agreed-upon plea with the defense attorney, which will require the Defendant to admit to a misdemeanor and be placed under Probation Department supervision for three years.  The case has been adjourned until May 4th.  We will keep you updated.
02/18/2020: Read our letter to District Attorney John Muehl Here
Update 12/12/19: We have learned that Pritchard's case has been postponed for 4-6 weeks and that it is being reassigned to a new judge. We have sent one letter and 10,194 signatures to the NY State Police.  Please continue to Sign and Share!  Read our letter here.
Update 12/6/19: The case has been delayed by four to six weeks, and reassigned to a new court. Judge Stephen Meyer cited a conflict of interest due to a past encounter with Pritchard. Zoe has successfully undergone surgery to remove her leg entirely and she will be enjoying her new life on an Upstate New York farm with a new family.
* Individuals are presumed innocent until proven guilty in a court of law.
Animal-Protection-Laws-of-New-York-2020-Animal-Legal-Defense-Fund
Prior Signatures 12,056