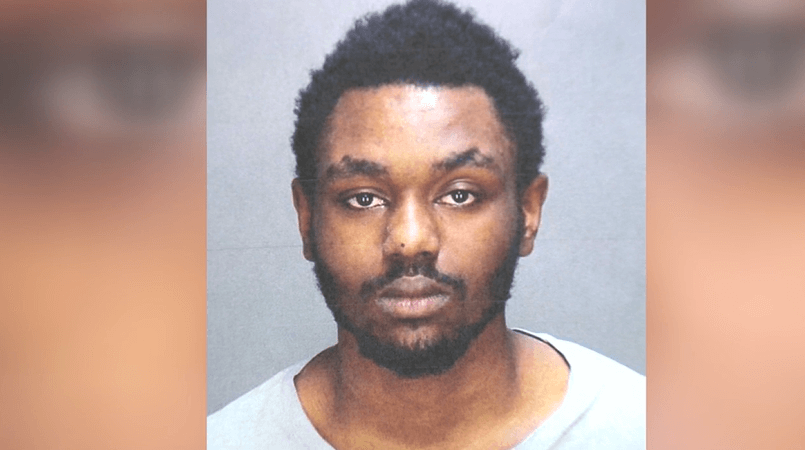 An 11-month-old French bulldog puppy is lucky to be alive. Her owner, 21-year-old Terrell Tomer of Utica, Michigan, abused her so badly that multiple bones in her body were broken.
Tomer's abhorrent behavior was discovered thanks to a neighbor's Ring camera which captured him hurling the helpless puppy multiple times in his yard. When police investigated, they found the puppy, named Nugget, with broken bones throughout her body. Tomer was arrested and he is now facing a felony animal cruelty charge which could land him behind prison bars for 10 years.
Please sign the petition today to help convince court officials that Terrell Tomer must receive the maximum sentence AND be prohibited from owning a pet ever again.
The Utica Police Department believes that Nugget was subjected to abuse for a long time. Sean Coady, Chief of the Utica Police Department, detailed her injuries, "Multiple jaw fractures, skull fracture, spine damage, rib fractures — rear legs. As well as a pelvic fracture."
If Terrell Tomer's neighbor had not submitted the Ring video footage, showing Nugget being repeatedly thrown through the air, she may have died. At the very least, she suffered horribly with her multitude of severe injuries.
Nugget is safely out of this man's care, and she is expected to recover, but we must ensure that Tomer never does this to another animal again! Please add your name to the petition today to help us convince court officials that a plea deal can't be considered. Terrell Tomer must receive the maximum sentence for his felony charge of animal torture!
Watch the Ring video at this link to Fox 2 Detroit News.
News:
Individuals are presumed innocent until proven guilty in a court of law.
Update 8/12/2021: Animal Victory has learned that court is scheduled on 09/07/2021
Update 5/11/2021: Animal Victory sent 19,501 signatures to Prosecutor Gartin. READ PETITION LETTER.
PRIOR SIGNATURES : 19581
Man Repeatedly Threw Puppy, Breaking Multiple Bones In Her Body
1,552
signatures = 10% of goal
1,552
Krystal Fletcher-Burroughs
Sep 21, 2021
1,551
Anonymous
Sep 19, 2021
1,550
Bret Tyrey
Sep 19, 2021
1,549
Georgia Aragon
I hope some big bullies in prison beat him up and break a few major bones so he will know how it feels !!!
Sep 18, 2021
1,548
Teri Paszotta
We need tougher laws, more judges with balls to hand down stiffer sentences & justice to those affected by sick abusers of animals in our communities. It's going on in your city and those that prey on the most vulnerable are WEAK COWARDS & THE LOWEST, POOREST EXCUSE OF BEINGS WALKING THIS EARTH!
Sep 17, 2021
1,547
Yiota Nicolaidou
Sep 15, 2021
1,546
Ann Freeman
Sep 15, 2021
1,545
Nancy Paskowitz
Sep 14, 2021
1,544
Yvonne Wayne
Sep 14, 2021
1,543
KONSTANTINOS STAMOS
Sep 14, 2021
1,542
Debbie Westerkamm
Sep 14, 2021
1,541
mae young
Sep 12, 2021
1,540
Trina Garcia
Sep 12, 2021
1,539
Inna Stalinsky
Sep 11, 2021
1,538
Armella Feil
Sep 11, 2021
1,537
Andrea Sebastian
Sep 11, 2021
1,536
Josefiina Seppälä
Sep 11, 2021
1,535
Linda Steininger
Sep 11, 2021
1,534
Christine Rigney
Sep 10, 2021
1,533
Kathy Haverkamp
Sep 10, 2021
1,532
geno j Berchem
Sep 10, 2021
1,531
Shelly Berchem
Sep 10, 2021
1,530
mary peplinski
Sep 09, 2021
1,529
Jennifer Smyth
Sep 09, 2021
1,528
Stefanie E.
Sep 09, 2021
1,527
Vicki Gruman
Sep 09, 2021
1,526
Elaina Valzania
Sep 08, 2021
1,525
Dodie Harrison
Sep 08, 2021
1,524
Tammy Bradford
Sep 08, 2021
1,523
Clare Chaffey
Sep 08, 2021
PRIOR SIGNATURES : 19581
---