Lufkin, Texas – On June 22, a man in Lufkin, Texas, was arrested and charged with felony animal cruelty after authorities in Angelina County viewed a viral video showing him repeatedly whipping a screaming dog.
The man identified in the video is Lorenzo Johnson.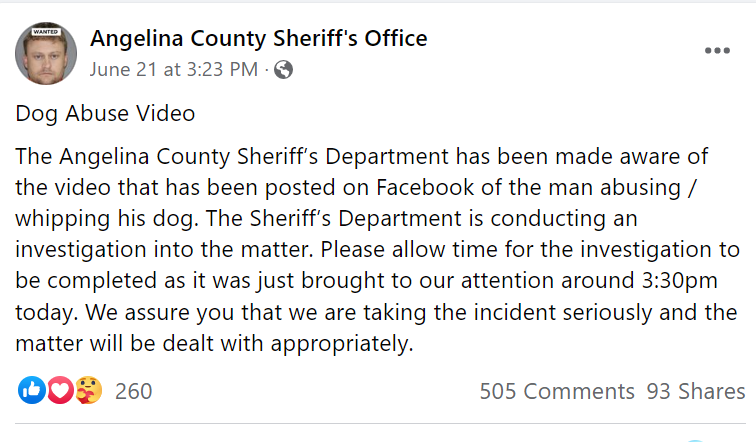 The video footage sparked outrage among everyone who watched as Johnson whipped a screaming dog again and again outside of his residence at the Pine Valley trailer park.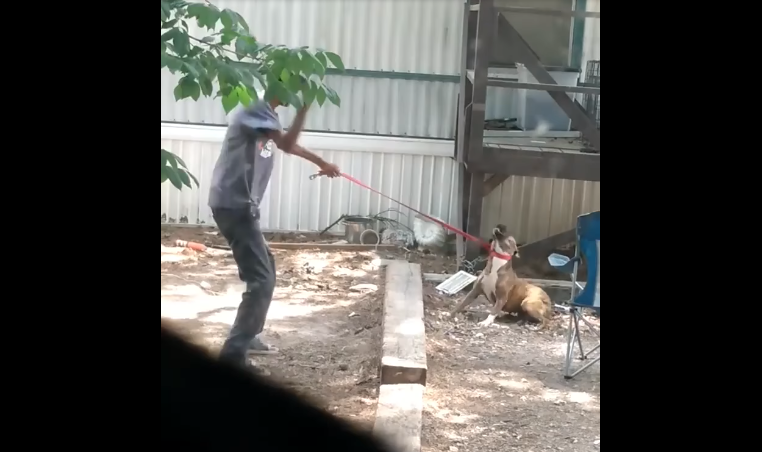 Taryn Cantu, who filmed the dog being whipped, tells the Lufkin Daily News that she had witnessed abuse at the property in the past, but the police "couldn't do anything." When she heard dogs crying last week she reported the abuse to the police and then captured a video so the authorities could take action.
Lorenzo Johnson has been hurting dogs for too long and we need your signature today to ensure that he finally faces punishment. Please add your name to the petition as we fight for the permanent removal of these dogs, the maximum sentence for the felony animal cruelty charge, and a ban on pet ownership in the future.
We the undersigned demand that Lorenzo Johnson is held responsible for the abhorrent abuse of his dogs.  We are petitioning for Johnson to receive the maximum punishment allowable by law for the felony animal cruelty charge, in addition to being prohibited from owning or residing with animals in the future.
Video on Twitter below:
Update 8/5/2022: Animal Victory has been in touch with the prosecutor's office. They have confirmed an investigation is still ongoing. Once it is completed the law enforcement agencies conducting the investigation will turn everything over to the DA's office which will be reviewed and sent out for an indictment by the grand jury; which meets once a month. The dogs have been surrendered. They are currently safe, in an undisclosed location.
Update: 7/7/2022: Animal Victory has sent 15,225 signatures along with our petition letter to  Honorable Judge Donnie Puckett, Sheriff Greg Sanches, and Assistant DA Megan Ferguson.
Update 7/02/2022: The sheriff's department has confirmed that the dogs were returned to Johnson after he posted the $7,000 bond. In a news conference, Sheriff Greg Sanches stated that it was ultimately the judge's decision to return the dogs to Johnson and he urged those concerned to "respect the process." Animal Victory will continue to petition for these dogs to be permanently removed from Johnson's custody and for charges! We are as outraged as you are and we will be sending the petition (and your comments) to Judge Donnie Puckett at P. O. Box 150423, Lufkin, Texas 75915-0423
Update 6/30/2022: After the publication of this petition, Animal Victory has received information indicating that the charges against Lorenzo Johnson have been dropped and the dogs have been returned. We are waiting for confirmation of this information. If this is true, Animal Victory intends to continue petitioning for charges to be reinstated and the dogs to be permanently removed from Johnson's possession. 
Note: Individuals are presumed innocent until found guilty in a court of law. Animal Victory relies upon the authorities and the court system to determine guilt or innocence.
News:
Lufkin Daily News (interview with woman who captured video)
Man Faces Felony Animal Cruelty After Viral Video Captures Him Repeatedly Whipping Dog
16,087
signatures = 80% of goal
16,087
Deborah Fobes
Aug 07, 2022
16,086
Paula Berry
Aug 07, 2022
16,085
Francoise Raath
Aug 07, 2022
16,084
Judy Bufkin
Aug 07, 2022
16,083
karin schmitz
Aug 06, 2022
16,082
Ernesto Meloni
Aug 06, 2022
16,081
Anonymous
Aug 06, 2022
16,080
Douglas Hauge
Aug 06, 2022
16,079
Maj Ylimys
Aug 06, 2022
16,078
Nathalie Menu
pourriture faut te faire la meme chose en taule
Aug 06, 2022
16,077
Kim Hilt
Aug 05, 2022
16,076
Pearl Raikin
Aug 05, 2022
16,075
Micky DITSCH
Aug 05, 2022
16,074
Christina Browder
He should never be allowed to own any animals and should have to clean up at kennels for rest of his life...
Aug 05, 2022
16,073
Marion Dixon
Aug 05, 2022
16,072
Ana Carolina Casey
Put this animal abusers in prison now is a federal law . Horrible monsters !!
Aug 05, 2022
16,071
Judy Gleffe
The dogs were returned to this monster if you can believe it. Animal welfare, the police and the judge are all useless. I personally called each of them and they didn't care to take the dogs to safety. Sick people!
Aug 05, 2022
16,070
Mey Lemba
Aug 04, 2022
16,069
Louise Clayton
Aug 04, 2022
16,068
miracle kelly
The only way to STOP ANIMAL ABUSERS is to EUTHANIZE THEM, plain and simple!!
Aug 03, 2022
16,067
Amy Garcia
Aug 03, 2022
16,066
Anonymous
not to ever get the animals back .. never to own another one .. he is not stable .. a f----- coward .. the laws to to strick on this s--- .. it happens to much .. it will never end if our system does not make changes ... MAKE CHANGES .. he will never see these dogs again is a good starter ..
Aug 03, 2022
16,065
Debi Bonanno
Aug 03, 2022
16,064
JENNY Brown
Aug 02, 2022
16,063
Donna Mcilrath
Aug 02, 2022
16,062
Jane Ryan
Please do not allow this intentional animal cruelty to go unpunished.
Aug 02, 2022
16,061
Anonymous
Aug 02, 2022
16,060
Jonnie Garrett
Aug 02, 2022
16,059
Vicki Garrett
Aug 02, 2022
16,058
karen spinner
Aug 02, 2022
---