Man Faces Felony Animal Cruelty After Viral Video Captures Him Repeatedly Whipping Dog
Published: June 28, 2022 at 12:29 PM Author:
PENNY EIMS

Lufkin, Texas – On June 22, a man in Lufkin, Texas, was arrested and charged with felony animal cruelty after authorities in Angelina County viewed a viral video showing him repeatedly whipping a screaming dog.
The man identified in the video is Lorenzo Johnson.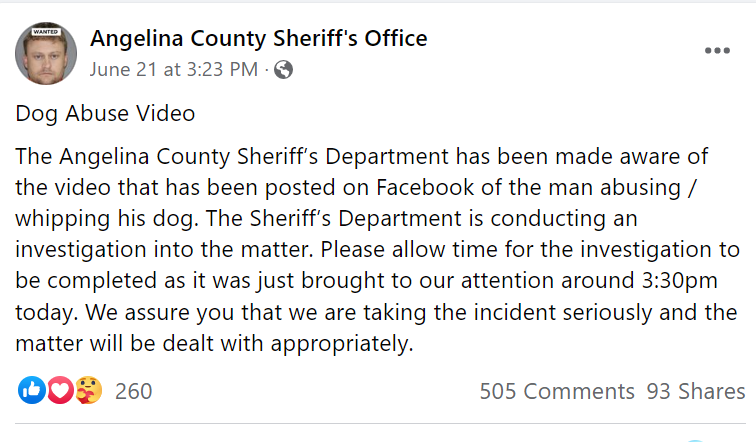 The video footage sparked outrage among everyone who watched as Johnson whipped a screaming dog again and again outside of his residence at the Pine Valley trailer park.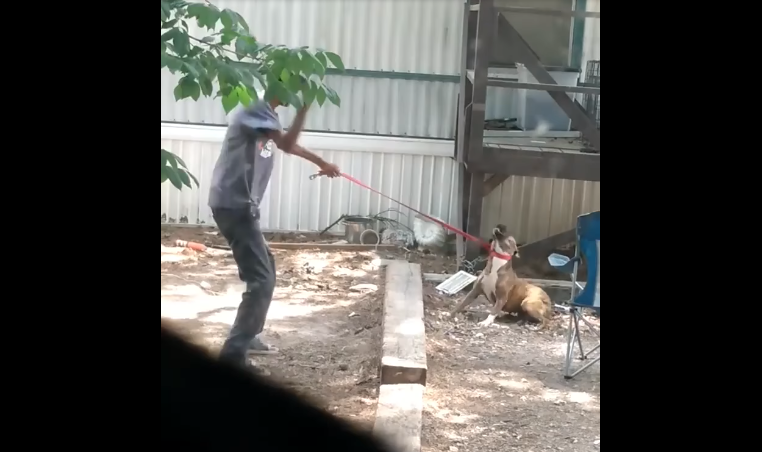 Taryn Cantu, who filmed the dog being whipped, tells the Lufkin Daily News that she had witnessed abuse at the property in the past, but the police "couldn't do anything." When she heard dogs crying last week she reported the abuse to the police and then captured a video so the authorities could take action.
Lorenzo Johnson has been hurting dogs for too long and we need your signature today to ensure that he finally faces punishment. Please add your name to the petition as we fight for the permanent removal of these dogs, the maximum sentence for the felony animal cruelty charge, and a ban on pet ownership in the future.
We the undersigned demand that Lorenzo Johnson is held responsible for the abhorrent abuse of his dogs.  We are petitioning for Johnson to receive the maximum punishment allowable by law for the felony animal cruelty charge, in addition to being prohibited from owning or residing with animals in the future.
Video on Twitter below:
Update 7/31/2023: Animal Victory sent cover letter and petition to the judge. 
Update 8/5/2022: Animal Victory has been in touch with the prosecutor's office. They have confirmed an investigation is still ongoing. Once it is completed the law enforcement agencies conducting the investigation will turn everything over to the DA's office which will be reviewed and sent out for an indictment by the grand jury; which meets once a month. The dogs have been surrendered. They are currently safe, in an undisclosed location.
Update: 7/7/2022: Animal Victory has sent 15,225 signatures along with our petition letter to  Honorable Judge Donnie Puckett, Sheriff Greg Sanches, and Assistant DA Megan Ferguson.
Update 7/02/2022: The sheriff's department has confirmed that the dogs were returned to Johnson after he posted the $7,000 bond. In a news conference, Sheriff Greg Sanches stated that it was ultimately the judge's decision to return the dogs to Johnson and he urged those concerned to "respect the process." Animal Victory will continue to petition for these dogs to be permanently removed from Johnson's custody and for charges! We are as outraged as you are and we will be sending the petition (and your comments) to Judge Donnie Puckett at P. O. Box 150423, Lufkin, Texas 75915-0423
Update 6/30/2022: After the publication of this petition, Animal Victory has received information indicating that the charges against Lorenzo Johnson have been dropped and the dogs have been returned. We are waiting for confirmation of this information. If this is true, Animal Victory intends to continue petitioning for charges to be reinstated and the dogs to be permanently removed from Johnson's possession. 
Note: Individuals are presumed innocent until found guilty in a court of law. Animal Victory relies upon the authorities and the court system to determine guilt or innocence.
News:
Lufkin Daily News (interview with woman who captured video)
Prior Signatures 16,558