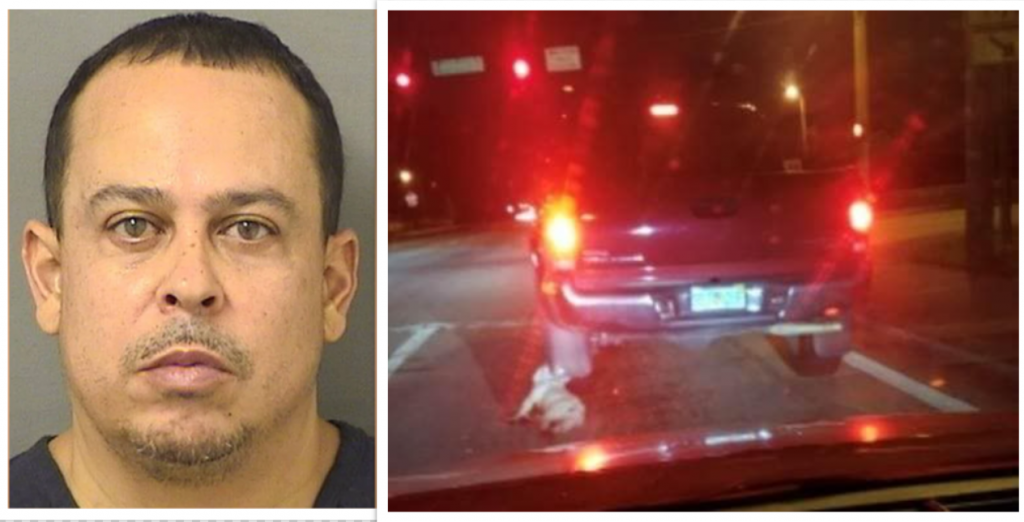 Palm Beach County, Florida – On October 9, a witness observed a horrifying situation; a red truck traveling eastbound on Lantana Road was dragging a white bulldog mix who was tethered to the pickup. The helpless dog was spinning on the asphalt, leaving chunks of her flesh on the road.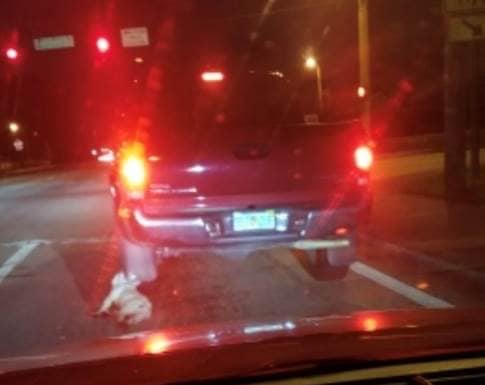 The good Samaritan was able to catch the attention of the driver, who has been identified as 45-year-old Lisandro Arellano. When the man stopped his truck the witness confronted him, hopeful that the horrifying situation was some type of tragic mistake.
But Arellano's actions after stopping are nothing short of heartwrenching, and utterly appalling; the man was not shocked, distraught, or apologetic. According to the Palm Beach County Sheriff's Office, he "picked the dog up off the ground and threw her in the bed of his truck then drove off."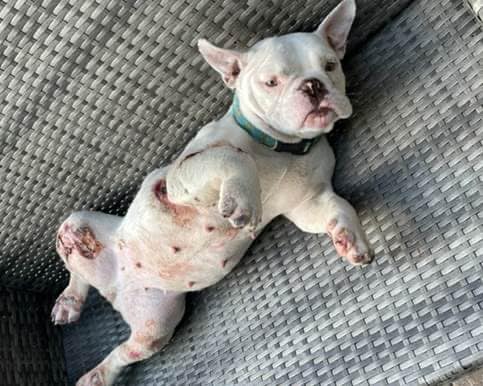 Thanks to the quick-thinking witness, who got a photo of the truck's license plate, the police were able to track Arellano down and arrest him for aggravated animal cruelty to animals. The dog, named Blanco, was turned over to animal control for care, and Arellano was taken to jail, currently facing two animal cruelty charges. Jail records show that he was released on a $3,000 bond on Monday.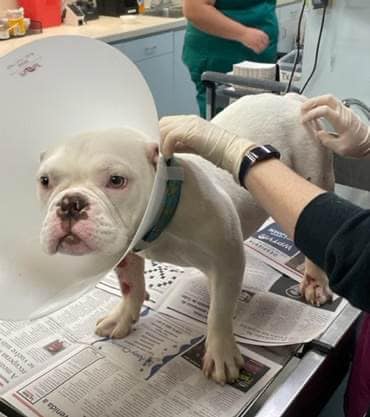 *Blanco does not belong to Arellano. According to the authorities, she belongs to a family member that entrusted him with watching her. She suffered severe lacerations but IS expected to recover.
If you are as appalled by Lisandro Arellano's actions as we are, please add your name to the petition!
We the undersigned demand that Lisandro Arellano be held accountable for dragging this innocent dog behind a moving truck. We are petitioning for Arellano to face the maximum sentence for Aggravated Animal Cruelty and Cruelty towards animals, in addition to a lifelong ban from animal ownership. It is our firm belief that animal abusers must be held accountable for their actions.
Note: Individuals are presumed innocent until they have been found guilty in a court of law. Animal Victory relies upon the authorities and the court system to determine guilt or innocence.
News:
Man Dragged Dog Behind Truck And Then Threw Her Into The Bed Of The Truck When Confronted
20,272
signatures = 101% of goal
20,272
Marita Nuque
The evil perp must be committed to a mental institution.
Dec 01, 2022
20,271
Juveleene Velez
Dec 01, 2022
20,270
Haley Marino
Dec 01, 2022
20,269
Lisa Ramey
He better ban from owning any pets period!
Dec 01, 2022
20,268
Sabine Klemann
Dec 01, 2022
20,267
Donna Oliver
Dec 01, 2022
20,266
Connie Carrico-Howard
Dec 01, 2022
20,265
Julie Lyall
This worthless piece of sh*t needs to spend the rest of his life in prison.
Dec 01, 2022
20,264
Lynda Callista
Dec 01, 2022
20,263
Arielle Wolff
Nov 30, 2022
20,262
Tommie Hall
Do the same to him. I will drive.
Nov 30, 2022
20,261
John Robertson
Nov 30, 2022
20,260
Kara Harms
Drag this guy to death.
Nov 30, 2022
20,259
Laura Alarcon
Castigo para el y que nunca en su vida pueda tener un anima para aserle daño
Nov 30, 2022
20,258
sheri lane
Nov 30, 2022
20,257
Mary Lanis
Nov 29, 2022
20,256
Elizabeth Sullivan
Prosecute this to the fullest and disallow future animal contact. Also, the dog should not be returned to the owner who left her in the custody of a psychopath, without a full interview and evaluation.
Nov 29, 2022
20,255
Lucy Begun
Justice
Nov 29, 2022
20,254
Rita Jesswein
This sadistic scum must be punished harshly!! Prison for at least a year!! Banned from having any animals and a record!! Plus the cost of care of that precious innocent dog!
Nov 29, 2022
20,253
Debra Emery
Nov 29, 2022
20,252
Rosalina Castro
Nov 29, 2022
20,251
Paula Woodley
Nov 29, 2022
20,250
Sharon Stanway
Jail this piece of shit!!
Nov 29, 2022
20,249
Jennifer Morales
Nov 29, 2022
20,248
Donna Harris
May this sub-human be prosecuted to maximum extent of the law. DH Harris
Nov 29, 2022
20,247
Nancy Dority
Nov 29, 2022
20,246
Scott Kirsch
Nov 29, 2022
20,245
Kelly Argiros
Monster please punish him to set example for other cruel people.
Nov 29, 2022
20,244
Laura Mcfadden
Piece of shit! Throw his ass in jail!
Nov 29, 2022
20,243
Denise Berthiaume
Nov 29, 2022
---