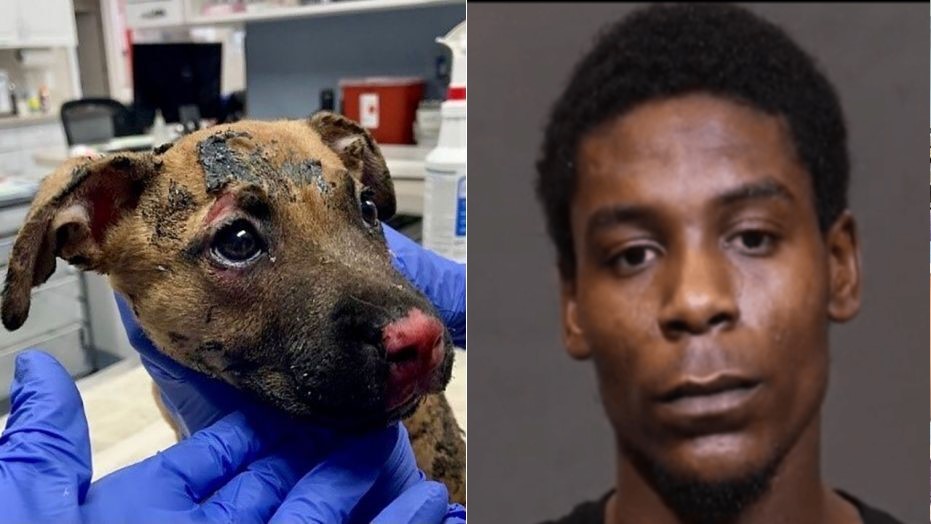 On October 11, a puppy with black plastic melted into her back, was discovered in Walnut Hill Park on the East side of Columbus, Ohio. Days later, investigators were led to Ra'shae Syrtaj Jermaine Johnson, who confessed to setting a plastic crate, with the puppy inside, on fire.
Johnson is facing a fifth-degree felony and we want to see him receive the maximum punishment for this abhorrent act of cruelty! Please add your name to the petition today.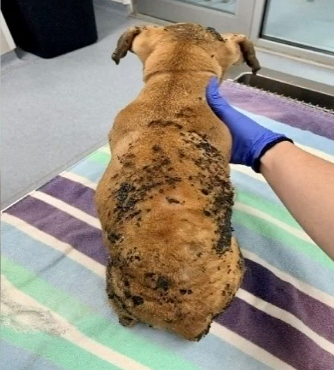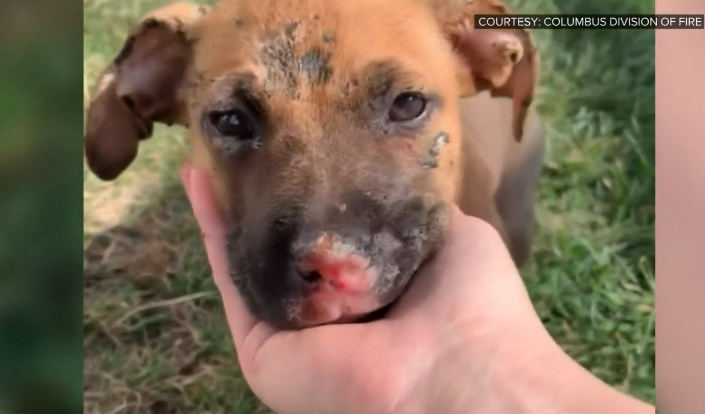 This innocent puppy could have died because of Ra'shae Syrtaj Jermaine Johnson's actions. Thankfully she was found and treated for her burn injuries – and she is alive today, despite Johnson's despicable act of cruelty.
Investigator Mike DeFrancisco, with the Columbus Division of Fire, told WKYC News, "As fire investigators, this is heart-wrenching and sickening for us. We see a lot of bad things on a daily basis, but this has cut a lot of our people to the core."
Johnson is charged with "Provisions Concerning Companion Animals" which is a fifth-degree felony. Please add your name to the petition so that Ohio Attorney General Dave Yost or other officials prosecuting this case know that the public cares about animal cruelty crimes and that we demand stiff punishment!
News:
Note: The puppy, dubbed Korra, has already been adopted and she is recovering well from her burn injuries.
* Individuals are presumed innocent until proven guilty in a court of law.
Update 7/08/2021: Victory!! Johnson has been sentenced to three years in prison and he is prohibited from owning or caring for a companion animal for 20 years. We want to thank everyone who signed this petition – because of your support, the prosecuting attorney was able to secure a strong sentence!!
Please read the email that Animal Victory received today from Cory Helffrich, Assistant Prosecuting Attorney:
Subject: RE: Petition for maximum punishment for Ra'shae Syrtaj Jermaine Johnson
Hi Ms. Babington,
I wanted to follow up with you on the Ra'Shae Johnson sentencing case. He was sentenced to 3 years in prison today for burning the puppy in a crate. In addition to the prison sentence, he was prohibited from owning or caring for a companion animal for twenty years, ordered to pay restitution, register for life as an arson offender, and ordered to pay restitution to the animal hospital who cared for the dog after her injuries.
The petition you sent to us certainly helped us achieve this sentence today, as I relied upon it during my argument. Thank you for your dedication to this case, and to animals in general.
Please let me know if there's anything else I can ever help you with.
Thank you.
Cory Helffrich
Update 6/9/2021: Animal Victory has learned that Johnson pled guilty to all charges. His sentencing hearing is scheduled for July 8 at 9 a.m. At sentencing, Johnson could face up to six years of jail time, with the possibility of up to $25,000 in fines. PETITION LETTER
Update 5/24/2021: Animal Victory has learned that court is scheduled for June 7, 2021.
Update 4/16/2021: Animal Victory has learned that the public defender withdrew from this case on 4/15/21. Ra'shae Syrtaj Jermaine Johnson now has his own attorney, but a court date for trial has not been set. If you haven't signed the petition yet, please do!
Update 3/25/2021: Trial continues to April 14, 2021. Animal Victory will keep you posted.
Update 1/14/2021: The prosecutors on this case are: Mark Wodarcyk, Heather Robinson, and Cory D. Helfrich.
Johnson is facing charges of Arson, Open Burning/Dumping, and PROHIB CONCERNING COMPANION ANIMALS – he has entered not guilty pleas for all charges.
Update 11/11/2020: Read our letter to Columbus Ohio City Prosecutor Zach Klein