Paulding County, Georgia – A Georgia man is facing felony charges for running a sadistic dogfighting operation. According to a news release from the Paulding County Sheriff's Office, 55-year-old Vincent Lemark Burrell was arrested at his residence in Dallas, Georgia, on November 8 following a lengthy investigation that ties him to breeding, training and facilitating more than 100 dogs for dog fighting.
After securing search warrants, detectives found 106 dogs, mostly pit bulls, at Burrell's 1040 Old Cartersville Road residence. According to the authorities, the dogs were in various "states of existence." Some dogs were emaciated, and others were described as "strong and extremely aggressive toward other dogs."
The news release describes the pitiful existence the dogs were forced to endure:
Dogs were tied to trees, tied to metal stobs in the ground, and were kept without being properly hydrated and fed. These animals were tied to various things using large and extremely heavy logging chains and thick collars.

Many of these dogs were basically left in the elements with little to no shelter for days on end.
They continue:
Some of the dogs were housed in the basement of the home where the presence (along with the odor) of urine and feces was so strong, authorities had to wear protective equipment just to be able safely enter the home.

Conditions where dogs were being housed, both inside and on the exterior of this property, were not fit for humans, much less dogs.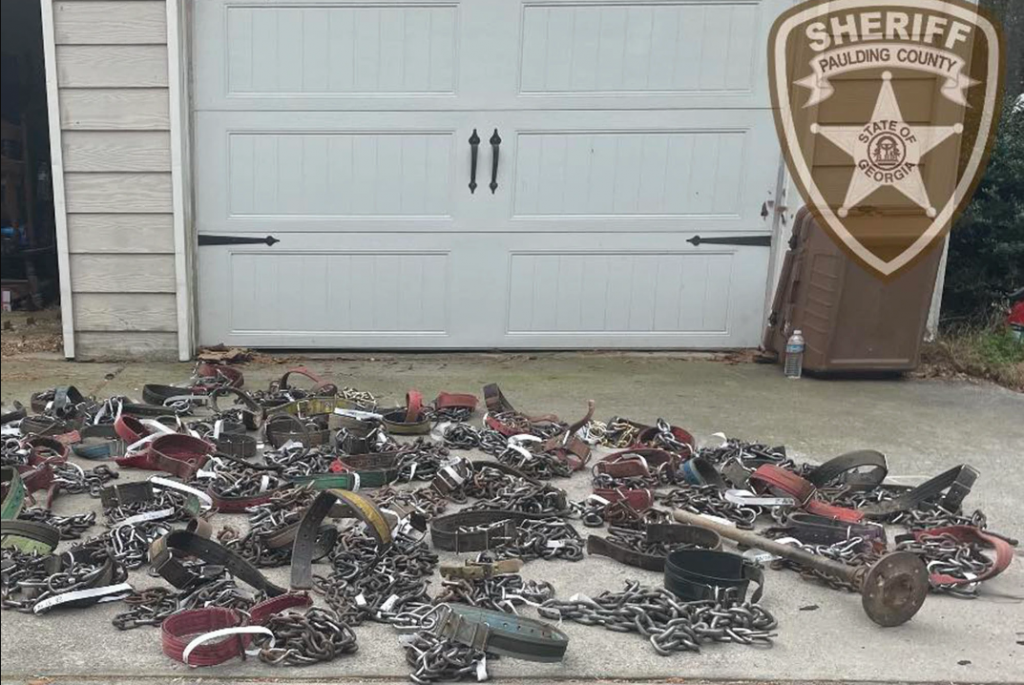 Sheriff Gary Gulledge commented on the cruel situation:
"In cases like these, we have to conduct a lengthy and thorough investigation. This is not something that we can just put together in a few days, cases like these are comprehensive and require us to work with many local, state, and federal entities. I am proud of the teamwork that has been exhibited in this case and I am thankful that these dogs are safe now. The dark and sinister world of dog fighting is a despicable culture that has no place in our world"

Individuals who participate in dogfighting activities do not care about the pain and suffering they inflict on the animals who are earning them money. The dogs who are maimed in fights rarely receive treatment for their wounds – in fact, it is common for the injured dogs to either be left to suffer or to be destroyed. Despite the abhorrent conditions these dogs are forced to endure, most somehow manage to maintain their sweet demeanor. The authorities said that the dogs found at Burrell's property were seeking kindness. The authorities said, "The sad part is that the vast majority of these animals just craved the love and attention of the Deputies and Detectives that were on the scene."
Of note, from the sheriff's office: Burrell is currently being held in the Paulding County Jail without bond. Although this investigation is still in its infancy, we expect over one hundred additional counts against Burrell as this case continues to unfold. All of the dogs were placed with rescue agencies in order to facilitate their rehabilitation.
If you are as sickened by dogfighting as we are, please add your name to the petition today! Countless dogs suffered because of Vincent Burrell's despicable operation and they deserve justice.
We the undersigned demand that Vincent Lemark Burrell is held responsible for his part in this sadistic dogfighting operation. We are heartbroken by the conditions these dogs had to live in, and appalled by the brutal acts they were forced to do. Animal Victory and its supporters are petitioning for Burrell to receive the maximum punishment allowable by law for his felony charges of Cruelty to Animals and Dog Fighting (as well as for each and every anticipated charge yet to be made), in addition to a lifelong ban from animal ownership. It is our firm belief that animal abusers must be held accountable for their actions and that the punishment must be sufficient to deter them from engaging in further criminal activity.
Note: Individuals are presumed innocent until they have been found guilty in a court of law. Animal Victory relies upon the authorities and the court system to determine guilt or innocence.
News:
Man Arrested And 106 Dogs Rescued After Sadistic Dogfighting Operation Discovered
15,511
signatures = 78% of goal
15,511
Iris Martin
He has done this for decades, do you really think that he is going to stop? He will keep doing this unless you throw the book at him. I hope you do.
Dec 01, 2022
15,510
Carol Warren
Dec 01, 2022
15,509
Marie Brabant
Dec 01, 2022
15,508
Sabine Klemann
Dec 01, 2022
15,507
Justin Wildman
Dec 01, 2022
15,506
Louise Cassel
Dec 01, 2022
15,505
Stéphanie Rossenu
Dec 01, 2022
15,504
Gillian Franks
Dec 01, 2022
15,503
William Longsworth
Eye for an eye; throw him to the dogs.
Dec 01, 2022
15,502
Csrmel Taylor
Dec 01, 2022
15,501
Frances L Thomas
Sick of people abusing innocent animals
Dec 01, 2022
15,500
Julie Lyall
This man needs to spend the rest of his life in prison.
Dec 01, 2022
15,499
Tracie B
Prosecutors and Judy: please do your job well. Max sentence / punishments allowable for this criminal. Make sure you deter him and others from ever doing anything like this again and never ever allow him to be around any animal ever again. Enforce or meaningful laws. We value them and abide by them. That's why we have them. Please do the right thing all the way through.
Dec 01, 2022
15,498
Lisa Utter
Nov 30, 2022
15,497
Darlene Rollings
Nov 30, 2022
15,496
Andrea Conrad
Nov 30, 2022
15,495
Tommie Hall
Let the dogs fight him. Then jail for life.
Nov 30, 2022
15,494
John Robertson
Nov 30, 2022
15,493
Sandra DeRoth
Nov 30, 2022
15,492
Dan Horton
LOSER!!! Lock him up throw away the key!!
Nov 30, 2022
15,491
Deanna Horton
he doesn't deserve to live on this earth!
Nov 30, 2022
15,490
Erika Agnew
Nov 30, 2022
15,489
Emilia Muntean
Nov 30, 2022
15,488
Anaïs Verschueren
Nov 30, 2022
15,487
Brenda Barnes
Nov 30, 2022
15,486
Grendel Tirado
Nov 30, 2022
15,485
shelly jones
Nov 30, 2022
15,484
sheri lane
Nov 30, 2022
15,483
shelley crow
What a piece of shit !
Nov 30, 2022
15,482
Sarah McAvoy
Nov 30, 2022
---