Man Arrested After Video Captures Him Repeatedly Throwing Cat Into Air, Submerging Her In Pool
Published: July 21, 2022 at 09:02 PM Author:
PENNY EIMS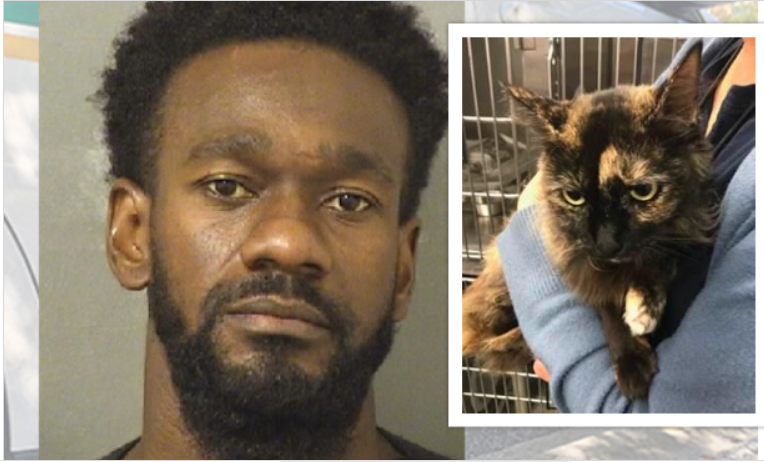 Palm Beach, Florida – A grown man targeted a small, defenseless cat to torture and abuse, and a video of the disturbing incident resulted in his arrest and animal cruelty charges. On Thursday, July 21, the Palm Beach Sheriff's Office identified 39-year-old Loty Lamour, of Boca Raton, as the man who repeatedly threw a cat high into the air over a pool.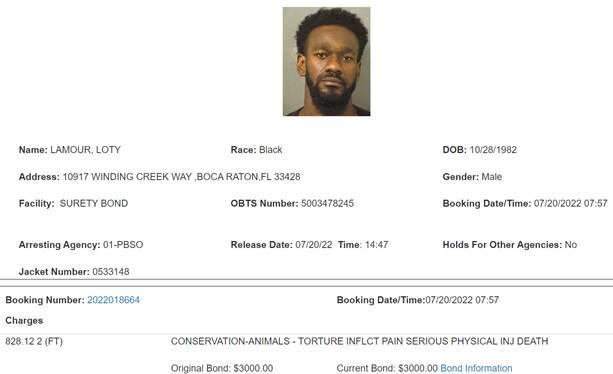 According to the authorities, a video showed Lamour throwing the cat high into the air over a pool – the same video showed the cat submerged in the water and struggling to get out. The video footage led the authorities to obtain a search warrant and seize the cat, named Coco, from his possession.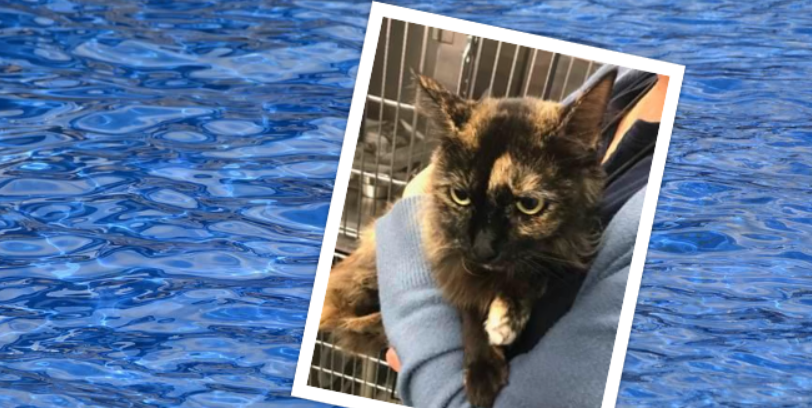 Coco survived the abuse, but not without harm. A veterinarian stated that she suffered respiratory impairment and "excessive and repeated pain and suffering."
Lamour's actions are abhorrent and this animal cruelty case must be taken seriously. In a release, PETA states:
The FBI has identified cruelty to animals as a sign of psychopathy, a red flag indicating a high risk for committing future acts of violence that pose a danger to the entire community, as evidenced by the history of animal torture and abuse that has been linked to every serial killer and school shooter. 
Please add your name to the petition as we fight for justice on behalf of this innocent cat who was tortured and harmed by Loty Lamour, and stand with us as we attempt to prevent an animal abuser from harming someone else in the future.
We the undersigned demand that Loty Lamour is held responsible for inflicting harm to a cat named Coco. We are petitioning for Lamour to receive the maximum punishment allowable by law for the charge of aggravated animal cruelty, in addition to a permanent ban from owning or residing with animals.
From the PBSO on July 21: Coco is available for adoption and in need of a loving home. If interested, please contact Palm Beach County Animal Care and Control at (561) 233-1200.
Note: Individuals are presumed innocent until found guilty in a court of law. Animal Victory relies upon the authorities and the court system to determine guilt or innocence.
News:
Update 12/09/2022: Case closed, it states nol pros, the court document states that the defendant was given 20 hrs of community service, 8 hours of animal cruelty prevention class, and was ordered to surrender all animals.
Update 9/26/22: During the court hearing that took place on September 19, the defendant entered a guilty plea. The charges were dropped down to a misdemeanor. Sentencing is scheduled for November 21, 2022, at 8:30 a.m. 
Update 9/13/2022: The charges were dropped from felony to misdemeanor. The case disposition hearing is scheduled for September 19, 2022. 
Update 9/7/2022: Animal Victory has sent 14,819 signatures to Prosecuting Attorney 
Lamour_ Loty Lamour_ Loty Hearing Notice
Prior Signatures 15,292