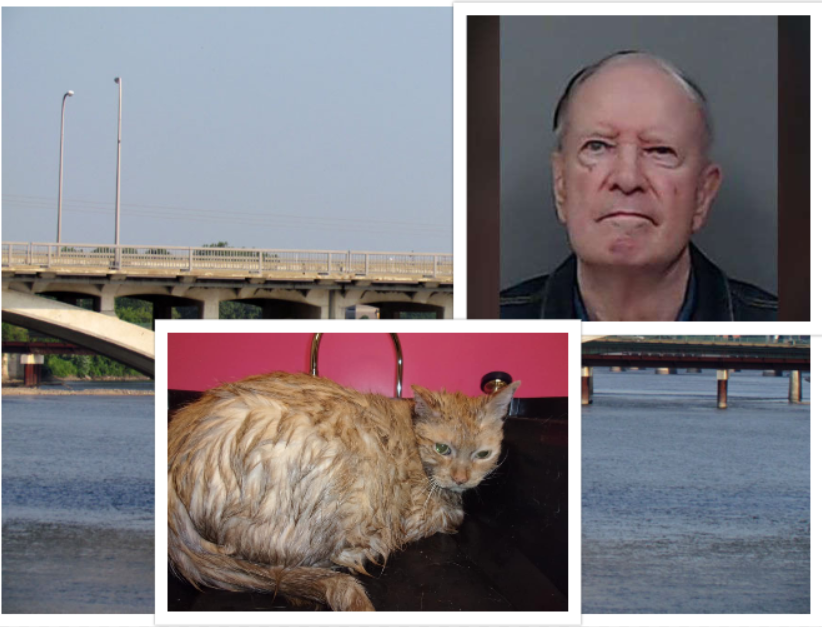 Cedar Rapids, Iowa – An Iowa man is facing charges for allegedly shaking a cat out of a carrier, and into the Cedar River. The Cedar Rapids Police Department has identified 86-year-old Lloyd Wallace Baird as the man who shook the cat out of the carrier from the 3rd Avenue Bridge and into the Cedar River on May 10.
Baird is charged with Animal Abuse, an aggravated misdemeanor. Please sign the petition today to hold Lloyd Baird fully accountable for his cruel actions!
According to the police, Lloyd Wallace Baird not only dumped his cat into the river, he lied about it. In a release, the Cedar Rapids Police stated that Baird came to the police station and asked if his cat had been found, he then told them that his cat "panicked and jumped in the water" after he stopped to show the feline the river. The authorities stated that Baird, "denied intentionally throwing the cat into the river."
But Baird's story didn't hold water based on witness statements, AND surveillance video. According to the authorities, video footage showed this man intentionally dumping his cat into the river. The police stated that Baird could be seen, "leaning over the rail of the bridge, holding the carrier over the river with the door open and facing down. Baird then shook the carrier causing the cat to fall from the carrier and into the river."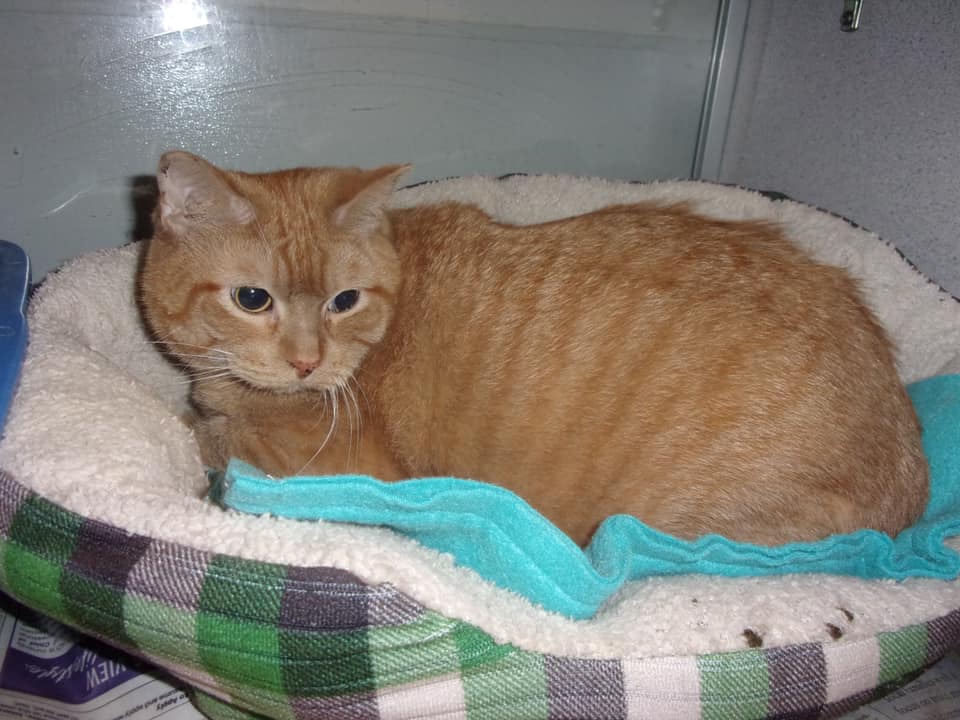 The female cat was rescued from the river after a good Samaritan reported what happened to the police. A Cedar Rapids Police officer located the cat attempting to get out of the river on a rocky incline near May's Island. Linn County Sheriff's Office deputies also arrived on scene and helped remove the cat from underneath a rock next to the water.
According to the police, the cat is currently at the Cedar Rapids Animal Care and Control shelter recuperating from her terrifying ordeal. When she first arrived, her temperature was seven degrees below normal, but x-rays did not reveal any broken bones. Despite what happened to her, she is expected to recover.
Please stand with us as we petition to have Lloyd Wallace Baird receive the maximum sentence for his crime – what he did is unacceptable!
News:
Individuals are presumed innocent until proven guilty in a court of law.
Update 11/08/2021: Animal Victory has learned the final outcome of this case. We have been informed that the defendant accepted the guilty plea on September 30, and received one-year probation and deferred payments beginning on 10/30/2021 for $50/month. We are disappointed in the outcome, but thankful for everyone who took the time to sign the petition to help make a difference.
Update 9/17/2021: Animal Victory has learned that the sentencing has been reset to Sept. 30, 2021.
Update 8/26/2021: Animal Victory has learned that sentencing is scheduled for Sept. 16, 2021.
Update 7/09/2021: Animal Victory has learned that a written agreement and plea of not guilty was entered on 7/07/2021. A case management conference is scheduled for 8/18/2021 and the jury trial is scheduled on 10/18/2021 at 9 a.m.
Update 6/14/2021: AV sent 16,501 signatures along with your comments and our PETITION LETTER to Linn County Attorney Nick Maybanks.
PRIOR SIGNATURES : 16771
Man Accused Of Shaking Cat Out Of Carrier, Into River
2,276
signatures = 15% of goal
2,276
Diane Jenkins
Jan 17, 2022
2,275
Tanya Barsoumian
Jan 13, 2022
2,274
Tom Williams
sad
Jan 12, 2022
2,273
Anonymous
Jan 12, 2022
2,272
Rose Sanchez
Justice!!!
Jan 11, 2022
2,271
Vy Nguyen
Jan 07, 2022
2,270
Reinhold Schumann
Jan 07, 2022
2,269
Karena Kirk-Drain
Jan 07, 2022
2,268
Vicki Tegland
What a horrific thing to do to this poor cat. This man needs to be held accountable. I A needs to step up with their animal cruelty laws and make these people feel the results of their cruel actions!
Jan 06, 2022
2,267
Bonnie Gallik
Jan 01, 2022
2,266
Karen Doughty
Dec 29, 2021
2,265
Marie-josée Rambout
Dec 29, 2021
2,264
Lucy Fontanills
Dec 28, 2021
2,263
Lisa Rosa- Re
Dec 19, 2021
2,262
Sherri Midkiff
Dec 19, 2021
2,261
Charity Chambers
Dec 19, 2021
2,260
Elisabeth Oie
Dec 15, 2021
2,259
Brian Webber
Dec 14, 2021
2,258
Suzanne Wiegand
Dec 12, 2021
2,257
Kathryn Shiroky
Dec 11, 2021
2,256
Cindy Frank
Dec 10, 2021
2,255
Jane Kimmel
Dec 09, 2021
2,254
shirley stone
Dec 09, 2021
2,253
gaidheal mcintyre
lock this scum up
Dec 09, 2021
2,252
RICHARD OFFERMANN
Dec 09, 2021
2,251
Kimberly piasecki
He is an extreme danger to society he is clearly mentally ill and has no conscience!'s to be in a long-term mental facility!!y
Dec 07, 2021
2,250
GERALDINE SMITH
Dec 07, 2021
2,249
Martha van der Weide
Dec 07, 2021
2,248
Nadja Fadhel
Dec 05, 2021
2,247
Jackie Leahy
Dec 03, 2021
PRIOR SIGNATURES : 16771
---