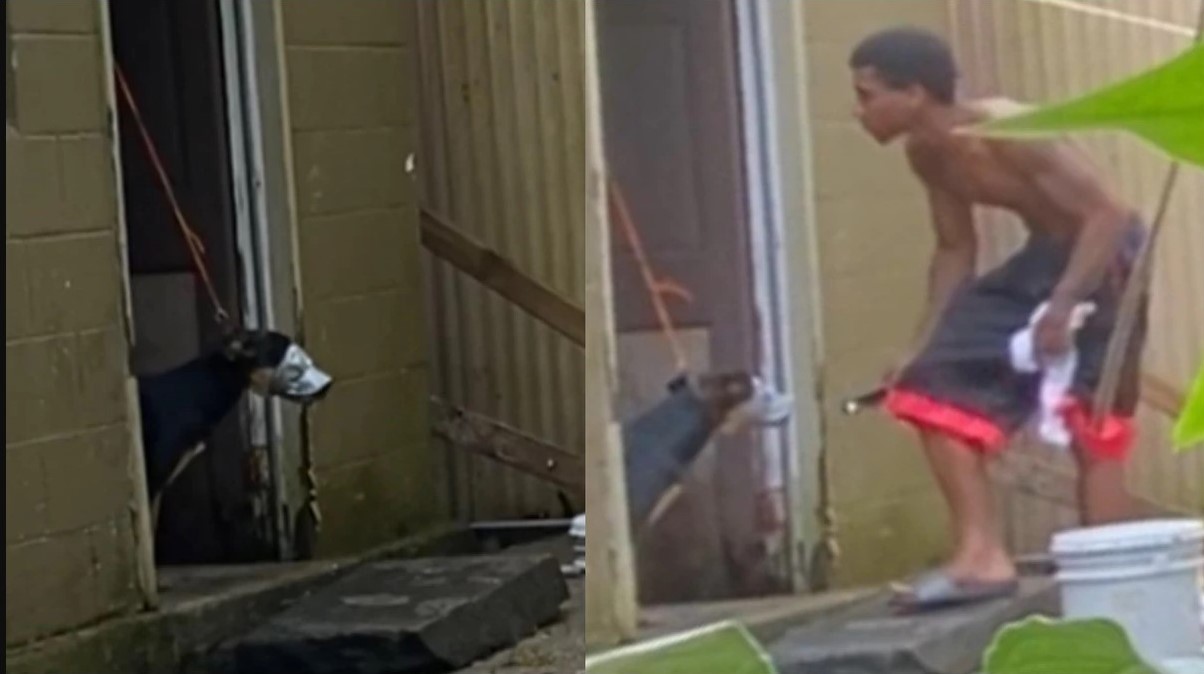 New Orleans, Louisiana – In October, a Louisiana man was captured in photos and on video using a taser on a tethered dog whose face was wrapped in duct tape. The man in the footage is identified as 20-year-old Karl Jackson, and amazingly, despite the torturous act of cruelty observed in the footage, he was only issued a citation.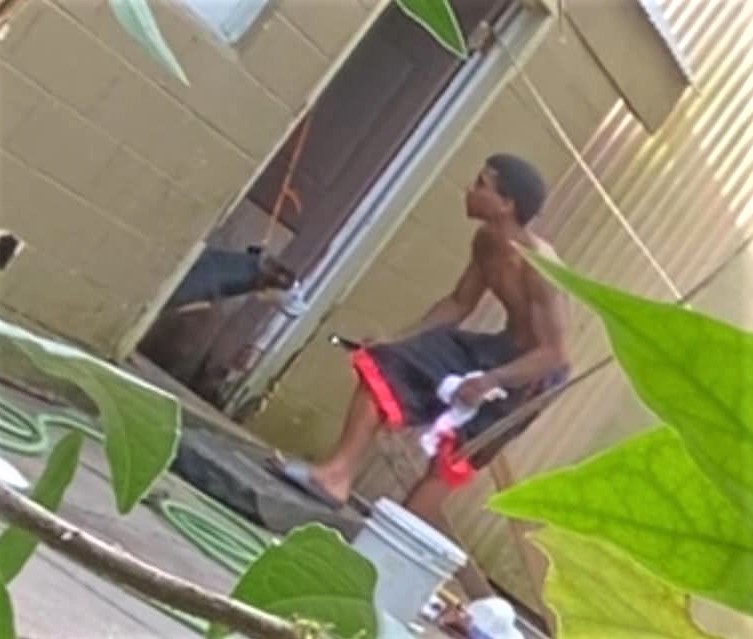 The cruelty, described as "heinous" by local authorities, happened in the 7th Ward. The Humane Society of Louisiana outlined what allegedly happened:
"a young man placed a rope around his dog's neck and then hung it from the door frame of his house, preventing it from moving. He then wrapped duct tape around the dog's mouth, muzzle, and eyes, and proceeded to taser it."
After the video and photos were presented to the New Orleans Police Department, a search warrant was issued and executed; officers found duct tape and a taser at the property. But the dog in the footage was nowhere to be found. It is believed that an accomplice took the dog, whose whereabouts currently remain unknown.
The Humane Society of Louisiana is hoping to locate the dog and take custody. On October 24, Jeff Dorson, the shelter's executive director, said:
"Important news from the Humane Society of Louisiana: our reward for the safe transfer of the dog showed in these photos to our Humane Society has increased to $2000. Several concerned individuals and another humane organization have pledged an additional $1500, which has been added to our original $500 reward, which brings the total to 2k."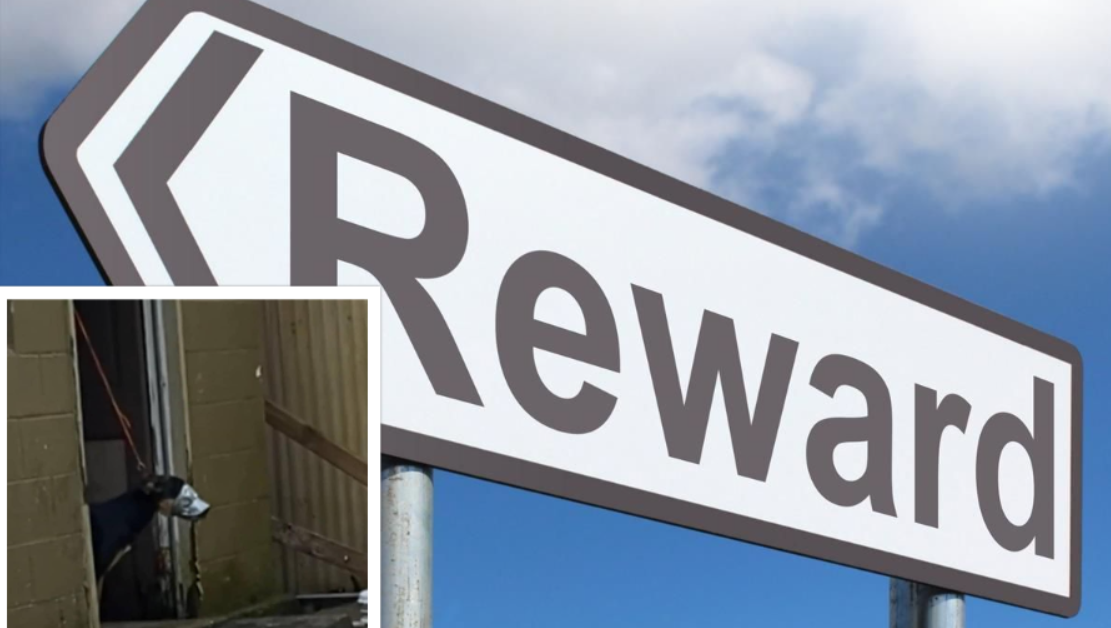 Animal Victory is concerned about the welfare of this dog. We are working closely with executive director Jeff Dorson, and have let him know that Animal Victory is committed to adding an additional $500 to the reward fund to help find and safely transfer this dog to his shelter's custody.
Animal Victory is appalled by what happened to this dog and we will be fighting for the maximum sentence. We are also going to ask the district attorney to increase the charge from a citation for cruelty to animals, to a felony charge of animal cruelty. Please add your name to the petition today – we want justice, and we want this dog found!
Anyone with information about the whereabouts of the dog is asked to reach out to the Humane Society at 1-888-6-Humane (486263) or email them at info@humanela.org.
*Individuals are presumed innocent until being found guilty in a court of law.
News:
Louisiana Man Captured On Video Using Taser On Dog Whose Face Is Covered In Duct Tape
19,966
signatures = 100% of goal
19,966
Anonymous
Nov 26, 2021
19,965
Thadine Roig
Louisiana's laws must have punishments that reflect the heinous of animal torture. No animal should have to suffer because of the barbaric behavior of humans. Humans need to be absolutely responsible for their behavior and accept just punishment for same.
Nov 26, 2021
19,964
Robert Morris
This young man needs to be in prison.
Nov 26, 2021
19,963
Susan Mitchell
Nov 26, 2021
19,962
Ruth O'Brien
Nov 26, 2021
19,961
Laura Zavadil
Nov 26, 2021
19,960
Lynda Hughes
Nov 26, 2021
19,959
Debra Rivait
Nov 26, 2021
19,958
Maria Kagelind
Nov 26, 2021
19,957
Mark Jessep
Nov 26, 2021
19,956
Carrie Kopp
Nov 26, 2021
19,955
Adrian Appley
Nov 25, 2021
19,954
vitoria alves
Nov 25, 2021
19,953
Anne Ferrari
Nov 25, 2021
19,952
gilava falah
Nov 25, 2021
19,951
Rose Knopff
Nov 24, 2021
19,950
Anonymous
Nov 24, 2021
19,949
Angelika Richter
Nov 24, 2021
19,948
Carole Chartier
Nov 24, 2021
19,947
Diana Baker
Please give the STRONGEST SENTENCE POSSIBLE.
Nov 24, 2021
19,946
PATTI Molero
Nov 24, 2021
19,945
Olivia Castle
Nov 24, 2021
19,944
Lisa Dideriksen
This man is a danger to others. When he does it to a child because once again their was no follow up or arrest, who will take responsibility?
Nov 24, 2021
19,943
Jill Harris
Nov 23, 2021
19,942
Provi White
Nov 23, 2021
19,941
Charlotte Hoskins
Nov 23, 2021
19,940
Jackie Kerton
Nov 23, 2021
19,939
Lea Derence
Don't support any form of animal cruelty. Join the vegan movement. Visit Happycow.net to find vegan and vegan friendly restaurants in any city and, like these Facebook pages to get vegan recipes: Bosh, Vegan Huggs, So Vegan, Vegan Richa, Gloriously Vegan, The Buddhist Chef, Chocolate Covered Katie, Exceedingly Vegan, and more.
Nov 23, 2021
19,938
Margo van Ingen
Nov 23, 2021
19,937
Pat Treadway
Nov 23, 2021
---