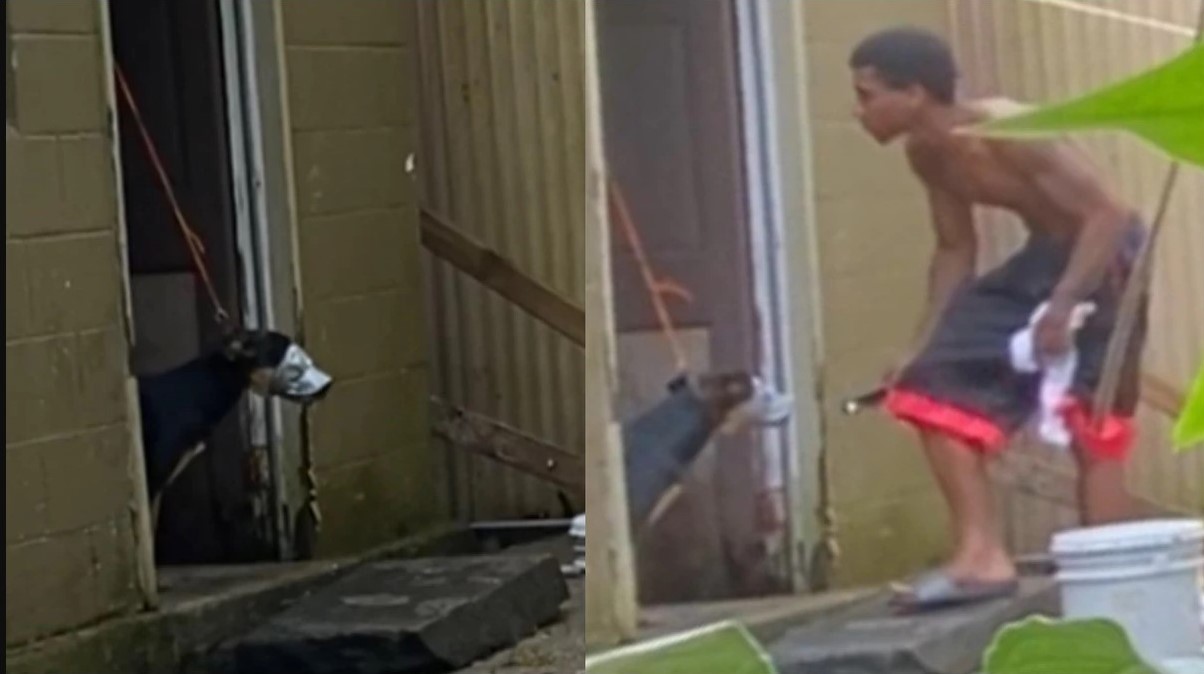 New Orleans, Louisiana – In October, a Louisiana man was captured in photos and on video using a taser on a tethered dog whose face was wrapped in duct tape. The man in the footage is identified as 20-year-old Karl Jackson, and amazingly, despite the torturous act of cruelty observed in the footage, he was only issued a citation.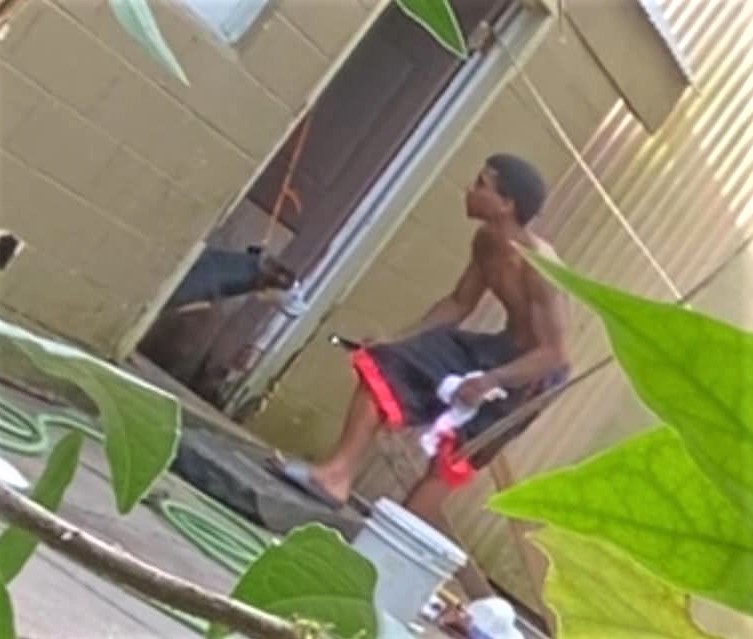 The cruelty, described as "heinous" by local authorities, happened in the 7th Ward. The Humane Society of Louisiana outlined what allegedly happened:
"a young man placed a rope around his dog's neck and then hung it from the door frame of his house, preventing it from moving. He then wrapped duct tape around the dog's mouth, muzzle, and eyes, and proceeded to taser it."
After the video and photos were presented to the New Orleans Police Department, a search warrant was issued and executed; officers found duct tape and a taser at the property. But the dog in the footage was nowhere to be found. It is believed that an accomplice took the dog, whose whereabouts currently remain unknown.
The Humane Society of Louisiana is hoping to locate the dog and take custody. On October 24, Jeff Dorson, the shelter's executive director, said:
"Important news from the Humane Society of Louisiana: our reward for the safe transfer of the dog showed in these photos to our Humane Society has increased to $2000. Several concerned individuals and another humane organization have pledged an additional $1500, which has been added to our original $500 reward, which brings the total to 2k."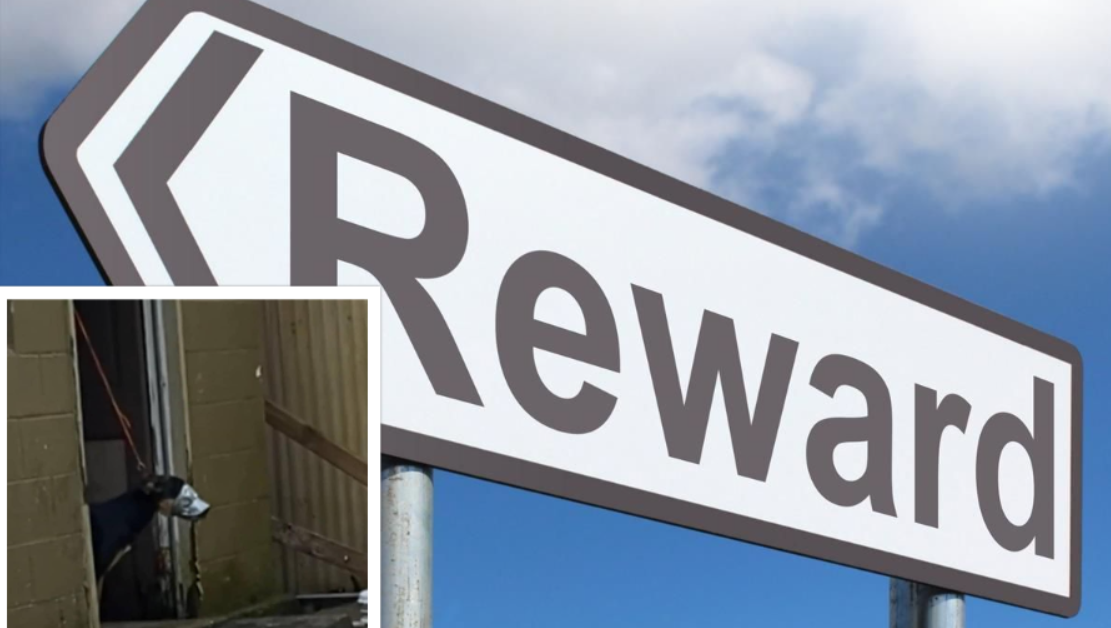 Animal Victory is concerned about the welfare of this dog. We are working closely with executive director Jeff Dorson, and have let him know that Animal Victory is committed to adding an additional $500 to the reward fund to help find and safely transfer this dog to his shelter's custody.
Animal Victory is appalled by what happened to this dog and we will be fighting for the maximum sentence. We are also going to ask the district attorney to increase the charge from a citation for cruelty to animals, to a felony charge of animal cruelty. Please add your name to the petition today – we want justice, and we want this dog found!
Anyone with information about the whereabouts of the dog is asked to reach out to the Humane Society at 1-888-6-Humane (486263) or email them at info@humanela.org.
*Individuals are presumed innocent until being found guilty in a court of law.
News:
Update 4/19/2022: Animal Victory learned that there is a status hearing set for 4/25/2022. This case has been combined with the 553-547 case, and he is NOT at large any longer, verified with ADA and Clerk of Court. The ADA for this case is Lauren Boudreaux.
Update 12/16/2021: Animal Victory has learned that there has not been a court date set since the arraignment. 
Update 11/5/2021: Jackson is scheduled for the first appearance on Dec. 2.  We do not know who will be representing the state yet.  Read the municipal summary here Jackson1269826 (1)
Animal-Protection-Laws-of-Louisiana-2020-Animal-Legal-Defense-Fund
Louisiana Man Captured On Video Using Taser On Dog Whose Face Is Covered In Duct Tape
20,949
signatures = 105% of goal
20,949
Leesa Napier
Disgusting. Do the same to him.
Jun 28, 2022
20,948
Renata Losada
Jun 19, 2022
20,947
Martine VATANT
Jun 15, 2022
20,946
Debbie Mccollum
Jun 12, 2022
20,945
Joseph Fandl Sr
Jun 12, 2022
20,944
Teresa Ullstrup
Jun 12, 2022
20,943
Karin Heusel
Jun 02, 2022
20,942
Robert Bosch
Jun 02, 2022
20,941
Sara Sampkin
I volunteer to do them exact same to him but his tiny testicles will be tased until dead
May 29, 2022
20,940
Janice VanMarter
May 29, 2022
20,939
Daniel Avichail
May 22, 2022
20,938
Debra Ryan
May 18, 2022
20,937
Melissa Ruppert
May 16, 2022
20,936
Marion Friedl
May 14, 2022
20,935
Alessia Di Buono
May 14, 2022
20,934
Ulrich Spauschus
May 14, 2022
20,933
Tirzah Given
May 13, 2022
20,932
Keleen McBride
May 11, 2022
20,931
Ann Wilson
May 08, 2022
20,930
Ava Fox
May 06, 2022
20,929
Mollie Dunn
Apr 30, 2022
20,928
Ann Vassiliou
Apr 30, 2022
20,927
Shelly Brocato
This man needs to be found and charged!
Apr 29, 2022
20,926
Deborah Jumper
he needs blindfolded and tazed. sick person
Apr 29, 2022
20,925
Debra Meeks
Apr 28, 2022
20,924
Helene Lepage
Apr 27, 2022
20,923
Anonymous
Apr 26, 2022
20,922
Katherine Weesner
Apr 26, 2022
20,920
Karen Cameron
Apr 26, 2022
---