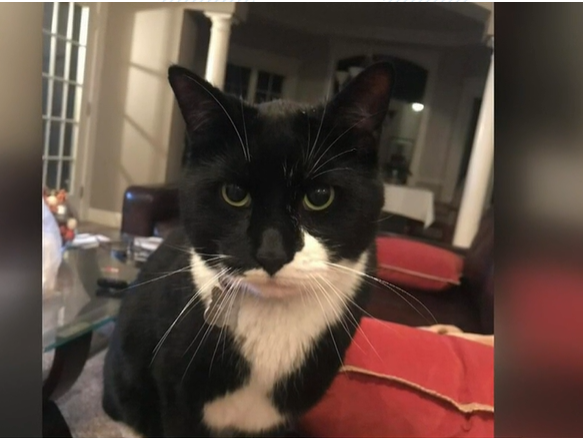 Rock Island, Illinois – In April, a beloved cat was discovered dead not far from his owner's home. The black and white cat, named Milo, had been skinned and gutted – all of his organs were gone, aside from his kidneys which were surgically removed and placed next to his body.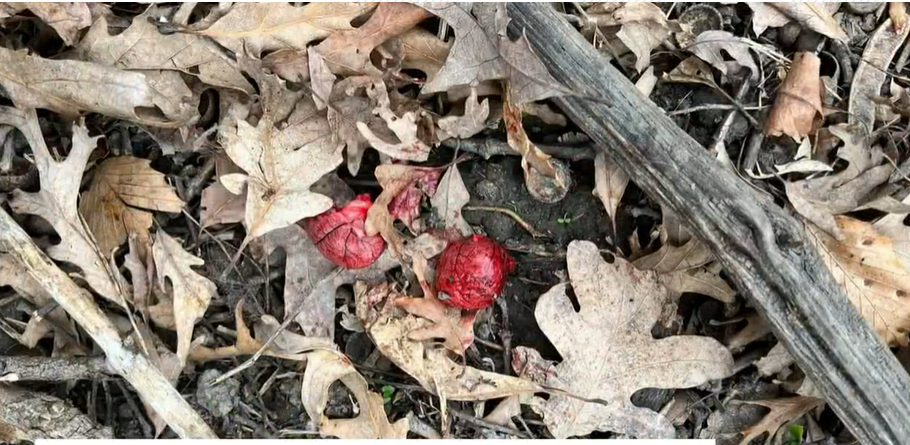 Milo's owner, Steve Havercamp, found the body approximately 40 yards from his home. He called animal control and the responding officer told him that it was the worst case of animal cruelty that he had seen in his 30-year career. Havercamp recounted what the officer told him,
"He was so shocked by it. He called the detective in to conduct a full investigation because this is an animal cruelty charge, which is a felony."
Describing Milo's mutilated body,
"His flesh was cut with a sharp blade that can be seen by how the flesh was removed, sharp edges to the cuts. All the muscle and tissue was flayed from the bone. There's no bite marks; there's no teeth marks, and you can see the surgical precision in place."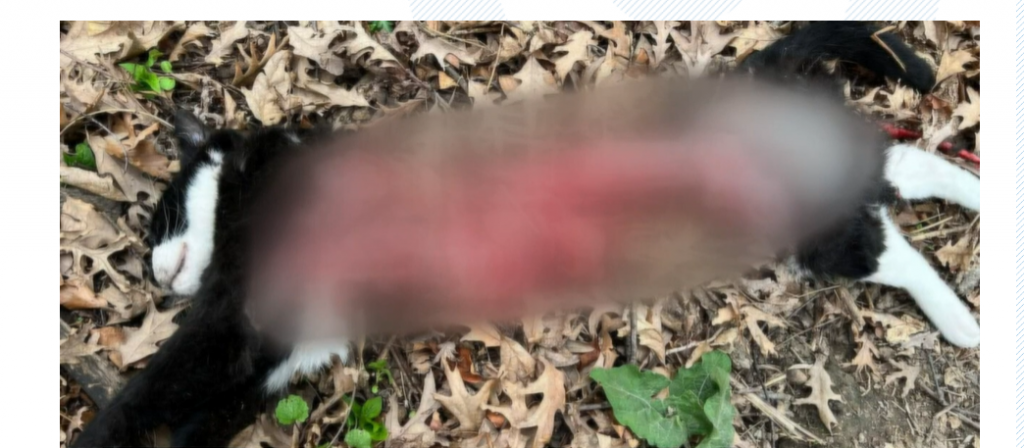 Anyone who could commit a savage crime like this must be found and punished. This is an abhorrent act of cruelty and Animal Victory wants the person responsible to be found and held accountable. In addition to creating a petition to raise awareness of this crime, Animal Victory is contributing $1000 to a reward fund. Please support us as we work to find the person behind this evil crime.
If you have any information about these crimes or any person(s) involved, you are urged to call Crime Stoppers at 309-762-9500 or submit a Web Tip.  You do not have to give your name.  CRIME STOPPERS will pay a cash reward of up to $2500 and you can remain anonymous.
You can also provide tips/information about this situation to the authorities at 309-732-2677.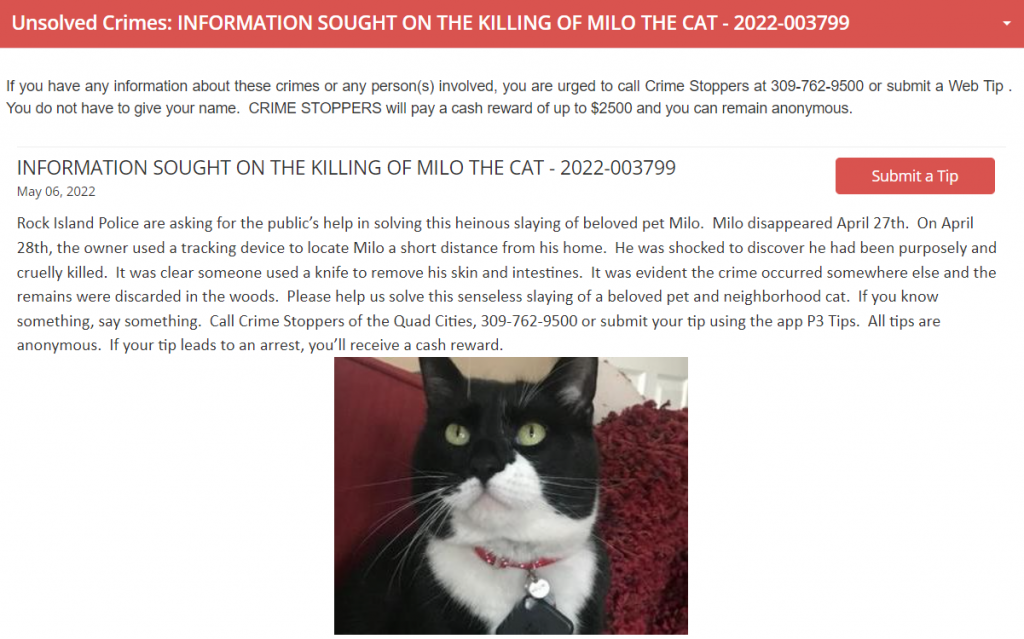 Update 6/21/2022: Animal Victory has sent 16,945 signatures to Chief Of Police Richard Landi.
Note: Individuals are presumed innocent until being found guilty in a court of law. Animal Victory relies upon the authorities and the court system to determine guilt or innocence.
News:
Justice For 'Milo,' Cat Found Skinned And Gutted Near His Family's Home
17,022
signatures = 85% of goal
17,022
teresa Howroyd
Jul 02, 2022
17,021
Kelly Loehe
Why have people be one so evil. This person is beyond sick. Needs to get put away.
Jul 02, 2022
17,020
Elsa Howstan
Jul 01, 2022
17,019
Donna McCowen
Jun 30, 2022
17,018
Lisa Snycerski
JUSTICE!
Jun 30, 2022
17,017
Catherine Thomas
Please get justice for this little one.
Jun 29, 2022
17,016
Ria Mewalal
Jun 29, 2022
17,015
Ibarra Nathalie
Jun 29, 2022
17,014
Angela Riddellbe
Jun 29, 2022
17,013
Anna Stein
Jun 29, 2022
17,012
Sheri Lane
Jun 28, 2022
17,011
Maxine Grears
Jun 28, 2022
17,010
Kathy Smith
So horrib, this person must be found & locked up
Jun 28, 2022
17,009
Tonya Austhof
Jun 28, 2022
17,008
Tina Duarte
Jun 27, 2022
17,007
Anonymous
Jun 27, 2022
17,006
E Froederberg
Jun 27, 2022
17,005
Nancy Wakili
So cruel and inhumane
Jun 26, 2022
17,004
Nalini Cherian
Jun 26, 2022
17,003
Karen Isaacs
Jun 26, 2022
17,002
Annette Mittenthal
Jun 25, 2022
17,001
cindy martin
Jun 25, 2022
17,000
Elaine Rounds
Jun 25, 2022
16,999
laura raforth
PRISON TIME
Jun 25, 2022
16,998
Alicea Campos
Jun 24, 2022
16,997
Elaine Hegh
Jun 24, 2022
16,996
Donna Stringer
This poor baby. My heart breaks for Milo, and for his owners. Finding, prosecuting and punishing the individual responsible should be a priority. And let's not forget the correlation between animal abuse and the torture 7/or killing of humans.
Jun 24, 2022
16,995
Anonymous
Jun 24, 2022
16,994
Anonymous
Jun 23, 2022
16,993
Tom Tumbrink
This person needs to be found and needs to rot in jail!!!! I hope they have to answer to God when they die for this!! Absolutely sickening!!!!!!
Jun 23, 2022
---