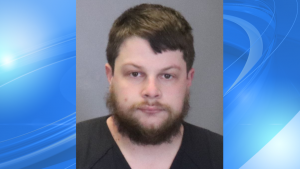 Columbus, Georgia – A Georgia man, said to be jealous of his wife's affection for her dog Penny, is accused of a deranged act of violence that ended the small dog's life. On January 6, 26-year-old Charles Van Pelt took his wife, Loren, to work and then he returned home.
Surveillance video from a neighbor's house captured the horror that happened shortly thereafter…Van Pelt calmly walked into an outdoor kennel where his wife's senior dachshund, Penny, was being held.

He shut the door to prevent the dog from escaping and proceeded to stomp Penny's small body, over and over. At one point, he picked up a heavy object and smashed it into the dog's head.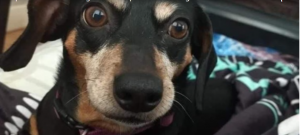 The attack left Penny bloodied and seizing. Neighbors who witnessed the brutal attack had phoned Van Pelt's wife, Loren, asking her to get home quickly. Loren's co-worker, Jennifer Reese, drove her home and they found Charles staring at the seizing dog, and showing no signs of remorse for what he had done.
When help arrived, Penny was still alive, but her injuries were catastrophic. She was rushed to a veterinarian and survived for 30 hours, but had to be euthanized due to the severity of her injuries, which the veterinarian described as consistent with blunt-force trauma.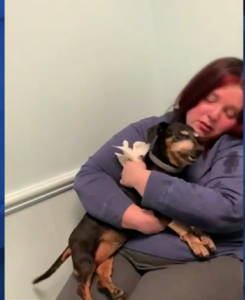 Loren's parents provided insight into the brutal attack that killed her nine-year-old companion. They told the Ledger-Enquirer that Charles was jealous of his wife's affection for her rescue dog and that he had complained that she "loves their animals more than she loves him."
The following video contains graphic content.
Penny's killer is facing a felony charge of aggravated animal cruelty; he has pleaded not guilty to the charge and remains in Muscogee County jail without bond.
Please add your name to the petition today. What this man did is beyond comprehension and it cannot go unpunished! He must receive the maximum sentence for his charge and we will also demand that he never be allowed to own or reside with another animal in the future.
We the undersigned demand that Charles Van Pelt be held responsible for causing this senior dog to suffer a horrific death and that he receives the maximum punishment allowable by law.
Note: Individuals are presumed innocent until being found guilty in a court of law. Animal Victory relies upon the authorities and the court system to determine guilt or innocence.
News:
Animal-Protection-Laws-of-Georgia-2020-Animal-Legal-Defense-Fund (2)
Update  5/4/2022: Assistant District Attorney Robin Anthony was in court on May 4  and requested a continuance of the bond hearing. No further court date is known yet.
Update 4/18/2022: Animal Victory has sent 17,293 signatures to Attorney Kimberly Schwartz. Jennifer Reese has hand-delivered the entire petition and copies of every signature to the courthouse with a request to deny bond for Van Pelt.
Update 3/29/2022: Animal Victory has been informed that the Superior Court Case number is SU2022CR000245, and the next court appearance is for a bond hearing on 5/03/2022.
Update 2/16/2022: Defendant Charles William Van Pelt is being held in Muscogee county jail, without bail. As of 2/10/2022, case # RC2022CR003550, was bound over to Muscogee Superior Court from Recorders Court. The case has not been processed into the system yet, when it does there will be a new case number assigned, court date, and prosecutor. It may take a couple of weeks for this to take place.
Jealous Husband Repeatedly Stomped On Wife's Dog Causing Fatal Injuries
17,484
signatures = 87% of goal
17,484
Edie Shaw
May 22, 2022
17,483
Daniel Avichail
May 22, 2022
17,482
Wayne Hernandez
May 21, 2022
17,481
Michelle Peters
Give him the max jail time! And he should never be allowed to be around animals or children.
May 21, 2022
17,480
Anonymous
May 21, 2022
17,479
Mary Marts
Why is there a continuance in this court hearing? The act was obviously witnessed, recorded, & he showed no remorse. Give him the same treatment & leave him drooling in some institution- or just plain end his life.
May 20, 2022
17,478
Holly Adkins
I think someone needs to teach this guy what it's like to be pound on
May 20, 2022
17,477
Chris Van Enkenvoort
May 20, 2022
17,476
Anonymous
His wife could be next, throw the book at this monster.
May 20, 2022
17,475
Elke Hladik
Dieser "Kerl" sollte möglichst hart bestraft werden! Seine Frau sollte sich sofort von ihm scheiden lassen! was er ihr und ihrem Hund angetan hat, ist unverzeihlich! mindestens 10 Jahre einsperrenh oder lebenslang! unschuldige Lebewesen so zu behandeln ist das ALLERLETZTE!
May 20, 2022
17,474
Jasmina Georgovska
May 20, 2022
17,473
carol williams
Sick person & to the neighbour just watching shame on you. I would have gone out to stop him
May 20, 2022
17,472
Sandra Bigelow
May 19, 2022
17,471
Katherine Elwell Johnson
May 19, 2022
17,470
Jolyn Bulthuis
Most severe penalty!!!!!
May 19, 2022
17,469
Pat Clemens
May 19, 2022
17,468
Catherine Forsling
May 19, 2022
17,467
Glenn Tannous
May 19, 2022
17,466
Carolyn Cagnina
Sickening
May 18, 2022
17,465
Raluca Florea
May 18, 2022
17,464
Rebecca Torres
May 17, 2022
17,463
Holly Creed
May 16, 2022
17,462
LORI BRANNEN
PLEASE PROSECUTE THIS EVIL ENTITY TO THE FULLEST EXTENT!
May 16, 2022
17,461
Adonias Souza
May 16, 2022
17,460
Silvia Granold
May 16, 2022
17,459
Will Rivas
This was a deliberate barbaric act of violence against an innocent animal. This man obviously does not want to control his anger and he should not get off for any mental instability reasons. It was done deliberately with a lot of forethought.
May 16, 2022
17,458
Mary Rivas
No excuses, no deals, he belongs in jail for a long long time. Obviously he is a very vindictive person who will do anything to satisfy his anger. He does not belong on our streets.
May 16, 2022
17,457
Kay Cochrane
May 16, 2022
17,456
Patrícia Müller
May 16, 2022
17,455
Ruth Correia
May 16, 2022
---