Gainesville, Florida – Neighbors of a woman in Gainesville, Florida, want Alachua County animal control to remove dogs from her care. Amazingly, official complaints against Loren Cava date back to 1997.
Neighbors claim that dogs at Cava's home can be heard howling and crying and that she can be seen hitting them, and dragging them on walks. An animal control officer even said, on camera, that if it was up to him, he would not allow her to have dogs.
Enough is enough! Alachua Animal Control needs to remove the dogs from Loren Cava's home and prohibit her from owning any pets in the future. Please add your name today – the dogs have suffered long enough!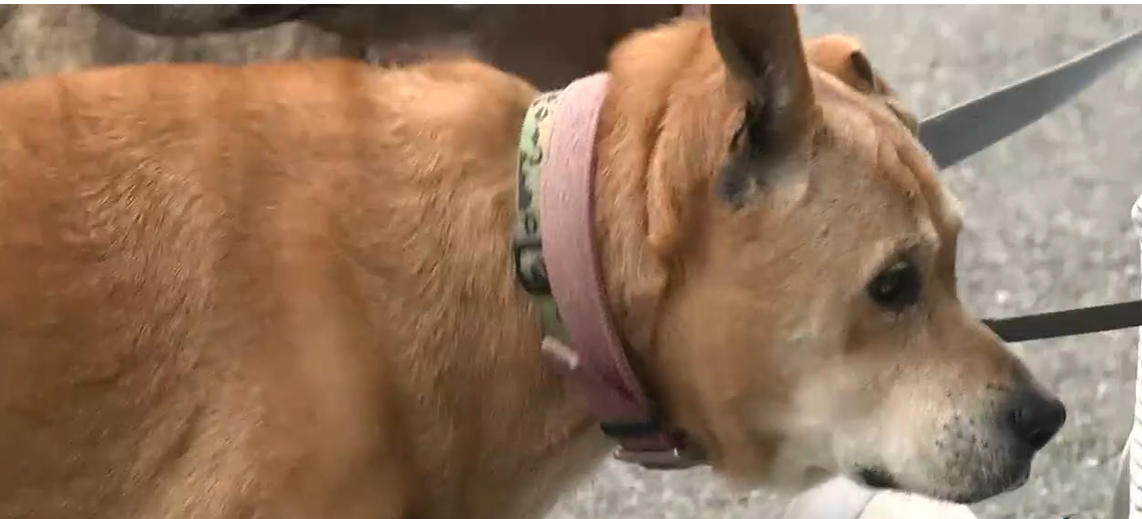 Since 1997, Loren Cava's neighbors have been filing reports with the Alachua Animal Control agency. In a video statement, Ed Williams, the Animal Services Director at the animal services facility, acknowledged that Cava is being investigated, stating:
"There is an open investigation into these allegations. The owner of the dogs has been issued an order to provide care by Alachua County Animal Services due to the physical conditions of her dogs."
This has been happening for DECADES. One neighbor told WCBJ News:
"I've seen her hit them, the dark one at least six times. Sometimes she carries an umbrella with her, and I've watched her strike the dark one. Six times in the last six months."
Another said:
"I feel terrible for these dogs because I've never heard her once say something sweet or kind. I can hear everything through our windows and our walls. You can't hide anything."
Perhaps the most damning statement is one made by a Gainesville Police Department officer who said:
"I think she loves them, but she is going to kill them."
How many complaints need to be made for real action to take place? An investigation isn't good enough. Neighbors have protested at the animal services facility, but nothing seems to be happening.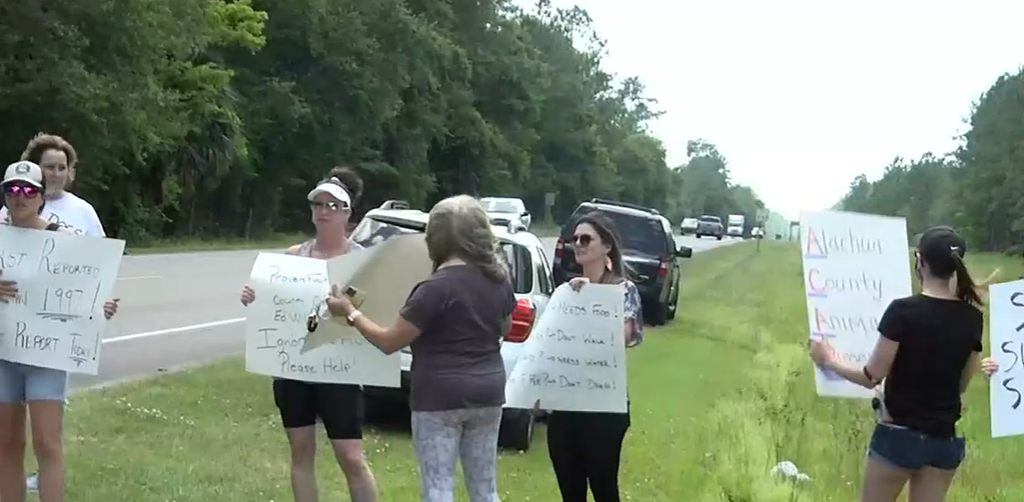 Are officials at the animal services facility waiting for a dog to suffer serious injury or death before they remove Cava's pets? Shouldn't action be taken before that happens? One animal control officer said, on camera, that if it was up to him, he wouldn't allow Cava to own dogs. How much suffering need to happen before the dogs are removed?
We believe that the animal services facility needs to take action now and we need your support to make it happen. Please add your name to the petition today!
News:
Animal-Protection-Laws-of-Florida-2020-Animal-Legal-Defense-Fund
Individuals are presumed innocent until proven guilty in a court of law.
6/21/2021: Read Animal Services Response Here.
Update 6/21/2021: Today Animal Victory sent our petition letter along with 13,238 signatures and comments to Ed Williams, Director of Alachua Animal Control agency, Commissioners of Alachua Animal Control Agency, and Veterinarians of Shore Animal Hospital.
PRIOR SIGNATURES : 13752
Howling And Crying Dogs; Neighbors Claim Woman Has Abused Her Dogs For 20 Years
662
signatures = 4% of goal
662
John Robertson
Nov 30, 2022
661
Lisel Sipes
How could the neighbors let this crap go on???
Nov 19, 2022
660
Dana Dykes
Nov 19, 2022
659
brigitte deschaintre
Nov 11, 2022
658
Denise Carlson
Oct 28, 2022
657
Lisa Cairns
Oct 20, 2022
656
Carolina Pino
Oct 15, 2022
655
Audrey Wilson
Oct 08, 2022
654
Shannon Nichols
Oct 07, 2022
653
Marga Gili
Sep 22, 2022
652
Guisselle Martinez
Sep 17, 2022
651
Carmen Verdugo
Sep 11, 2022
650
Kelly A Kalish
Sep 10, 2022
649
Michelle Krueger
Sep 09, 2022
648
Tammy Welch
Sep 07, 2022
647
Nancy Coupe
Sep 03, 2022
646
Kristen Megan Veronica
Aug 24, 2022
645
Farah Khumbatta
Aug 20, 2022
644
Ethel Riegel
Aug 19, 2022
643
Anu Dutt
Aug 18, 2022
642
susan parsons
Aug 17, 2022
641
COURTNEY WHITNEY
Aug 17, 2022
640
Iris Barter
Aug 11, 2022
639
Vickie Barnett
Aug 10, 2022
638
Renee Crawford
Aug 10, 2022
637
Susan Welch
Aug 06, 2022
636
Ana Carolina Casey
Put this evil dog abuser in prison for ever !
Aug 05, 2022
635
Carolyn Chamberland
Aug 02, 2022
634
Angela Araujo
Jul 27, 2022
633
Debbie Coggins
Jul 25, 2022
PRIOR SIGNATURES : 13752
---