Gainesville, Florida – Neighbors of a woman in Gainesville, Florida, want Alachua County animal control to remove dogs from her care. Amazingly, official complaints against Loren Cava date back to 1997.
Neighbors claim that dogs at Cava's home can be heard howling and crying and that she can be seen hitting them, and dragging them on walks. An animal control officer even said, on camera, that if it was up to him, he would not allow her to have dogs.
Enough is enough! Alachua Animal Control needs to remove the dogs from Loren Cava's home and prohibit her from owning any pets in the future. Please add your name today – the dogs have suffered long enough!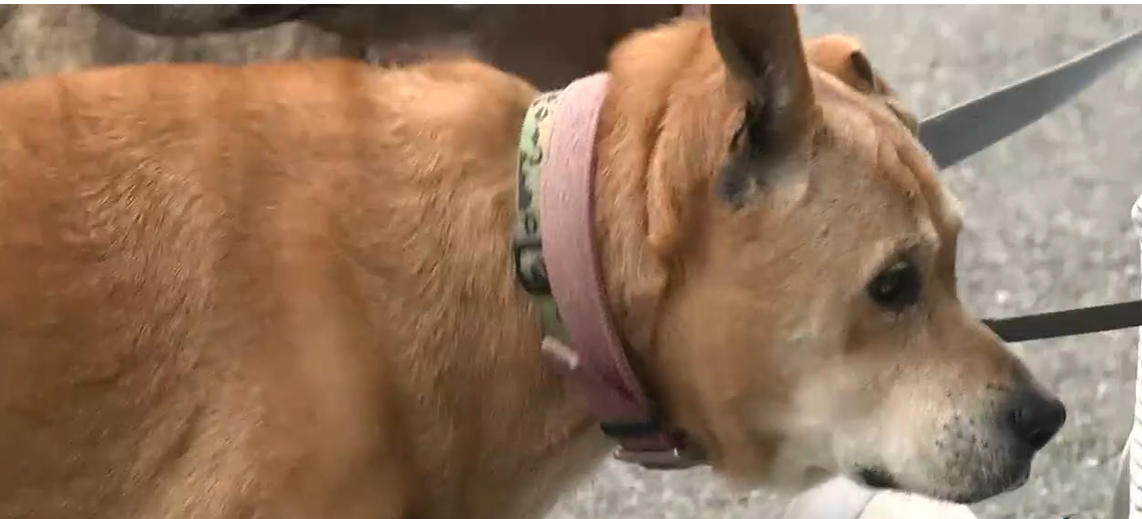 Since 1997, Loren Cava's neighbors have been filing reports with the Alachua Animal Control agency. In a video statement, Ed Williams, the Animal Services Director at the animal services facility, acknowledged that Cava is being investigated, stating:
"There is an open investigation into these allegations. The owner of the dogs has been issued an order to provide care by Alachua County Animal Services due to the physical conditions of her dogs."
This has been happening for DECADES. One neighbor told WCBJ News:
"I've seen her hit them, the dark one at least six times. Sometimes she carries an umbrella with her, and I've watched her strike the dark one. Six times in the last six months."
Another said:
"I feel terrible for these dogs because I've never heard her once say something sweet or kind. I can hear everything through our windows and our walls. You can't hide anything."
Perhaps the most damning statement is one made by a Gainesville Police Department officer who said:
"I think she loves them, but she is going to kill them."
How many complaints need to be made for real action to take place? An investigation isn't good enough. Neighbors have protested at the animal services facility, but nothing seems to be happening.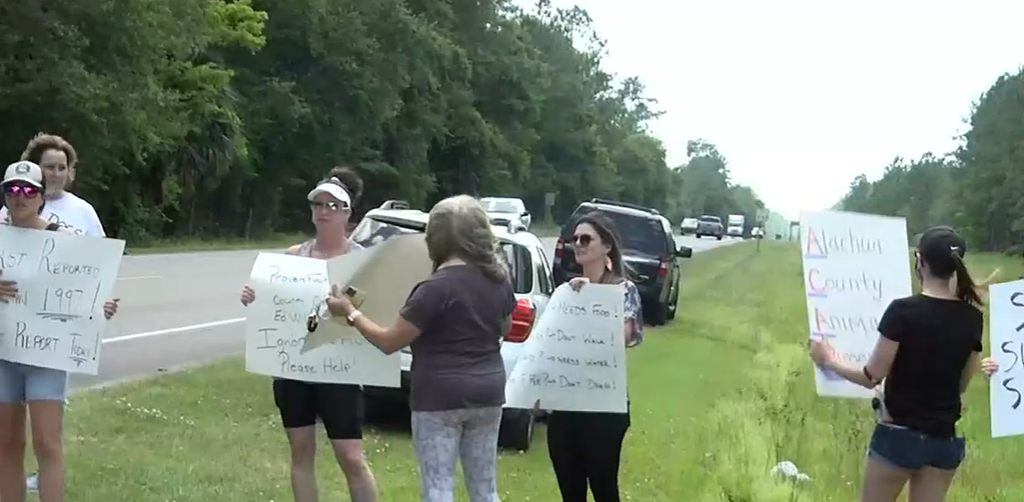 Are officials at the animal services facility waiting for a dog to suffer serious injury or death before they remove Cava's pets? Shouldn't action be taken before that happens? One animal control officer said, on camera, that if it was up to him, he wouldn't allow Cava to own dogs. How much suffering need to happen before the dogs are removed?
We believe that the animal services facility needs to take action now and we need your support to make it happen. Please add your name to the petition today!
News:
Animal-Protection-Laws-of-Florida-2020-Animal-Legal-Defense-Fund
Individuals are presumed innocent until proven guilty in a court of law.
6/21/2021: Read Animal Services Response Here.
Update 6/21/2021: Today Animal Victory sent our petition letter along with 13,238 signatures and comments to Ed Williams, Director of Alachua Animal Control agency, Commissioners of Alachua Animal Control Agency, and Veterinarians of Shore Animal Hospital.
PRIOR SIGNATURES : 13752
Howling And Crying Dogs; Neighbors Claim Woman Has Abused Her Dogs For 20 Years
624
signatures = 4% of goal
624
Cornelia Herschel
Jun 26, 2022
623
Olga Espinoza
Jun 23, 2022
622
Rochelle Massey
Jun 21, 2022
621
Debbie Mccollum
Jun 12, 2022
620
Michele Pierce
Jun 04, 2022
619
Carie Matriciano
Jun 02, 2022
618
Karin Heusel
Jun 02, 2022
617
Anonymous
Jun 02, 2022
616
Grace Vendemio
Jun 02, 2022
615
Sara Sampkin
May 29, 2022
614
Janice VanMarter
May 29, 2022
613
Marion Friedl
May 15, 2022
612
Alessia Di Buono
May 14, 2022
609
Angela Dennis
May 05, 2022
608
Cheryl Harlow
Apr 29, 2022
607
Mitra Pejman
Apr 29, 2022
606
Christina Petridou
Apr 28, 2022
605
Katherine Weesner
Apr 26, 2022
604
Debra Newby
Help them for goodness sakes!
Apr 25, 2022
603
Frank Schultz
Apr 24, 2022
602
Sharon Hasek
Apr 21, 2022
601
SANDRA LOFARO
Apr 21, 2022
600
Patti Molero
Apr 20, 2022
599
karen grunke
Apr 20, 2022
598
Raymond Moore
Apr 20, 2022
597
Roslyn Pollinger
Apr 20, 2022
596
Bonnie Welch
I really want to know why ppl let this go on!! We sure cannot stop animal cruelty if ppl cannot stand up to a nieghbor!! They are just as guilkty by doing NOTHING!!!
Apr 20, 2022
595
Lori Bridy
Apr 19, 2022
PRIOR SIGNATURES : 13752
---