Neighbors of a woman in Gainesville, Florida, want Alachua County animal control to remove dogs from her care. Amazingly, official complaints against Loren Cava date back to 1997.
Neighbors claim that dogs at Cava's home can be heard howling and crying and that she can be seen hitting them, and dragging them on walks. An animal control officer even said, on camera, that if it was up to him, he would not allow her to have dogs.
Enough is enough! Alachua Animal Control needs to remove the dogs from Loren Cava's home and prohibit her from owning any pets in the future. Please add your name today – the dogs have suffered long enough!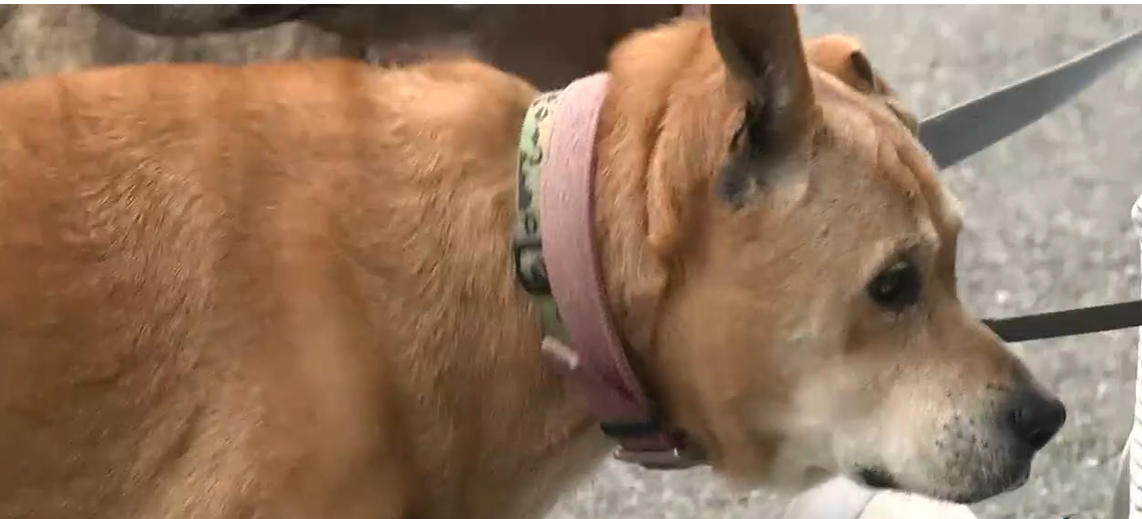 Since 1997, Loren Cava's neighbors have been filing reports with the Alachua Animal Control agency. In a video statement, Ed Williams, the Animal Services Director at the animal services facility, acknowledged that Cava is being investigated, stating:
"There is an open investigation into these allegations. The owner of the dogs has been issued an order to provide care by Alachua County Animal Services due to the physical conditions of her dogs."
This has been happening for DECADES. One neighbor told WCBJ News:
"I've seen her hit them, the dark one at least six times. Sometimes she carries an umbrella with her, and I've watched her strike the dark one. Six times in the last six months."
Another said:
"I feel terrible for these dogs because I've never heard her once say something sweet or kind. I can hear everything through our windows and our walls. You can't hide anything."
Perhaps the most damning statement is one made by a Gainesville Police Department officer who said:
"I think she loves them, but she is going to kill them."
How many complaints need to be made for real action to take place? An investigation isn't good enough. Neighbors have protested at the animal services facility, but nothing seems to be happening.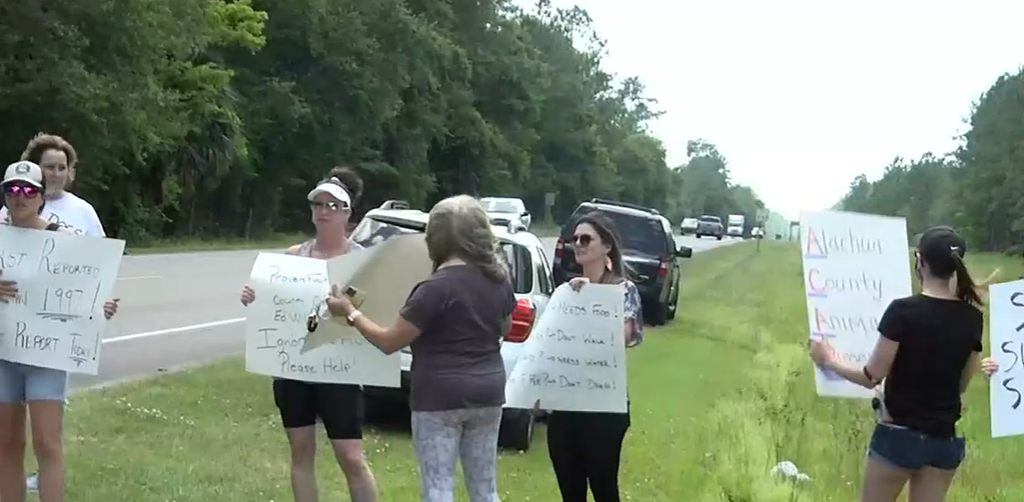 Are officials at the animal services facility waiting for a dog to suffer serious injury or death before they remove Cava's pets? Shouldn't action be taken before that happens? One animal control officer said, on camera, that if it was up to him, he wouldn't allow Cava to own dogs. How much suffering need to happen before the dogs are removed?
We believe that the animal services facility needs to take action now and we need your support to make it happen. Please add your name to the petition today!
News:
Individuals are presumed innocent until proven guilty in a court of law.
6/21/2021: Read Animal Services Response Here.
Update 6/21/2021: Today Animal Victory sent our petition letter along with 13,238 signatures and comments to Ed Williams, Director of Alachua Animal Control agency, Commissioners of Alachua Animal Control Agency, and Veterinarians of Shore Animal Hospital.
PRIOR SIGNATURES : 13752
Howling And Crying Dogs; Neighbors Claim Woman Has Abused Her Dogs For 20 Years
329
signatures = 2% of goal
329
marcia sliwinski
Sep 21, 2021
328
Karen Ash
What is wrong with animal cruelty investigators? Go to her house!
Sep 21, 2021
327
Dyan Osborne
Sep 21, 2021
326
barbara elias
Sep 20, 2021
325
Gloria Rojas
Sep 20, 2021
324
Vianney Rojas
Sep 20, 2021
323
Elena Paris
Sep 20, 2021
322
Gloria Donn
Sep 19, 2021
321
Andrea Hennig
I love animals!
Sep 19, 2021
320
SANDRA GOMEZ
Sep 19, 2021
319
Becky Moreno
Sep 18, 2021
318
Donna Oliver
Sep 18, 2021
317
Karleaha Symonds
Sep 18, 2021
316
Nigel Symonds
Sep 18, 2021
315
Sabine Fontaine
Sep 18, 2021
314
Janna Perkins
Sep 17, 2021
313
Teri Paszotta
We need tougher laws, more judges with balls to hand down stiffer sentences & justice to those affected by sick abusers of animals in our communities. It's going on in your city and those that prey on the most vulnerable are WEAK COWARDS & THE LOWEST, POOREST EXCUSE OF BEINGS WALKING THIS EARTH!
Sep 17, 2021
312
Keith Michelen
Sep 17, 2021
311
Joanne Amos
Sep 17, 2021
310
laurence berger
Sep 16, 2021
309
Besa Lapi
Interesting how numeròus neighbòrs complained and yet nobody ever took action to save the animals for decades
Sep 16, 2021
308
Lesley Fetterman
Sep 15, 2021
307
STEPHEN MITZEL
If Animal Services still has "NOT" done anything, I think it is time they got off their butts and so something!
Sep 15, 2021
306
Virginia Lovett
Sep 15, 2021
305
Ann Freeman
Sep 15, 2021
304
Lana Huseyn
Sep 15, 2021
303
Anonymous
Remove all animals from her home and do not allow her to own any in the future.
Sep 14, 2021
302
Angel Halonen
Sep 14, 2021
301
Rita Leone
Sep 14, 2021
300
Anonymous
Sep 14, 2021
PRIOR SIGNATURES : 13752
---